I've been getting requests for a 90s outfits video ever since I posted my Friends one almost a year ago, and I finally got around to it now that school is on break. As usual, most of my outfits are thrifted, so you can't recreate them exactly. (I tried to link similar items when I could find them.) Still, I hope you get some inspiration from my 90s outfit ideas!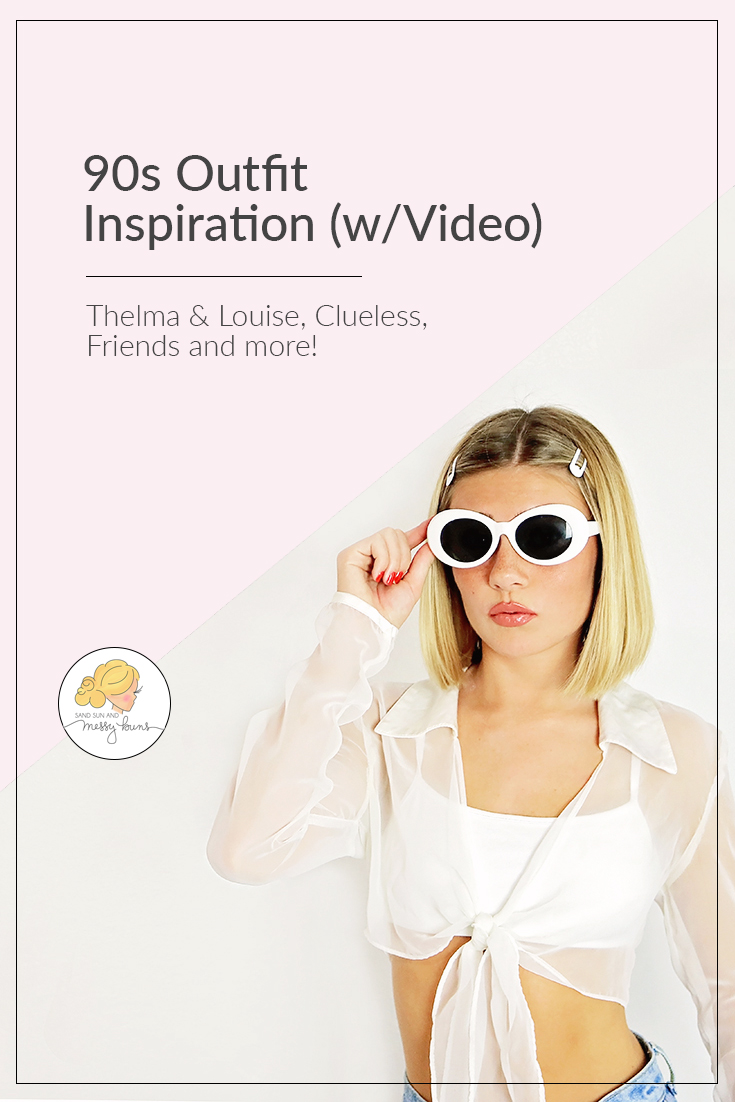 Check out my latest video for some 90s outfit inspo! #friends #clueless #90soutfits Click To Tweet
FTC Disclosure: This post contains affiliate links, which means we'll receive a small referral fee from purchases at no cost to you. You can read our affiliate policy here.
90s Outfit Ideas
If I had to pick my favorite decade for inspiration, it would probably be the 90s. My mom gave away so many outfits that I would love to have in my closet right now — it breaks my heart. lol I'm seriously considering saving all my clothes for my future kid(s) so they won't feel the same pain.
Clueless is obviously one of my favorite 90s movies. Cher always had the best outfits, but I love Tai's, too! I also love Thelma and Louise for outfit inspo. And of course there's my all-time favorite TV show…Friends!
Click here to watch it directly on YouTube.
Like I mention in the video, I'm really going to try to shoot a "Thrift with Me" video this summer. I've had one or two requests for it, and that's all it takes to get me to go thrifting!
Outfit Inspo: Cher in Clueless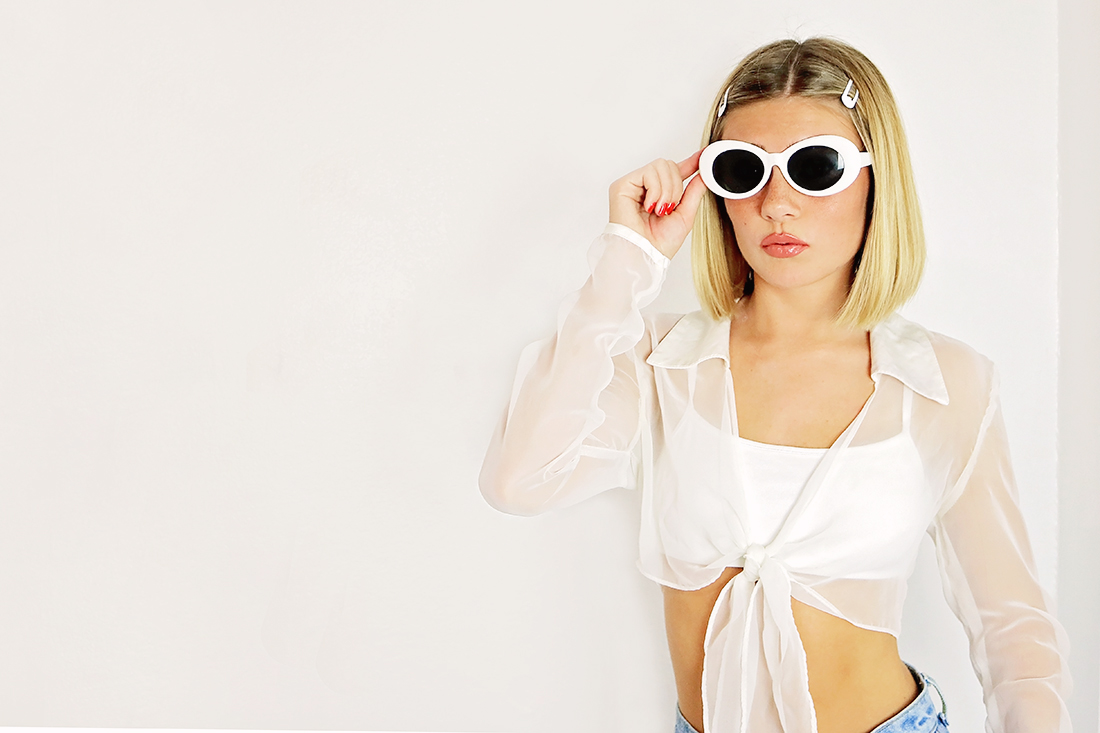 Cher Horowitz, is that you?
Links to Purchase
Top: Thrifted (similar 1 | 2 ) | Jeans: American Apparel | Bra: WalMart | Glasses: A'GACI | Shoes: Fila
BTW, I actually dress like this to go to class. If you follow me on Instagram you probably already know that (since I try to remember to post some of my outfit pics in my stories)!

Outfit Inspo: Thelma & Louise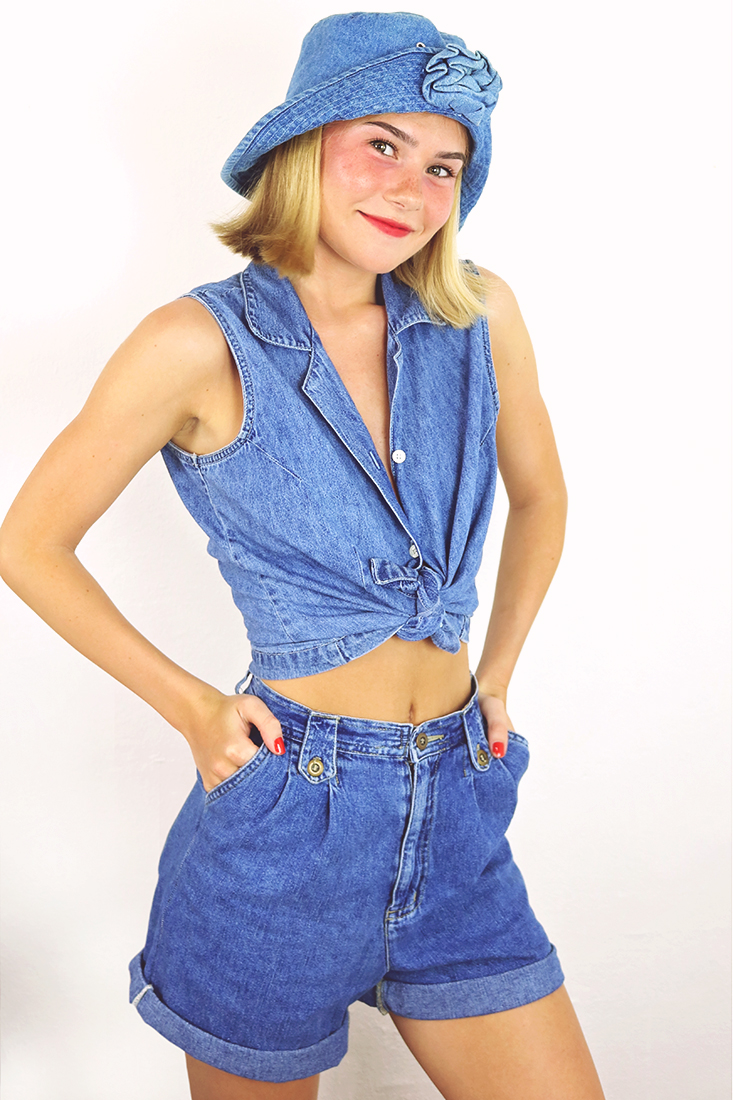 You guys, its denim on denim ON DENIM! My life is complete 🙂
Links to Purchase:
Hat: Thrifted | Top: Thrifted (similar) | Denim Shorts: Thrifted | Shoes: Thrifted (similar) | Lip Stain: Benefit
So many of you have asked where I found the hat, and I wish I could find a similar one to link — but I can't! Isn't it cute? I only found similar ones with a flower like that in kids sizes. If you find one anywhere, let me know in the comments below!
Here's more Thelma & Louise outfit inspo: Thelma in double denim
Outfit Inspo: Monica in Friends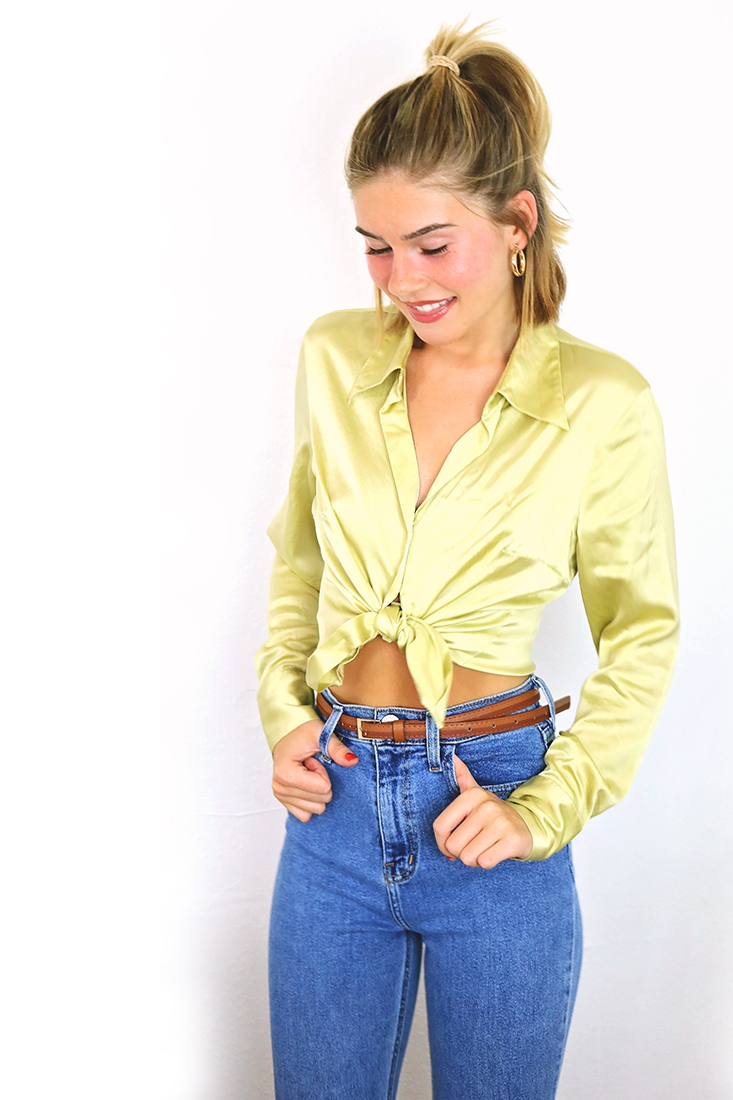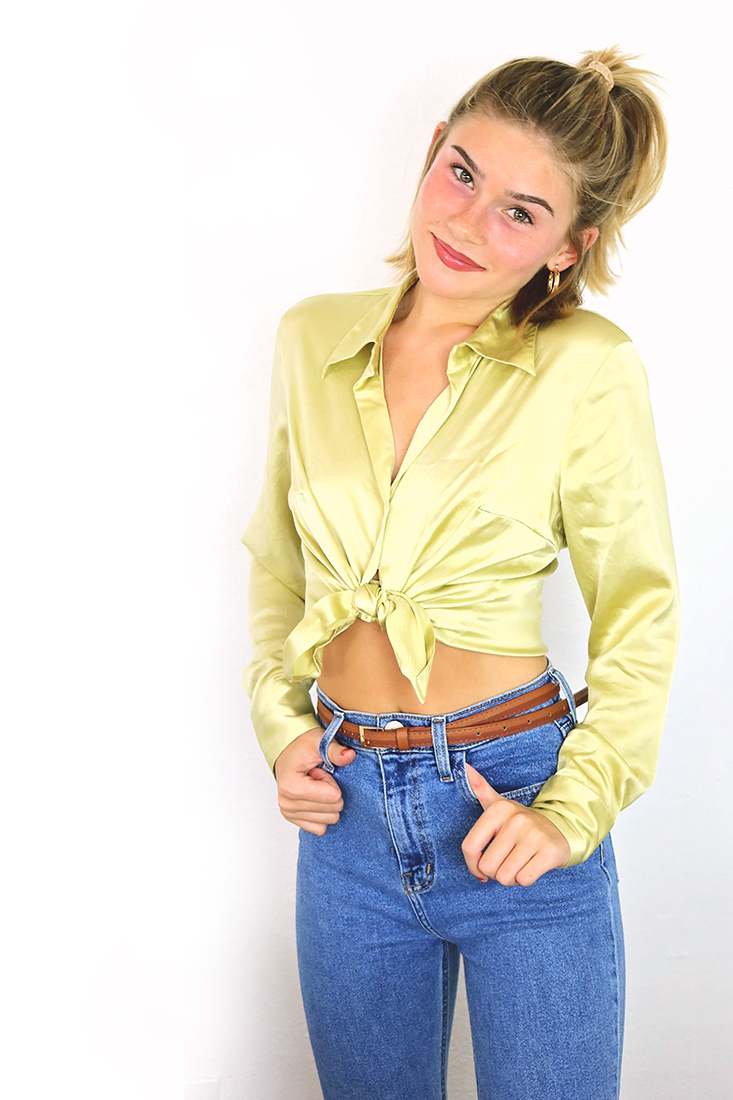 Links to Purchase:
Top: Thrifted | Jeans: Urban Outfitters | Earrings: UO | Lipliner: MAC | Lipstick: Revlon
I don't see those exact jeans on UO anymore, either, so I can't link to the same ones. Sorry! Since most of my stuff is thrifted anyway, I just post the outfits as inspiration. Hopefully you can find something similar.
Outfit Inspo: Rachel in Friends & Bella Hadid!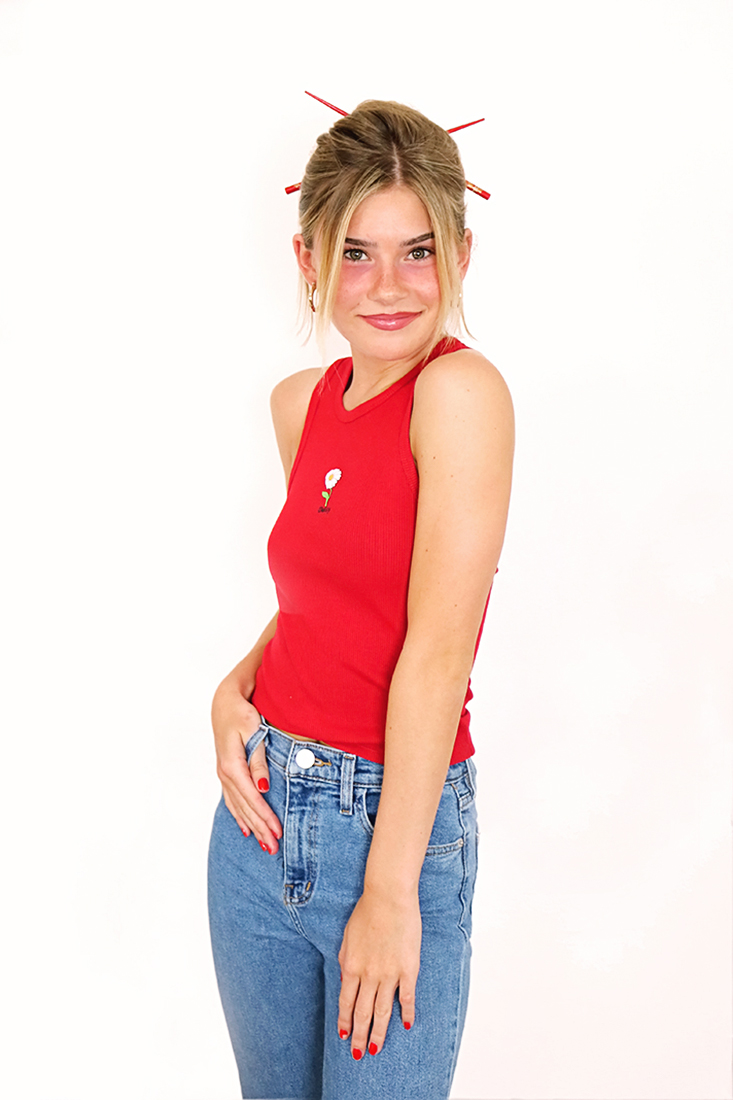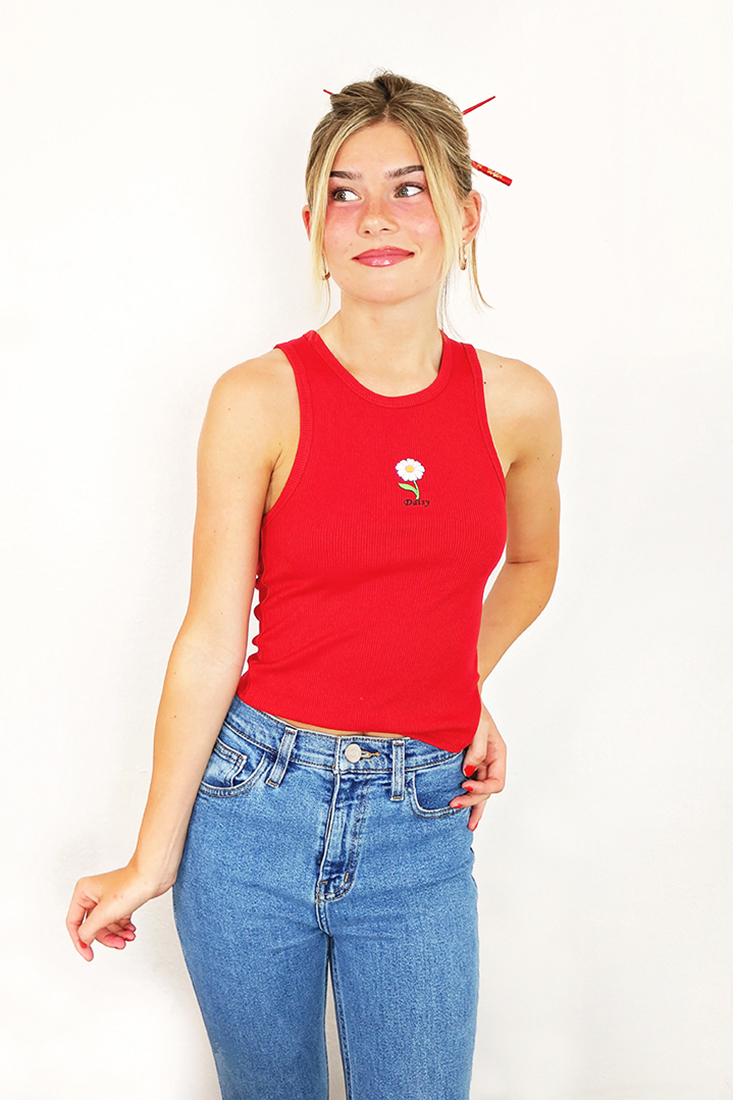 Links to Purchase:
Chopsticks: Gifted (similar) | Top: F21 | Jeans: UO | Earrings: UO | Lipliner: MAC | Lipstick: Revlon
I get such Rachel vibes from this top! I should try to find an episode with her wearing something similar, but I'm too lazy to go look. Next time I'm watching Friends and I see one, I'll post it here!
Outfit Inspo: Tai in Clueless & Rachel in Friends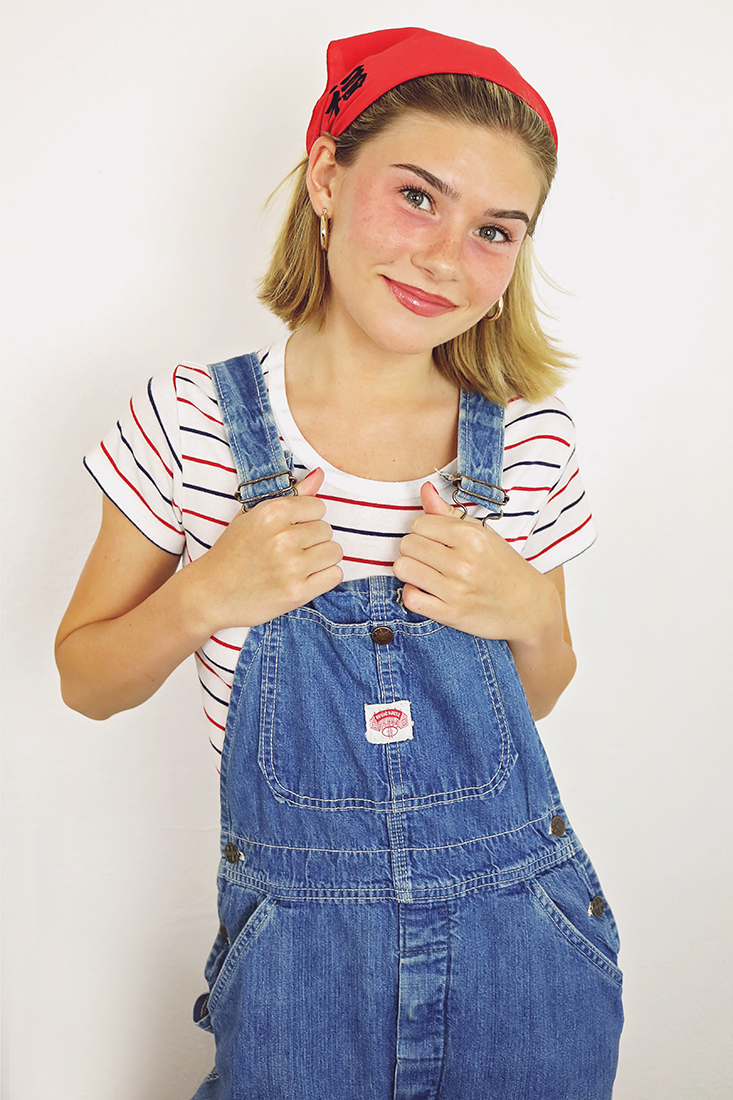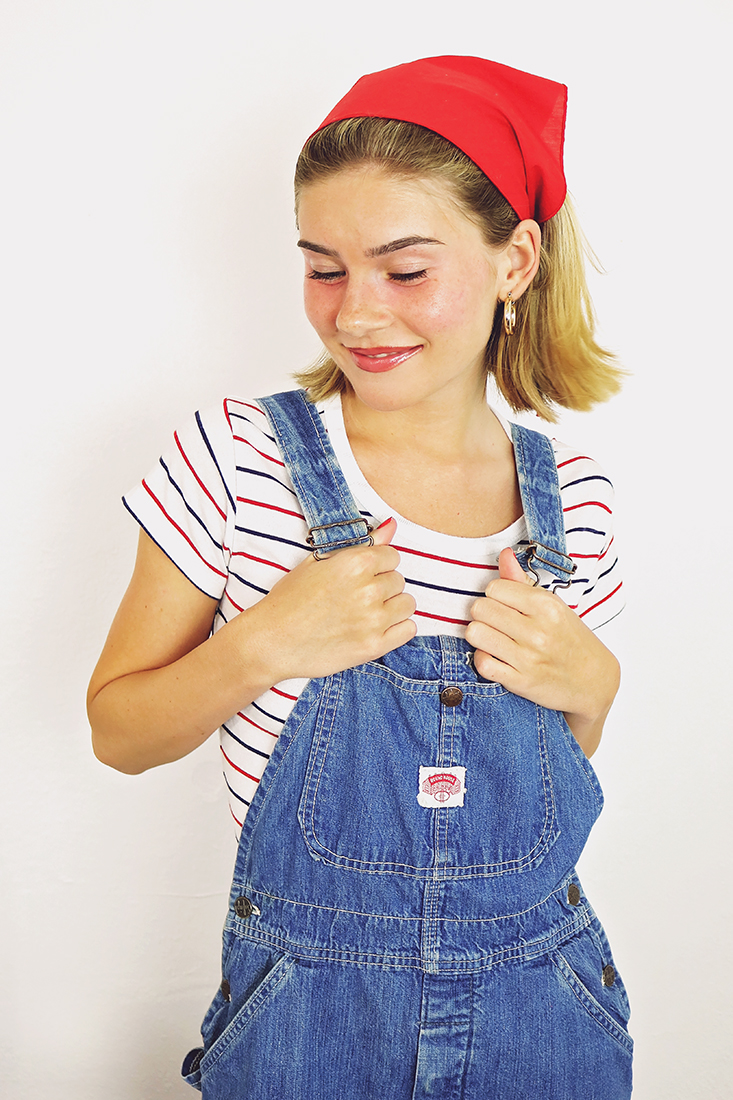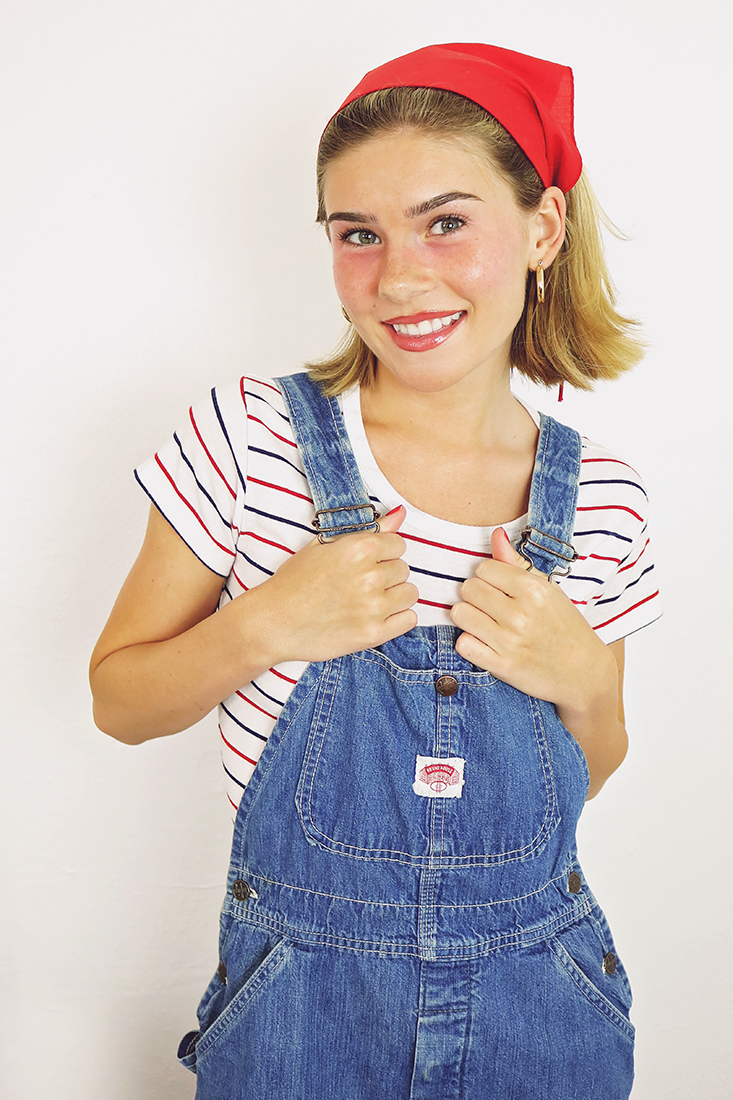 Links to Purchase:
Bandana: Thrifted | Top: Pacsun (similar) | Overalls: Thrifted (similar) | Shoes: Fila | Earrings: UO | Lipliner: MAC | Lipstick: Revlon
It's probably no shock to anyone that this overalls outfit is my favorite. I could live in overalls every day and be perfectly happy. This totally reminds me of Tai's outfits in Clueless. Also, remember when Rachel went to Barry's office to give the ring back?
Related: When Did Overalls Come Back in Style?
To get a similar makeup look to the mine in the video, check out these three tutorials:
Please subscribe on YouTube if you haven't already, so you'll receive a notification each time I upload a video. You can also sign up for my newsletter down below to receive notifications. I appreciate the support!
Pin It for Later: 90s Outfit Ideas (with Video!)