Want to learn how to get beach waves for short hair? You can do it in just a few minutes and the look is really cute and perfect for summertime! It's my new favorite hairstyle, and I've been wearing it like this almost every day. This one works well even if you have bangs, because you can easily blend them into the rest of your hair.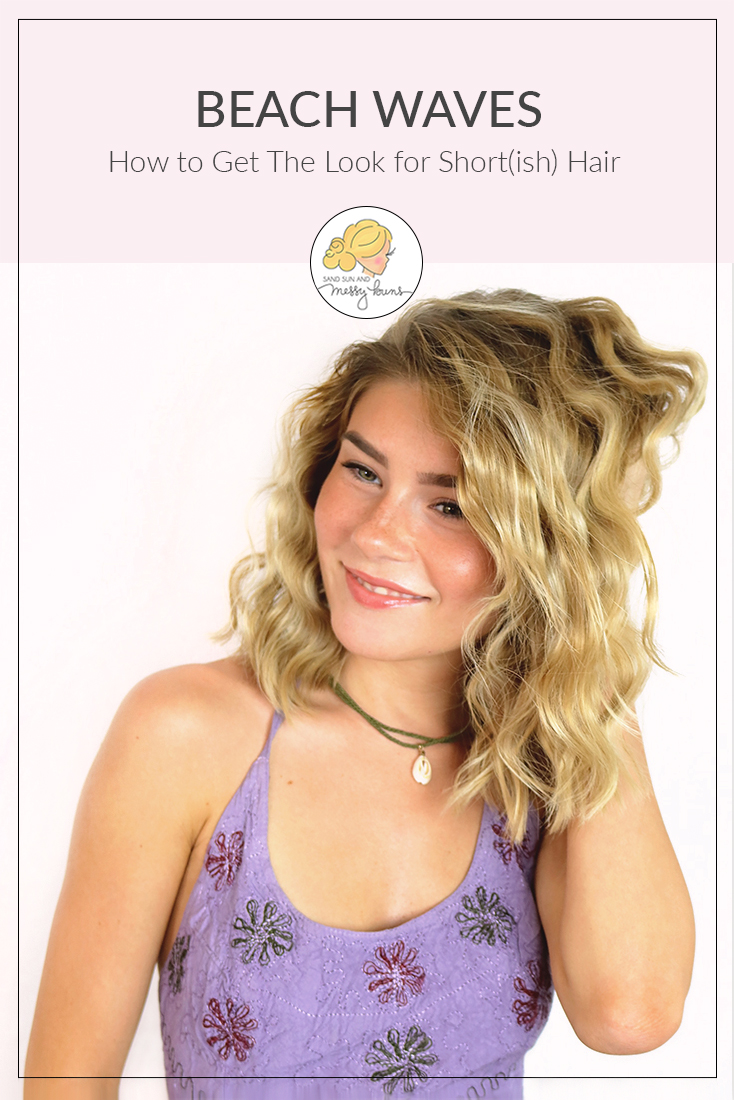 FTC Disclosure: This post contains affiliate links, which means we may receive a small referral fee from purchases at no additional cost to you. You can read our affiliate policy here.
Wondering how to get beach waves for short hair? Here's an easy video tutorial for it! #beachwaves #shorthair
Click To Tweet
How to get Beach Waves for Short Hair
I don't know about you, but I love all the sunshine we've been having lately! I hop out of bed every day thinking about the ocean. Ever since cutting my hair shorter, I've been working on my beach hair…and I've finally perfected my method!
The Tools You'll Need
There are different methods you can use to get the look, but this beach waver from Bed Head is my current favorite. It's quick, easy, and inexpensive!
My Video Tutorial for Beach Waves on Short Hair
You only need about 10 minutes out of your day to create this look (more if your hair is really long and/or thick). Click the play button to watch my video tutorial:
Beach Wave Crimper | Wet Brush | Mousse
The waves end up relaxing a bit as the day goes on, but if you include mousse they'll last most of the day. Those results probably vary a little based on your hair type and how humid it is wherever you live.
How to Get Beach Waves in 5 Easy Steps
Purchase a beach waver tool

Mine is from TiGi, but Hot Waves also makes one.

Pile hair atop your head and begin at the bottom

Use clips to section most of your hair off and place it atop your head, then leave a section loose at the bottom so you can begin there and work your way up.

Work in 1-inch sections

Clamp a 1-inch section of hair and hold for about 5 seconds per wave for fine hair and closer to 10 seconds per wave for thicker hair.

Continue working your way around until you reach the top

Work on each section individually until you reach the crown. It's up to you whether or not you decide to do your bangs.

Add mousse to hold the waves

Spray a golf ball-sized amount of mousse in your hands, then scrunch it throughout hair to keep waves in place and looking like they're "fresh from the beach" all day long.
Try adding a scrunchie for a super cute look if you're in the process of growing out your bangs.
Well, that's all there is to it! It's pretty easy. If you guys would like a heatless method to get a similar look, just let me know.
If you try out the look and post any pics on Insta, be sure to DM or tag me so I can see how it turned out! Make sure to subscribe on YouTube if you haven't already, so you'll receive a notification each time I upload a video! You can also sign up for my newsletter for notifications. I appreciate the support!
Pin It for Later: How to Get Beach Waves for Short Hair

BLOGLOVIN' | PINTEREST | INSTAGRAM | FACEBOOK | TWITTER | YOUTUBE