If you're shopping for a teenager and aren't sure what to buy, gift cards are always a great option! Since it's hard getting into the mind of a teenager, I'm here to help you out by sharing the best gift cards for teen girls. (Oh, and if you're new here…yes, I'm a teen girl. My name is Daisy, and I love makeup, thrifting, and sleeping in.)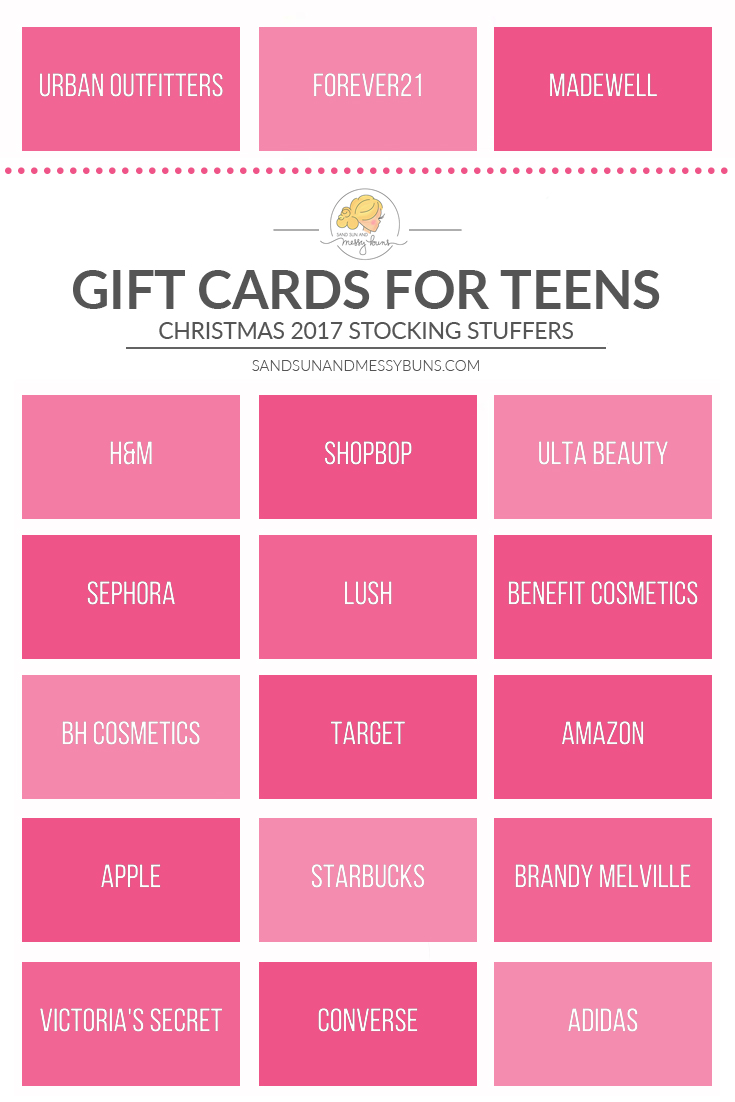 Not sure what to get the teens on your list? Here are the top gift cards for teen girls! #giftsforher Click To Tweet
FTC Disclosure: This post contains affiliate links, which means we'll receive a small referral fee from purchases at no cost to you. You can read our affiliate policy here.
The Best Gift Cards for Teen Girls in 2017
Adidas – Adidas is great for lazy weekends, school days, and for the gym. Here's a perfect example.
Amazon – Teens love Amazon bc we can order almost anything from there and have it within two days with no shipping fees (thanks to Amazon Prime for Students).
Apple – Do you know of any teen girl who isn't constantly on her phone or computer? Me either. Technology is expensive, so those gift cards come in handy when it's time to upgrade.
Benefit Cosmetics – I'm a Benefit girl for life. They make a lot of my favorite products, including the POREfessional Primer that I use daily, the Benefit Boi-ing concealer seen in my best concealer video, and the "they're real" mascara listed in my 5 Mascaras Worth the Hype post.
BH Cosmetics – Their inexpensive eyeshadow palettes are perfect for teens or beginners. The Carli Bybel one is my fave. I discuss it in this post about my favorite neutral eyeshadow palettes.
Brandy Melville – One of my favorite places to pick up a pair of boyfriend jeans, cute sweats, and basic cropped tees.
Converse – You can't beat a classic pair of Chucks. Always in style.
Forever 21 – Great prices on clothes, shoes, pj's, and accessories. You can buy an entire outfit PLUS accessories with a $50 gift card to F21.
H&M – Huge variety of trendy clothes that are constantly updated so the selection doesn't get stale.

Lush – Lush makes the best bath bombs around. If you want good bath products that are cruelty-free and handmade, go with Lush.
Madewell – This is my go-to spot for leather goods. So many of their shoes and bags are great quality but still at an affordable price (like the sandals in this post).
Sephora – Any store full of makeup is a safe bet for most girls. Trust me.
Shopbop – Shopbop has everything from clothes to shoes to accessories to home decor — and all in a variety of price points. If a girl can't find something she likes at Shopbop, she must already have all the things. 🙂
Starbucks – For coffee runs on the way to school and a dessert of vanilla bean creme after school, Starbucks is it. Never gets old.
Target – It's Target. Need I say more?
ULTA Beauty – I'm an ULTA girl 100%. It's where I buy the majority of my makeup. I usually reach Platinum status insanely early in the year with them, and they receive the majority of my paycheck.
Urban Outfitters – If I had to pick the #1 store on my list right now, this would be the one. I love everything in the store. My friends and I shop in UO constantly, and so do most other teens on the planet. (They have 7.5 million Instagram followers.)
Victoria's Secret – The VS Pink line is always a hit. The clothes are cute, comfy, and — like Adidas — they're perfect for lazy days.
If you prefer to buy something you can actually wrap, check out my favorite stocking stuffers and gifts for teen girls. If you're into sales, we have the coupon codes for makeup sales at our favorite stores here .
I hope my ideas for the best gift cards for teen girls was helpful! Let me know which store is your fave or if I missed one you like.