Whether you're new to the world of traveling or you're a seasoned pro, these budget travel tips will help you save BIG on your next trip. I'm sharing my best low cost travel tips, how to get cheap flights, where to travel on a budget, and so much more! It's a long post, but it's one that could change the way you travel.
If you find these budget travel tips helpful, please share this image on Pinterest! Thank you!
Want to travel, but your bank account says no? Here are some clever travel tips to help you plan your next getaway. #traveltips #vacationideas
Click To Tweet
FTC Disclosure: This post contains affiliate links, which means we may receive a small referral fee from purchases at no additional cost to you. You can read our affiliate policy here.
The Best Ways to Find Cheap Flights
Flights and accommodations almost always eat up the largest chunk of the travel budget, so let's start off with the best ways to save money on airfare.
Before You Start Looking…
Here are a few steps you can take to begin saving money before you even know where you're headed.
Bookmark the deals page for your favorite airline companies and check them frequently. For example, I'm a Delta girl, so I check this page weekly.
Consider signing up for a travel rewards credit card to earn miles or points that you can apply towards trips. It's the #1 method I use to fly for free (or at a discount).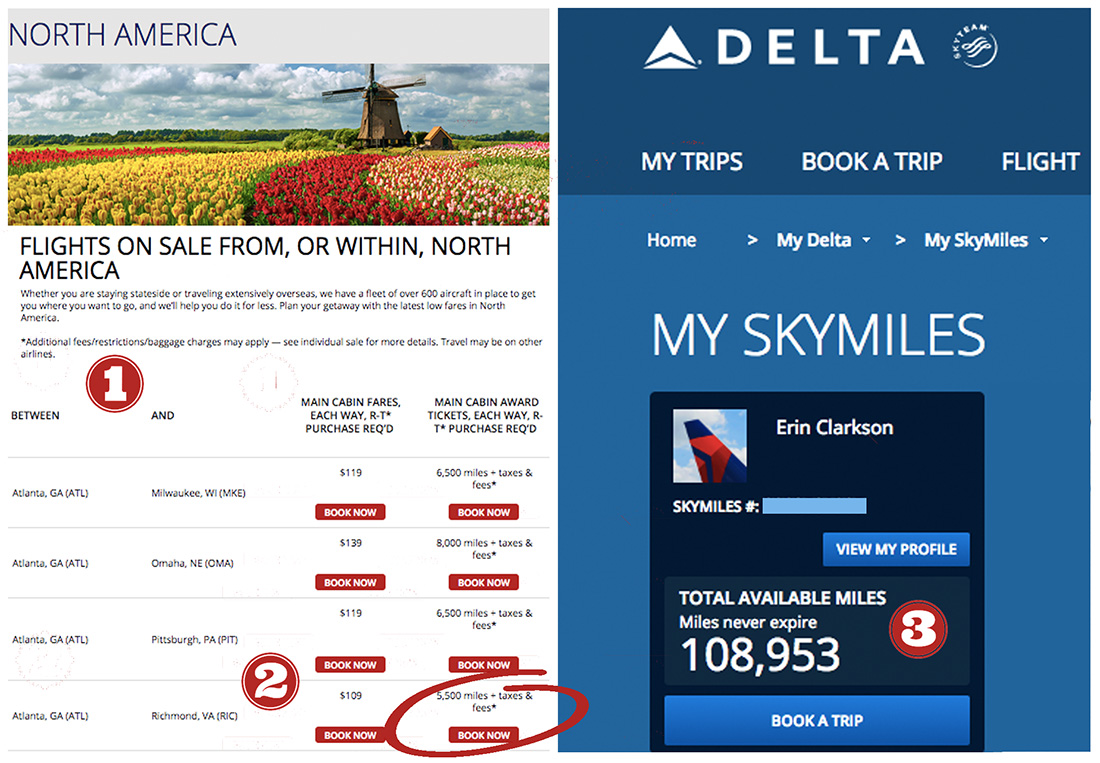 Not Sure Where You're Going?
That's ok. Some of the best trips are spontaneous. Try these methods to score cheap flights when you have a flexible itinerary.
Go to skyscanner.com and — instead of selecting a specific date — select "whole month", then click on the option for "cheapest month". Type in "everywhere" for the destination. (I just tried it and discovered I could fly from Savannah to Nashville this weekend for $88 — round trip!)
Consider departing out of a nearby city where friends or family live. For example, I live in Savannah, where flights are fairly expensive, but I often find cheaper options by flying out of nearby Columbia, S.C., where my parents live. I leave my car at their house during my travels and have a family member drop me at the airport so I don't have to rack up expensive parking fees.
Follow airline social media accounts or sign up for their newsletters to keep an eye out for last-minute deals and mistake fares. If you spot a fare mistake, you'll know immediately because it will seem too good to be true. Be ready to act on it immediately!
TravelPirates is a fun site for incredible last-minute deals all over the world. I'm in a few travel blogger groups, and it's the one that's mentioned most often.
If you plan to travel internationally and aren't sure where you want to go, try checking currency values in a few countries of interest. If the U.S. dollar is strong and say, the rupiah is weak, then it might be the perfect time to plan a trip to Indonesia. Your money will stretch a lot further when the exchange rates are on your side!
Check deal sites like Groupon & LivingSocial for travel discounts. (Once you determine your location, you can also score deals on local restaurants and attractions through Groupon and LivingSocial. Just make sure you're purchasing experiences you'll actually use and not simply buying something because it's cheap.)
Take advantage of Travel Thursdays on Ebates [now Rakuten]. (If you're not already a member of Ebates, go ahead and sign up now. You're missing out!! You'll receive cash back for nearly every purchase you make online and they'll send you lots of fun little checks that really add up over time.)
Related: Shopping Hacks to Save Hundreds (Even Thousands!!) Online
Already Know Your Destination?
That's a good thing! You can focus with laser-like intensity on the area and set alerts to increase your chance of scoring a good deal.
Book in advance! 2-3 months in advance is ideal for domestic flights. Begin searching even further ahead if you're traveling overseas.
You probably already know it's beneficial to vacation in the off-season, but have you heard of "shoulder season"? It's the time between peak travel dates and the off season. You can score some pretty good deals by looking in that time frame!
Search your favorite flight comparison sites to get an idea of the best rates. Here are a few popular options:
Set an alert with the apps above — or with Google Flights — to monitor for rate drops.
General Tips to Keep in Mind
Here are a few general things you can do to save a few bucks and earn extra miles…
Tuesday, Wednesday, and Saturday are usually the cheapest days to fly.
Be an early bird! Flights beginning around 5 or 6 a.m. are usually the least expensive.
Be flexible with your itinerary. Flying one day earlier or later than planned can often net hundreds of dollars in savings!
Ask the airline if it's cheaper to purchase tickets in person. For example, Spirit Airlines charges a "Passenger Usage Charge" (you'll find it hidden on your ticket under the "taxes" section). It's currently $39.98 per round trip flight. However, if you go to the airport and purchase your ticket in person instead of buying online, you won't have to pay that fee.
Always be on the lookout for unique ways to earn airline miles. It's easiest if you're a frequent flyer with a specific airline so you only have one program to stay on top of at all times. As mentioned, I'm a Delta girl, so I'm always on the lookout for multiple ways to earn SkyMiles. For example, did you know you can earn SkyMiles anytime you book a home through Airbnb? Here's the Delta + Airbnb partnership info.
I could also become an Airbnb host and rent out my home here in Savannah whenever I travel, then earn Delta Skymiles each time someone stayed in my house. Always look for ways to maximize your points earnings! -e
Because you know I love fitting in Friends gifs whenever possible. [ via GIPHY ]
On The Day of Purchase
When you're ready to hit the "buy" button and purchase your tickets, there are a few additional steps you can take to stretch your dollar even further…
Go Incognito! Clear your browser's cache before searching for flights. Sneaky websites and frequent flier programs have been known to increase their prices if they notice you're obsessively checking rates or otherwise exhibiting behavior that indicates a purchase is imminent.
Check your final destination airport to see which budget airlines fly into it. Sometimes the budget fares don't show up on aggregate sites, so you might be able to score a cheaper flight by checking the budget airlines directly.
Once you've narrowed down the best fare using the price aggregator sites, write down the flight number and pertinent details, and then book directly through the airline's website. Airlines give preferential treatment to their own customers, so it's less likely you'll be bumped by booking direct. You'll also have an easier time if your flight is cancelled or delayed.
If you aren't already a member of the airline's frequent flier program, make sure you join BEFORE your flight. Enter your frequent flier number before or during the check-in process to ensure you earn credit.
On the Day You Fly
The savings don't have to end the moment you enter the airport. It IS possible to make it through a layover without going broke. Here are a few of my favorite tips…
Pack light! Airlines tack on fees any way they can, and baggage fees are a big one. The best way to travel is with a carry-on only.
Find a local travel buddy to help out on airport drop-off and pickup days. You can take turns giving each other lifts to and from the airport whenever you travel! If this isn't possible, Uber and Lyft are almost always cheaper than a taxi. (Driving yourself and parking at the airport is usually the costliest option.)
Bring your own snacks. The markup fees on a bag of chips at the airport are insanely high. Why pay $4 for a bag of Cheez-Its when you can prefill a ziplock bag with ones purchased from the grocery store (at $2 for a family-sized box, no less)?
You can't take water through security, but you can carry an empty water bottle and fill it from the fountain once you make it to your gate! It beats buying a $4 bottle of water when you're on a tight budget.
Check with the hotel at your arrival destination to see if they offer an airport shuttle. You often only need to place a call directly to the hotel and they'll send a car to pick you up.
⭐ Insider Tip: If you have an airline credit card, you can often check your first bag for free as one of the perks! Know your benefits…and then use them!
Let's Talk Cheap Accommodations!
After purchasing your flight, accommodations are typically the next biggest travel expense. So how do you go about finding cheap places to stay? Here are a few ideas…
Budget Accommodation Options
Stay with Friends – Obviously the best — and cheapest — place to stay while traveling is with friends or family members. If you open up your home to friends when they're traveling, chances are good they'll return the favor and let you stay with them. Always treat their home better than you would your own! It's nice to take them to dinner or do something special as a thank you.
Couchsurfing – Couchsurfing consists of a unique network of travelers who open up their homes so like-minded wanderlusters can enjoy their city for a day or two. This is easily one of the cheapest accommodation options available today (it's free), but don't expect much in the way of privacy since you'll have to crash on someone's couch. As far as safety is concerned, make sure you check references and reviews.
Hostels – If you don't mind sharing a room with strangers, a hostel is often the way to go! Hostelworld is probably the most well-known option.
Housesitting – When you act as a house-sitter, you'll stay in someone's home free of charge in exchange for watering their plants, checking their mail, and generally making their house appear lived in while they're away. Pet sitting and house-sitting are very similar, but with pet-sitting you take on the additional task of caring for someone's pets. I collaborated with Nomador on this post, which easily explains the process.
Home Rentals – This is my personal favorite option! I love renting out someone's entire home and having the whole space to myself. You can cook in a meal or two each day (and save additional money by not eating out so often), wash your clothes after a long day spent exploring, and then chill with all the comforts of home…like wifi, cable, and a private backyard. Here are my very favorite tips for making the most out of a home rental. These are the most popular home rental options:
Hotels – There are still a few bargains to be found on hotels, if you know how to filter to find the cheapest rooms first. Here are a few of the most popular hotel deals websites to help you locate the best room rates. (I personally prefer booking.com.)
⭐ Discount Alert: If you're new to Airbnb, you're welcome to use my discount code to receive up to $55 off your first rental experience!
More Ways to Save on Hotel Rooms
This post is getting really long, but I could (obviously) share my favorite travel hacks for days on end. Here are a few more ways to save on hotels.
Sign up for hotel loyalty programs, which are similar to frequent flyer clubs, and then collect hotel points that can be redeemed for free overnight stays. For example, here are the member benefits you'll receive via the Hilton Honors program, which is one of my favorites.
Follow city or state tourism boards on social media or sign up for their newsletters to receive notifications about the area. New businesses often offer discounts to get customers in the door, so when you hear a new hotel is being built…call them to see if they're offering discounts if you pre-book! [Here is a helpful list of every U.S. state's official tourism board.]
Always call a hotel prior to booking to see if they'll match rates discovered via a discount site. They often will to avoid paying a commission to the site.
Check hotel websites directly to see if they have a "specials" page that includes coupons or early booking discounts.
Be on the lookout for price-matching and best rate guarantees. For example, with the hotels.com "Best Rate Guarantee", they'll refund the difference if you find a lower rate prior to your stay.
Request upgrades!! Hotels are usually pretty accommodating (ha!), and it never hurts to ask for what you want. For example: tell the manager you're trying to decide between their hotel and another option, but mention that the only difference is that the other hotel offers free Wi-Fi to guests and theirs doesn't. Then ask if they'll provide complimentary wi-fi during your stay.
Always be on the lookout for discounts. There's a discount for nearly everything these days. Here are a few of the most popular discount programs for travelers…

Military/Veteran discounts
Teacher discounts
Student discounts
Senior Citizen/AARP discounts
AAA (my personal favorite option)
Got Questions? I answer fastest over on Instagram!
Pin It for Later: Save BIG on Your Next Trip with These Budget Travel Tips