In my post, The Ultimate Guide to Visiting River Street in Savannah, GA, I mention that my first stop when visiting Savannah is always in River Street Sweets. In fact, in my 20+ years of annual trips to Savannah, I've never once missed a visit to my favorite famous gourmet candy shop! It embodies Southern charm, and that's just one of the many reason this little candy store is one of my top stops along the river.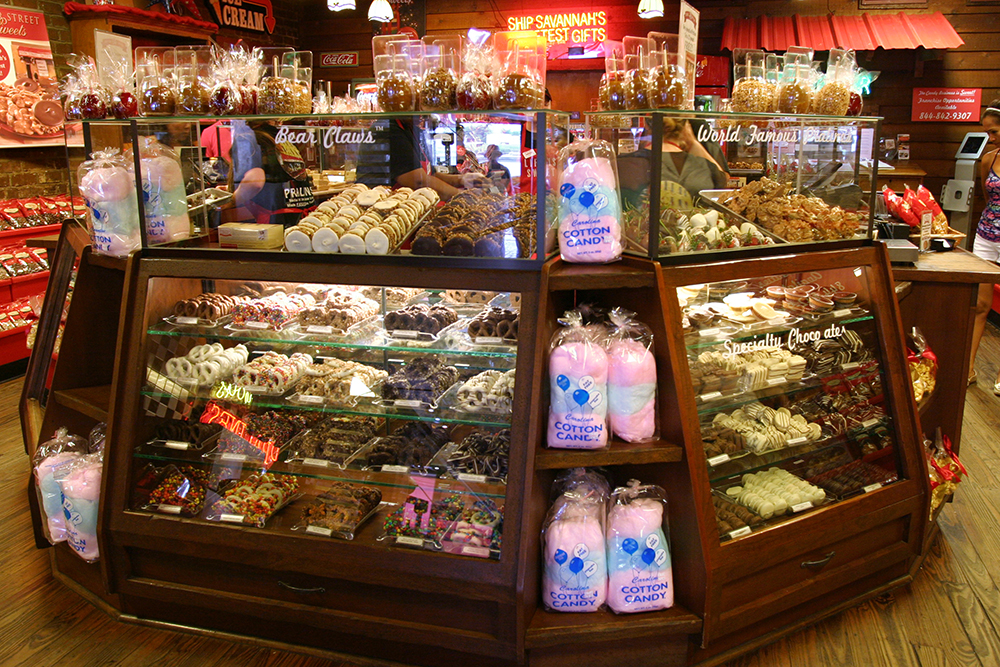 The center of the store is dominated by this beautiful oversized 360° antique candy display cabinet, chock full of tempting sweets.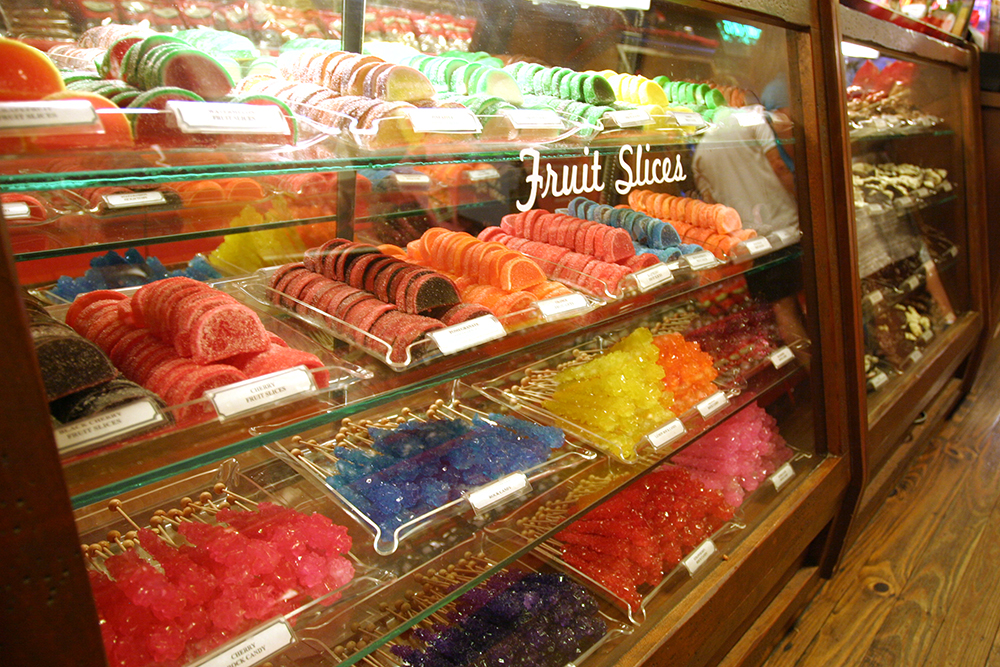 Each section of the cabinet is devoted to a different type of delectable candy, from the candy coated gummy fruit slices and rock candy seen above…
…to a wide variety of truffles, Southern bear claws (pecans topped with caramel and chocolate — also known as turtles), pralines, fudge slices — and more.
 Best known for serving Savannah's World Famous Pralines, the aroma of fresh baked pralines and fudge beckons visitors in from at least half a block away. Once you arrive under the red awning, you'll be lured through the entryway by a greeter offering samples of warm pralines. River Street's soft pralines are generously sized and contain the perfect combination of sugar mixed with a pinch of salt and just the right amount of nuts. They're also slightly addicting (to put it mildly)!
I mentioned Southern charm, and this store is teaming with it. The staff is friendly and patient with tourists. They always seem to be in a good mood and are willing to answer questions about the candy-making process. Even though the store is highly trafficked and I'm sure they must repeat similar statements on a daily basis, I've never seen them show frustration with the questions thrown their way.
The store has an old-fashioned taffy machine that makes 50 different flavors of salt water taffy. If you're lucky and your visit coincides with the taffy being made, you can watch and ask questions about the process. Be sure to stay until the end, because they're generous with the samples!
A peek at the taffy pulling station in the background and the wrapping machine in the foreground.
I believe they mentioned this taffy wrapping machine was from the early 1900s and still going strong! 
It's mesmerizing to watch taffy being pulled and wrapped and to see the collection of old fashioned candy machines throughout the store. Both children and the young-at-heart will enjoy observing the process!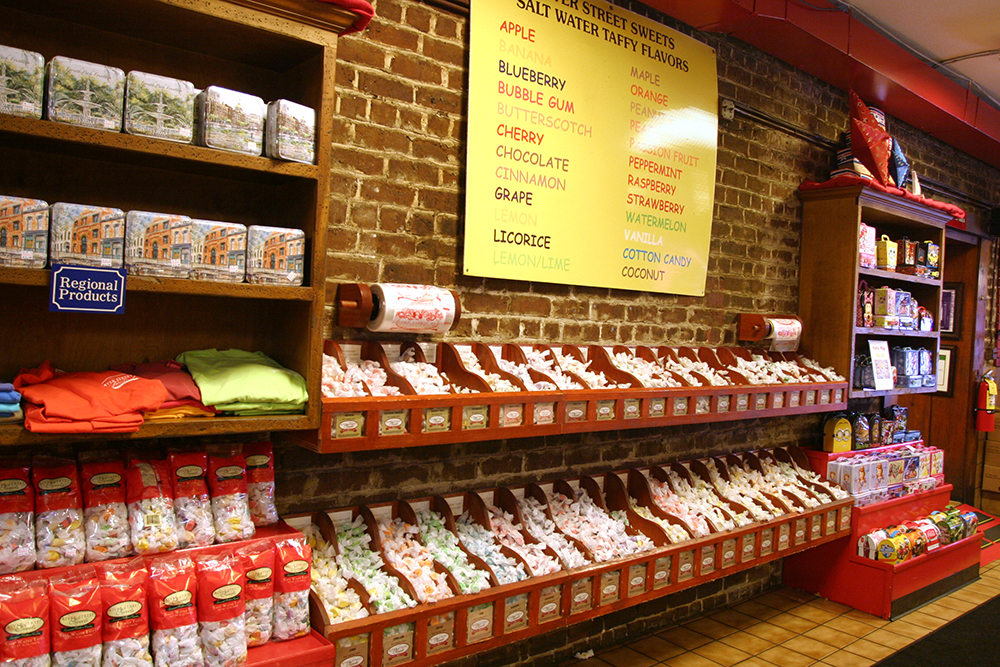 You can purchase pre-packaged bags of saltwater taffy or mix-and-match your own favorite flavors.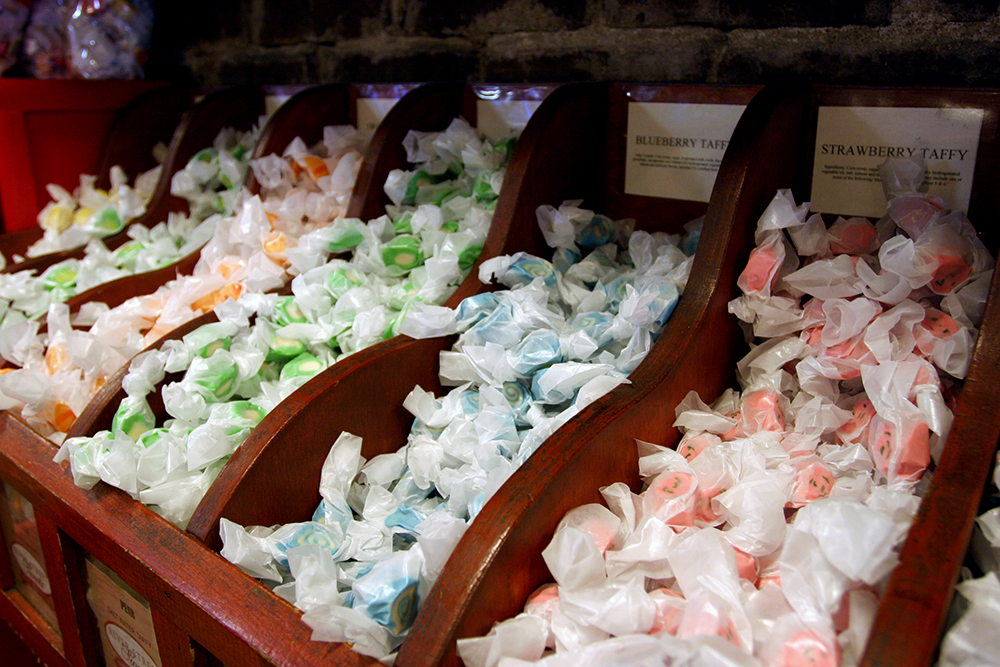 River Street Sweets is a visual delight, with candy artfully displayed in beautiful antique bins.
An additional reason I love this store so much is because the smells take me back in time to my Nana's kitchen. They bring back fond memories of her creating homemade pecan pies and baking chocolate chip cookies from scratch.
FUN FACT: Did you know the sense of smell has the ability to bring back memories — more so than any of the other senses?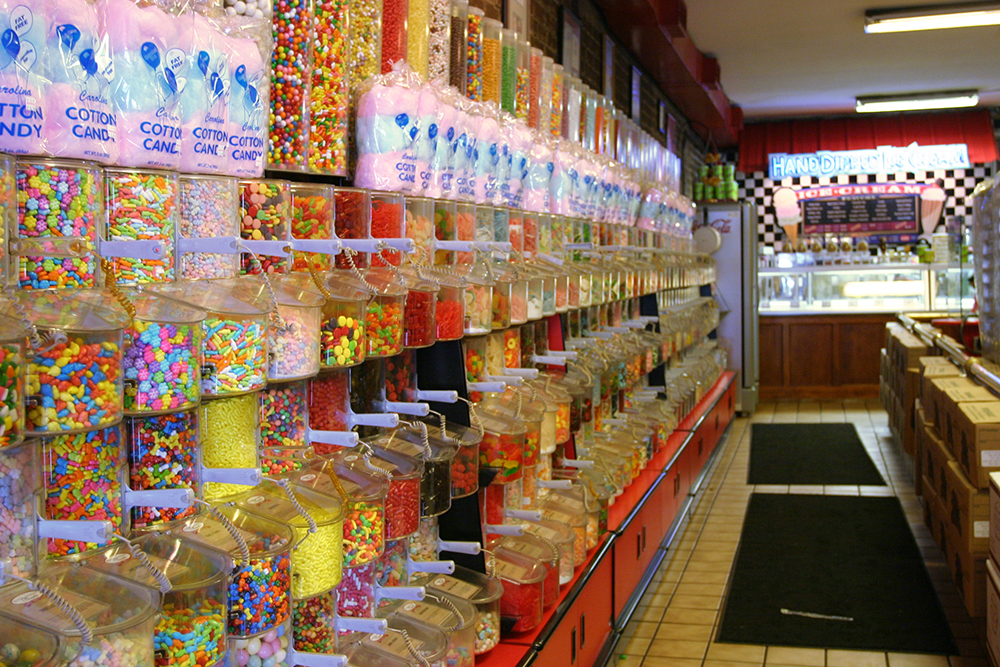 If hard candies are more your style, no worries — the store has an entire wall filled with bin after bin of every hard candy imaginable.
The back end of the store is devoted to an old standby that most everyone seems to love: ICE CREAM! 🙂
Mint Chocolate Chip for me, please! 
Select from a variety of flavors and toppings, or opt for a milkshake or fresh squeezed lemonade to quench your thirst. (Since it's hot and sticky for almost 6 months out of the year in Savannah, sometimes a cold drink is just the ticket!) Even the Coke machine looks like it belongs in an old fountain shop: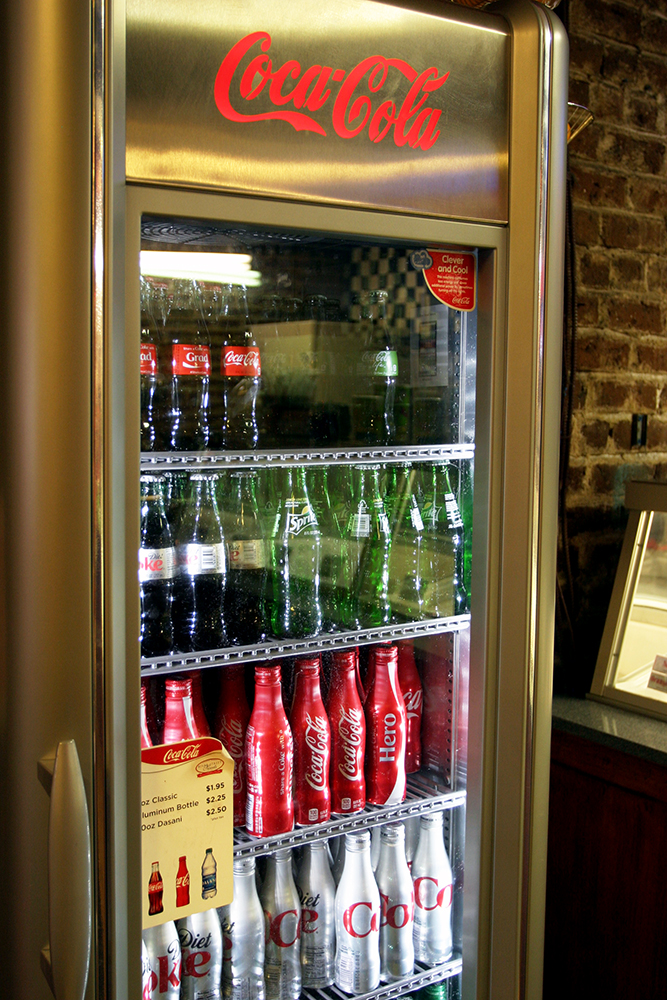 The store is committed to serving the finest chocolates, so the fudge is another area where River Street Sweets doesn't disappoint! There are numerous varieties of fresh fudge and each is available for sampling prior to purchase. I promise your sweet tooth will be satisfied prior to leaving the premises!
TIP: River Street Sweets has an online store, so you're in luck if you need to send Christmas presents, teacher gifts, Mother's Day presents, or if you just want to sample some of the goodies I've mentioned here.
If you're traveling to Savannah anytime soon, I highly suggest including this on your "must do" list. I've only listed a small portion of what you can find in the store. They also have candy-coated apples, brittle, candied nuts, flavored popcorn, and the list goes on….
One final word of caution: If you bring your kids in this store you will probably have a hard time getting them to leave! If you have any questions, please let me know in the comments and I'll do my best to answer. If you want to keep up with our posts, you can follow us on Bloglovin', sign up for our weekly newsletter, or follow on any of the social links below. Thanks for stopping by and have a great day!

BLOGLOVIN' || PINTEREST || INSTAGRAM || FACEBOOK || TWITTER || GOOGLE+
This post may contain affiliate links, which means we'll receive a small referral fee from purchases.