One of the perks of living in Savannah is that we have so many charming neighbors. Charleston is one that always ranks high on the list when friends come for a visit and want to go exploring! Understandably so, since the Holy City is filled with incredible places to eat and a plethora of pretty pink houses to photograph. But because it's often difficult deciding what to do in a city with so much to offer, I created a handy Charleston Bucket List printable and itemized a few popular (plus some less-touristy) options to get you started.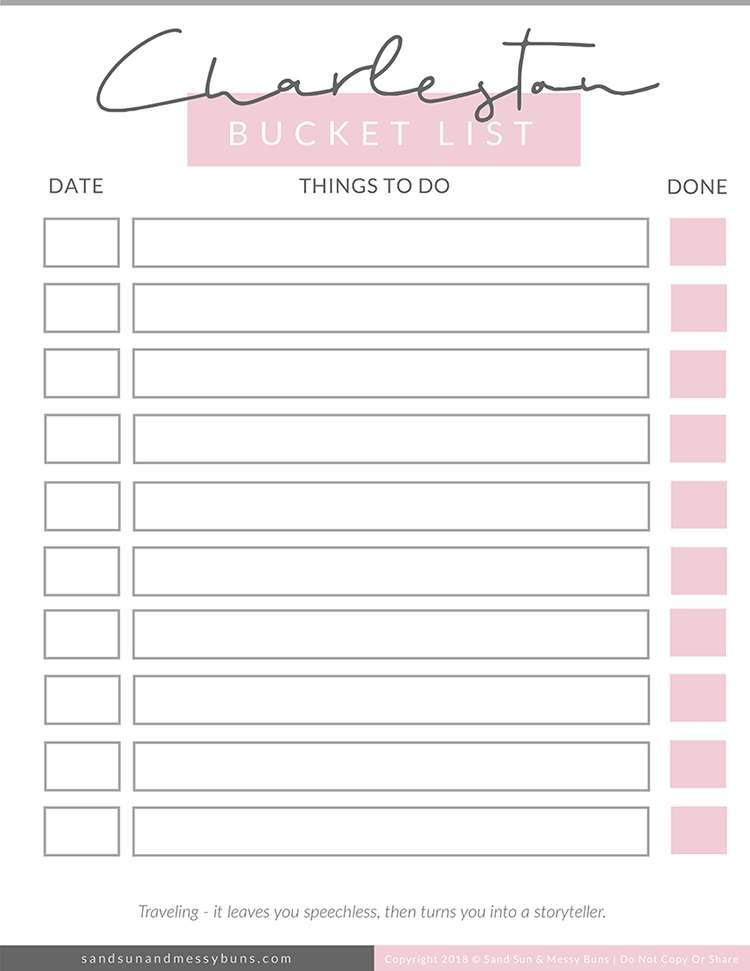 Headed to Charleston and wondering what to do? Here's a printable bucket list! #charleston #roadtrip
Click To Tweet
FTC Disclosure: This post contains affiliate links, which means we may receive a small referral fee from purchases at no additional cost to you. You can read our affiliate policy here.
Charleston Bucket List
This list is interactive, so check each item off the list as you go! I've tried to include a wide variety of things to do that include cultural and historical landmarks, Instagrammable locations, incredible places to dine, and fun things to do with kids.
Read below the list to find additional details about some of my favorite activities, plus tips about the best time of year to visit!
Kayak with the dolphins at Shem Creek *read more below
Fill up on some of the best seafood in town at 167 Raw
Support Gullah artists by purchasing a sweetgrass basket at Charleston City Market
Wander down Stoll's Alley to peek into secret courtyard gardens
Hop on over to nearby Longitude Lane and do the same thing
Tend to injured sea turtles at the Sea Turtle Care Center *read more below
Adopt a Loggerhead Sea Turtle while you're there! *read more below
Walk (or jog) across the Arthur Ravenel, Jr. Bridge
Take a quick stroll down Rainbow Row
Bike along The Battery (from Waterfront Park down E. Bay to Murray)
Snap a selfie in front of the Pineapple Fountain at Waterfront Park
Attend a dress parade at The Citadel
Visit Cypress Gardens — the location where many scenes from The Notebook and The Patriot were filmed.
 Take the Charleston Sole walking tour
Charter a sailboat down the Ashley River and out into the harbour
 Dine at Broad Street's iconic Fast and French Café
Visit Middleton Place, a historic landmark with beautifully manicured English-style gardens
Discover the South Carolina Aquarium and meet Alabaster the Alligator (he's albino and very rare!) *read more below
Enjoy fine Southern dining at Husk (hint: make reservations well in advance)
Visit Magnolia Plantation in late March to early April (aka: peak blooming season)
Check out the Audubon Swamp Garden while you're there! *read more below
Tour the Aiken-Rhett house, with slave quarters still intact from the 1850s
Count your blessings under the stained glass windows at the Cathedral of St. John the Baptist
Discover one of the earliest samples of Palladian architecture at Drayton Hall
Stand in jaw-dropping awe in front of the majestic Angel Oak, which is more than 400 years old
Visit America's first theatre, the Historic Dock Street Theater | circa 1809
Escape to the Isle of Palms for a relaxing and family-friendly beach day
Satisfy your sweet tooth with a gourmet donut at Glazed
 Learn about enslaved African Americans at the Old Slave Mart Museum *read more below
 Down a cocktail at speakeasy-themed The Gin Joint
Cast a line off the Folly Beach Pier
 Tour Charleston's largest single-family home, the Calhoun Mansion, which was constructed during the Gilded Age *read more below
 Take a boat to Fort Sumter to see where the Civil War started
Play a round of golf at one of the many courses on Kiawah Island
Shop your heart out on King Street, named as one of the Top 10 Shopping Streets in the U.S.
 Enjoy a soulful meal at Hall's Chophouse Sunday Gospel Brunch
Post another selfie at the adorably cute Sugar Bakeshop
Tour Boone Hall Plantation, which served as Allie's summer home in the movie The Notebook
Art Walk Downtown (similar to First Fridays in Savannah) is a free downtown art walk along Broad Street
The Charleston Tea Plantation offers free factory tours (or take a paid trolley tour through the property)
Meander through secret gardens and 17th century cemeteries via the Gateway Garden Walk
Support conservation efforts at the Avian Conservation Center: The Center for Birds of Prey
Sample Southern staples at the Tea Room at Old St. Andrew's Parish Church (I suggest their Okra Soup, She Crab Soup, Magnolia Pie, and Huguenot Torte)
 Head to nearby Yemassee to explore the Old Sheldon Ruins
Walk your worries away at the labyrinth in the Meditation Garden on the grounds of Roper St. Francis hospital
My Favorite Things To Do in Charleston
Every item on the list above is incredible and worth experiencing, but I wanted to take a second or two to include a few additional details about some of my favorites on the list.
Kayak Amongst Dolphin Pods at Shem Creek
You'll find all sorts of wildlife at Shem Creek, but the bottlenose dolphin is my personal favorite. They're so playful and inquisitive! Rent a kayak to get up close and personal with a pod, or charter a boat if you prefer keeping a little distance between yourself and the water.
While you're out exploring the creek, be on the lookout for manatee, owls, and otters.
Adopt a Rescue at the Sea Turtle Care Center™
I make no secret of my love for sea turtles, so you know I'll jump at any chance to help further their conservation and rescue efforts. At Zucker Family Sea Turtle Rescue™ (part of the South Carolina Aquarium) you can learn about every step of a turtle's rehabilitation journey.
Each of the turtles in the rehab center has a tablet next to its tank detailing what led it to the center and outlining the steps in its recovery process. There are also mock med stations where you can learn about sick turtles and then help "diagnose" their conditions.
The best part? You can become a Sea Turtle Guardian for as little as $10 per month!
Meet Alabaster the Alligator
Alabaster is a rare albino (all-white) alligator. He's one of less than 100 currently known to exist, and he lives in the Blackwater Swamp exhibit at the South Carolina Aquarium.
He's a rescue alligator and — due to his rare condition and sensitivity to light — he can never be returned to the wild. (Albino alligators have less than a 2-day survival rate in the wild.) He's getting pretty old, so go visit him while you still can!
Click Away at the Audubon Swamp Gardens
The swamp gardens are on the grounds of Magnolia Plantation, and they make a great place to spend a few hours if you're a shutterbug or a nature lover!
There are little "sunning decks" throughout the swamp that alligators climb on to bask in the sun, and you can get the coolest pictures of them when they climb atop one. The swamp water is covered in a bright green algae-like substance called duckweed. When alligators climb onto the sunning platforms they're often covered in the neon green substance, which makes for some very unique photo ops.
There are also some really nice photo ops if you keep an eye out for bird nests up in the trees and along the banks of the swamp and the walking trails. Egrets and heron are the most popular, but you'll spot others if you pay close attention.
At any rate, pack your best zoom lens, because you'll find plenty to shoot! Even if you're not into wildlife photography, the azaleas bloom from mid-March to April and a shot of them reflecting on the water is very 'Southern Living-worthy'.
Reflect on the City's Painful Beginnings
Learn about the inhumane practice of slavery — which is unfortunately synonymous with Charleston and the Deep South — at the Old Slave Mart Museum. It once served as a private auction house where men and women were sold to some of Charleston's most prominent plantation owners.
The museum currently offers a treasure-trove of information about the formerly enslaved and the horrific treatments they endured. It's a thought-provoking and moving experience, and one I highly recommend to anyone visiting the Lowcountry.
Explore the Meaning of Excess at Calhoun Mansion
From the Slave Mart Museum to Calhoun Mansion…you'll discover two completely opposite ends of the wealth spectrum by exploring both locations.
Calhoun Mansion is the largest single-family residence in the entire city, and it serves tribute to the Gilded Age when excess wealth was on display even as many lived in abject poverty.
The 24,000 square foot mansion is quite a showpiece. It features 35 fireplaces, Tiffany-designed lighting, and an extensive private collection of art and antiques worth millions of dollars.
If you've ever wondered what it might be like to live like a Trump (no thanks!), this and the Biltmore House in Asheville offer two of the closest peeks you can get into that type of over-the-top lifestyle.
When to Visit
The best times of year to visit Charleston are during early spring and fall. Southern winters are very mild, so the weather is comfortable for exploring as early as late February.
The holiday season is also drop-dead gorgeous, especially since many of the homes are decorated so beautifully!
Where to Stay in Charleston SC
The Dewberry is always a classic choice and Zero George Street is another incredible option. Search rates now onbooking.com
Enjoy Your Trip!
I hope these options help. If you'd like a Charleston bucket list printable that comes pre-filled with some (or all) of the above-listed items, please let me know so I can add that to this post.
For more local favorites, you can follow my Charleston board on Pinterest or join my email list. It's where I spill my secrets about my favorite places to explore in and around the Lowcountry.
If you're looking for more bucket list ideas, check out The Ultimate USA Bucket List — 100 Best Things To Do in the USA.
Which bucket list item is your favorite? (Mine is #6, because I have such a soft spot in my heart for sea turtles.)
Pin It for Later: Charleston Bucket List Printable