This shop has been compensated by Collective Bias, Inc. and its advertiser. All opinions are mine alone. #AdvilRelief #CollectiveBias
I just finished my first year of college (cue the happy dance!) and wanted to share my favorite tips while they're still fresh in my mind. If you're graduating from high school and heading off to your freshman year of college soon, there are a few essentials that will make your dorm room feel more like home. I've come up with a list of college survival kit ideas to help you out. I even included a free printable at the end!
Leaving home for the first time ever? Learn what to include in a college survival kit! #ad #collegetips #AdvilRelief Click To Tweet
What to Include in a College Survival Kit
Think of your college survival kit as your "mom away from home". It includes all the important goodies your mom carries in her purse or always seems to have on hand when you need them.
♡ Medicine: Pain Reliever, Allergy Medicine, Cough Drops, Vitamin C, Throat Spray
♡ Girlie Products: Tampons, Pads, Menstrual Pain Reliever, Heating Pad, Sanitary Wipes
♡ Oral Care: Toothbrush, Toothpaste, Floss, Mouthwash, Lip Balm
♡ Nail Care: Nail File, Cuticle Trimmer, Clippers, Polish Remover
♡ First Aid: Bandages, Antibacterial Ointment, Rubbing Alcohol, Peroxide, Cotton Balls, Cotton Swabs, Scissors, Tweezers, Thermometer, Bug Spray
♡ Shower Essentials: Shampoo, Conditioner, Deep Conditioner, Soap, Body Wash, Razors
♡ Laundry Essentials: Detergent, Fabric Softener, Stain Remover, Rolls of Quarters, Laundry Basket
♡ Comfort Essentials: Noise Cancelling Headphones, Non-Skid Slippers, Cozy Throw, Mattress Topper
♡ Room Essentials: Tape, Masking Tape, Can Opener, Batteries, Surge Protector, Mini Flashlight, Envelopes, Stamps
Medicine & Healthcare Tips
It's important to make sure the medicine you pack in your survival kit won't expire while you're away at school! I suggest purchasing brand new so you won't have to worry about it. To make it easy for you, click on this picture and you'll be taken directly to Target so you can drop the items in your basket! How simple is that?!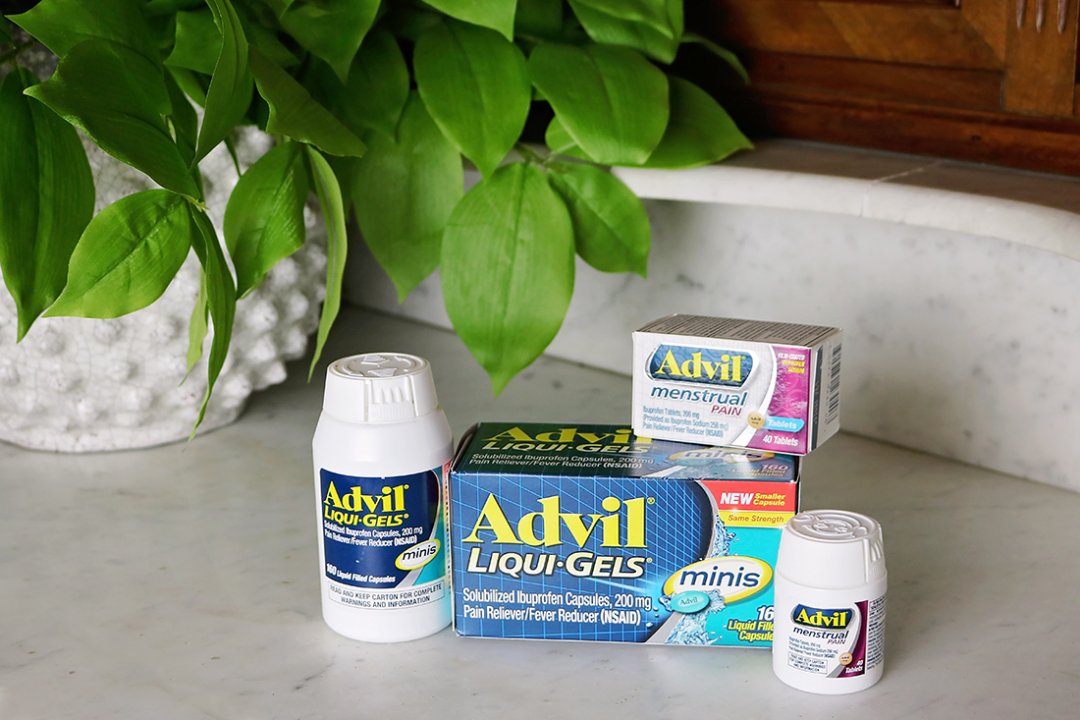 Check out this product on Target.com or shop there directly by clicking on the picture! Advil® Menstrual Pain Relief 40ct & Advil® Liqui-Gels® minis 160ct.
I recommend Advil® Liqui-Gels® minis because they're still the same strength as Advil, but they are now in a smaller, easier to swallow size. (They're 33% smaller!) Use them for headaches, muscle aches — even joint pain! (Trust me, you might develop joint pain if you hop out of the top bunk in your dorm room multiple times per day like I did.)
You'll definitely want Advil® Menstrual Pain for cramps, too. It's common to "sync" with other girls when you share a room, so you may all have your period at the same time. It's probably the power of suggestion, but cramps seem worse when everyone is affected simultaneously!
If you prefer shopping in-store, you can find these products on the pain reliever aisle, which is typically near the pharmacy.
Finally, remember that it's important to keep up with healthy eating while you're in college and stay hydrated by drinking lots of water. I follow the 80/20 rule, which means I eat healthy 80% of the time and have whatever I want the rest of the time.
College Survival Kit Ideas Printable
Download the pdf here.
If you like the printable, you can sign up for my newsletter and get instant access to my FREE resources library. It contains lots of helpful printables just like that one. My "Step Up Your Selfies" list of beauty hacks is my most popular one!
I hope my college survival kit ideas were helpful! If you have any questions, let me know in the comments below.

BLOGLOVIN' | PINTEREST | INSTAGRAM | FACEBOOK | TWITTER | YOUTUBE
Legal Disclosure: Use as directed | ©2017 Pfizer Inc. | LIQUI-GELS is a trademark or registered trademark of Catalent Pharma Solutions.