Get the Khaleesi look with my Game of Thrones Daenerys Targaryen makeup tutorial! It's really easy to follow along and makes a fun look for Halloween or cosplay conventions. I made a step-by-step video so it's easy to follow along.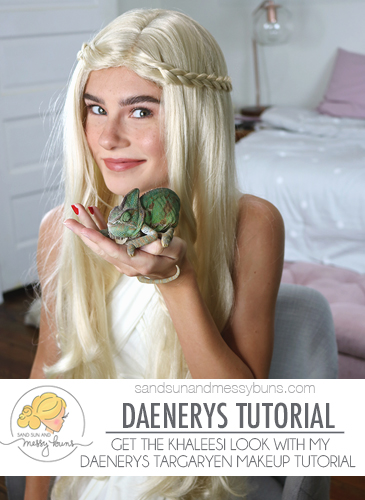 FTC Disclosure: This post contains affiliate links, which means we'll receive a small referral fee from purchases at no cost to you. You can read our affiliate policy here.
Get the Khaleesi look with this GOT Daenerys Targaryen Makeup Tutorial! #khaleesi #daenerys Click To Tweet
Game of Thrones Daenerys Targaryen Makeup Tutorial
Daenerys is definitely my favorite in Game of Thrones!! I love that she stands up for her people and does what they want, and she isn't power hungry or selfish. So, I hope I do her justice with my Halloween costume!
Links to Purchase:
Moisturizer: Glossier | Brows: Anastasia | Liner Brush: Sigma Beauty | Brow Gel: Glossier | Brow Highlight: Anastasia | Eyeshadow Palette: Urban Decay | Concealer: Tarte | Makeup Sponge: Real Techniques | Powder: Laura Mercier | Bronzer: bareMinerals | Blush: Milani | Faux Freckles: NYX | Mascara: Benefit | Lipliner: Rimmel | Liquid Lip: bareMinerals | Lip Pencil: MAC

I am the dragon's daughter, and I swear to you that those who would harm you will die screaming. Click To Tweet
My Chameleon Thinks She's a Dragon
Every year I do a Halloween costume that incorporates my chameleon and this might be my new favorite. (I don't know, though, because the Pascal one was pretty hard to beat!) Demi really loved playing with my wig on this one. She makes the perfect miniature Drogon! (Is it just me, or do chameleons always look like they're very unimpressed? lol)
OK, I hope my Khaleesi/Daenerys makeup tutorial was helpful! If you're looking for more costume ideas, check out my Princess Ahmanet tutorial on my YouTube channel. Thanks for stopping by!