Jacket and scarf weather has been sneaking into Texas lately, which means my mom is very happy. Summertime is my favorite season, so the beginning of fall pretty much makes me cry. (J/K! It's not that bad!)  With fall weather comes fall fashion, so that means I get to break out my jeans, scarves, leggings, boots, and jackets! So there's definitely something good about the season. 🙂 I shopped this weekend and got a cute faux leather jacket, so I'm kind of excited for it to get cold enough for me to wear that.
If you saw this recent post, then you know I love a good stripe with camo. Here's another version of that outfit, only this time with jeans and a t-shirt: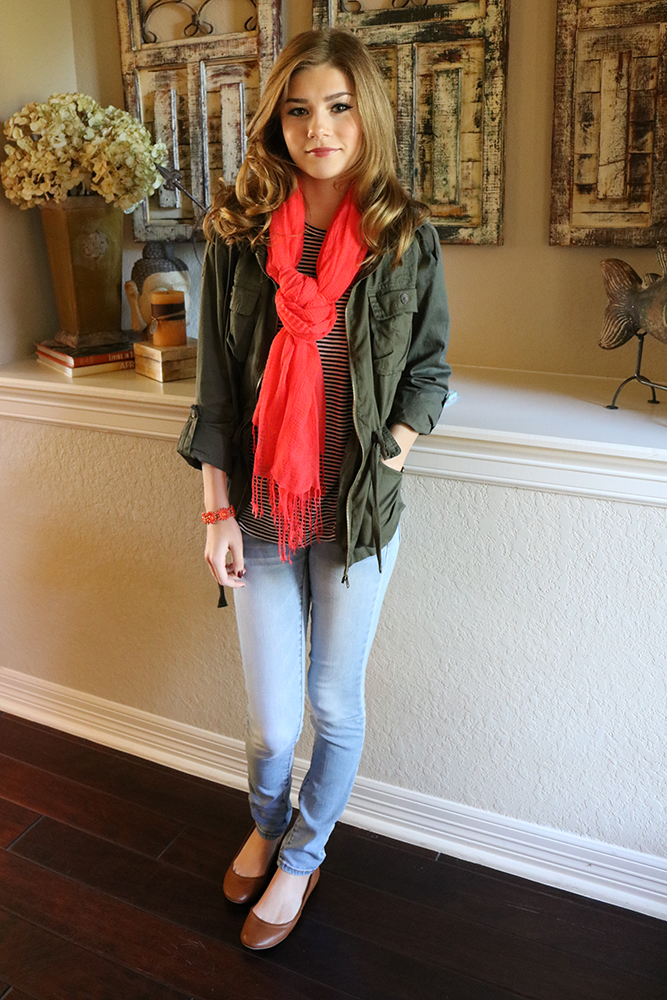 Coral and olive green are a great color combo.
Jacket: Macy's | Striped shirt: Kohl's | Bracelet: Francesca's | Scarf: Francesca's | Jeans: American Eagle | Flats: Target
I curled my hair using hot rollers and used my fingers to brush through it after removing the rollers for an easy tousled look.
This outfit is one of my go-to casual looks when I'm in a hurry for school. The jeans and B&W striped shirt are both neutrals, so the only thing needed to finish it off is to add colorful accessories! The coral scarf and bracelet add the perfect pop of color. Coral is one of my favorite colors, probably because it makes me think of summer. Isn't this bracelet pretty?!
It's sold out at Francesca's right now, but they have a really pretty gold-toned and white one available.
The jacket is by Bar III, but I'm pretty sure it's sold out at Macy's.
Do you have any favorite fall fashion looks? If so, what are they?