Tailgating season is the perfect time of year to dress in school colors and show off your team spirit! Today I've put together two game day makeup ideas to fit your personality type. The first is a classic look for girls who prefer an understated appearance on the big day. The second is bold for girls who like to make a BIG statement in support of their team!
Here are two fun game day looks to help you show off your team spirit: One classic and one bold! #ad #LOrealParis #collegelife #gamedaymakeup Click To Tweet
This post is sponsored by L'Oréal Paris and Her Campus Media, but all thoughts and opinions are my own.
Game Day Makeup Ideas: The Classic Look
I fall into this category most of the time. I like to look cute on game day, but unless the Super Bowl is on, I don't usually get too dolled up to watch football. (My idea of the perfect game day is to toss on a pair of comfy joggers and curl up on the couch to watch with my bf!)
Products Used:
Concealer: L'Oréal Paris | Eyeliner: L'Oréal Paris | Lip Gloss: L'Oréal Paris | Mascara: L'Oréal Paris | Powder: L'Oréal Paris
These L'Oréal Paris Infallible® Paints/Lips Metallic are the perfect choice for a classic bold lip look! I love the high shine factor and how the metallics add a bit of edginess so it looks classic, but not basic.
The liquid metallics are currently available in 4 colors. The one I used is one of the darker shades called Galactic Foil. The color is SO PRETTY!! I am seriously in love and will use this again and again. It has tiny metallic flecks that catch the light and add major sparkle!
Game Day Makeup Ideas: Make a Statement!
Are you the type of girl who always makes a bold statement with your hair and makeup? Then this second look is a fun one to make sure all eyes are on YOU! You'll definitely turn heads when you show up at the game with striped hair: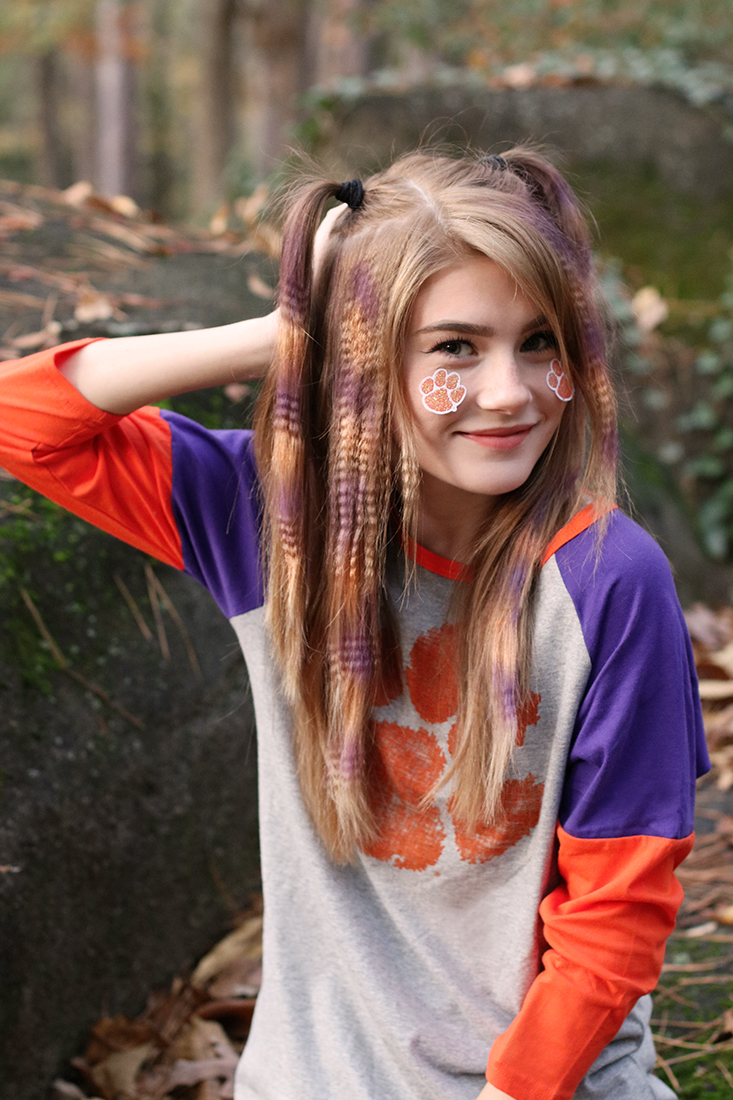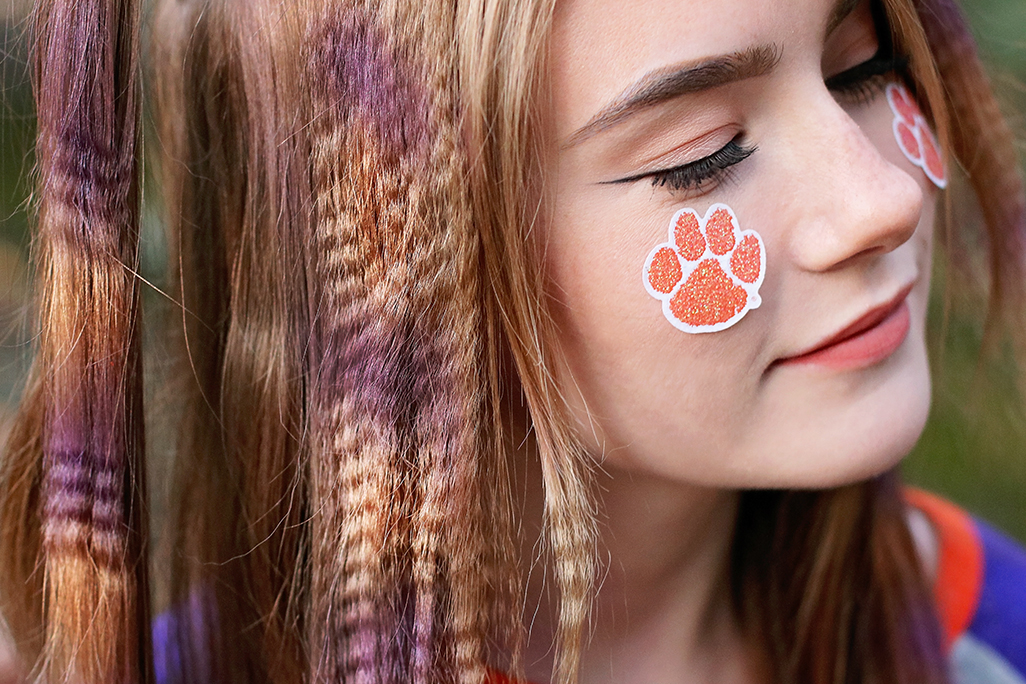 Products Used:
Concealer: L'Oréal Paris | Eyeliner: L'Oréal Paris | Lip Gloss: L'Oréal Paris | Mascara: L'Oréal Paris | Powder: L'Oréal Paris | Hair Color: L'Oréal Paris
I wanted to do something really fun and colorful with my hair, so I decided to go with stripes. (A fitting look for the Clemson tigers!) First I crimped sections of my hair, then I sprayed L'Oréal Paris Colorista® 1-Day Spray-in Paint in purple and gold. The spray is perfect when you want to go bold for the weekend only, because the color is temporary and washes out after one use.
I used L'Oréal Paris Infallible® Paints Matte Liquid Lips in Skinny Dip topped with a quick swipe of L'Oréal Paris Infallible® Paints Liquid Lips in Spicy Blush for this look. The full-coverage matte lipstick make a great base because it won't smudge and stays in place all day while you're tailgating. The matte lipsticks are available in 6 colors and the non-matte liquid lips are available in 14 colors.
Tailgating Beauty Tips
♡ Don't forget the matte lipstick! It'll keep your lips looking nice all day and you won't need to reapply for hours.
♡ Always wear sunscreen! It's the most vital part of your routine on game days — even if you're in a cold climate or if it's cloudy outside. Cover all exposed skin with a broad spectrum SPF 30+. (Don't forget your neck, the tops of your ears, and your hands!)
♡ If you're going to be exposed all day and not under a tent, wear a hat to protect your part line from harsh rays beating down on it all day long.
♡ Pack blotting papers to keep the shine off your face.
Bonus Tailgating Tips — Just for Fun!
♡ Freeze water balloons in your team's colors to use in your ice chest.
♡ Glue heavy duty magnets to koozies so you can attach drinks to the sides of your tailgating vehicle without leaving a water ring. It'll leave your hands free for snacking.
Hopefully these pics give you some fun ideas for your next tailgating party! You can obviously swap out the hair color to match your team colors, but it's a simple way to create a really fun game day look! Let me know if you have any favorite fun game day makeup ideas to share.

BLOGLOVIN' | PINTEREST | INSTAGRAM | FACEBOOK | TWITTER | YOUTUBE