Are you planning a trip to Hilton Head to check out the fireworks this 4th of July? The island is one of the most family-friendly vacation destinations in the Southeast! Today I want to share a few of my family's favorite things to do in the area for the 4th of July weekend.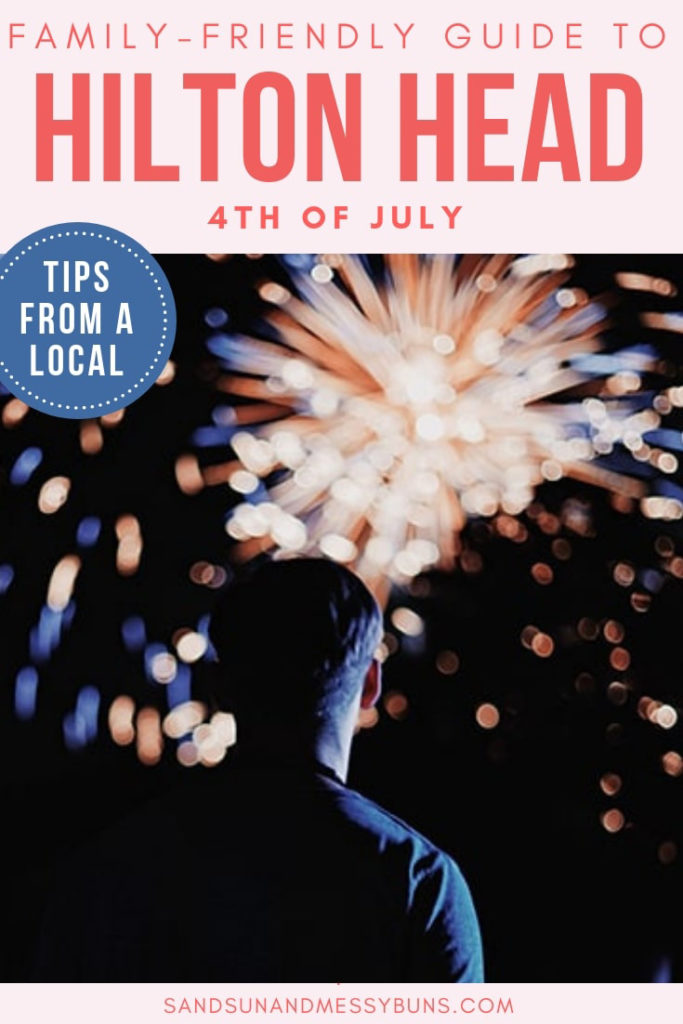 If you find this post helpful, please share these Hilton Head fireworks tips on Pinterest to help other travelers!
FTC Disclosure: This post contains affiliate links, which means we may receive a small referral fee from purchases at no additional cost to you. You can read our affiliate policy here.
Hilton Head Fireworks
From fireworks to military flyovers, Hilton Head has plenty of all-American ways to celebrate the holiday. And although it might be tempting to grab a cooler and head down to the beach to shoot off your own fireworks — I wouldn't suggest it! It's best to brush up on the rules first…
Is it illegal to shoot fireworks on the beach in Hilton Head?
Yes, it's illegal. Don't be fooled by all the fireworks stands off I-95; it's a misdemeanor and you risk a $500 fine if you do it.
Can you have alcohol on the beach?
Nope. Hilton Head is a very family friendly destination and because of that, alcohol is prohibited on all beach areas.
Are dogs allowed on the beach?
They aren't allowed from 10 am to 5 pm from Memorial Day through Labor Day, but it's ok to have them out on a leash if it doesn't fall during that time period. Just remember to properly dispose of their poo!
Now that we have the rules out of the way, let's focus on the fun things you CAN do while you're in town.
Shelter Cove Marina Fireworks Display
Website: Shelter Cove Marina
There are beautiful fireworks island-wide, but my family always watches from Shelter Cove Marina. Their display is one of the biggest and best!
This event gets really crowded, but they have shuttles and do a great job of managing the traffic.
Plan on arriving early in the day to stake out a good spot where you can watch the fireworks. The most popular locations are claimed early, so you have to be prepared if you want a really good view.
Try to sit with a body of water directly in front of you so you'll see the fireworks in the air above you and reflected in the water below. If you sit near the marshes closer to the parking lot instead of sitting near the marina, you can do so redneck-style and bring a lawn chair and a cooler.
The fireworks originate from Broad Creek behind the Disney Resort (seen in the photo above), so I prefer to be out in that direction so I'm much closer to the action.
⭐ Insider Tip: Shelter Cove has a fireworks show every Tuesday night during the summer, so don't worry if you happen to miss out on the 4th; you can catch the next one.
Watch the Patriotic "Salute from the Shore"
Website: Salute From the Shore
Grab a picnic blanket, head down to the beach, and check out the 10th annual Salute from the Shore! This is a unique way to show respect for veterans and those currently serving in the military.
Kids love watching the F-16s and vintage WWII aircraft flying low over the coastline. The planes fly by in batches, so you may see the F-16s first and then the slow lunkers (my personal favorites!) bringing up the rear.
The planes depart from Shaw Air Force Base and make their way down the entire coast of S.C. They're usually scheduled to buzz the beaches of Hilton Head Island between 1:00 – 2:00 p.m. on the 4th of July.
Make sure you take a flag to wave so the veterans inside each plane can see your support from the air! How cool do you think it would it be for them if they looked out and saw a sea of red, white, and blue flags?!
⭐ Insider Tip: Please be respectful and use proper flag etiquette. (And, speaking of being respectful, please don't take a Confederate flag.) The easiest thing to do is purchase an American Flag beach towel.
You can also Share Your Salute on their website by entering the name and pertinent details of your own military hero so the rest of the world will know who you're saluting that day.
My dad worked for 30 years for the main sponsor for this event, so we always watched it together from the balcony of our condo whenever possible! It's a fun memory.
Go on a Sunset Dolphin Cruise
Reviews: Read Vagabond Dolphin Cruise reviews on TripAdvisor
Hop on a boat tour to see wild Atlantic Bottlenose Dolphin in their natural habitat. This is so much fun for the whole family! It's really relaxing to see Hilton Head from the water.
The sunset dolphin tours are my favorite! Not only do you get to see beautiful sunsets over the water, but it also feels much cooler than cruising mid-afternoon.
I almost always tour with Vagabond Cruises, but I've also gone out on smaller boats a few times where you can actually lean over and touch the water. Vagabond offers Shelter Cove Fireworks dolphin tours as well as a Harbour Town Fireworks dolphin tour.
⭐ Insider Tip: Search Groupon prior to purchasing, because they often include dolphin tour coupons. If you're new to Groupon, here's a coupon for $10 off your first tour!
Hilton Head Pirate Ship Cruises
Reviews: Read HHI Pirate Ship Cruise reviews on TripAdvisor
Argh Matey! What kid wouldn't love to sail away on a pirate boat?! The tour begins on land, where kids learn "pirate speak" and have their faces painted. They also receive official pirate names and a (temporary) tattoo!
Once they're in their pirate gear, they'll head off on the Black Dagger to defeat Stinky Pete the Pirate and locate his sunken treasure. Just FYI: The evening tours on July 4th sell out well in advance, so act quickly to reserve a spot!
NOTE: The boat departs out of Sea Pines Plantation, which has a $5 per car fee to enter the gates. That's in addition to the cost of the pirate tickets, so be sure to factor it in.
Coastal Discovery Museum
Website: Coastal Discovery Museum
The Coastal Discovery Museum makes a great spot to escape the summer heat and learn more about all the details that make the Lowcountry so special.
The museum covers lots of information about the wildlife you'll find in the area — particularly sea turtles, dolphin, owls, snakes, and crabs. You'll find live turtles and horseshoe crabs in aquariums, and there are owls on display so kids can learn how to differentiate between each type.
If you'd like to learn more about the Gullah culture or purchase books, art, or souvenirs specific to the Lowcountry, the Coastal Discovery Museum is the place to do it! There's no entry fee, but a small donation is suggested.
⭐ Insider Tip: For more ideas about what to do for the 4th, I also suggest signing up to become a Hilton Head Insider.
Hilton Head Resorts
My favorite family-friendly resorts on the island are the Sonesta Resort in Shipyard Plantation (oceanfront), Sea Pines Resort (waterfront on Broad Creek), Disney's Hilton Head Island Resort (waterfront on Broad Creek), and the Omni (oceanfront).
If you're a new visitor to Hilton Head Island and you have small kids, it might be helpful to know that the island tends to have very small waves (unless a storm is coming).
It's protected by a sandbar on the north end, so the waves sometimes feel more like lake waves than ocean ones — especially closer to the north end. The oceanfront side has lifeguards stationed in regular intervals along the beach, and it's common to see lifeguards patrolling the beach both by truck and sometimes by helicopter.
Related Reading: 7 Incredible Hilton Head Sunset Spots (Map Included!)
Heading to Hilton Head this 4th of July and wondering what to do? Here are five family-friendly activities! #hiltonhead #traveltips
Click To Tweet
Day Trips from Hilton Head
I know I'm partial, but the Lowcountry is such a beautiful place to explore! Hilton Head is only a short drive to Savannah, Bluffton, Beaufort, and Charleston. Here are a few things you might want to check out while you're in the area:
I hope this post helps if you're planning a vacation to Hilton Head this 4th of July and are looking for some fun things to do with your family. If you have any questions, I answer fastest over on my Instagram account.
Pin It for Later: Hilton Head Fireworks & Family-Friendly Activities

PINTEREST | INSTAGRAM | FACEBOOK | YOUTUBE
Post updated June 2019