After taking years to grow out my hair, I did a very typical girl thing and decided to have a few wispy bangs added in. I surfed Pinterest for days and excitedly took a couple screenshots to show my stylist. I'm not sure if she was having a bad day or what, but she CHOPPED my bangs. They definitely came out much shorter than I wanted, and she cut more than the "wispy" look I requested. I came home from the salon and tried to even them up, and now I'm learning how to work with them while they grow out. If you're in a similar situation, stick around because I shot a video tutorial to show you how to fix bad bangs.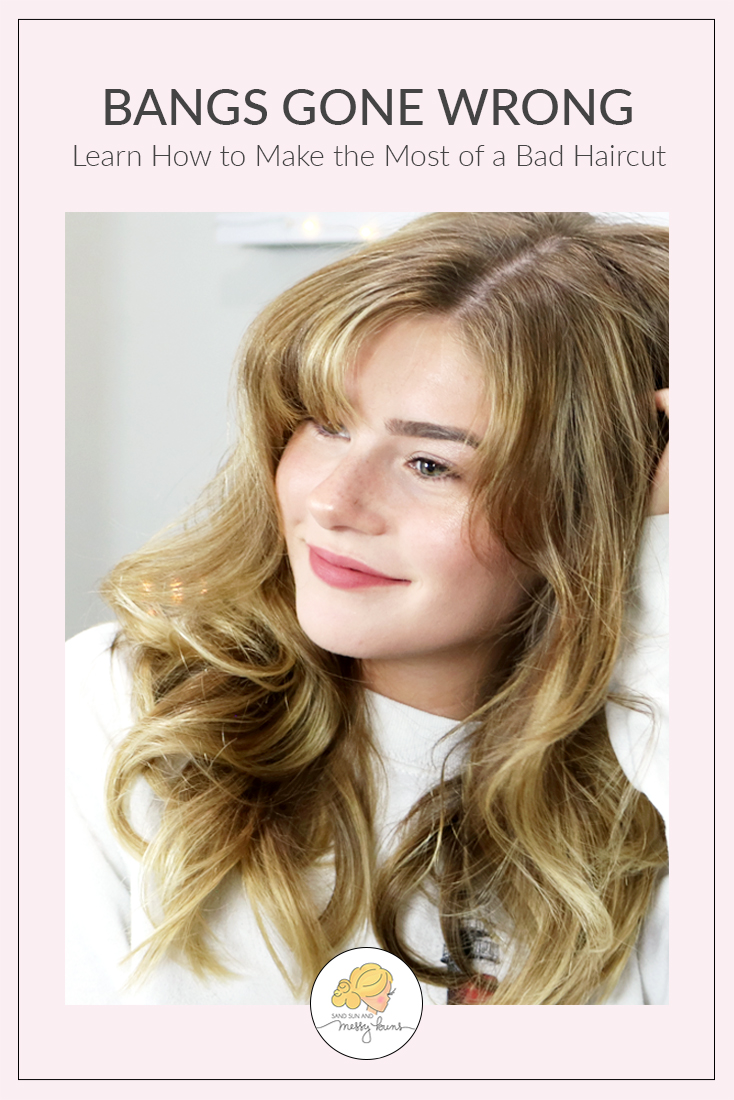 Hairstylist take out her bad day on your hair? Here's how to fix bad bangs. #beautytips #bangs Click To Tweet
FTC Disclosure: This post contains affiliate links, which means we'll receive a small referral fee from purchases at no cost to you. You can read our affiliate policy here. We donate 25% of our "click money" proceeds to these charitable organizations.
Links to Purchase
Shampoo: NYMB | Conditioner: Wella | Leave-In Conditioner: Redken | Oil Treatment: Macadamia | Brush: CHI | Straightener: CHI | Rollers: Conair | Comb Hair Clips: Conair
How to Fix Bad Bangs
First, I want to share a couple tips for keeping your hair healthy in general. After all, hair always looks best when it's shiny and healthy — even when your bangs are a little kooky.
Tip #1: Eat Healthy
If you eat right and drink lots of water, your hair should be fairly healthy. That's a good thing, because healthy hair won't develop split ends that cause it to break off. You definitely want hair to grow as fast as possible after a stylist has butchered your bangs, so stick with a healthy diet that contains lots of protein, plus healthy fruits and veggies!
Related: The Best Foods for Healthy & Beautiful Skin
Tip #2: Use Protection 🙂
Even though I try to avoid heat as much as possible, I'm still drawn to the flat iron and curlers pretty regularly. You'll notice in most of my hair posts that the one product I always recommend is some type of heat protectant.
I think it's a good idea to wash hair regularly, use a deep conditioning treatment at least once per week, and to always add a protectant. I'm not always a big fan of Redken products (their coloring products in particular seem to make my hair appear brassy), but I do love their Anti-Snap Protectant.
However, the Macadamia Healing Oil Treatment is one of my favorite hair products of all time! You guys, it smells SO GOOD, and I swear it's one of the products that has always given my hair that bouncy, shiny appearance like in the TV commercials.
Related: Daisy's Beauty Essentials.
Tip #3: Accessorize
If your bangs are driving you too crazy, try using bobby pins or pretty clips to pin them back or blend them into the rest of your hair. There's also always the old standby of wearing a hat for a few weeks! Watch one of my favorite tricks on my summer hairstyles video. It starts at the 7:28 minute mark. (Braids also work really well.)
Tip #4: Have Patience 
My best advice for growing out bad bangs is to just be patient and try to make the most of them! Hair grows pretty fast, so you won't have to live with them forever! As my mom's been telling me ever since I was little: It's just hair. It'll grow out! 🙂
Even though mine aren't too bad, I'm making the most of them by styling lots of 80s and 90s big hair looks while I've got them. For example, check out all the fun looks I recreated from old Friends episodes in my 90's Hair Tutorial video.

Any Tutorial Requests?
I hope my video was helpful! If you have any questions, let me know in the comments below or on YouTube. What type of tutorial would you guys like to see next? I just shot a video about my skincare routine since I've had a lot of requests about that topic, so that will be the next one I post!
Pin It for Later: Salon Visit Gone Wrong? Here's How to Fix Bad Bangs

BLOGLOVIN' | PINTEREST | INSTAGRAM | FACEBOOK | TWITTER | YOUTUBE