This shop has been compensated by Schwarzkopf. #FashionColorExpert #sponsored
I seem to run into the same problem nearly every time I plan a vacation; I get so busy trying to organize my itinerary and get the house ready that I never leave time to actually get myself ready! Between completing work assignments and packing for my trip, fitting in three hours for a salon visit often falls to the bottom of the priority list. Sound familiar? If so, you may want to consider at-home hair coloring. The perks? You can do it late in the evening so you won't have to work around a stylist's schedule, and you'll save money! If you're ready to learn how to get blonde highlights at home, stick around because today I'm spilling my secrets on how to do it right.
Learn how to get blonde highlights at home with these easy tips #ad #FashionColorExpert Click To Tweet
How To Get Blonde Highlights At Home
There's an easy formula to ensure you get your best version of "boxed blonde", and it goes a little something like this…
(but first, here's a before shot…)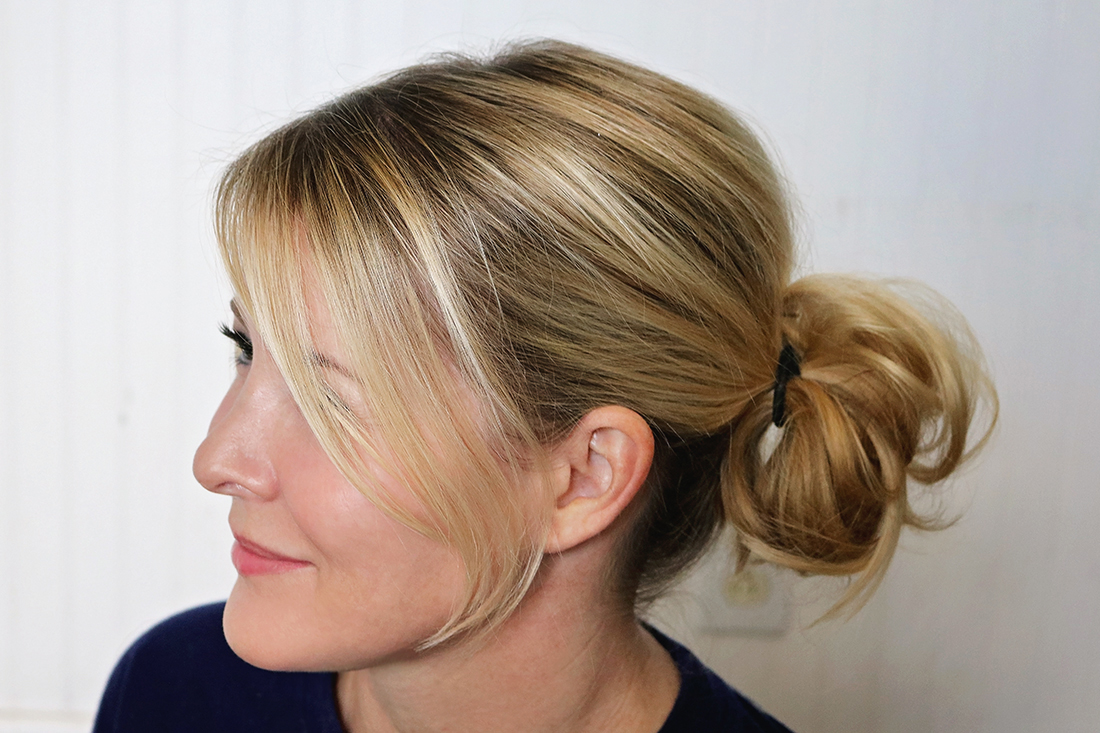 Step 1: Pick the Right Color
Walking down the hair color aisle is slightly intimidating, isn't it? When you're enveloped by a sea of boxes sporting pretty faces and beautiful hair, how do you select the right one?
Hair color options overload!
Head on down to your local Walmart (rumor has it nearly every town has one these days!), and pick up a box of Schwarzkopf Color Ultime. It's a permanent hair color that defies fading for up to 9 weeks and provides a "true to box" result.
Since I already have blonde highlights and just wanted to freshen up my look before an upcoming trip to the beach, I selected the "9 1/2 Light Natural Blonde" option. (They're generously offering our readers the opportunity to try a box for FREE right here.)
It's part of their Iconic Blondes collection and has one of my modeling favorites on the box — the stunningly beautiful Claudia Schiffer. I love that it includes a blue "anti-brass" conditioning treatment to help reduce brassiness, which is often a problem with blondes.
Step 2: Read the Instructions
That's right, go ahead and read the instructions so you'll know how to properly mix everything. I learned this the hard way many years ago when I was supposed to mix two packets of powder with a bottle of developer and I only mixed one. Oops! Don't be me. Do as I say, not as I (used to) do.
Step 3: Do the Allergy Test
Test a small spot of the solution to make sure your skin won't react to it. Safety first! Once you're sure it's ok to use, mix the developer lotion and the color cream according to package instructions. (Use the full amount of each one.)
Step 4: ***Do a Test Strand***
This is the most important step in achieving beautiful blonde highlights!! Depending upon the condition of your hair, it may take more or less time for your hair to develop than what's listed in the instructions. That's why it's CRITICAL to color a test strand first!
By testing a strand from the back of your hair, you'll determine the correct length of time it takes YOUR hair to develop — thus ensuring you get the perfect shade every time!
Select a small test strand of about 30 hairs and coat it thoroughly with the mixed solution. Allow it to sit for the length of time recommended in the package, then wipe the solution away and see if strands appear lightened. Sometimes it's difficult to tell while hair is wet, but if your hair appears orange that's an indication that the solution needs more time.
When transforming from a darker hair color to a lighter shade, your hair will turn somewhat orange-y at first. Do not be alarmed! Leave the product on longer and the color will continue to "lift" from your hair, resulting in a beautiful buttery blonde.
Step 5: Cap vs Full Color vs Brush Placement
Once you're satisfied with the test result, rinse the test strands thoroughly and add protectant to them. This step is important so the test strands won't be double-processed and turn out much lighter than the rest of hair. I use virgin coconut oil to protect my test strands.
Now it's time to decide how blonde you want to go! Thoroughly saturate hair for a monotone look, pull it through a cap if you only want certain strands highlighted, or paint on a few face framing highlights.
This kit doesn't come with a cap and threader, but you can purchase them at any beauty supply store. I used the cap method, because my hair already has quite a few highlights in it. I simply wanted to freshen up the blonde before an upcoming trip to the beach.
If you're applying to certain strands only, use a paintbrush or even an old toothbrush as an applicator. Don't be too precise, because the best highlights are uneven and aren't placed symmetrically.
Step 6: Start in the Back
Begin working on the back underside of your hair first. This area is typically the darkest area and therefore takes the longest amount of time to transform.
Step 7: Moisturize, Moisturize, Moisturize!
Once the solution has been on your hair for the specified amount of time, wash with a mild shampoo and rinse thoroughly. Next use the "Blue Conditioning Treatment for Blond Hair with Anti-brass Serum" included in the package. It acts as a toner and helps to further reduce any brassiness or orange tones.
Since highlighting solutions can leave hair feeling dry, make sure to moisturize well in the days and weeks following a treatment. Again, this is where virgin coconut oil comes in handy! I coat my hair with coconut oil once each week then relax in a bubble bath. I'll let it sit for 20 minutes before a thorough rinsing.
Step 8: Add Toner
I always save the toner for my last step, then opt for a slightly cool and invigorating rinse to complete the process.
My end result shows much lighter hair overall and a beautiful buttery tone very similar to the box. I left the color on my hair for a full 30 minutes prior to rinsing. Besides adding an overall lighter tone to my hair, I like that the conditioner did such a good job of reducing my brassiness.
If you're anything like me and have too many things on your plate to find time to visit the salon, then I hope this tutorial helps. At-home highlights can be tricky, but learning how to do them properly is worth it. Plus, with all the money you save by avoiding a costly salon visit, you can treat yourself to something fun on your next vacation!
Be sure to grab your free sample box of Schwarzkopf Color Ultime, then head on over here or to their Instagram account to get inspired!

BLOGLOVIN' | PINTEREST | INSTAGRAM | FACEBOOK | TWITTER | YOUTUBE