This post is sponsored by People StyleWatch & ULTA Beauty, but all thoughts and opinions are my own.
Today I'm sharing my tips for getting doll like lashes — just in time for holiday parties. If you want a makeup look that will wow your friends, this is the one! The best part is that it doesn't require using false lashes or expensive eyelash extensions.
A step-by-step guide to getting great lashes with lash fibers and mascara.
Get the look of eyelash extensions WITHOUT the expense! Click To Tweet
FTC Disclosure: This post contains affiliate links, which means we'll receive a small referral fee from purchases at no cost to you. You can read our affiliate policy here.
How to Fake the Look of Expensive Eyelash Extensions
Step 1: Add winged liner.
A bold line helps to create a darker and thicker-looking lash line. For this tutorial, I created a thicker line than usual so my lashes would appear really dark.
TIP: The winged effect can give the illusion of lengthier and more flared-out lashes on the ends, so make sure to add a strong wing on the outer corner of the eye.
Wings so sharp they could kill a man.
I absolutely love the precision and control this Tarteist Clay Paint Liner provides. I picked it up from ULTA Beauty and it just might be my new favorite eyeliner! It's a creamy liner that comes in a small squeeze tube.
Squeeze out a tiny amount of the liner onto a small angled brush, and then draw the line on your eyes. The effect? Liner that is on point!! It allows you to have so much control over the line you draw that you'll be amazed at the end result.

Step 2: Add a coat of mascara.
I love the Too Faced "Better Than Sex" mascara that came in my "La Petite Maison" eye shadow palette. It gives my lashes major volume! That's what I used in this step to get a base coat and wet my lashes. But you'll need to move on to the next step quickly – while lashes are still wet!
Step 3: Add volumizing fibers.
This is the fun part! Before your first coat of mascara dries, use this amazing product I discovered called Essence Volumizing Lash Powder. Many lash fibers are sold by Prestige brands and can be somewhat expensive, but I'm happy to share that this one costs less than 5 dollars!
It comes with its own handy little wand. Dip the wand into the fibers, and apply the fibers to lashes while mascara is still wet so they will adhere.
Here's an extreme close-up of my eye so you can see that it makes your lashes look fuzzy and weird!
TIP: Tilt your head down slightly when applying the fibers so they won't get in your eyes. They're very thin and can be a bit messy. You can see that some fell on my nose if you look closely in the shot above.
Step 4: Add a second coat of mascara.
Add another coat of mascara on top of the fibers to seal them in place, then take a step back and admire your longer and thicker lashes. Seriously, I can't say enough about the fibers! They're easy to use and they really do add thickness and length to the tips of your lashes.
I've done a comparison below so you can see the difference between one eye with no mascara or fibers and one eye with the fibers plus 2 coats of mascara. Pretty amazing, right?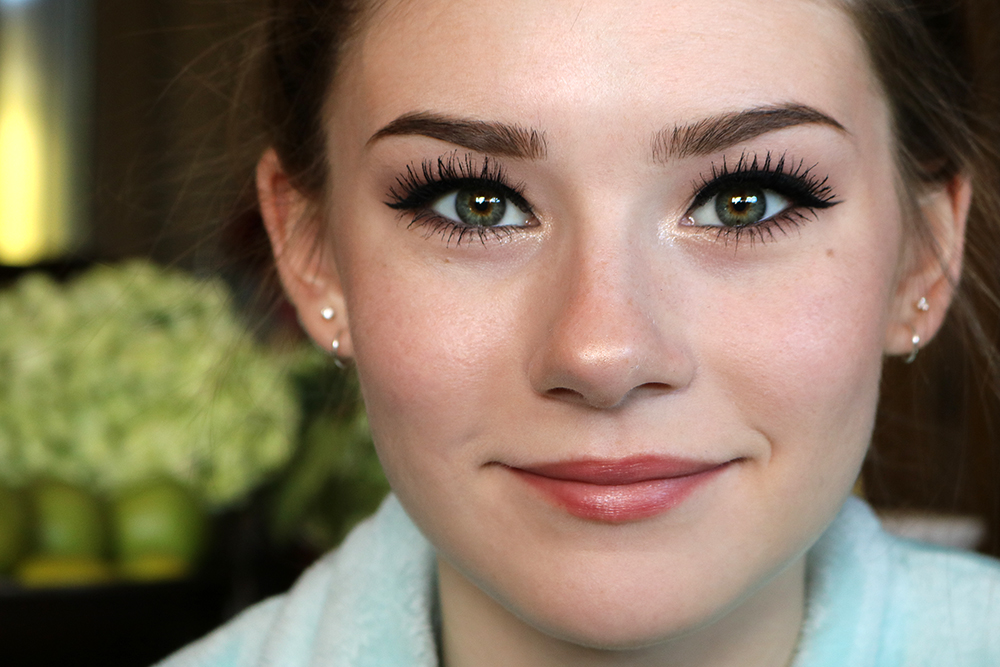 Products in This Tutorial:
Eye shadow palette: Too Faced La Petite Maison | Eyeliner: Tarte Tarteist Clay Paint Liner | Lash Fibers: Essence Volumizing Lash Powder | Mascara: Too Faced Better Than Sex Mascara | Brows: Anastasia DIPBROW in Dark Brown + Anastasia Beverly Hills Brow Wiz in Dark Brown + Anastasia Beverly Hills Clear Brow Gel
Please let me know in the comments if you have any questions. It's a really great way to get the look of eyelash extensions or fake lashes at an extremely low cost!