I thought it would be a fun to recreate some iconic makeup looks during my summer break. For the first one I thought I'd recreate Brigitte Bardot's sultry makeup and voluminous hair, since she clearly has such an iconic look. I also added a Brigitte Bardot makeup tutorial on YouTube, which I linked at the end of the post.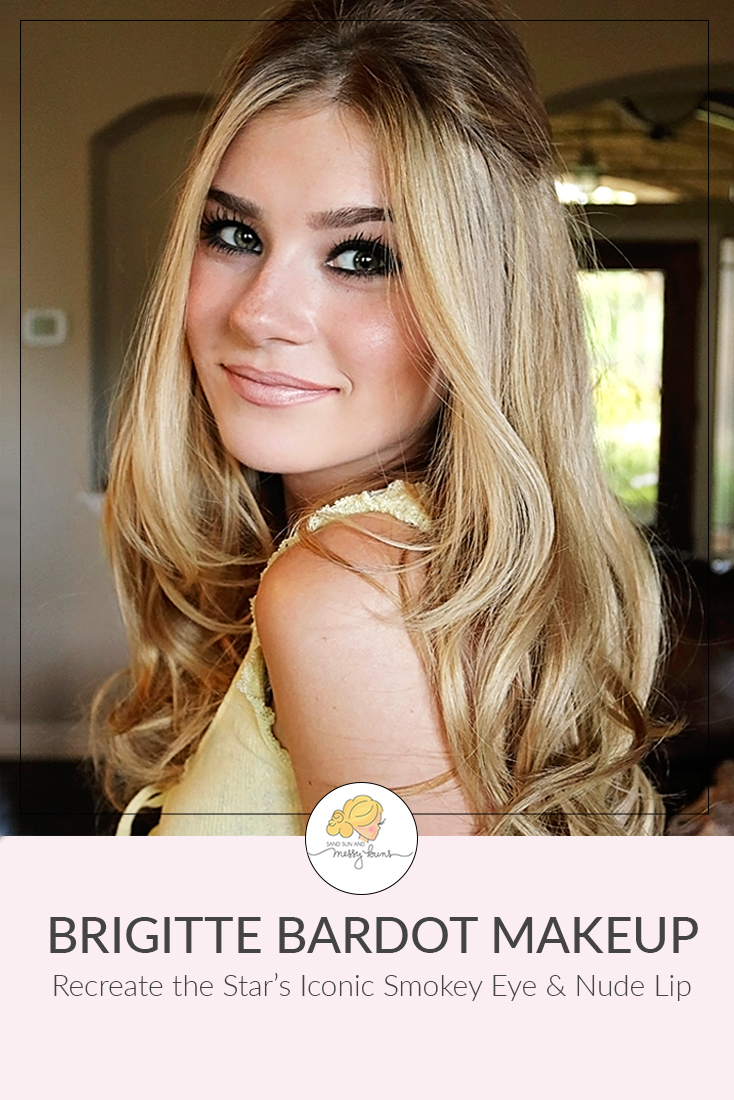 Here's a great Brigitte Bardot makeup tutorial for fans of the Hollywood glam look. #bardot Click To Tweet
FTC Disclosure: This post contains affiliate links, which means we'll receive a small referral fee from purchases at no cost to you. You can read our affiliate policy here. We donate 25% of our "click money" proceeds to these charitable organizations.
Key Components of Brigitte Bardot's Look:
♡ Voluminous, teased hair with long tendrils in the front
♡ Smokey eyes lined on the top and bottom, plus heavy layers of mascara
♡ Nude lips and obvious lipliner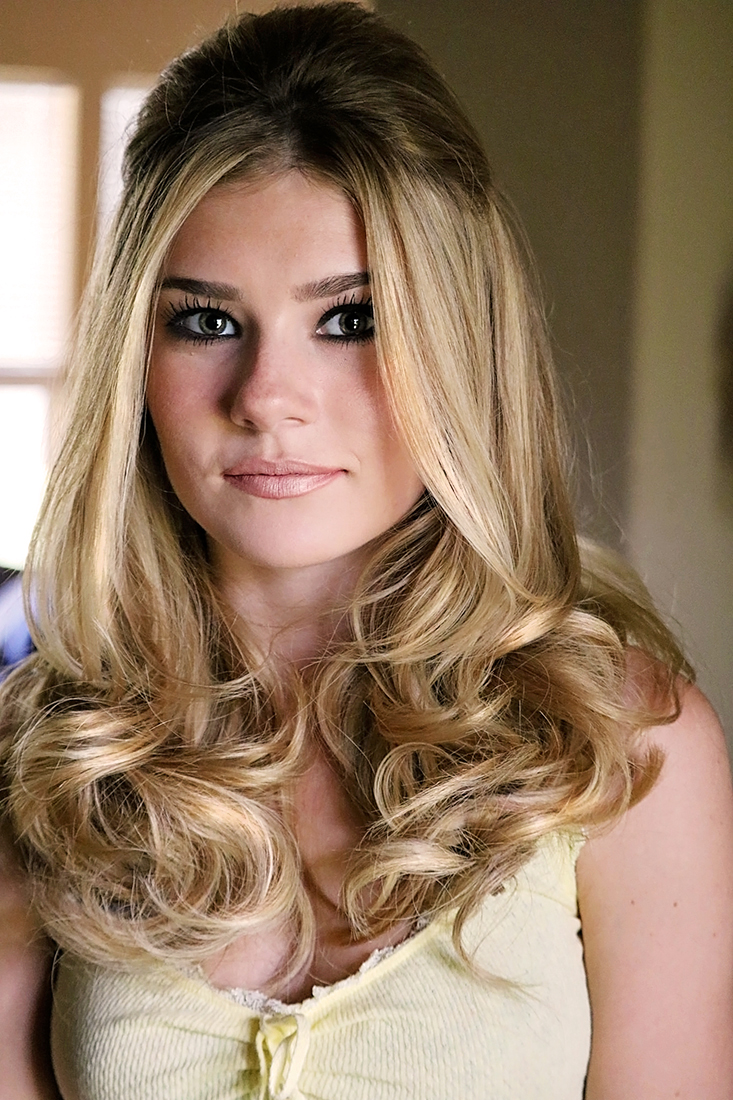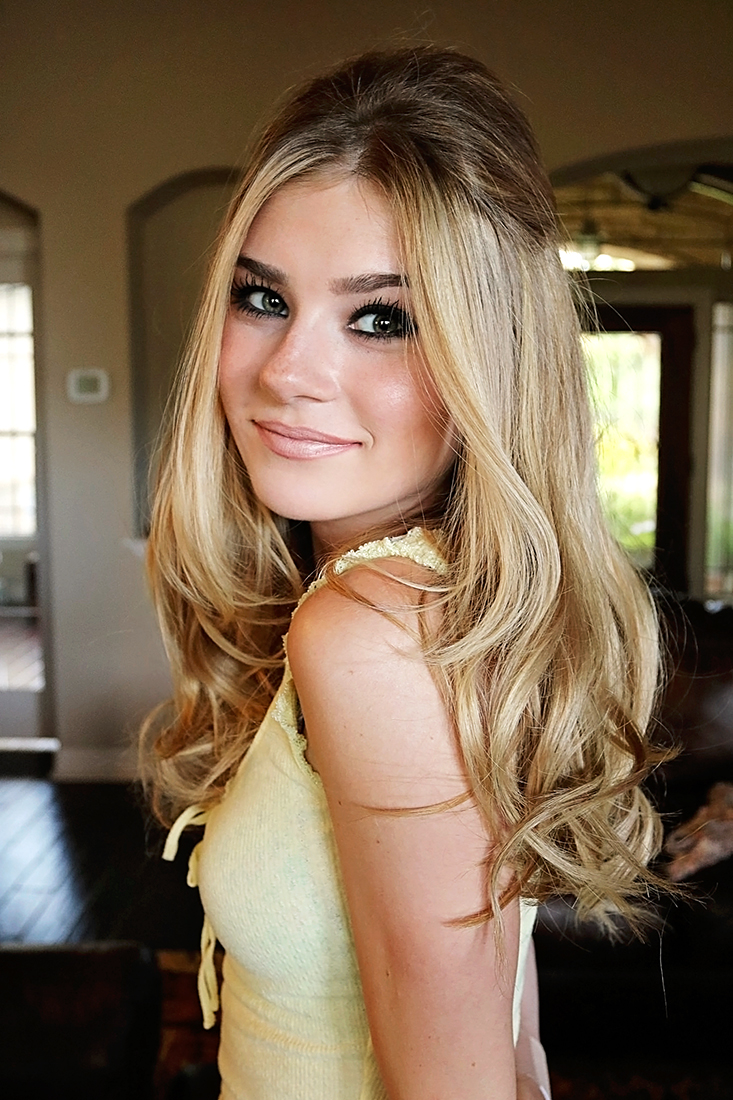 Brigitte Bardot Makeup Tutorial
Step #1: Apply Tinted Moisturizer or Light Foundation
Begin with bb cream, tinted moisturizer, or a light foundation. Brigitte usually didn't appear in photos or movies wearing a lot of heavy foundation. Most of the time she looked sun-kissed, and you could even see a smattering of freckles across her cute little nose! (I left my freckles visible on my nose when recreating her look.) Use concealer only where necessary to cover blemishes or dark spots, then set with a light dusting of translucent powder.
If you don't have freckles naturally, check out my faux freckles tutorial to easily recreate the look of sunkissed skin. – daisy
Step #2: Add Light Color to the Cheeks
If you feel the need to add blush, use a peach tone, or add bronzer and highlights in place of blush. Her cheeks weren't typically the focus of her look; it's all about the pouty lips and smokey eyes!
Step #3: Use a Smokey Eyeshadow Palette
Add a dark gray shadow on eyelids from the base of eyelashes to the crease, then blend into shades of brown above the crease. The key to her look is blending the shadows really well so eyes appear smokey but not too harsh.
Step #4: Add Dark Liner to the Top & Bottom Lashlines
Add liner to the top and bottom lashlines, then tightline both lashlines, too. Tightlining means adding liner to the inner flat part of the eye, between the base of the lashes and your eyeball. Use a brush to blend shadow into the eyeliner so it also won't appear too harsh.
Related: Makeup 101: Eyeshadow Placement Diagram for Makeup Newbies
Step #5: Layer on 2 Coats of Mascara
Add a few coats of a volumizing + lengthening mascara to really thicken and extend the upper and lower lashes. You really want those babies to POP. If you're unsure what to use, you can read reviews about my top 5 mascaras worth the hype and decide on the best one for your budget. For this look, the BareMinerals and Maybelline options might be the best premium and drugstore ones, since they're both pretty dramatic.
Step #6: Line Lips a Shade Darker, then Fill w/Nude Lipstick
Brigitte's lips were almost always pouty and pale, and they usually had a visible outline. Line lips with a nude lipliner slightly darker than your natural lip color, then add a nude lipstick. I don't own a lipstick as light as she usually wore, so I actually blended eyeshadow into my lipstick to make it even lighter!
Step #7: Lightly Groom & Set Brows
Make sure brows are neatly combed and fill any obviously sparse areas. Brigitte's brows weren't overly drawn on, nor were they overly thick or thin. They framed her eyes nicely and were always neatly groomed, although often somewhat hidden by her long bangs.
Attempting to strike a Bardot pose! lol

I never know how many pictures to post — I don't want you guys to get sick of me! But I took a LOT of pictures with this makeup on, so I'm going to post a few more. (I was using my self-timer, so I just kept clicking away.)
Links to Purchase:
Mascara: Bare Minerals "Lash Domination" Mascara | Eyeliner: Milani Black Kohl Eyeliner | Blush: Benefit "Dandelion" Box O' Powder Blush | Eyeshadow: Urban Decay Gwen Stefani Eyeshadow Palette [ Limited Edition – Sold Out ] | Concealer: Urban Decay Naked Skin Concealer | Lipliner: Charlotte Tilbury Lip Cheat Lipliner in "Pillow Talk"
Hopefully those close ups will give you a better idea of how I did my smokey eye. Plus, you can definitely see how my freckles are showing through since I barely used anything on my nose! You can recreate this makeup look with any smokey shadows and light-colored lipstick. Learn how to add faux freckles in my fake freckles video tutorial!
The Iconic Brigitte Bardot as Inspiration
She's so beautiful! Click on each photo to see it larger. [Photo sources]
Update: Brigitte Bardot Makeup Tutorial Now on YouTube!
I wasn't lying when I said I love creating Brigitte Bardot hair and makeup looks! Here's a video I recently posted on my YouTube channel showing a variation of her makeup and hair in an updo.
Tomorrow's post show's how to recreate the famous "Bardot hair", so stay tuned! In the meantime, check out one of my most popular hair posts: Flat Hair Fix: How to Boost Hair Volume. It'll teach you how to get volume on second-day hair if you prefer to skip a day of shampooing. (Skipping a day is actually really good for your hair!)
Thanks for reading and let me know if there are any other Hollywood icons you want to see. Those are always my favorite looks to recreate. Have a great week!

BLOGLOVIN' | PINTEREST | INSTAGRAM | FACEBOOK | TWITTER | YOUTUBE