If you feel overwhelmed when you walk into a makeup store, don't worry — we're here to help! While we love beauty products and could probably open a store of our own, we also remember what it was like when we first discovered the (Amazing! Colorful! Addicting!) world of makeup. Our back-to-basics approach contains all the makeup tips you need to achieve a flawless face using only the essentials.
1.Primer: Primer has many benefits, but our favorite is that it gives makeup staying power to last throughout the day. It's also beneficial if you have large pores, because it helps to seal them so your foundation goes on smoother. Most primers are non-comedogenic, so that means they won't clog pores or cause breakouts. They also help conceal wrinkles by smoothing out fine lines. If you have oily skin or watery eyes, primer is essential for keeping eye makeup in place.
TIP: Think of primer as shapewear for your face, because it smoothes the lines and wrinkles so everything you apply over it will look better. (We have to thank Bobbie Thomas from the Today Show for that great reference. It creates the perfect visual!)
Daisy recommends: For the face: Benefit Cosmetics "The Porefessional"
 || For eyelids: Same as my mom's choice! Erin recommends: Urban Decay Eyeshadow Primer in the Original Formula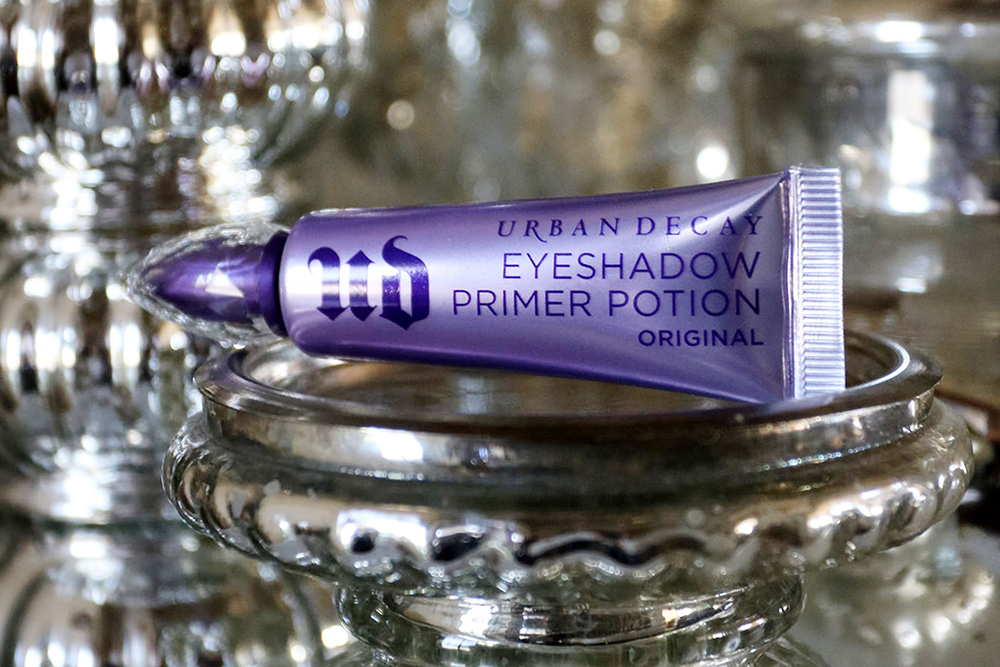 Hands down, this is the best eyeshadow primer on the market!
2.Foundation: How do you know which foundation is right for you? Experiment! This is where the beauty counter ladies can help. They'll test out different samples near your jawline and will find the perfect shade for your skin tone. Be sure to tell them if your skin is oily or dry, because the wrong type of foundation may cause breakouts. Leave the store, if necessary, so you can see how each shade looks in outdoor lighting.
Once home on your own, apply foundation using your fingers or a damp Beautyblender Sponge Applicator
. (We use the dupes made by Real Techniques
, too. They're less than half the price.)
Foundation shouldn't cover your face like a mask; you only need to apply it over problem areas where your skin tone is uneven or where you have dark circles.
If you feel the need to apply it everywhere, use it sparingly near your hairline and around your eyes (excess can gather in your smile lines around the eyes).
You also want to make sure you blend really well near your jawline.
We both recommend selecting a foundation that includes sunscreen.
Daisy recommends: Too Faced Tinted Beauty Balm
 (with Broad Spectrum SPF 20 Sunscreen) in "Snow Glow" Erin recommends: Bobbi Brown Long-Wear Even Finish SPF 15 Foundation
 in "Sand"
I like Too Faced Tinted Beauty Balm because it adds a light amount of color to my face, which is perfect in winter when I'm pale. ~Daisy
TIP: Head to Sephora to score foundation samples. You can pick multiple shades to take home and each one will last a few days. The makeup counters in malls are also generous with foundation samples.
3.Concealer: Most of us aren't lucky enough to have perfect skin, so it's important to own a good concealer. Many experts recommend picking one that is 2 shades lighter than your foundation, but we prefer only 1 shade lighter.
Always apply concealer with your fingertips, because that warms the product and helps it blend better with your foundation.
It seems logical to pick oil free concealers if you're prone to breakouts, but they dry out faster and often flake off. For that reason, we skip the oil free products and instead apply primer first as a barrier between a pimple and the concealer.
Apply translucent powder as the final step, otherwise the concealer will become a magnet for blush or any other loose pigments on your face (like stray blush and eyeshadow).
Daisy recommends: Charlotte Tilbury "The Retoucher"
 and Benefit Cosmetics "Boi-ing Industrial Strength Concealer" Erin Recommends: Also a fan of "The Retoucher"
4.Blush: The key to picking the right shade of blush is to select one that makes it look like you're actually blushing (imagine that!), so pick something close to the color of your cheeks when they're naturally flushed.
Avoid shimmery colors and anything with unnatural undertones — like purples.
Use a large brush to add color to the round part of your cheeks only (often referred to as the "apples" of your cheeks).
We like to flick our finger at the tip of the bristles to knock excess color off the brush before applying it, to keep the look natural.
Daisy recommends: Milani Baked Blush
 (in "Luminoso" and "Dolce Pink") and Too Faced Blush
 Erin recommends: CoverGirl Cheekers
 in "Deep Plum".
I like to pick a blush that makes me look like I just got back from a brisk jog. 🙂 ~Erin
5.Mascara: Mascara is one of those makeup items that should be selected based on personal preference. Are you trying to add length? Volume? Color? Varying the brush shape and bristles will provide different results, so it's best to experiment. We prefer mascaras that do it all (we like to add length, volume, and a fierce black color), so the mascaras we recommend are more on the dramatic side!
Daisy recommends: Too Faced "Better Than Sex" mascara and Benefit's "They're Real" for upper lashes and NYX The Skinny Mascara for bottom lashes.
 Erin recommends: Benefit's "Roller Lash" is great for bottom lashes.
We're big fans of dramatic lashes in this house!
TIP: Check out our post How to Get Doll-Like Lashes for a fun way to add massive volume to your lashes — without using falsies!
6.Eyeshadow: The best eyeshadow palettes come in natural shades that are slightly darker than your skin tone. Taupe colors are a great place to start! Here is a guide to Daisy's favorite inexpensive taupe eyeshadow palettes that are absolutely perfect for beginners…or anyone interested in getting a wide variety of tones and finishes at a reasonable price. If cost isn't (as much of) a factor, Urban Decay shadows can be purchased in individual pots and the colors are stunning! Of course, Urban Decay's Naked Palettes will always be the gold standard for versatile neutral eyeshadow palettes.
Daisy recommends: Urban Decay "Naked2"
 & "Naked3"
, Urban Decay x Gwen Stefani Palette (Limited Edition) and the Carli Bybel Palette
 from BH Cosmetics Erin recommends: Urban Decay Naked3
My new favorite neutrals eyeshadows are from the Urban Decay Gwen Stefani palette. ~Daisy
TIP: This handy diagram shows all the proper terms and placement areas for eyeshadows.
7.Lipstick: We're pretty set on the fact that you can use a flattering lipstick (one that's the same color as your lips, but just a shade or two darker) and top it with lip balm to add moisture. It's the easiest way to get out the door in a hurry, with beautiful, moisturized lips!
Daisy recommends: MAC Lipstick in "Patisserie"
 and Smith's Minted Rose Lip Balm
 Erin recommends: Lancome Color Design Lipcolor
 in "Love It" and
 C.O. Bigelow Rose Lip Balm
The best lipstick is one that enhances your own lip color, like this one from MAC. 
Please let us know in the comments if you have any questions or specific makeup posts you'd like to see! We hope you're having a great week.

BLOGLOVIN' || PINTEREST || INSTAGRAM || FACEBOOK || TWITTER || GOOGLE+
This post may contain affiliate links, which means we'll receive a small referral fee from purchases.