On a busy school day, sometimes the easiest way to do my hair is to toss it up into a quick topknot-styled messy bun. It's definitely one of my go-to looks. (After all, we did name our blog after it!) I thought it was about time for another round of messy buns hairstyle inspiration, since it's the perfect casual look for weekends.
Learn how to create a topknot-styled messy bun that still looks professional for school or work. Click To Tweet
FTC Disclosure: This post contains affiliate links, which means we'll receive a small referral fee from purchases at no cost to you. You can read our affiliate policy here.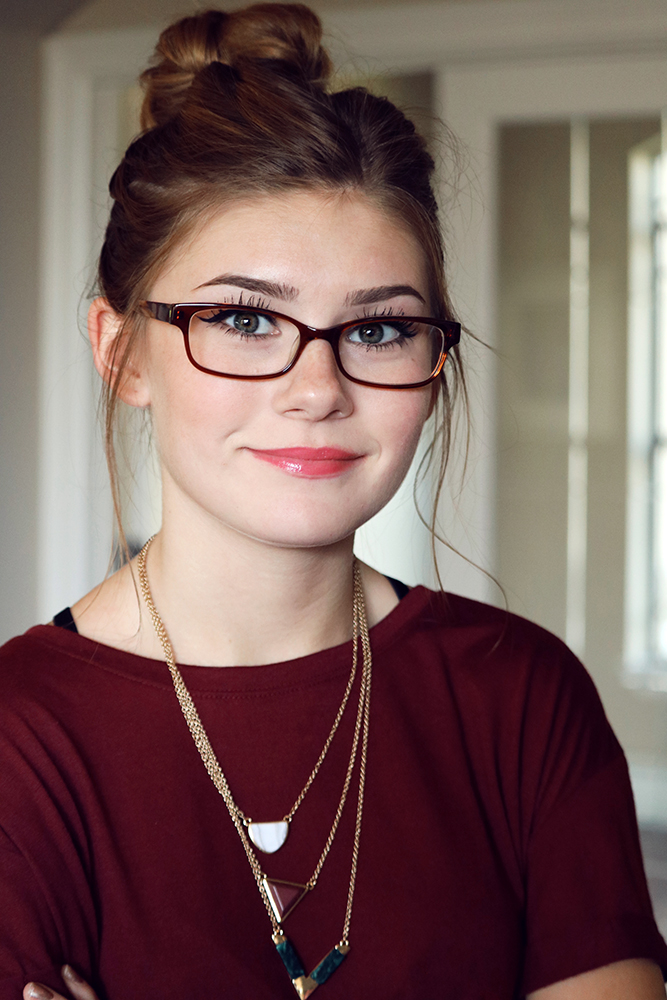 Brows (liner): Anastasia Beverly Hills Brow Wiz | Brows (Gel): Anastasia Beverly Hills | Mascara: Bareminerals Lash Domination| Eyeliner: Physicians Formula Lash Booster Serum | Glasses: Lucky Brand (sold out)
TIP: If you're interested in my full routine, check out my brow routine on YouTube.
Since I piled my hair atop my head, you could also technically refer to this as a topknot; I just have a habit of calling all of my hairstyles messy buns!
Hair needs to be shoulder length or longer to do a high bun like this one, otherwise you'll get lots of scraggly ends hanging down in the back. (You could always pin them with a cute barrette, though.)
How to Create a Topknot-styled Messy Bun:
Flip head upside down and gather hair together, then secure it into a ponytail/bun with the ends tucked in.
Loosen up the bun and secure any loose pieces with bobby pins, if necessary. I like using ones the same color as my hair so they'll blend in.
Loosen the pieces at the front (up top) by lightly tugging at large chunks. I'll sometimes leave a few tendrils out, too, depending on my mood.
Here's one of my video tutorials on messy buns, if you prefer to see each step in action.
My room: messy. My hair: messy. My thoughts: messy. My life: messy. #consistency Click To Tweet
More Topknots & Messy Buns Inspiration
Still need more inspo? No problem, here you go…
I hope this leaves you with some good hair inspiration for the next time you're headed off to school or work in a hurry! For more ideas, you may want to check out my messy buns board or my hair board on Pinterest. You might also want to take a peek at my "Get Ready with Me" video showing how I apply makeup on days when I'm low on time.


 PINTEREST | INSTAGRAM | FACEBOOK | TWITTER | YOUTUBE