This post is sponsored by Nomador, but all thoughts and opinions are my own.
Being a pet owner AND a travel addict may sound like a contraction in terms, but that needn't be the case. Hiring a fellow travel enthusiast as in-home pet-sitter is an easy way to schedule frequent adventures while ensuring your pets stay safe and happy at home. It's also an incredible way to save money for travel!
If you find this post helpful, please share this image on Pinterest.
How to Find a Pet Sitter
The Nomador website consists of a vast community of pet lovers who will look after your home and pet FOR FREE in exchange for the ability to visit Savannah and see more of our beautiful city!
That means you'll be able to travel, the sitters will be able to enjoy a visit to our city, and your pets can stay at home where they're most comfortable.
It's a win/win/WIN.
(Plus, we all know that free pet sitting equals more money to spend on fun experiences during your travels, so that's yet another win.)
What house-sitter wouldn't want to visit Savannah? It's such a beautiful city!
NOTE: You don't have to live in Savannah to participate; you can list your home or become a pet sitter in nearly any destination worldwide.
Perks of Having a Sitter in Your Own Home
These are a few of my favorite reasons why you might prefer to have an in-home pet sitter vs. choosing a boarding facility…
Your pets will feel safer when they're at home and surrounded by familiar scents and belongings.
They won't be exposed to the risk of potential illnesses or injuries by other animals that could occur at a boarding facility.
Pets will be able to maintain their regular mealtime, exercise, and sleep schedules.
They'll be close to their usual veterinarian or caregiver in case any emergencies arise.
They'll receive personalized care and lots of attention!
They won't feel cooped up like they might in a boarding facility.
They won't feel stressed from other dogs barking or whining when they're trying to sleep.
What Does a Pet Sitter Do?
More than you might think, actually! These are just a few of the tasks a pet sitter can handle…
Provide meals and fresh water
Administer medications
Cage or litter box cleaning
Provide exercise via walking or playtime
Pet grooming
In addition to watching your pet, in-home sitters also provide an extra layer of home security. With a sitter coming and going frequently, your house will appear "lived in" and will be less of a target for thieves.
Pet sitters can also make sure the houseplants are watered and that any mail or package deliveries are brought inside.
They can even send pet selfies or short video clips to ease your mind that your furry, feathered, or scaled family members are having a good time.
Frequently Asked Questions
How can I find a house sitter I can trust?
Nomador makes it easy with their Trust Profile. Whenever a new member registers on the site, he or she is asked to submit up to 8 different documents to help verify identity and earn trust from the moderators. Those items include documents such as a photo ID and proof of residence.
In addition to those credentials, sitters can also list special skills, their occupation, and information about their travel partner (if they're traveling with someone).
Once members have participated as sitters, they'll earn badges and recommendations that can be displayed on their profile.
If you're looking for an experienced sitter, simply search for someone with numerous positive reviews!
Here's my sample Trust Profile to help you decide if I'd be a trustworthy house-sitter.
How much does it cost?
Nomador encourages an "exchange of services" atmosphere where homeowners and house-sitters benefit equally. Homeowners are able to travel frequently and not worry about their pets in exchange for providing a home base for a fellow pet lover, while house sitters receive free accommodation in exchange for their pet and home-care services.
All of the above is FREE under Nomador's Discovery Option.
For members who would like access to advanced features such as multiple listings, priority placement for home listings, or listings that appear for subscriber-only members, you can do so by selecting Nomador's Confidence Option. The cost of the Confidence Option is $35 for a 3-month time period or only $89 for a full year!
You can compare the two services here.
What if I have a special needs pet?
You can search Nomador for pet sitters that fit your specific needs.
For example, I've always owned chameleons, which require a very specific level of care. It's rather difficult to find a pet sitter who knows the ins and outs of feeding a reptile and maintaining the correct lighting and moisture ratio!
I make sure to note on my profile that I have years of experience working with reptiles and am familiar with issues such as molting and even hatchling care.
Others may note that they're particularly good with aging pets or prefer pets that require a lot of activity.
I enjoy staying in homes where I can care for chameleons, so I make sure to note that specialty on my sitter profile!
Related: Here are a few more frequently asked questions, along with their answers.
Prepping your House for an In-Home Sitter
When a pet sitter comes to stay at your house, you'll want to welcome them and make them feel as comfortable as you would any guest in your home.
The folks at Nomador created a handy reference guide to help your house sitter feel more at home and have an enjoyable experience.
I love that they suggest showing small acts of kindness to your sitter, such as adding a small bowl of candy in their room or offering to have their favorite snacks — or even a meal — available when they arrive!
It's also important to make your expectations clear, so be sure you discuss how often your pet should be walked and make your pet's daily routine as clear as possible.
To make it easier for you, I've created a handy printable checklist your sitter can use to mark off tasks as they're met.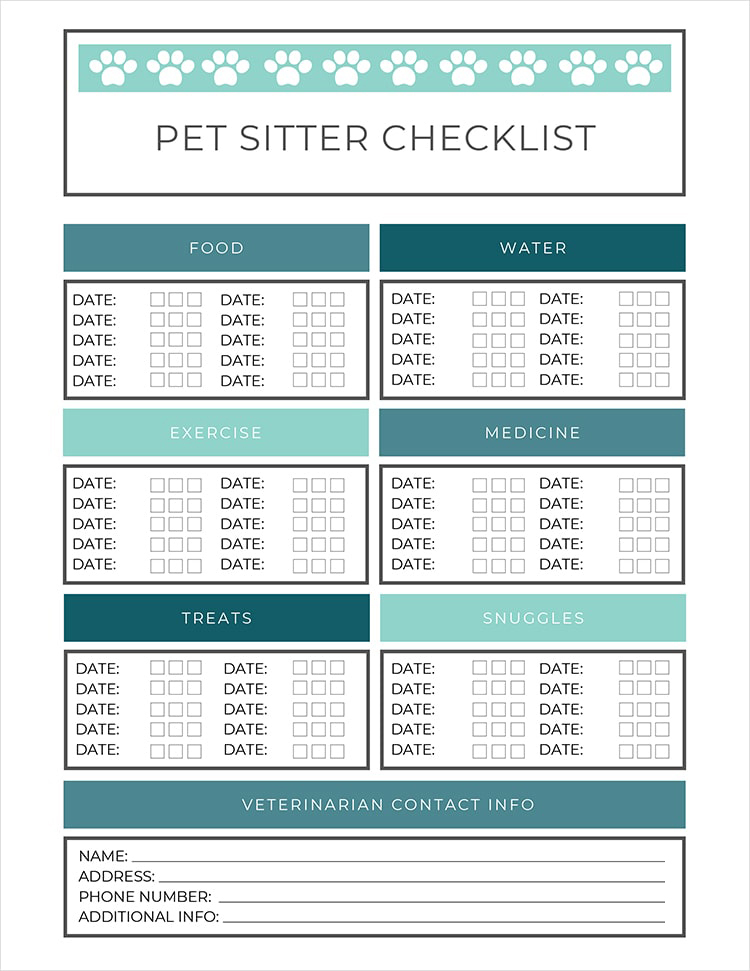 Download the printable Pet Sitter Checklist PDF here.
Register Your Home to Welcome House-Sitters
If all of this sounds like it's right up your alley and you're jumping at the chance to list your house so you can travel more, then it's time to join 133,000+ others and become a Nomador homeowner in need of a sitter:
List your house with @Nomador_Com so you can travel the world while your pets are spoiled rotten! #sponsored #MyNomadorAdventures
Click To Tweet
Register to Become a House-Sitter
If the flip side of the equation also interests you, you should sign up to become a Nomador house-sitter with options to travel anywhere in the world.
They currently have homes in need of sitters in some insanely beautiful destinations, like Province of Burgos, Spain and Annecy-le-Vieux, France.
Learn how you can travel more and stay for free by caring for other travelers' pets while they're away from home. #sponsored #MyNomadorAdventures
Click To Tweet
Related Reading:
As always, if you have any questions at all, feel free to send an email my way or leave a comment on Instagram!
Pin It for Later: How to Find In-Home Pet Sitters Savannah, GA