If you have a big event like prom coming up soon, there are a few things you can do in advance to make sure you'll look your best! I've gathered some of my favorite tips to help make your big day a little easier. After all, you'll have a LOT more fun if you aren't stressed leading up to it. Here's how to prepare for prom, homecoming — or even a wedding!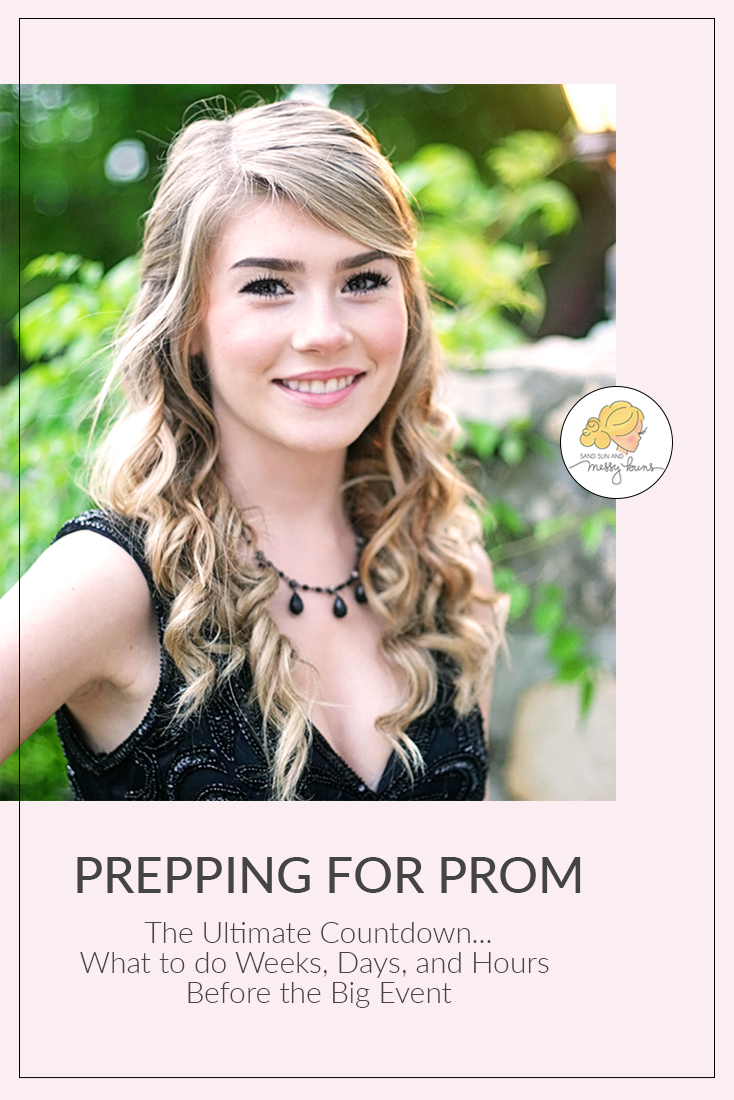 Here's how to prep in the months and weeks leading up to prom so you'll look your best on the big day. #prom #weddingprep #countdowntoprom #hercampus Click To Tweet
FTC Disclosure: This post contains affiliate links, which means we'll receive a small referral fee from purchases at no cost to you. You can read our affiliate policy here.
How to Prepare for Prom
Want to look your best stepping out of the limo on prom night? It'll take a little prep work, but it's totally worth it! Here's what you need to do…
1. Take Care of Your Skin | Year-Round
A big event isn't the time to experiment with new cleansers or makeup that could cause breakouts, so keep your skincare routine similar to what you've always done. To get my skin in tiptop shape, I simply wash it with a gentle cleanser
 from the drugstore twice a day leading up to an event. I also drink a lot of water to keep my skin hydrated.
If you get a breakout in the days leading up to the prom, my #1 recommendation is Mario Badescu Drying Lotion
. It's a cult favorite because it works so great!
TIP: My Teen Skincare Routine includes my top 10 do's and don'ts for teen skincare. The tips are applicable for everyone — not just teens! I include everything I've learned from years of visits to the dermatologist.
2. Pamper Your Hair | 2 – 3 Months Prior
Begin the pampering your hair several weeks prior to homecoming by incorporating a weekly coconut oil mask into your routine. Wash hair thoroughly, then add coconut oil. Make sure to apply a heavier concentration at the ends where hair is more damaged.
I like to wrap my hair with a Turbie Twist Microfiber Hair Towel
 and leave the coconut oil in overnight. I usually do this on the weekend, because it takes a couple good rinses in the morning to remove all the oil.
TIP: Schedule an appointment with your stylist a few weeks prior to the event to have your hair trimmed and get rid of split ends.
Related: How to Get Long, Loose Curls & Flat Hair Fix: How to Boost Hair Volume
3. Find Your Dream Dress | 2 – 3 Months Prior
Shop early and get a great dress before they're sold out! I usually shop online, then make a Pinterest board to save my favorite looks. (You can make the board secret if you prefer to keep your ideas private.)
You can also rent pretty prom dresses from sites like Rent the Runway or swap with friends who wear the same size as you and attend different schools. When dress shopping, keep comfort in mind since you'll probably be dancing all night.
4. Get Good Shoes | 1 – 2 Months Prior
Speaking of dancing, make sure you have comfortable shoes. You don't want to be miserable all night or have to take your shoes off and walk around barefoot! I've made that mistake, and it's not fun.
Purchase your shoes well in advance, and test them out by wearing them for an hour each day the entire week leading up to your event. Be sure to keep the length of your dress in mind when you pick out a pair of shoes!
5. Exfoliate! | 1 – 2 Months Prior
You can exfoliate once or twice each week in the weeks leading up to homecoming, but any more than that may lead to irritation. Something mild typically works best for your face, while you can use a product with a bit more grit for tough areas like your knees and elbows.
After exfoliating, moisturize your body overnight with a heavy-duty lotion like shea butter and you'll wake up with beautiful skin all over!
[Update] Since this post was originally written, I started using the pmd (Personal Microderm Device) to exfoliate and LOVE how smooth my skin looks now! My makeup goes on better, too. I highly recommend using it once each week leading up to a big event!
TIP: My post Prepping for Sleeveless Season lists my favorite exfoliators and tells how I prep my skin to look its best during the spring and summer months when strapless dresses are popular.
Related: The Best At-Home Microdermabrasion Device
6. Wax On, Wax Off | 1 Week Prior
If you plan on waxing, do it 4 – 7 days prior to the event. If you wait until a day or two before, your skin could still show signs of redness or irritation on the big night. Take a pain reliever (Advil or Tylenol) an hour or two before your waxing appointment, and limit your caffeine intake since it can increase skin's sensitivity.
7. Take Your Look for a Test Drive | 1 Week Prior
Do a test run on your hair and makeup a couple days before homecoming so you won't be scrambling for ideas on the big day. This is where Pinterest comes to the rescue again, because you can pin all your favorite hair and makeup looks and then test them out to see what works best!
It's fun to get together with your friends to experiment with various looks, and then you can all vote on your favorites. (Or have them vote virtually via Snapchat if they can't make it to the party.)
8. Whiten Those Teeth! | 1 Week Prior
You're going to be smiling a LOT, so you want to make sure your teeth look their whitest. Have them cleaned professionally a month before your big day and get that dreaded trip to the dentist out of the way. Once they're clean, you only have to maintain them! Brush regularly and use an at home whitening kit to get rid of any stains.
9. Mani/Pedi Party | 1 Day Prior
There's no need to visit the salon when you can host a mani/pedi party with your friends the night before. Pick colors that complement your dress — you don't have to be matchy-matchy. If you're opting for an elegant-but-edgy look, you may want to try one of the new silver polishes from Essie, such as "Cashmere Bathrobe
".
If you prefer to leave the mani-pedi to the professionals, I'd suggest visiting the salon the day before your event to reduce any chance of chipping. Remember, darker colors will show chips easier, so keep that in mind when selecting your colors.

What to Take to Prom or Homecoming: Purse Essentials
Here are some essentials to pack in your purse when you head off to the big event…
♡ Gum or mints to keep your breath minty fresh
♡ Oil blotting sheets to keep the shine away
♡ Safety pins in case of dress emergencies
♡ Bobby pins in case of hair emergencies
♡ Bandaids (for your friends, because you'll follow my advice and break in your shoes!)
♡ Mirror for last-minute beauty checks
♡ Perfume so you'll smell nice even after a night of dancing
♡ Lip gloss to keep your lips pretty and soft!
TIP: On the day of prom, wear a button-down shirt while you're getting ready. That way, you won't mess up your hair and makeup when you remove it to put on your dress!
I hope these tips helped you learn how to prepare for prom or your next big event! Remember…it may sound cheesy, but it's true…a smile is always your best accessory. 🙂

 PINTEREST | INSTAGRAM | FACEBOOK | TWITTER | YOUTUBE