Local hotels in Cancun have partnered with conservationists to create a sea turtle rescue program, and resort guests gather nightly to assist as baby turtles are released into the turquoise waters of the Caribbean. It's a magical — and educational — experience! I had no idea this program existed and was pleasantly surprised to discover it during a recent trip to Cancun.
Imagine my delight as I was dining at a beachside restaurant and happened to glance up from the table to see a giant sea turtle digging a nest on the beach less than 100 feet from where I was sitting! At first I thought my eyes were deceiving me and that I was looking at a child digging in the sand (it was dark, after all), but I quickly realized it was a real live "tortuga".
I owe apologies to my best friend, with whom I was dining, because I got so excited that I leapt up from the table — muttered something about my bucket list — and darted off to take pictures. 🙂 Thank goodness he knows me well enough to know I do things like that fairly often!
I quickly learned that viewing a sea turtle as she nests is one of those times in life where you have to be present in the moment. No need for a cell phone or a camera; simply enjoy taking it all in. If a turtle becomes frightened, she will turn around, abandon her efforts, and head back to sea without laying her eggs. The sea turtle numbers are in steep decline, so abandonment is the last thing anyone wants!
FUN FACT: Did you know that marine turtles have been in existence since the dinosaur age?
What to do if you stumble across a turtle as she's nesting:
It's very important to follow certain rules if you're fortunate enough to see a turtle nesting: 
1. Don't get too close to the turtle. (We were told to stay at least 20 feet away.) 
2. Don't point a flashlight towards her.
3. DO NOT use flash photography. This is so important, yet I saw so many people getting too close and then making it worse by taking photos with a flash.
4. Keep your voice down, as noise is also distracting to them.
5. Use biodegradable sunscreen and don't litter when utilizing the sandy beach areas during the day.
A sea turtle is least likely to abandon her nesting efforts once she has already dug a hole and is in the process of laying her eggs. However, it can still happen! More often than not her nesting efforts are abandoned prior to the laying stage, because she is startled by tourists getting too close as she attempts to reach the perfect nesting ground.
FUN FACT: Did you know that many species of sea turtles return to the same area where they were born when it's time for them to nest?
How conservationists help:
Once a turtle has nested — and the process takes approximately 2 hours — she then heads back out to sea. Specially appointed "turtle guardians" from the conservation program arrive on the beach very early each morning to locate the nests, dig up the eggs, and relocate them to a fenced area near each participating hotel. The fenced areas each contain numerous nests, along with markers noting the dates the eggs were laid and their anticipated hatch date. The eggs go through a 50-60 day incubation period prior to hatching.
Sea turtles lay approximately 100 – 200 eggs each, depending on the species. (Photo source)
The turtle guardians are very friendly! Their main goal is to educate guests about turtle conservation efforts, so they're happy to answer tourist's questions.
My personal experience with releasing the babies:
I awoke early the following morning to catch a sunrise and made my way down to the fenced area, where I was delighted to see a newly hatched batch of turtles! (They typically hatch overnight.) Their guardian was already there, counting each turtle and making notations. He placed them in a small crate, which he then handed to me for viewing. I was allowed to hold one and even snapped a quick selfie with it! In case you're curious, the proper way to hold a turtle is by placing one finger and a thumb on each side of its shell, as I'm doing here:
My selfie with one of the adorable hatchlings.
The fenced in area where the eggs can incubate safely. If you look closely, you'll see tiny turtle tracks everywhere!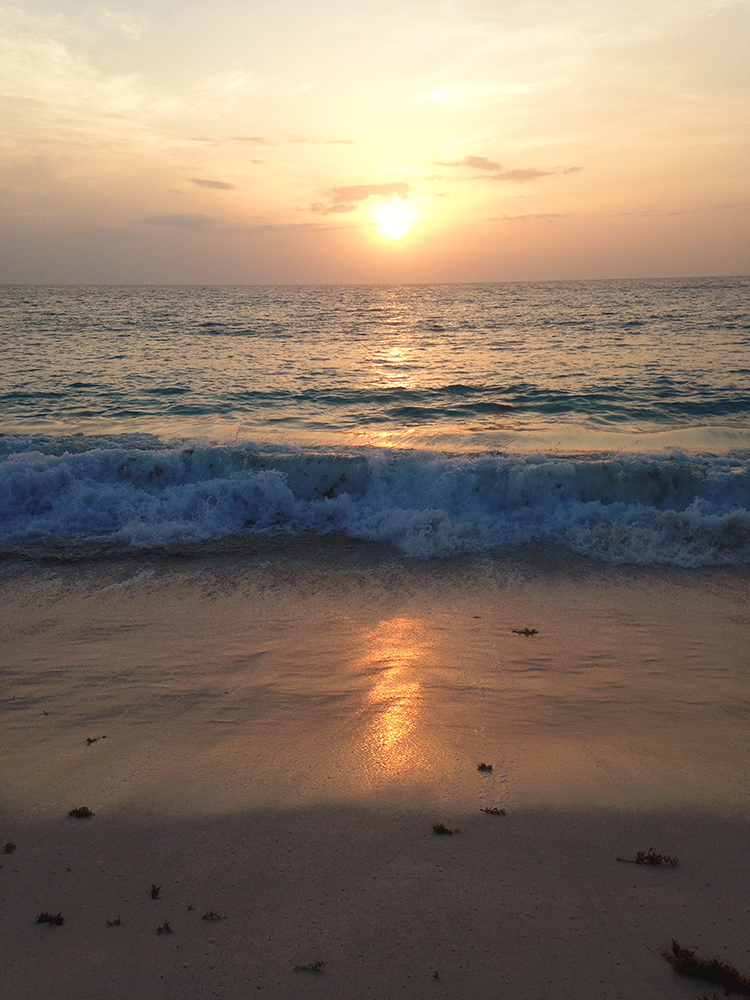 The sunrise in Cancun was beautiful!
The turtle guardian explained to me that they collect the turtles hatched during the night, as well as any that hatch during daylight hours, and store them safely in a shaded area until nighttime. The bright sunlight, unbearably hot sand, and numerous tourists exploring the beach during the daylight hours are detrimental to the hatchling's safe journey to the sea. Their chance of survival increases when released at night, because there is less chance of them being spotted by predators.
Click above to see my video of the hatchlings born during the night.
The chatty turtle guardian informed onlookers that interested hotel guests should gather in an area on the beach between 2 yellow flags at 8 p.m. to release the hatchlings. Um, yes, please! Sign me up!! I was so excited I could barely contain myself. My enthusiasm must have been contagious because my best friend, Christopher, quickly agreed to join me.
Upon gathering in the evening, the turtle guardians began passing out baby turtles. Each person standing between the yellow flags received one to release. I'd estimate there were approximately 100 people in our group. Our guardian explained that when there aren't enough turtles to go around, children are given the highest priority.
Fortunately, our guardian had more than 100 turtles in need of release! She informed us that we'd count to 3 and release all hatchlings at at the same time, because they have an increased chance of survival when released in groups. They also do better when released during a full moon, which we happened to have that evening.
Seamore was excited he was about to be set free!
Christopher named his turtle "Seamore" (seen in the video above), and I named mine "Daisy II", after my daughter — who also has "release baby turtles into the sea" on her bucket list. Like mother, like daughter. 🙂
Our guardian instructed the group to count backwards from 3, then we released the hatchlings and cheered them on as they flipped and flopped their way out to sea. It was so cute to watch them! I was so busy enjoying the moment that I didn't attempt capturing their release on video in the dark, but I highly suggest searching "baby turtle release" or something similar on YouTube if you ever need a reason to smile.
Our turtle guardian explained that only about 1-2% of hatchlings survive to adulthood and are able to mate to carry on the species, which is why turtle conservation efforts are so important! We spotted birds diving in the dark in an attempt to capture our little tortugas, and we just had to cross our fingers and pray that Seamore and Daisy II were able to avoid becoming a late night seagull snack. Our guide noted that if you happen to spot a baby turtle washed ashore on the beach in the early morning hours, it's perfectly acceptable to place them back in the water.
I'm not sure where to find a list of participating hotels in Cancun, but I can confirm that both Westin resorts and the Ritz Carlton are participating in the turtle rescue program during summer and fall of 2015. I suggest inquiring with your hotel when making reservations to see if it's one of the participating resorts. Even if your hotel isn't participating, you can see turtles nesting all along the beach in the evening — beginning around 9:30 p.m. and going throughout the night — and you can always walk to a nearby hotel that is participating in the program. The turtles nest during the summer months and the hatchlings are released through late October. There is no charge to do any of the above activities!
*December 2016 Update: How You Can Help
If you'd like to help the sea turtles, consider staying in a hotel that supports turtle conservation efforts. Here's a current list of participating hotels:
The Westin Cancun (this is where I stayed and where the above photos were taken) [Read more about their efforts here.]
Royal Resorts: The Royal Sands in Cancun, The Royal Haciendas in the Riviera Maya, The Royal Caribbean in Cancun, The Royal Islander in Cancun, The Grand Residences Riviera Cancun [Read more about their efforts here and here.)
The Ritz Carlton Cancun [Read more about their efforts here.]
Omni Hotels [Read more about their efforts here.]
If you have any questions, please let me know in the comments and I'll do my best to answer. I highly recommend this activity for children, the young-at-heart, and anyone interested in ecotourism!

BLOGLOVIN' || PINTEREST || INSTAGRAM || FACEBOOK || TWITTER || GOOGLE+
This post may contain affiliate links, which means we'll receive a small referral fee from purchases.