If you're inspired by Old Hollywood and classic beauties like Grace Kelly, then this retro makeup tutorial is perfect for you. The classic cat eye, strong brows, bold red lip, and pin curls all combine for one stunning signature look.
If you're planning on wearing anything gold and sparkly for NYE, this makeup look would pair perfectly with that combo!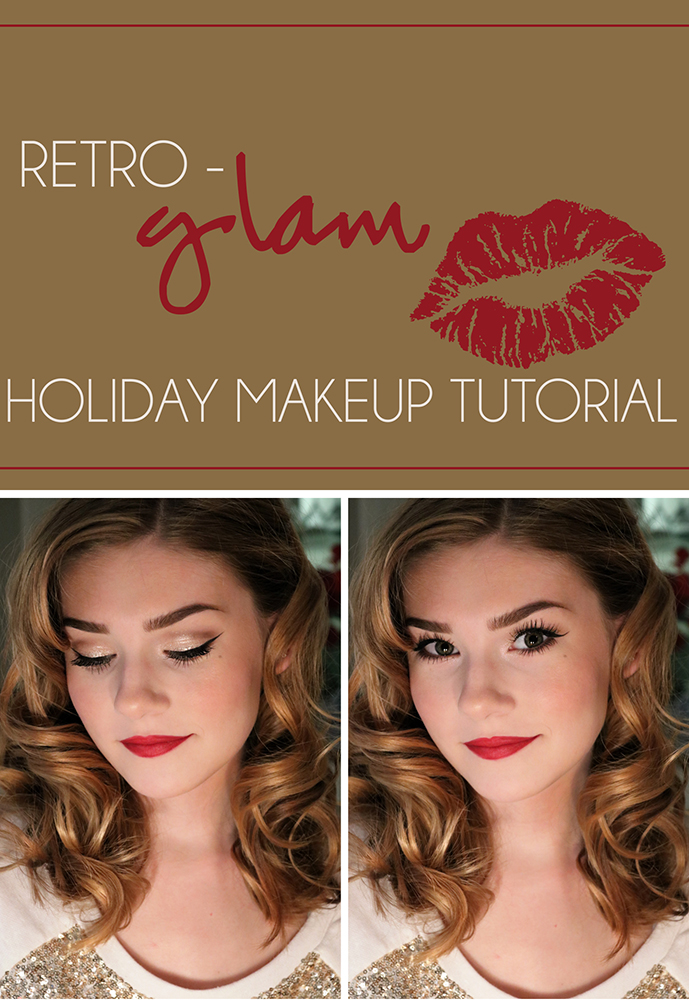 When in doubt, you can't go wrong with classic (that's my motto, at least).
Want the Old Hollywood starlet look? Here's a Grace Kelly retro makeup tutorial! Click To Tweet
FTC Disclosure: This post contains affiliate links, which means we'll receive a small referral fee from purchases at no cost to you. You can read our affiliate policy here.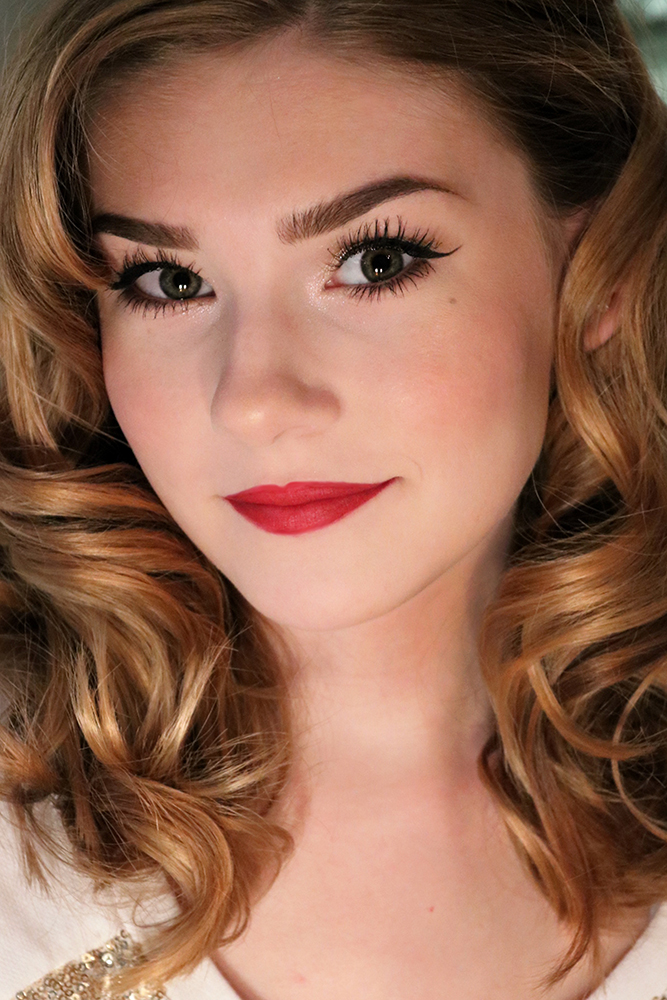 Makeup inspired by Grace Kelly
Retro Makeup Tutorial
For the sake of not overwhelming you with pictures, I'm going to begin this tutorial with my brows done and with foundation and blush already on. You can see my brow tutorial here and my diagram of eyeshadow placement terms here.
Beautiful skin is the perfect backdrop for any retro makeup look, so moisturize skin well before applying a pore minimizer and foundation. Apply foundation using a makeup sponge sprayed with rosewater to dampen it.
TIP: For beautiful, blemish-free skin, here are my Top 10 Do's and Don'ts for Teen Skin.
1. Place hair in pin curls so the curls can set while you apply makeup. (Don't you just love how goofy pin curls look when they're in?)
2. Apply primer to eyelids. I only use Urban Decay's primer in the "Original" formula.
3. Add shadow to lower lash line. Most of the shadows I used in this tutorial are from the Stila "Eyes Are The Window to the Soul" eyeshadow palette. I used the color "Heart" on my lower lid.
1. Add a base coat of gold shadow to lid. I used "Kitten" from the Stila kit.
2. Add darker color to the crease and outer v, then blend. I used "Heart" from the Stila kit.
3. Here's a progress shot.
Don't be like the rest of them, darling. -Grace Kelly | Retro Makeup Tips on sandsunandmessybuns.com Click To Tweet
1. Next, use your fingertip to add highlights just under the browbone. I used "Light" from the Stila kit.
2. Add more sparkly highlights to the inner corner of the lid.
1. Dip eyeliner brush into liquid/clay liner. Tarte's Tarteist Clay Paint Liner is my current favorite liner for creating a cat eye.
2. Draw cat eye.
3. Fill in the cat eye.
4. Add a layer of gold liner just above the black liner. I used NYX Glam Liner Aqua Luxe in "Nude"
5. Another progress shot.
1. Add two coats of mascara. Too Faced "Better Than Sex"
is still my favorite.
2. Line lips, and then fill them with lipstick. I lined them using a tiny brush dipped in Milani Black Cherry lipstick
, then filled them with NYX Soft Matte Lip Cream in Monte Carlo.
Finally, remove the pin curls and brush your fingers through your hair to get curls like this:
Here's the final retro makeup look. I hope you like it! Please let me know in the comments if you have any questions. If you're interested in more tutorials, check the makeup and hair sections of the website. For more old school Hollywood glamour looks, you might like my Brigitte Bardot hair and makeup tutorials or my Audrey Hepburn-inspired classic makeup look.
Thank you so much for stopping by and if you found my tutorial helpful, please share it on Pinterest!