Heading to Savannah this October to get your spook on? The city is known for being "built on its dead", so there's certainly no shortage of tours about paranormal activities. (Just ask any local if they've ever been stuck behind a hearse from one of the ghost tour companies, and I guarantee their answer will be a frustrated, "YES!") Here's a comprehensive list of the current Savannah GA ghost tours to get you started on your spooky adventure.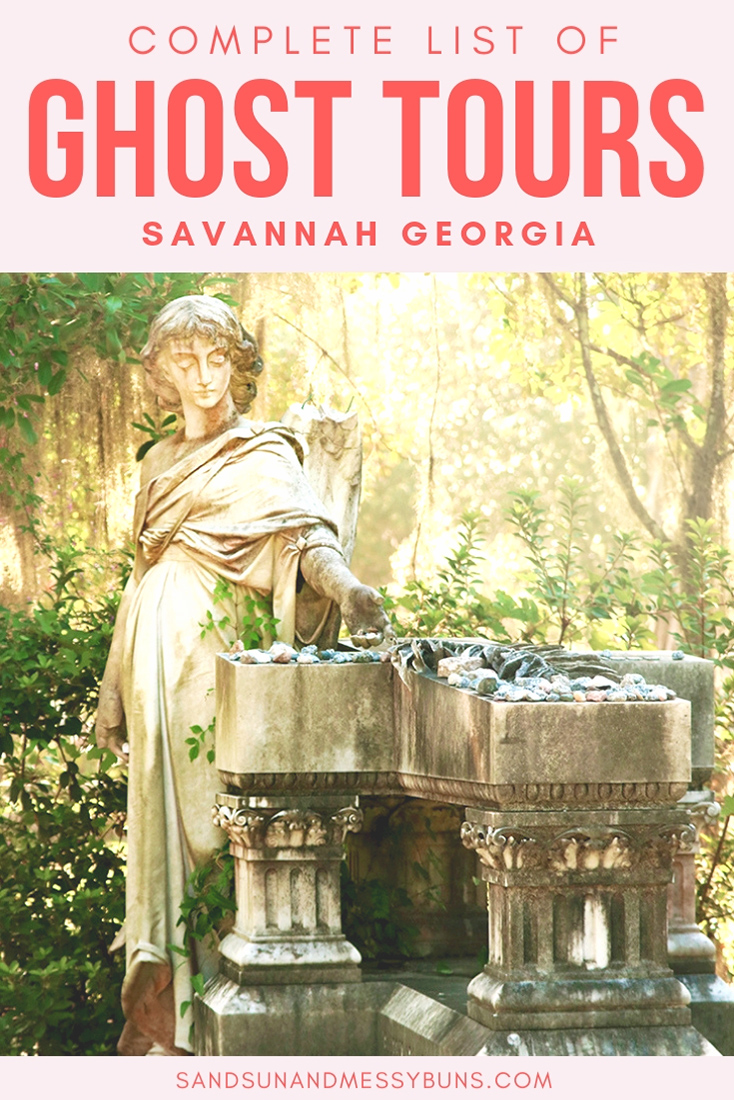 If you find this post helpful, please share this image on Pinterest.
Here's a giant list of ghost tours in Savannah, GA, to help you get your spook on! #savannah #ghosttours
Click To Tweet
FTC Disclosure: This post contains affiliate links, which means we may receive a small referral fee from purchases at no additional cost to you. You can read our affiliate policy here.
Before Your Trip: Suggested Purchases
Before heading to Savannah, I have a couple tips to for you! First, I suggest purchasing my Savannah First-Timer's Guide ebook. It's an instant download, and it's full of hundreds of helpful money-saving tips!
Since I get very into all things spooky, the ebook includes a lengthy section with insider secrets about some of the most haunted places in town. There's also a printable checklist of spooky locations — including some of the more obscure ones!
Purchase Now: Savannah First-Timer's Guide

My ebook is an insider's guide to Savannah, but if you'd like to read in-depth about the haunted side of the city, I've compiled a list of the best movies and books about Savannah.
⭐Insider Tip: If you plan on doing multiple tours, I suggest purchasing the mobile Savannah Tour Pass. You'll get instant access to around 30 of Savannah's top attractions — including MULTIPLE ghost tours and historic spots. It includes hop-on/hop-off trolley tours, entry into Pin Point Heritage Site (one of my favorite tours), the Owens-Thomas House & Slave Quarters, plus many more!
Now, let's move on to the ghost tours…
Savannah GA Ghost Tours
Shannon Scott clearly rules the cemetery, and Bonaventure is repeatedly listed as one of the most beautiful in the world — not just in the United States, so I always recommend taking one of his tours if possible.
⭐Insider Tip: The cemetery is located on the outskirts of Savannah, so it's not within walking distance from the Historic District. Current Uber fare for 2019 is approximately $10 one-way for UberX and $18 one-way for UberXL.
Kid-Friendly Ghost Tours
Many of the tours listed above have kid-friendly versions during the early evening hours. Inquire about the suggested minimum age limit when you call to book your trip.
These are the tours I recommend as being the most kid-friendly:
Tours with Dinner Included
Haunted Pub Tours & Adult-Only Tours
Remember — Savannah is a very alcohol-friendly city! As long as you're north of Jones Street (and between Martin Luther King, Jr. Blvd. and Broad Street), you can take a To-Go cup from any bar and wander around the Historic District with a drink in-hand! #bless
Savannah Ghost Tour Reviews
If you prefer to laugh and get a little rowdy during your outing, definitely select the Hearse Ghost Tours. They're a bit kitchsy, but their hosts are there to entertain! Read reviews from others on Trip Advisor to get a feel for how fun they are.
For factual tours, I recommend the Ghost City Tours, any of Shannon Scott's Tours, Genteel & Bard, or Sixth Sense Tours. They're honest, and I appreciate guides who don't perpetuate myths and flat out tell you which ghost stories are legends vs. which have real truth behind them.
⭐Insider Tip: If you select a Ghost City Tour, try to request Nicodemus as your guide. He definitely gets into it and plays the part!
So…Which is the BEST Savannah Ghost Tour?
It's difficult to pick a favorite! I truly appreciate guides like Shannon and Nicodemus who have been hosting tours in Savannah for years and really know what they're doing.
Since no one is allowed in the cemetery after dark except for Shannon and his guests, I'm going to have to go with Shannon's Bonaventure After-Hours Tour as the current best ghost tour in Savannah.
These are a few of my favorite headstones at Bonaventure Cemetery.
There's something pretty special about being locked in a cemetery at night — especially one so full of history and mysterious tales!

The Top Haunted Hotels in Savannah
If you're adventurous enough to stay overnight in a haunted hotel, I recommend The Marshall House! It has a very spooky history, and many guests have reported strange happenings like faucets turning on by themselves and the sounds of footsteps in an empty hall.
When the hotel was undergoing renovations, they actually uncovered bones from underneath the floorboards! It doesn't get much spookier than that.
It's conveniently located on Broughton Street where many of the ghost tours originate. Plus, the hotel has top notch service and consistently ranks high with guests.
Wondering what else there is to do around town? Check out Get the Scoop on 50 Incredible Things To Do in Savannah and The Ultimate Guide to River Street
Sign up below for my email list, and you'll get even more insider tips about Savannah, plus a printable list of 50 things to do on foot in the Historic District – no car necessary!
Still have questions? I answer fastest on Instagram!
Pin It For Later: The Complete List of Savannah GA Ghost Tours

PINTEREST | INSTAGRAM | FACEBOOK | YOUTUBE
Last updated June 2019