Heading to Savannah this October to get your spook on? The city is known for being "built on its dead", so there's certainly no shortage of tours about paranormal activities. (Just ask any local if they've ever been stuck behind a hearse from one of the ghost tour companies, and I guarantee their answer will be a frustrated, "YES!") Here's a comprehensive list of the current Savannah GA ghost tours to get you started on your spooky adventure.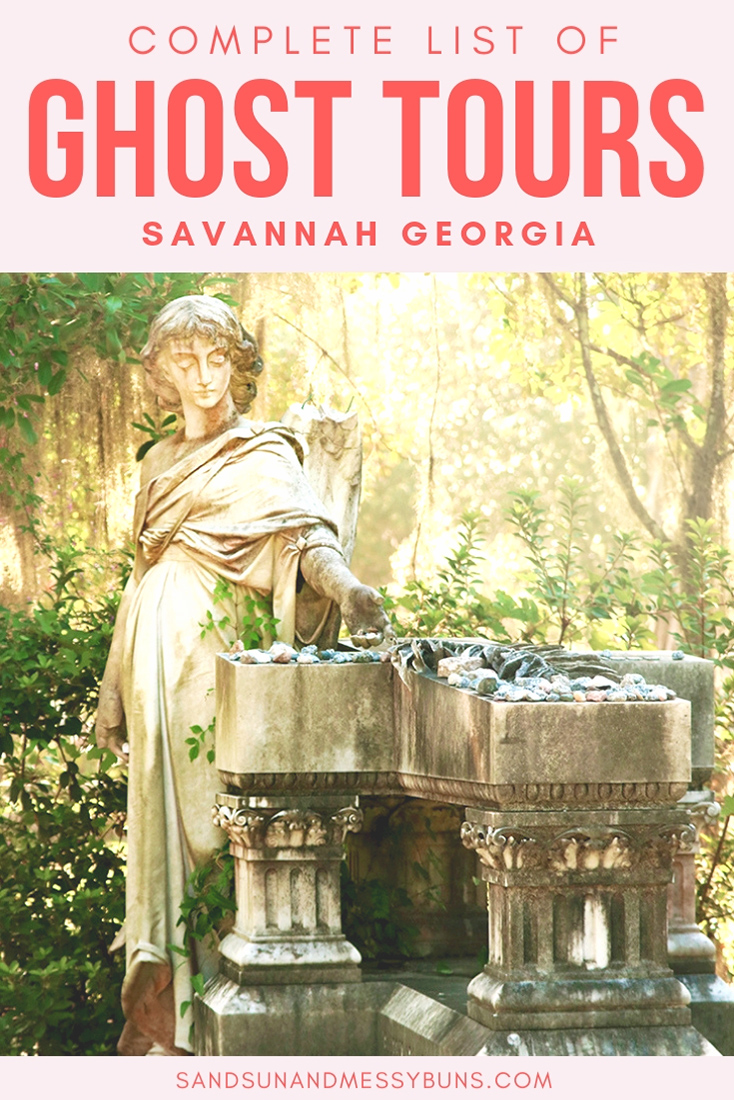 FTC Disclosure: This post contains affiliate links, which means we'll receive a small referral fee from purchases at no cost to you. You can read our affiliate policy here.
Here's a giant list of #ghost tours in Savannah GA to help you get your spook on! #savannah Click To Tweet
Savannah GA Ghost Tours
Before heading out on your journey, I recommend picking up a copy of the Haunted Savannah Illustrated Map to take with you. The map is full of intriguing ghost stories about more than 40 haunted locations throughout the city.
I also suggest my Savannah First-Timer's Guide ebook. It's full of hundreds of helpful tips to plan your next trip to Savannah and includes a huge section about the most haunted places in town. (If you purchase now you'll even get a handy printable checklist of Savannah's spookiest spots!)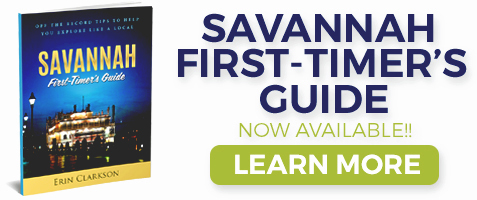 Now, let's move on to the ghost tours…
Kid Friendly:
Many of the tours listed above have kid-friendly versions during the early evening hours. Inquire about the suggested minimum age limit when you call to book your trip.
Dinner Included:
Adult Only:
Read reviews about each tour and purchase tickets here via Trip Advisor.
Which Savannah GA Ghost Tour is Best?
If I had to pick my favorite? It depends on your goal. For factual tours, I'd probably select one of the Ghost City Tours. I appreciate that they don't perpetuate myths and they flat out tell you which ghost stories are legends and which have real truth behind them. They're my top choice if you want an informative tour that separates fact from fiction. (TIP: Try to request Nicodemus on the tour, as he definitely gets into it and plays the part!)
If you prefer to laugh and get a little rowdy during your outing, definitely select the Hearse Ghost Tours. They're a bit kitchsy, but their hosts are definitely there to entertain. Read reviews from others on Trip Advisor to get a feel for how fun they are.
Don't forget to order your copy of the Illustrated Haunted Savannah Map before you go. It's the type of souvenir you'll keep forever because it's filled with so many fun facts! You may want to grab one for Bonaventure Cemetery, too, while your cart is open. The cemetery is beautiful and sits alongside a scenic bluff of the Wilmington River.
The Top Haunted Hotels in Savannah
If you're adventurous enough to stay overnight in a haunted hotel, I recommend The Marshall House! It has a very spooky history, and many guests have reported strange happenings like faucets turning on by themselves and the sounds of footsteps in an empty hall. (Plus, they actually uncovered bones from underneath the floorboards!)
It's conveniently located on Broughton Street where lots of ghost tours originate. Plus, the hotel has top notch service and consistently ranks high with guests.
Wondering what else there is to do around town? Check out Get the Scoop on 50 Incredible Things To Do in Savannah & The Ultimate Guide to River Street
Pin It For Later: The Complete List of Savannah GA Ghost Tours

PINTEREST | INSTAGRAM | FACEBOOK | TWITTER
If you manage a ghost tour in Savannah that isn't on the list, please comment below and I'll add it!