It's true! Even a quick stroll through the Savannah Victorian District is slightly jealousy-inducing — although not in a bad way. If you're anything like me, you'll probably immediately picture yourself relaxing on one of the fancy front porches with a glass of sweet tea in-hand, doing your best "Hi, neighbor!" wave as nearby residents stroll by.
If you're headed to Savannah anytime soon and are curious to know what the Victorian District looks like and whether or not it's worth adding to your itinerary, my goal is to help answer that question for you!
Want to know what to expect in Savannah's Victorian District? This post will give you a pretty good idea. #savannah #exploregeorgia
Click To Tweet
FTC Disclosure: This post contains affiliate links, which means we may receive a small referral fee from purchases at no additional cost to you. You can read our affiliate policy here.
Savannah Victorian District Map
The first question you probably have is, "Where exactly IS the Victorian District in Savannah?" It's located directly south of the Historic District between Gwinnett Street (the northern boundary) and Anderson Street OR 31st Street (the southern boundaries).
The reason I say "or" is because the district was added to the National Register of Historic Places in 1974 with the original southern boundary as Anderson Street. In 1982, the boundaries were extended to reach all the way to 31st Street on the southern end. (I side with the newer findings and consider everything down to 31st Street as part of the district.)
The east-west boundaries are marked by Montgomery Street and E. Broad. Bull Street is the center dividing line. It cuts directly through the center of Forsyth Park.
FYI: You'll find LOTS of Victorian-style homes mixed into the areas directly north and south of the true Victorian District. It's a popular home style throughout Savannah.
Wondering why the homes are referred to as "Victorian"? It's because they were built during Queen Victoria's reign from the 1830s to the early 1900s. Victorian homes are generally pretty elaborate and often have characteristics that make them look like life-sized dollhouses.
Enough of the boring history lesson, let's get to the pretty pictures!
⭐ Insider Tip: Grab the Savannah Tour Pass! It grants access to 30+ attractions, including two hop-on/hop-off bus tours, multiple ghost tours, and ten incredible museums.
Beautiful Victorian-Style Homes
These are a few of my favorite Victorian-style homes in and around Savannah's Victorian District. I'm posting my favorite first, because I can't wait to show it off! (I say that like I own it, but that would be in an alternate universe where I'm actually a multi-millionaire.)
The three homes above are located on E Gaston Street, in case you're trying to locate them. The white one is one of my top 5 favorite houses in Savannah, so it's worth seeing in person if you can!
The moulding near the roofline on each of these homes is called dentil moulding, but it's commonly misspelled as "dental" — which is understandable since it resembles rows and rows of teeth!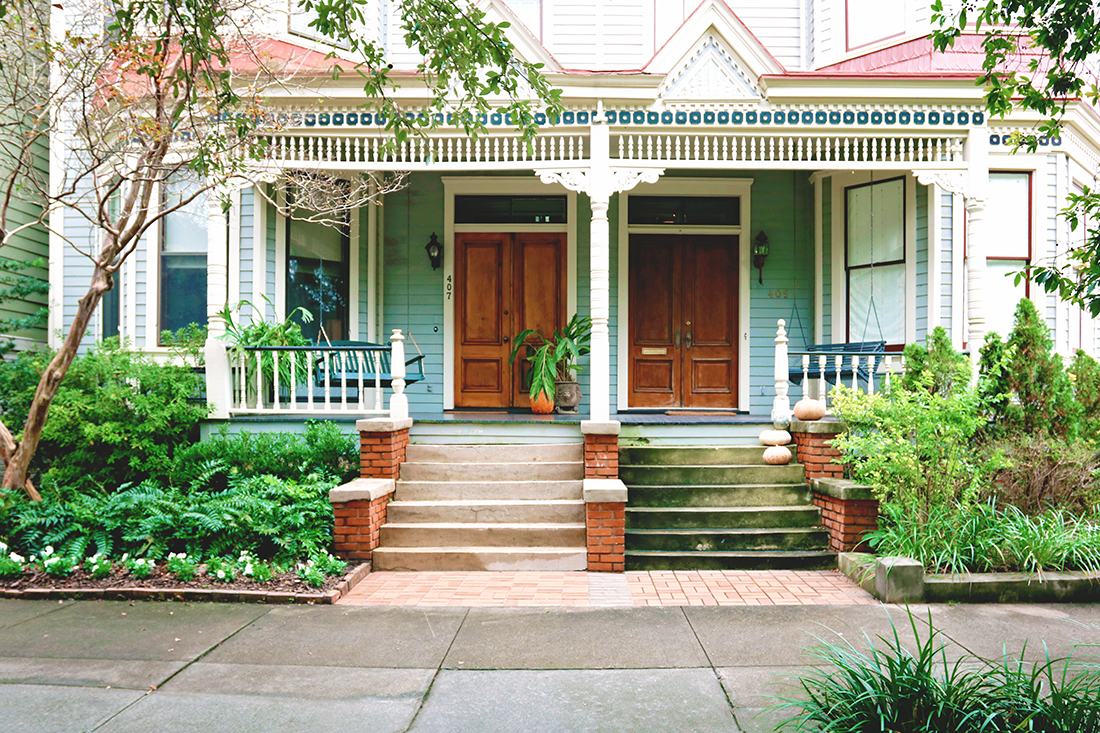 The single-story front porch with decorative trim and ornamental spindles was a common design element in Victorian homes.
I love the two front porch swings! It's very common in Savannah to see people sitting on their porches in the early evening hours, usually with a book in-hand.
Brick sidewalks are standard throughout much of Savannah, but they look especially appealing once the moss starts growing on them.
The street I live on is still paved with the original bricks, and I love when the greenery grows through after a good rain.

Little details like the moss-covered sidewalks are one of the reasons people end up falling in love with Savannah after a visit; it's feels homey and comfortable — like you've been away for a while and are returning to a familiar place.
McMillan Row Home | 402 – 410 E Huntingdon Street
One of my favorite books about Savannah that I reach for over and over again is Jonathan Stalcup's Savannah Architectural Tours. This is one of the homes discussed in the book, so I know it's a multi-family home built by the McMillan brothers and that it showcases a very eclectic mix of styles.
As Jonathan points out, the multi-colored bricks are inspired by High Victorian Gothic architecture. The home also includes elements from Romanesque Revival, Italianate, and Queen Anne styles.
I nicknamed it the "Everything House", because it looks like the architects tried every popular trend they could think of when building it.
OK, now let's move on to a few of the most popular and well-known Victorian homes in all of Savannah. These beauties are amazing!
Related: The Best Movies & Books About Savannah GA
Dickinson-Exley House (x2) | 14 & 16 W Duffy Street
The grey-blue house on the right is known as the Dickinson-Exley House, circa 1890. The green one next door is circa 1891. The homes truly are "twins" and utilize the same design plan. It's pretty spectacular to see them up-close and get a peek at all the details! They're located one block south of Forsyth Park.
I can't imagine how much it would cost to maintain these homes. A new coat of paint alone would probably cost well over $10,000. The biggest expense I had for my house here in Savannah this year was a new metal roof, and that cost more than $18,000 when it was all said and done.
The roofline on these two homes is much higher and the pitches are much steeper than my house, so I'd estimate it would cost more than $25,000 to have a new colored metal roof (like the red one on the Dickinson-Exley House) installed. Cha-ching!!
The Gingerbread House Savannah | 1921 Bull Street
The Gingerbread House isn't technically in the Victorian District, but it's such a famous house that I had to include it in this post! It's a little less than 10 blocks south of Forsyth Park (I'd consider it more in the Starland District), and it's next to a great little coffee shop called Foxy Loxy.
It currently serves as an event center, so if you're planning a wedding in Savannah you might want to check it out. They keep the gates locked, so you can only photograph it from the sidewalk.
Photography Tip: To get a full shot of the front of the house without a tilted perspective, head across the street to the parking lot of the library.
Movie Locations in the Victorian District
Savannah has developed into a movie-making mecca in recent years. Film companies are drawn to the area because it looks so old-fashioned — and because they get nice tax credits for filming here. No matter the time of year, you'll almost always find movie production crews in town.
As I write this post, Disney is currently filming "Goodbye Stranger" in various parts of Savannah. It's a live-action remake of Lady and the Tramp, and I'm so excited to see it! I've watched portions of the filming, and I have to admit the period costumes are pretty incredible.
I don't want to give away any production secrets, but I did ask a security guard if I could photograph what they're calling "Lady's House", and she gave me permission! I want to include it here, because it looks very Victorian in style, and it's located within the Victorian District.
Lady's Home | 219 E 31st Street
How fun is it to get a sneak peek?! I'm so excited to see the movie and check out all of the local scenery through Disney's perspective. I'll definitely write a post showing more behind-the-scenes photos once the movie is released. As always, I'll aim to respect the "Disney Magic" by not revealing too much.
The blue section on the roof is for CGI purposes. The crew constructed the section under it (with the curved window), so that isn't actually part of the original home. In the movie, the home will have an additional 3rd story in place of the current roofline.
Restaurants to Try
There are some fantastic restaurants in the Victorian District. Here are a few you might want to try:
Is the Victorian District Safe?
This is a common question within TripAdvisor's Savannah forum. You can see where I already answered it on this thread.
If you're new here, I've written an ebook, Savannah First-Timer's Guide, and in it I list the specific places in Savannah I think a tourist should avoid. FYI: The Victorian District is not one of them.

Some areas of the Victorian District are transitional, but overall my opinion is that it's a perfectly respectable place for visitors to stay. You can see by the photos I've included in this post that most of the homes are beautiful and lovingly-maintained.
Transitional Areas
These are the specific blocks I currently consider as the most transitional and where I personally don't feel very safe. (I realize "safe" is a relative term, so I suggest researching crime stats and hopping on Google Street View to form your own opinion.)
I'm regularly approached with unwanted and often uncomfortable solicitations in these areas, which is my standard for categorizing them as a step below safe:
W Duffy between Jefferson & Montgomery
Jefferson Street from approximately Waldburg south to 31st
Montgomery Street in the Victorian District in general
Since most problems in Savannah happen after the sun goes down, my advice is to use common sense, lock your car, and don't go walking around late at night by yourself. (By the way…I'd tell you the EXACT same thing if you were staying in the Historic District.)
FYI: Henry & Anderson streets are busy east-west streets with lots of traffic noise, which you might also want to factor in if searching for a home rental.
Where to Stay in Savannah's Victorian District
There are lots of options bordering the Victorian District and within its boundaries. I'll list a few popular ones to help you decide.
If you've purchased my Savannah First-Timer's Guide, don't forget I created a password protected page just for you that lists the pros and cons of every hotel and B&B in the Historic District. Here is the link: Savannah Historic District Hotels: The Inside Scoop! It includes a map where I divided the Historic District into 4 hotel zones and listed which zones are the party zones, which ones are more residential, etc.
DISCLAIMER: These are not properties I've personally stayed in, since I own my own home in Savannah. I have visited and am very familiar with each location, I simply haven't stayed overnight in the properties. I suggest visiting Trip Advisor to read reviews from people who have actually stayed at the properties and can provide a more thorough assessment about the comfort level. As always, my goal is to be transparent and provide honest reviews about Savannah so you can make an informed decision regarding your visit!
At the Amethyst Garden Inn, the ceiling of the porch is painted in Haint Blue, which is the traditional exterior ceiling color on the majority of the homes in Savannah.
It stems from the Gullah culture and their belief that the greenish-blue color wards away evil spirits. Learn more here: Gullah Cultural Legacies
Options in the Historic District
Some tourists only want to stay in the Historic District when visiting Savannah. The following four options are close to the Victorian District, but are actually located within the ever-desirable Historic District.
Options IN the Victorian District
Catherine Ward House Inn: This is another fine choice and is the highest-rated option I've linked. It's Victorian without feeling too "stuffy", if you know what I mean. (Basically, it doesn't feel like you're staying at your great-aunt's house that hasn't been updated in years; it's nicely updated and comfortable.) It's very popular with tourists, but I don't know anyone who has personally stayed here. I'd rank this one really high, if not tops, on the list of options to further explore. It's only steps away from Forsyth Park, so it's a very convenient location. Check rates.
Prefer staying in a home rental? Sanctuary Place is a very unique option! It was formerly a church and currently serves as a multi-unit rental property. You're welcome to use my Airbnb credit of up to $55 off your first rental.
I hope this post was helpful! If you're on Pinterest and looking for more inspiration, I update my Savannah Pinterest board frequently with my favorite local haunts. You can sign up for my mailing list below to download a printable checklist of 50 things to do in Savannah that don't require a car.
What questions do you have for me about the Victorian District or Savannah in general? I answer fastest over on Instagram!
Related: 21 Truly Helpful Tips for Savannah First-Time Visitors & Get the Inside Scoop on 50 Incredible Things to Do in Savannah GA
Pin It for Later: Exploring Savannah's Victorian District: Tips From a Local

PINTEREST | INSTAGRAM | FACEBOOK | TWITTER