When it comes to good skin care, some products and services are worthwhile investments and others simply aren't worth the hype. Daisy and I have spent more than our fair share of money in the skin care aisles at ULTA. We're always searching for a miracle in a bottle and are willing to shell out serious money on "research".
We've learned some hard lessons regarding what works and what doesn't, and today we're sharing the scoop about where we're investing our skin care dollars.
We took 2 important factors into consideration when determining the value of a product or service:
1. Cost Per Use: Here is a simple guide for determining cost per use values. A product may cost a lot of money up front, but when you factor in how frequently it's used, you may discover it's a huge bargain in the long term!
2. Effectiveness: We rank a product or service higher in value when it has the ability to make a true difference in the long-term health and appearance of our skin.
And now, here are our top skin care essentials that are worth every penny:
Clarisonic Device: 
This device is one of our favorite skin care discoveries in recent years. It's a sonic facial cleansing brush that loosens and removes dirt and oil, and it works 6x better than washing with your hands alone.
I use it twice a day and Daisy uses it once each week. We share the device and simply swap out the brush heads.
The bristle softness is just right and it leaves our skin feeling invigorated and almost squeaky clean. We've definitely seen an improvement in the purity of our skin since we've been using it.
The exact model we own is the Clarisonic Mia in Passion Fruit (hot pink).
THE BREAKDOWN Cost Per Use: Less than a penny per day. Value: 5 stars. Where to save: On the cleansers and brush heads. You don't need fancy soap to get your skin clean (it's on your face for less than a minute then goes straight down the drain). I use Clean & Clear
 and Daisy uses Simple Foaming Facial Cleanser
. We order brush replacement heads through Groupon, because they work great for a fraction of the cost. Just do a search for "Clarisonic Replacement Brushes".
Dermatologist Visits
Dermatologists can recommend good treatment plans for acne, provide advice about anti-aging products, and prescribe stronger versions of skincare products and services than those available over-the-counter.
They can also do full body checks to ensure you aren't developing skin cancer, and — if they catch signs early enough — can easily remove pre-cancers before they become problematic.
THE BREAKDOWN Cost Per Use: Varies (dependent upon whether or not you have health insurance). Value: 5 Stars. Where To Go: Look for one certified by the American Board of Dermatology. Where to Save: On samples! Each time we leave the dermatologist's office, we walk out with a bag full of sample items–usually enough to last an entire month. Be sure to request sunscreen!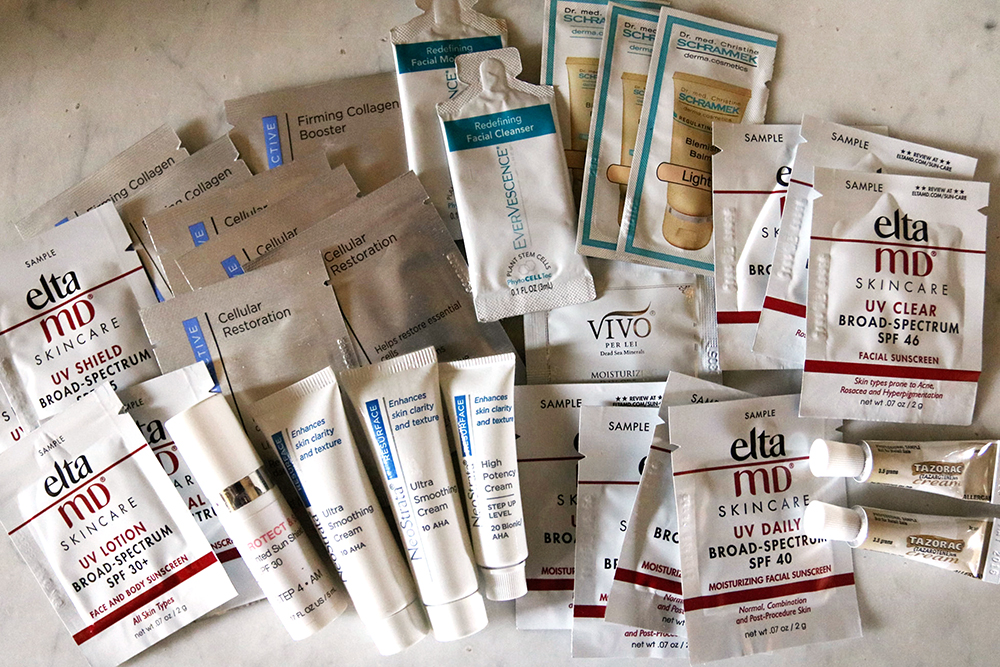 A recent haul from the dermatologists office. If you ask questions about products while you're visiting with the doctor, they'll fill a little baggie with samples for you to take home.
TIP: My guide, 7 Creative Ways to Make Plastic Surgery More Affordable contains great tips that are also applicable for dermatologic services–such as fillers and peels.
Serums
Serums contain concentrated doses of highly effective ingredients, such as antioxidants, peptides, and acids. They don't contain lubricating and thickening agents or items such as petroleum and mineral oils that prevent water evaporation (source).
Because they are so highly concentrated with the costliest of ingredients, you'll pay more per ounce than you would for creams or moisturizers.
Think of serums as little miracle drops that pack a very powerful punch! They're made of microscopic particles that penetrate deep into your skin's layers, where even moisturizers have a difficult time reaching.
Because they're so effective, you can use a pea sized drop of serum to cover all the important areas and one bottle should last for several months.
I've tried extremely pricey serums, such as SkinMedicaTNS Essential Serum–which is rumored to contain human foreskin. (Yes, you read that right. I prefer that no harm come to the male genital region — even for a cause as worthy as the making of my wrinkle-free face — so I stopped using it.)
I've finally settled in on Mario Badescu's Peptide Renewal Serum as my personal favorite. One we'd really like to try, but haven't yet, is Perricone MD Vitamin C Ester Serum
.
It has a citrusy scent and reviews say it's really good for lightening discolorations in the skin. If you've tried it and have thoughts, please share in the comments!
THE BREAKDOWN Cost Per Use: Less than 50 cents per day for Mario Badescu. Value: 5 Stars. Where to Purchase: Amazon
 & Nordstrom. Where to Save: On moisturizer. The molecules in moisturizer are bigger than in serums, so serums penetrate deeper and are worth the extra money. I use a $25 facial moisturizer that works great (Mario Badescu again). Daisy and I both use Vaseline Intensive Care Lotion
 as a body moisturizer. It's unscented and costs less than $10–a huge steal for a great product!
Retin-A (Tretinoin)
Retin-A is a form of Vitamin A that helps with acne and speeds up skin turnover and renewal. It's the #2 product we recommend if you want beautiful skin for a lifetime. Retin-A can only be prescribed by a dermatologist.
If you've never used it before, your dermatologist will begin your routine with the lowest strength dosage. It may take a few months for your skin to become accustomed to Retin-A. During that time your skin may appear slightly red or irritated, and it may even peel.
Many people get frustrated and give up on Retin-A during this beginning phase, but try to stick with it. If your skin is too irritated, try going longer between applications. You may start off only using it once a week, then work up to twice a week, and so on.
Once your skin becomes accustomed to Retin-A, it's one of the single best ways to maintain clear and healthy skin. Be sure to always wear sunscreen when you're on Retin-A, because it makes your skin more sensitive to the sun.
THE BREAKDOWN Cost Per Use: Varies, depending on whether or not you have insurance. It can cost up to $400 (without insurance) for a tube that lasts approximately 4-6 months. (Still worth it, in my opinion!) Value: 5 Stars. Where to Purchase: Via a licensed dermatologist. Where to Save: On expensive laser treatments that you won't need since Retin-A gives skin a more youthful appearance and helps lighten age spots. Plus it reduces acne, so you won't develop scars that require expensive treatments to remove. Also, you can request manufacturer coupons for Retin-A from your dermatologist.
Nutrition
One of the best ways to improve your skin is by improving your diet: what you eat in private, you wear in public. Spend your grocery budget on fresh foods that are loaded with vitamins and nutrients, and your skin's health and appearance with reflect it.
Yes, center cut salmon and fresh fruits are more expensive than a quick burger from McDonalds, but they're soooooo worth it in the long run. Try to avoid processed foods and fill up instead on a diet rich in nuts, fish, fresh fruits and veggies.
Related: Here's my favorite tip for sneaking more healthy foods into your diet.
THE BREAKDOWN Cost Per Use: Varies, depending on the foods you select. Value: 5 Stars. Where to Purchase: The local farmers market tops our list. Where to Save: On drinks! Water is free and it's the best way hydrate your skin.
Sunscreen
Truthfully, we don't think you need to spend a lot on sunscreen, so we don't actually consider it a "splurge" item. However, we couldn't forgive ourselves if we created a skincare list and omitted it.
Sunscreen is the #1 product we recommend for good skin. Using sunscreen on a daily basis throughout your lifetime can help to prevent skin damage, premature aging, and a whole host of issues that cost a lot of money to "fix", so even the more expensive sunscreens are worth the money.
Try not to store sunscreen in your car where it will get too hot and the ingredients may break down and become less effective. Those sample packs from the dermatologist in the shot above? They're perfect not only for travel, but also to keep in your purse so you'll always have sunscreen handy for touch-up applications.
Look for a broad-spectrum SPF that includes zinc oxide or titanium dioxide, because that will protect against both UVA and UVB rays. UVA rays affect the deeper layers of skin and can cause premature aging, wrinkling, and age spots. UVB rays affect the top layer of skin and can cause sunburn and skin cancer.
Two that we highly recommend (and that were referred by our dermatologist) are: Replenix Sheer Broad-Spectrum Cream SPF 50+
 and EltaMD UV Clear Tinted Broad-Spectrum SPF 46
.
THE BREAKDOWN Cost Per Use: Priceless. Value: 5 Stars. Where to purchase: Anywhere sunscreen is sold. Where to Save: As mentioned under Retin-A, sunscreen will save you time and money in future expenses because you won't have to pay for pricey reparative treatments.
The bottom line is that there's no such thing as a miracle in a jar, but there's a lot you can do to improve the appearance of your skin if you focus on spending your money in the areas that will have the most impact!
Related: Daisy's Teen Skin Care Routine
Please let us know in the comments if you have any questions or tips you'd like to add!