I'm totally into corduroy this fall, and this red corduroy skirt is my new favorite! It's so easy to wear and looks really cute on. A-line skirts are flattering on many body types, and the zipper (or buttons, since many have that option) down the front help to elongate your appearance.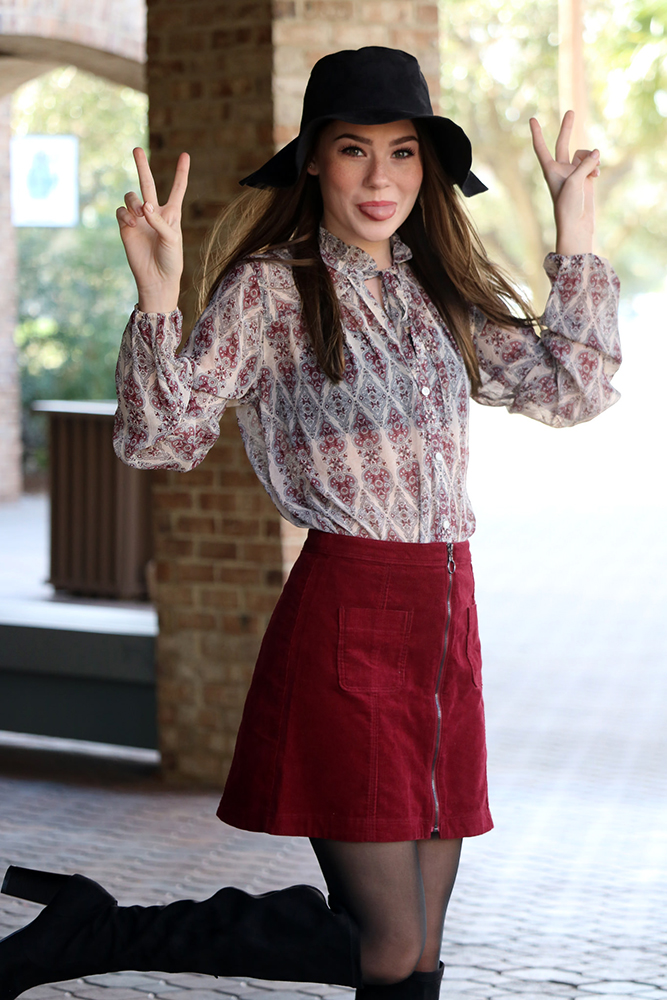 My favorite messages are the ones letting me know my order just shipped! #corduroy #fall #ootd Click To Tweet
FTC Disclosure: This post contains affiliate links, which means we'll receive a small referral fee from purchases at no cost to you. You can read our affiliate policy here. We donate 25% of our "click money" proceeds to these charitable organizations.
I paired mine with a pair of comfy black suede boots and topped it with a matching floppy hat. It looks really cute with booties, too. 🙂
I added faux freckles…which is something I've been doing that a lot lately. Now that my tan has faded, it's almost like my own secret way to hang on to the last little bit of summertime.
Check out my guide to faux freckles and learn how you can get a similar look for yourself!
Links to Purchase:
Hat: Nordstrom | Top: Hollister | Skirt: Hollister | Boots: Forever 21
Here are a few similar items if you want to recreate the look:
Lulus.com also has a few cute neutral options, which you can find here. Urban Outfitters always has great options. The floppy hat I'm wearing is from Nordstrom and is one of my favorite hats of all time.
How to Style a Red Corduroy Skirt
1. Wear a blouse tucked in, like I've done here. With an a-line skirt, this really helps to emphasize the waist and create an hourglass figure.
2. Style with a cold-shoulder or off-the-shoulder top that has a narrow silhouette. This looks best on girls with an athletic build or slim figure.
3. If you're more apple shaped or have a tummy you'd like to conceal, wear a fairly slim/fitted shirt tucked in, then wear an open jacket or blazer over it. The crisp lines of the jacket will counteract a curvy belly.
4. Pair a skirt with over the knee boots, booties, or a pair of faux suede boots (the vegan-friendly options!), like mine.
5. A skinny belt looks best with with an a-line skirt! The narrow accent draws attention to the thinnest area of your midsection.

Need More Inspiration?
Here's how some of our favorite bloggers have styled their corduroy skirts. Click on each image to view it larger and to see the image source.
Photo sources: 1 | 2 | 3 | 4 | 5 | 6 | 7 | 8 | 9 | 10 | 11 | 12
SHOPPING TIP: Want to bookmark these items and get an email or text notification the second they go on sale? Sign up for Shoptagr — a free app! Read my post about Shoptagr here.
You can find more ideas pinned on our style board on Pinterest. Thanks so much for stopping by and have a great week!

BLOGLOVIN' | PINTEREST | INSTAGRAM | FACEBOOK | TWITTER | YOUTUBE