During a recent trip to Cancun, I was able to scratch one really fun item off my bucket list–I was able to swim in a cenote (underground cave) for the first time. And yes, it was just as cool as it sounds!
(photo source)
I visited the Hubiku Cenote–deep in the jungle of the Yucatan Peninsula–with my best friend, Christopher. The cenote was about a two hour bus ride from our hotel in Cancun. You can visit this post to read about the interesting lunch break we had on our way there (and also see one of my favorite photos from the trip).
When I say we were deep in the jungle, I'm not kidding. The few little neighborhoods we passed on our drive to the cenote were all tiny houses with thatched roofs and no doors. 
The Hubiku cenote is semi-open, so when you're inside looking up, you'll see a large opening with sunlight streaming through to illuminate the water below. There are also long vines hanging down from the ground above and the water is very clear. It's difficult to tell just how cavernous it is inside the cenote from a single photo, but I tried capturing a panoramic shot on my cell to give you an idea.

Here's a wide angle shot of the Hubiku Cenote, where you can see the large opening above and some of the vines hanging down.
Upon arriving at the cenote, we had to walk through a touristy shop full of guys hawking souvenirs. It was a bit annoying, but also pretty standard for touristy areas. Once we made it past the souvenir shop, we were stopped by a photographer who wanted to take a picture of us. We obliged, and later you'll learn why he needed it!
After the photo, we had the option of swimming in the cenote or visiting a tequila museum and sampling tequila. Since I have a habit of making very bad decisions when I drink tequila, we wisely opted for the cenote!
I'm certain Rule #6 exists so people won't go skinny dipping. 
Before we could enter the cenote, we had to visit a shower area, rinse off, change into our bathing suits, and store our clothes away in a locker. With all of the tourists visiting Mexico's cenotes each year, it's necessary to go through this process to remove any sunscreen, oils, perfumes, etc. from your body so the cenote will remain clean and pure for many years to come (#ecotourism at its finest). Life jackets are available near the lockers if you're concerned and think you may need one.
Cenotes were considered sacred areas to the ancient Mayans. The openings were believed to be a gateway to an underworld habited by Chaak–the god of rain.
Prior to walking down the steps into the cenote, we were able to play with a few adorable little monkeys. That ended up being my favorite part of the cenote trip! (I seem to have a habit of running into monkeys during my travels.)
I promise I was still wet from my shower–the little monkey didn't pee on me! And how cute is that little guy sitting on top of Christopher's head?!
Awwww. He loved Christopher so much he had to give him a kiss on the forehead!
As you begin the trek down the stairs into the cenote, there's a platform halfway down where you can pose with men dressed as ancient Mayan warriors. Christopher took full advantage of this to show off his fiercest warrior pose.
You would have made a pretty awesome warrior dude, Christopher. 🙂 
Once in the cenote, I let Christopher jump in the water first. He said it was refreshing, so I decided to give it a try. I'm pretty sure he lied just to get me in the water, because cenote water is very cold!! I wimped out long before he did and climbed out. Christopher said swimming in the cenote was his favorite part of the trip, and he stayed in as long as he could. In case you're wondering, this particular cenote is about 150 feet deep!
Christopher's advice was to float on your back and look up towards the opening, because it's very surreal. Also, although you can't see it in this picture, the Hubiku cenote is filled with tiny black catfish. We saw hundreds of them! They didn't bother us, we didn't bother them, and it was pretty peaceful to watch them swimming all around us.
There was a cross at the back of the cenote that I thought it was pretty, so I snapped a quick shot of it.
Future marriage spot? Hmmmm…perhaps not since you can only get there by swimming! 
Once we finished our swim and headed back to our tour bus, we discovered we'd picked up a few additional passengers. They came bearing tequila from the museum, so they were heartily welcomed by our entire tour group! They proceeded to pour samples of flavored tequila and passed them out to everyone.
I'm pretty sure there were no rules on the tour bus, because that kid in the photo definitely doesn't look old enough to be drinking tequila. What do you think?
Cheers! 
Also, that wasn't the end of the surprises, because next they produced bottles of tequila personalized with the photo they'd taken of us when we arrived on site. Well played, tequila makers (and marketing team), well played.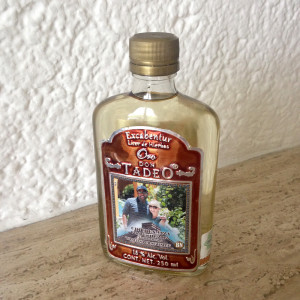 Who could resist purchasing Don Tadeo tequila with two hot and sweaty tourists mugging on the bottle's label? Not these two suckers!
Christopher planned to take our personalized bottle home as a souvenir of the trip, but a crafty TSA agent got the better of him and confiscated it at the airport. Somewhere out there in Mexico there's a drunk TSA agent, and I'd like to imagine him toasting to our photo as he got wasted. 🙂
This is what Christopher looks like as he's giving the evil eye to the TSA agent.
You can read more about the trip to Cancun here, including the fun times we had rescuing baby sea turtles. If you're interested in making reservations prior to your trip (you save a bit of money doing it that way), pre-book your tour by clicking on this photo:
Please let me know in the comments if you have any questions, and I'll do my best to answer. Head on over to the blog to see what else is new with us, and if you enjoyed the post please share this image on Pinterest:
Have a great week!

(**this post may contain affiliate links)