Pale is pretty, but let's face it…there are times when it's fun to look like a sunkissed beach babe. (Or at least create that illusion!) That's when self-tanner and bronzer can come in handy. I've created a "Get Ready with Me" video so you can watch me apply my makeup from start to finish — including my bronzer routine. I'll demo where to apply bronzer so you can duplicate the look to create your own natural glow.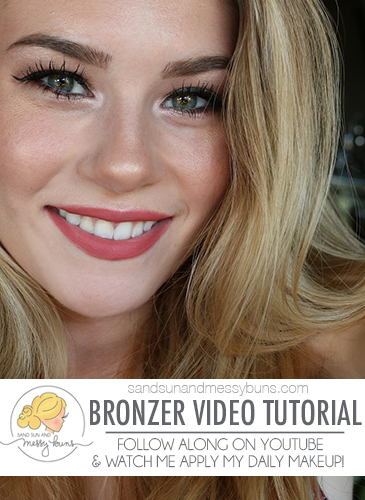 FTC Disclosure: This post contains affiliate links, which means we'll receive a small referral fee from purchases at no cost to you. You can read our affiliate policy here. We donate 25% of our "click money" proceeds to these charitable organizations.
What is Bronzing?
Bronzing is simply adding a warm glow to your skin in areas the sun would tan naturally if you spent an afternoon outdoors.
TIP: Don't confuse applying bronzer with contouring; they're two different things. Contouring takes more skill because it involves using dark and light tones to "sculpt" your face. Use contour when you want to make your face look slimmer or minimize features you don't like.

Tools You'll Need:
Bronzer + a makeup brush. You can use a kabuki brush, powder brush, or a blush brush — anything with a big, fluffy tip that evenly disperses powder will work. I use the Sigma Mrs. Bunny blue brush kit, but it was limited edition and no longer available. You can buy it in black, though!  Here are a few others great options:
Recommended Bronzers:
The best bronzer for you varies based on your skin color, so I suggest heading to the makeup store to test out the bronzers that look best on your skin. I'm light-skinned with freckles, and I prefer to use a matte bronzer then add shimmer through my highlighter. The exact bronzer I used for this look is Benefit Cosmetics Hoola Bronzer in Matte. I also use St. Tropez Foam Classic Bronzing Mousse on my face once per week so I'll look tan even with no makeup on. Laura Geller also makes really good bronzers.
How To Get The Look:
Use a kabuki brush to add bronzer in the areas where you'd tan naturally from the sun, like your cheeks, nose, and forehead. If you're wearing something that shows a bit of skin, add a dusting of bronzer to your collarbone area to complete the look.
TIP: Select a bronzer that is naturally one or two shades darker than your current skin color. Gradually build color when applying bronzer and add more as needed.
Click play to watch the video! Sorry the sound is off in the beginning — just turn it up. 🙂 
Links to Purchase:
Makeup Sponge: Real Techniques & ULTA Beauty | Primer: PUR | Highlighter: Benefit | Foundation: Too Faced | Liquid Bronzer: Benefit | Powder: Maybelline | Powder Bronzer: Charlotte Tilbury | Eyeshadow Palette: BH Cosmetics & NYX | Concealer: Benefit | Blush: NYX | Mist: PIXI | Lip Gloss: Rosebud Perfume Co. | Brows: Anastasia Beverly Hills | Brow Gel: Anastasia Beverly Hills | Eye Pencil: NYX | Gold Liquid Liner: NYX | Eyeliner: Physicians Formula | Mascara: NYC & Maybelline | Lip Pencil: NYX | Lip Cream: NYX
 TIP: Ladies, did you know it's better to wear matte bronzers as you age? Sparkly ones tend to highlight wrinkles more. Also…use a light touch when applying bronzer, otherwise it may settle into fine lines and make wrinkles appear more prominent.
I hope you like the tutorial (minus the sound issues at the beginning)! If you do, please subscribe to my YouTube channel and don't forget to follow on Bloglovin' or sign up for our newsletter to stay in touch. Have a great day!

BLOGLOVIN' | PINTEREST | INSTAGRAM | FACEBOOK | TWITTER | YOUTUBE
You can also shop the look here.