Since we're always preaching that beautiful skin is the best foundation for any good makeup routine, today I'm going to tell you about 10 of the best foods for skin. Did you know the foods you put in your body are equally as important as the products you slather on your skin? When you eat an unhealthy diet, your skin is often the first area to reflect it. (Sadly, the hips are a close second. lol)
The food you eat can be either the most powerful form of medicine or the slowest form of poison. #skincare #diettips Click To Tweet
FTC Disclosure: This post contains affiliate links, which means we'll receive a small referral fee from purchases at no cost to you. You can read our affiliate policy here.
10 of the Best Foods for Skin
Here are the foods you should concentrate on incorporating into your diet to help nourish skin from within through good nutrition.
1. Salmon
Fish is often referred to as a "superfood" because it has so many beneficial effects on the human body, and salmon is one of the best options. Salmon contains Omega-3 fatty acids, which help regulate oil production to boost hydration and delay the aging process. Omega-3s also help protect against sun damage.
The American Heart Association recommends eating salmon at least twice per week, but I personally opt for more since it's such an all-around great source of beneficial nutrients.
Try my recipe for a very simple salmon salad I often make as a light lunch or dinner option.
Grilled wild salmon topped with Chef Paul Prudhomme's Magic Salmon Seasoning
2. Strawberries
Vitamin C is the key nutrient in strawberries that gives skin a youthful glow. A single serving contains 113% of the daily recommended value of Vitamin C, which is needed to produce collagen. Without it, skin may appear dry and scaly.
Because strawberries are loaded with a high water content, consuming them on a regular basis can give you a healthier and more hydrated appearance. Strawberries are also one of the top sources of the antioxidant ellagic acid, which protects the elastic fiber in skin to prevent sagging and an aged appearance.
TIP: It's best to buy organic strawberries. They're one of the foods that frequently tops the Environmental Working Group's "Dirty Dozen" list of foods most contaminated by pesticides.
3. Almonds
Nuts are particularly beneficial for vegetarians, who may struggle to find meat-alternative sources of protein in their diet. Almonds are one of the richest sources of Vitamin E, which nourishes skin and protects it from damaging UV rays.
They're also a healthy source of monosaturated fats, which means they help produce sebum and maintain skin's moisture balance. That, in turn, helps reduce oily skin problems such as acne and blackheads. Here are 15 health benefits of almonds, as well as some almond recipes for you to try out!
TIP: To significantly increase the levels of Vitamin E in almonds, leave their skin intact.
4. Spinach
A single cup of spinach contains more than half of the recommended daily value of Vitamin A our bodies need. Vitamin A is an antioxidant that works to combat free radicals that destroy cells and accelerate the aging process, so it helps skin recover faster from damage. Spinach is also one of the best non-meat sources of iron, which assists in transporting oxygen throughout the body for that 'rosy glow' we all crave.
The Vitamin K found naturally in spinach helps strengthen blood vessel walls to diminish under-eye circles. Because spinach is one of the best foods for skin on this entire list, I try to incorporate it into my diet on a daily basis!
Can spinach help reduce skin cancer? It's worth trying! It's rich in the B vitamin known as folate, which helps aid in the repair of DNA.
5. Sweet Potatoes
The ingredients found in many pricey skincare products — such as retinol — are actually extracted from Vitamin A, which occurs naturally in sweet potatoes. They're also rich in Vitamin C to help stimulate collagen production and prevent wrinkles.
A 2007 study in the American Journal of Clinical Nutrition found that people who consumed a diet high in Vitamin C were associated with a lower prevalence of a wrinkled appearance, dryness, and skin atrophy. That's because Vitamin C boosts collagen production, and collagen controls the strength and flexibility of skin.
You are what you eat: Every 35 days (approximately), skin replaces itself with cells made from the foods you eat. #skincare #beautytips Click To Tweet
6. Carrots
When you eat carrots you are filling your body with Vitamin A, which helps to repair damaged skin. They also contain anti-inflammatory properties to help fight puffiness.
Carrots are rich in beta-carotenes, a protein that naturally warms the color of your skin tone. A 2011 study at the University of Nottingham in the UK showed that students who consumed higher levels of beta-carotene were percived as being healthier. (You can also find high levels of beta-carotene in another food on our list: sweet potatoes.)
DID YOU KNOW? Listen up, Trump: If you overeat carrots, skin can actually turn a yellow/orange-ish color. The condition is known as carotenemia.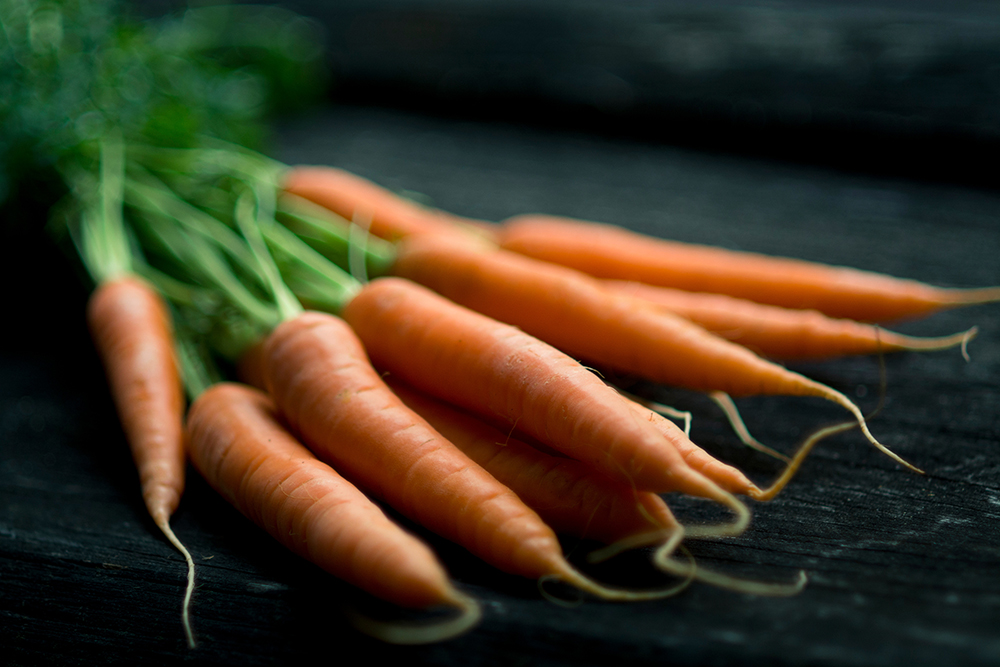 7. Avocado
One of my favorite healthy foods is the avocado! Like many others on our list, avocado contains Vitamins E and C. These two powerful antioxidants fight against aging and increase skin's luminosity.
The healthy mono-saturated fats in avocados also help to keep skin feeling soft and moisturized. (I don't feel the need to expound on this section, because I'm fairly certain no one needs an additional excuse to eat more guacamole.)
DID YOU KNOW? Avocados top the Environmental Working Group's "Clean 15" list of foods least likely to contain any detectable levels of pesticides.

8. Sunflower Seeds
Chock full of vitamins E and B1 (thiamine), as well as selenium, sunflower seeds pack preventative powers to help keep skin looking younger, longer.
Vitamin E is an antioxidant that slows down the aging process and fights free radicals damage. Thiamine helps boost red blood cell production and combat dry skin. Selenium has been shown to repair DNA in damaged cells and help prevent cancer.
DID YOU KNOW? A vitamin B deficiency can cause acne, cracked lips, dryness, wrinkles, rashes, and an uneven complexion. A deficiency will show up almost immediately in your skin.
9. Walnuts
Walnuts are another excellent source of Omega-3 fatty acids, which help lock moisture in skin so it appears plumper. A handful can supply as much as one serving of salmon.
The zinc found in walnuts helps prevent stretch marks, while Vitamin E boosts the immune system and helps protect against blemish-causing bacteria.
10. Dark Chocolate
Believe it or not, there is a way to indulge your sweet tooth without harming skin! I saved the best for last, but dark chocolate can actually help improve skin. Select a variety containing a 70% or greater cocoa content and eat it in moderation.
Cocoa helps reduces the stress horomone cortisol, which breaks down collagen. Less cortisol means you'll develop fewer wrinkles. Dark chocolate also contains flavonols, which are antioxidants that fight free radicals and increase blood flow — resulting in glowing skin. There you have it: Chocolate actually IS one of the best foods for skin!
Need an excuse to have a bite of chocolate? Go ahead! It's good for skin when consumed in moderation. Try to keep it under 1.5 ounces per day.
Who knew chocolate was one of the top 10 best foods for skin?! Read more here... #skincare #beautytips Click To Tweet
TIP: Interested in more nutrition tips? Check out the Top 10 Minerals Our Body Needs from Top Inspired.
Recommended Reading: Books About Nutrition
Each of these books is either a New York Times or Amazon best seller (or both). They're about eating to improve your health, and are NOT about dieting. Read these if you want to learn how to improve your health, which will in turn improve the appearance of your hair, skin, and nails.
I hope this list of the best foods for skin will help you rethink what you're putting in your body. All too often, we grab the quickest and easiest meal we can find and our bodies pay the price. Skin is the first area compromised — or at least the most visible. By making an effort to consume more of the best foods for skin, your skin will show incredible improvement.

PINTEREST | INSTAGRAM | FACEBOOK | TWITTER