River Street in Savannah, GA, is by far the most well known street in the city! It's adjacent to the Savannah River, where it's fun to sit and watch massive cargo ships sail into one of the busiest ports along the East Coast. The street is also famous for hosting one of the largest St. Patrick's Day celebrations in the country.
The atmosphere along River Street is lively and bustling with activity — day and night — and the cobblestone streets are lined with the beautiful architecture of century old buildings. I visit Savannah numerous times each year and I love sharing my favorite things to do while in this vibrant area of the city.
*Please note: I'll have more posts to come about other areas within the city of Savannah that are just as fun to explore. To keep this (reasonably) short, this guide is for the River Street area only and therefore only references restaurants and shops found along that particular street.
A beautiful shot of River Street at night, during a week of St. Patrick's Day festivities. (photo source) River Street is best known for its storefronts, art galleries, seafood restaurants, pubs, and candy shops.
FTC Disclosure: This post contains affiliate links, which means we'll receive a small referral fee from purchases at no cost to you. You can read our affiliate policy here.
Before You Go
If you have a bit of time before your trip to Savannah, I suggest ordering one of these maps of the city. They're highly detailed and provide interesting facts about Savannah.
TIP: Wear comfortable shoes, because you'll do a lot of walking along the river. The cobblestone streets, narrow alleyways, trolley tracks, and steep stairways are not high heel friendly!
Where to Park
My first parking suggestion is…don't. Savannah is a city made for walking, so it's best to take a leisurely stroll to River Street from your hotel. If that's not an option, Uber and Lyft blanket the city and can usually be at your door in minutes.
If you must drive, my favorite place to park when visiting River Street is in Emmet Park off of E. Bay Street. There, my car is shaded by hundred+ year old oak trees, and it costs less than $10 for all day parking (free evenings and on weekends).
*Please note: You'll have to walk down some steep stairs to get to River Street when parking here, so this may not be the best option if you have knee problems.
If you prefer parking garages, a few of the hotels on Bay Street offer parking. Visit the City of Savannah's Mobility & Parking Services website to purchase a 1 or 2 day parking pass for $8 or $14 respectively, and that will allow parking in any city garage or metered parking space with a limit of 1 hour or more.  Techies: Use the bestparking or parkme apps to locate available parking spaces.
TIP: Metered parking spaces are free after 5:30 pm and on weekends in Savannah.

Here's a map of the River Street area that indicates parking options in purple. I added an arrow to show where I park (on the days I take a car). Here's a printable map.
Where To Go First: River Street Sweets
My first and favorite stop along the riverfront is River Street Sweets. The heavenly smell of fudge is irresistible and is what lured me in the first time I ever visited Savannah. These days, I make a beeline for the shop with the bright red awning whenever I'm in town!
The staff offers each guest a free taste of pralines upon entry into the store, so be sure to take them up on it. Their pralines are the best I've ever had! And everyone knows calories don't count when you're on vacation, right?!? 🙂
The famous bright red awning beckons visitors to enter River Street Sweets. Click on each photo in the gallery to view it larger and to learn more about the store. 
TIP: Check out my in-depth guide to River Street Sweets in this post: Savannah's Can't-Miss Candy Shop.
You can purchase ice cream, old-fashioned candies (anyone remember candy cigarettes?), Southern "bear claws" (pecans topped with caramel and chocolate), flavored popcorn, numerous varieties of fresh fudge, candy coated pecans, and–of course–the aforementioned world famous pralines.
The store employees are very friendly, and some have been with River Street Sweets for more than 20 years! You can watch them make candies on huge marble slabs and ask questions about the process.
Explore The Nooks And Crannies
It may sound odd to some, but one of my favorite things to do on River Street is to explore the many mysterious nooks and crannies that showcase the hidden layers of the city. Savannah seems to be a city where nothing was ever torn down, and nowhere is that more apparent than along the river.
Buildings appear stacked atop older buildings, narrow alleyways lead to dead ends, and shadowy doorways beckon curious visitors to see what lies beyond…even though common sense (and warning signs) typically caution otherwise!
I can't help it; I'm drawn to the unknown, and Savannah offers that in spades.
One of the cobblestone streets along Factor's Walk, home to the original Cotton Exchange where cotton brokers used to set the prices for cotton worldwide. (photo source) This is one of my favorite places to explore! It's along the back side of all the buildings facing the river on River Street. Click on the photos to view them larger and read more details. 
These photos perfectly symbolize the River Street area to me; everything is old and faded, but there are signs of life everywhere you turn! I constantly spot vegetation growing out of the sides of buildings along River Street, and it's one of the little quirks about Savannah that always makes me smile. And…how would you like to step out on one of those balconies? They aren't fit for anything except pigeons. 🙂
TIP: Obviously you should use common sense when exploring the back alleys of the river. I typically take my brother with me and make sure I have a fully charged cell phone. Although the river area is crowded with tourists and locals, it also has its fair share of inebriated individuals—particularly at night.
So many of the stairs to River Street are steep, old, and are marked with yellow caution signs. Still…I hope the city never revamps them, because they add to the charm and character of Savannah. (Click on any photo to view it larger and read more details.) 
Dine (Or Drink) At A Restaurant Overlooking The River
I tend to work up a hearty appetite when I'm strolling along the river, but there's no fear of going hungry on River Street! It's packed with great restaurants, perfect for taking a leisurely break to unwind and recharge. Many have balconies on the second level, offering a pretty view of the river and the street below — as well as a breeze, if you're lucky. I typically peruse the menus, which are posted by the door of each establishment, then I select a different restaurant each time I'm in town visiting.
Rocks on the Roof is on the top level of the Bohemian Hotel and is a hotspot for locals. Go there for drinks and a great view of the river. Food is tapas style, but you can visit Rocks on the River in the same building for some good ol' Southern comfort food.
Huey's on the River is another local favorite and definitely tops my list for brunch. They serve New Orleans style food, and their beignets are addicting! I stop here every time I'm in town.
Daisy and her friend, Rebecca, anxiously await the arrival of brunch at Huey's. Rebecca is a New Orleans girl, so she knows good beignets!
Many restaurants along the river offer an air-conditioned lower level or a balcony on the second level so you can sit outdoors and enjoy the breeze while watching boats along the river.
Top Deck is a rooftop bar on the top level of the Cotton Sail Hotel. It's a fantastic spot to catch the sunset and some of the best views of the Talmadge Bridge while sipping on delicious cocktails.
Fiddler's Crab House is located inside an 1820's warehouse. It has a great view of the river and they specialize in crab dishes.
TIP: For traditional southern fare, try anything fried (seafood, chicken, okra, tomatoes, etc.), or sample shrimp & grits, she-crab soup, pecan pie, or mashed potatoes with gravy. Top everything off with a glass of sweet tea to quench your thirst! FYI: If you aren't accustomed to real Southern sweet tea, it's loaded with sugar.
Shop For Souvenirs
If you're into shopping, the river area is a great place to find t-shirt shops, hats, bookstores, handmade jewelry, local art, photographs…and even a seashell shop! Save the higher-end boutique shopping for Broughton Street, which is located uptown. (Read my Essential Guide to Broughton Street.)
River Street is where I pick up the majority of my souvenirs, but there are also a few shops along Factor's Walk where I'll browse for clothing and cute accessories.
A selection of goodies from RMC Boutique on the upper level of Factors Walk and our favorite seashell shop.
See Savannah From The Water
If you prefer to view Savannah from the water, catch a short steamboat ride and listen as the boat captain delves into the history of river commerce. This is particularly fun for kids and the young-at-heart who want to learn more about the tugboats, barges, and container vessels that constantly cruise down the Savannah River.
On a budget? You can take the ferry for free if you'd just like to get some amazing shots of Savannah from the water. It departs every 20 to 3o minutes from 3 boarding docks on River Street. View the locations and times here.
TIP: Be sure to ask about the Waving Girl Statue! You'll learn all about local legend Florence Martus, who was fascinated with passing ships. It's estimated she welcomed more than 50,000 ships into Savannah by waving a handkerchief or a lantern (at night). Sailors often returned her greeting with a quick blast of the ship's horn.
Visit The Cotton Exchange Building
Finally, a day on River Street wouldn't be complete without a visit to the historic Cotton Exchange building. The facade of the building is stunning! I stand in awe each time I stare up at the details above the entryway.The lion statue in the fountain just outside the entry is also a sight to behold.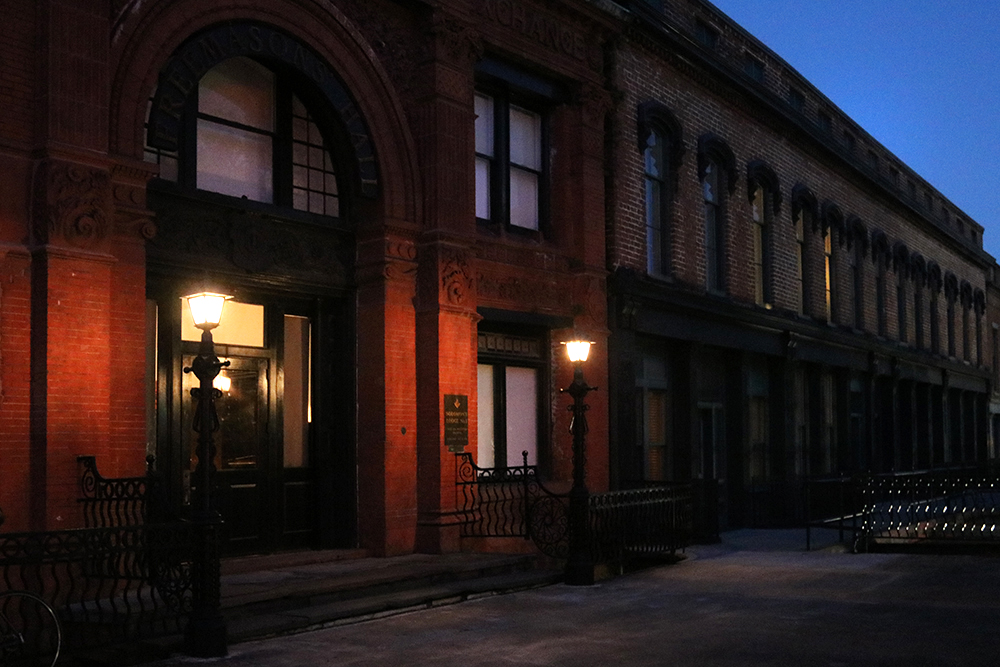 The Cotton Exchange building is currently headquarters to the Savannah Chamber of Commerce, and visitors are welcome. Click on any photo to view it larger and to read additional details.
Where to Stay
I won't spend too much time discussing accommodations, since that varies so heavily based on personal taste and budget. While there are beautiful hotels located directly on River Street, I rent a home in the heart of the historic district whenever I stay in Savannah. Here's my guide to renting the perfect vacation home, which has photos of one of my favorite HomeAway rentals in Savannah.
A gift from me: CLICK HERE to get $40 off your first Airbnb rental in Savannah, GA.
To Learn More
To learn more about River Street, head to Visit Savannah. It's a great place to get details about some of the city's more well-known events, such as the St. Patrick's day celebration (one of the biggest St. Patrick's day parties on the entire East Coast!), the waterfront Fourth of July boat/fireworks festivities, Oktoberfest, Christmas on the River (it's beautiful to see the storefronts and boats lit up for the Christmas holidays), and much, much more. The riverfront is also known for First Friday Fireworks, where Wet Willie's sponsors a stunning fireworks display the first weekend of each month. *Note: New Year's Eve and the 4th of July celebrations replace First Friday Fireworks for the months of January and July.
Here are a few additional resources for information about Savannah:
Savannah Waterfront Association | The Scout Guide | Savannah Magazine | South Magazine
I'll be posting more guides about the rest of Savannah, but wanted to start off with one of the most popular spots. 🙂  If you found it helpful, please share it on social media. I have a Pinterest board for Savannah, which can be found here if you're interested in following.
Things to do on River Street in Savannah, GA. | #visitsavannah #savannah #vacationguide Click To Tweet
Check back soon for tips about the haunted side of the city, my favorite restaurants in the downtown squares, and some of my favorite walking tours. If you have any questions at all, please post them in the comments and I'll do my best to answer.
Happy travels!

BLOGLOVIN' | PINTEREST | INSTAGRAM | FACEBOOK | TWITTER | YOUTUBE