River Street in Savannah is by far the most well known street in the city! It's adjacent to the Savannah River, where it's fun to sit and watch massive cargo ships sail into one of the busiest ports along the East Coast. The area is also famous for hosting one of the largest St. Patrick's Day celebrations in the country. If you're headed to the waterfront and wondering what to do on River Street, don't worry — I've got you covered with the most comprehensive guide on the web.
*Please note: I've written additional posts about other areas within the city of Savannah that are just as fun to explore. To keep this (reasonably) short, this guide is for the River Street area only and therefore only references restaurants and shops found along that particular street.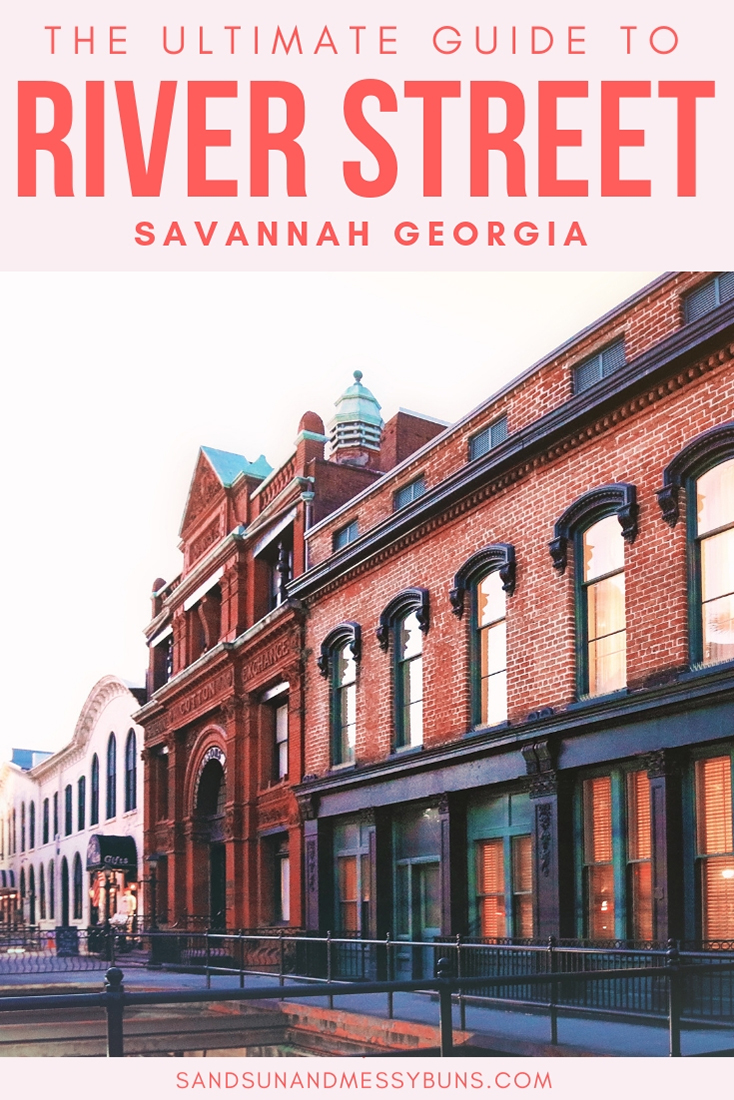 If you find this Savannah GA River Street post helpful, don't forget to pin it for later!
Headed to River Street in Savannah, GA? Here's the ultimate list of what to see and do! #savannah Click To Tweet
FTC Disclosure: This post contains affiliate links, which means we'll receive a small referral fee from purchases at no cost to you. You can read our affiliate policy here.
Before You Go
Pack comfortable shoes, because you'll do a LOT of walking along the river. The cobblestone streets, narrow alleyways, trolley tracks, and steep stairways are not high heel friendly!
You'll also want to pack bandaids and some sunscreen.
Where To Park Once You Arrive
My first parking suggestion is…don't. Savannah is a city made for walking, so it's best to take a leisurely stroll to River Street from your hotel or home rental. If that's not an option, pedicabs offer another great way to leisurely check out the sights. Uber and Lyft also blanket the Historic District and can be at your door in minutes.
If you must drive, download the ParkSavannah mobile app from iTunes or Google Play. It allows you to pay your meter fee from the comfort of your car and extend your time limit from remote locations. (No more interrupting lunch to run outside and feed the meter!)
You can also visit the City of Savannah's Mobility & Parking Services website to purchase a 1 or 2 day parking pass for $15 or $24 respectively. The pass allows parking in any city garage or metered parking space with a limit of 1 hour or more.
My favorite place to park when driving to River Street is in Emmet Park off E. Bay Street. It's lined with pretty oak trees that provide a good amount of shade, it's inexpensive, and it's really close to the river.
If you're driving a camper, U-Haul, or towing a boat, park in the gated lot at the Visitor's Center on MLK Jr. Blvd. (Because…good luck finding a spot in the Landmark Historic District.)
TIP: Metered parking spaces are free every day after 8:00 p.m. and all day on Sunday, as well as on all government authorized holidays.
River Street Savannah
If you're new around here…hi, I'm Erin! I live in the Starland District in Savannah, and I LOVE sharing my favorite things to do in the city with new visitors.
River Street is always bustling with activity — day or night — and the cobblestone streets are lined with the beautiful architecture of centuries-old buildings.
Here are a few suggestions to get your started…
1. Head To River Street Sweets First!
My first and favorite stop along the riverfront is to River Street Sweets. The heavenly smell of fudge is irresistible, and it's what lured me in the first time I ever wandered down River Street as a little kid. My friends and family always make a beeline for this old-fashioned candy shop whenever they're in town!
There are two doorways into the store, but if you walk into the one on the right-hand side you'll be greeted with free samples as soon as you enter. Their pralines are the best I've ever had! (No worries, calories don't count when you're on vacation!)
The store employees are very friendly, and some have been with River Street Sweets for more than 20 years! You can watch them make candies on huge marble slabs, ask questions about the process, and try samples. Kids LOVE visiting River Street Sweets!
These are just a few of the treats you can buy:
Ice Cream
Old-Fashioned Candies (anyone remember candy cigarettes?)
Southern "Bear Claws" (pecans topped with caramel and chocolate)
Flavored Popcorn
Fresh Fudge
Candy-Coated Pecans
Salt Water Taffy
River Street Pralines (a MUST! They're the #1 supplier of pralines in the world!)
Related: River Street Sweets: Savannah's Can't-Miss Candy Shop
2. Explore Factor's Walk
It may sound odd to some, but one of my favorite things to do on River Street is to explore the many mysterious nooks and crannies that showcase the hidden layers of the city. Savannah seems to be a city where nothing was ever torn down, and nowhere is that more apparent than along the river.
Buildings appear stacked atop older buildings, narrow alleyways lead to dead ends, and shadowy doorways beckon curious visitors to see what lies beyond…even though common sense (and warning signs) typically caution otherwise!
I can't help it; I'm drawn to the unknown, and Savannah offers that in spades.
The Factor's Walk area is one of my favorite places to explore! It's located along the back side of all the buildings facing the river on River Street, and it looks particularly beautiful at sunset.
TIP: Obviously you should use common sense when exploring the back alleys of the river. I typically take my brother with me and make sure I have a fully charged cell phone. Although the river area is crowded with tourists and a few locals, it also has its fair share of inebriated individuals—particularly at night.
Savannah is in the heart of the Deep South, which means it has a very complex racial history. If you're into self-guided tours, I highly recommend downloading the Detour App and selecting the "Dark Path to Freedom" walk to learn more about the slave trade along River Street and in nearby City Market. [01.2019 update: Detour was purchase by Bose, so the tour isn't available for download during the restructuring. I'll link it again if Bose makes it available!]
The Cluskey Vaults are one of the more interesting lesser-known landmarks in Savannah, in my opinion. There are markers in the entry to each vault which explain their history, and you're able to walk inside to further explore them.
3. Check Out the Restaurants on River Street
I tend to work up a hearty appetite when I'm strolling along the river, but there's no fear of going hungry on River Street! It's packed with great restaurants that are perfect for taking a leisurely break to unwind and recharge.
Many have balconies on the second level, offering a pretty view of the river and the street below (as well as a breeze, if you're lucky).
Huey's on the River tops my list for a filling brunch. They serve New Orleans style food, and their beignets are addicting! Huey's faces the river and is approximately at the mid-point along River Street.
Cafe M is my top spot for a light lunch. The Parisian style cafe is beautifully decorated, and you can't go wrong with any of their sandwich offerings! It's on the street level of the Factor's Walk side.
Tubby's Seafood is on the second level (above Huey's) and it catches a great breeze off the river. It's a good spot for casual dining or if you have kids in tow. A lot of the food is fried, but there are salad options for the health conscious. The seared ahi tuna salad appetizer is filling enough to serve as a full meal and is my usual choice.
Treylor Park is a great choice if fancy isn't your thing. It's actually one of my favorite restaurants in all of Savannah! Their menu is filled with Southern comfort food with a unique twist. For example, instead of chicken and waffles (a Southern staple), they serve chicken and pancake tacos covered in strawberries!
If you're a TRUE foodie, the best food tour in town (my personal opinion) is the Famous & Secret East Side Food Tour.  It's in the Historic District and isn't too far from River Street.
TIP: For traditional "Southern" home-cooking, try anything fried (seafood, chicken, okra, tomatoes, etc.), or sample shrimp & grits, she-crab soup, pecan pie, or mashed potatoes with gravy. Top everything off with a glass of sweet tea to quench your thirst! FYI: If you aren't accustomed to real Southern sweet tea, it's loaded with sugar.
4.  Have Drinks Overlooking The River
Wet Willie's is the perfect place to cool off after wandering around in the hot sun all day. (Think slushies for adults and that's pretty much all you need to know!) Their frozen drinks are amazing, and the bartenders come up with some really fun combos if you're willing to let them select the ingredients.
Top Deck is a rooftop bar on the top level of the Cotton Sail Hotel. It's a sweet spot to catch a sunset and some of the best views of the Talmadge Bridge.
Rocks on the Roof is on the top level of the Bohemian Hotel and is another good spot for (slightly pricy) drinks and a great view of the river. Food is tapas style, but you can visit Rocks on the River in the same building for a heartier meal.
If you prefer the speakeasy vibe, there's one called Mata Hari's at 306 W. Lower Factor's Walk. If you don't mind venturing away from River Street, the best bars in Savannah are further into town. Congress Street is a good place to start.
5. Buy Souvenirs at Savannah's River Street Shops
If you're into shopping, the river area is a great place to find t-shirt shops, hats, bookstores, handmade jewelry, local art, photographs…and even a seashell shop!
Save the higher-end boutique shopping for Broughton Street, which is located within walking distance a few blocks away.
Related: Savannah Shopping: The Essential Guide to Broughton Street
While River Street is primarily a touristy area as far as shopping goes, there are a few boutiques along the Factor's Walk side that have cute outfits, accessories, and home decor.
If you're a book lover, there's a cute little vintage bookstore called Books on Bay that's worth checking out. There are also some unique antique stores on River Street, so pop into a couple of those to see if anything strikes your fancy.
6. See River Street From The Water
If you prefer to view Savannah from the water, opt for an approximate 45-minute ride on either the Georgia Queen or the Savannah River Queen steamboat.
Perks: The views of Savannah from the water are really pretty — especially at night when all the lights are reflecting off the water. You'll learn about the history of river commerce from a narrated tour given by the boat's captain. This is especially fun for kids who want to learn more about the tugboats, barges, and container vessels that constantly cruise down the Savannah River.
Drawbacks: Skip the buffet options, since the cost for those is rather high and you'll find better meals elsewhere in town. Exception: The Holiday Gospel Dinner Cruise during December is worth the money!
TIP: On a budget? Take the Savannah Belles Ferry for free to get some amazing shots of Savannah from the water. It departs every 20 to 30 minutes from 3 boarding docks on River Street. View the locations and times here.
Tickets: Check reviews about the Georgia Queen and purchase tickets here on Trip Advisor.
7. Visit the Waving Girl Statue
Local legend Florence Martus was fascinated with passing ships. She welcomed an estimated 50,000 ships into Savannah by waving a handkerchief or a lantern (at night). Kids find her story captivating.
Sailors often returned her greeting with a quick blast of the ship's horn. The majority of the ships entering Savannah's port still honk to this day!
8. Check Out The Cotton Exchange Building
Finally, a day on River Street wouldn't be complete without a visit to the historic Cotton Exchange building. The façade of the building is stunning! I stand in awe each time I stare up at the details above the grand entryway. It looks like a scene straight from a movie set.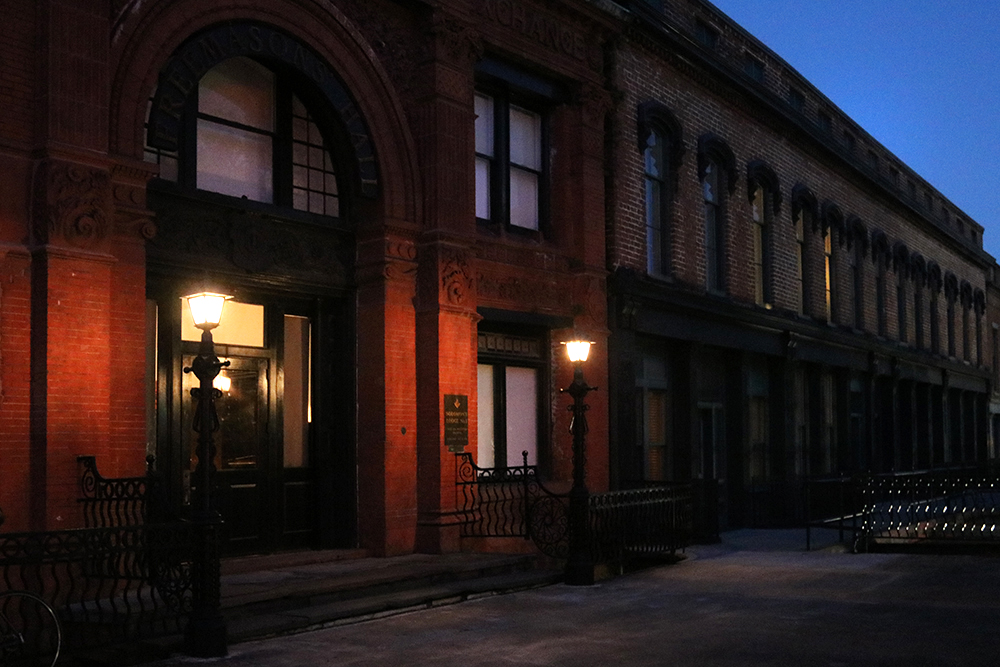 Planning Your Trip
Here are a few helpful tips to make planning your trip as effortless as possible…
Safest Area to Stay in Savannah GA
Hey Erin, where are the safest places to stay in Savannah?
I can't tell you how often I hear this question. If I had to guess, it probably ranks as one of the top 5 questions I get about Savannah.
The truth is, if you're staying anywhere within the boundaries of the Landmark Historic District, you should be fairly safe.
I recommend taking all the usual safety precautions you'd take in any city with a high crime rate. Keep an eye on your possessions, lock your doors, and don't wander around alone at night.
Hotels on Bay Street Savannah GA
Since this post is about River Street, I'm including a variety of options that are within a block or two of River and Bay streets. They're each good, but vary based on your travel style and budget.
If I had to pick my favorite, I'd go with Kimpton Brice. It's gorgeous and on the quieter eastern end of Bay Street near some really pretty neighborhoods where I enjoy walking. I also love East Bay Inn for the historic factor. [NOTE: Since a few of you have emailed to ask, the Thunderbird Inn IS within walking distance to the river! You can get to Broughton Street from the hotel in 5 minutes and it takes about 10 minutes to get to River Street.]
If you're looking for the hotel across the river that has the pretty views facing River Street, that's The Westin Savannah Harbor Golf Resort & Spa [Average rate: $225 – $250]. The views from there are incredible — especially at night. The free Savannah Belles Ferry goes back and forth all day long, so it's still easy to get to everything. (I personally prefer staying on the Savannah side of the river and being in the heart of everything.)
Savannah Airport Information
When traveling to Savannah, fly into the Savannah/Hilton Head International Airport (SAV). The budget conscious can "Catch at CAT" (Chatham Area Transit bus line) for less than $5 from the airport to Oglethorpe Street, which is 2 blocks from the Savannah Visitor's Center.
Search Flights: skyscanner.com
Savannah Riverwalk Map 
I created this handy map to help you find your way around River Street. I hope it's helpful! (Download the Alpaca Travel app to be able to save and view it even when you're offline.)
Get the Guide!
If you need help planning the perfect trip, I spill all my secrets in my ebook, the Savannah First-Timer's Guide. I tell you which tourist traps to avoid, include alternative options to try instead, give the scoop on which areas of town are dangerous, tell you where to take the best photos, and let you know how to save money on everything from parking to tours to food! Learn more here. (I promise I'll save you the cost of the book in parking fees alone!)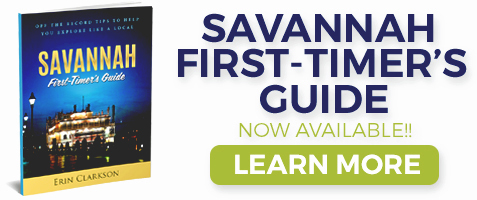 Things to do on River Street in Savannah, GA. | #visitsavannah #savannah #vacationguide Click To Tweet
I don't only write about River Street! You can find my other Savannah posts listed here. I also have a Pinterest board for Savannah that I update frequently.
Pin It for Later: The Ultimate Guide to River Street in Savannah, GA

 PINTEREST | INSTAGRAM | TWITTER | FACEBOOK