River Street in Savannah is by far the most well known street in the city! It's adjacent to the Savannah River, where it's fun to sit and watch massive cargo ships sail into one of the busiest ports along the East Coast. The area is also famous for hosting one of the largest St. Patrick's Day celebrations in the country. If you're headed to the waterfront and wondering what to do on River Street in Savannah GA, I've got you covered with the most comprehensive guide on the web.
*Please note: I've written additional posts about other areas within the city of Savannah that are just as fun to explore. To keep this (reasonably) short, this guide is for the River Street area only and therefore only references restaurants and shops found along that particular street.
A beautiful shot of River Street at night, during a week of St. Patrick's Day festivities. (photo source) River Street is best known for its storefronts, art galleries, seafood restaurants, pubs, and candy shops.
FTC Disclosure: This post contains affiliate links, which means we'll receive a small referral fee from purchases at no cost to you. You can read our affiliate policy here. We donate 25% of our "click money" proceeds to these charitable organizations.
Headed to River Street in Savannah, GA? Here's the ultimate list of what to do and see! #savannah Click To Tweet
What To Do On River Street In Savannah GA
Savannah is my current home, and I love sharing my favorite things to do while visiting this vibrant area of the city. The atmosphere along River Street is lively and bustling with activity — day and night — and the cobblestone streets are lined with the beautiful architecture of centuries-old buildings.
Before Your Trip to River Street
Pack comfortable shoes, because you'll do a lot of walking along the river. The cobblestone streets, narrow alleyways, trolley tracks, and steep stairways are not high heel friendly!
Where to Park
My first parking suggestion is…don't. Savannah is a city made for walking, so it's best to take a leisurely stroll to River Street from your hotel or home rental. If that's not an option, Uber and Lyft blanket the city and can be at your door in minutes.
If you must drive, download the ParkSavannah mobile app from iTunes or Google Play. It allows you to pay your meter fee from the comfort of your car and extend your time limit from remote locations. (No more interrupting lunch to run outside and feed the meter!)
You can also visit the City of Savannah's Mobility & Parking Services website to purchase a 1 or 2 day parking pass for $15 or $24 respectively. The pass allows parking in any city garage or metered parking space with a limit of 1 hour or more.
My favorite place to park when driving to River Street is in Emmet Park off E. Bay Street. It is lined with oak trees that provide a bit of shade.
*Please note: You'll have to walk down some steep stairs to get to River Street when parking here, so this is not the best option if you have knee problems.
If you're driving a camper, U-Haul, or towing a boat, park in the gated lot at the Visitor's Center on MLK Jr. Blvd. (You won't be able to find a spot anywhere in the historic district.)
TIP: Metered parking spaces are free every day after 8:00 p.m. and all day on Sunday, as well as on all government authorized holidays.
1. Where To Go First: River Street Sweets
My first and favorite stop along the riverfront is in River Street Sweets. The heavenly smell of fudge is irresistible and is what lured me in the first time I ever visited Savannah. My friends and family always make a beeline for this old-fashioned candy shop whenever they're in town!
There are two doorways into the store, but if you walk into the one on the right-hand side you'll be greeted with free samples as soon as you enter. Their pralines are the best I've ever had! (Thank goodness calories don't count when you're on vacation!)
You can't miss the bright red awning or the smell of fudge wafting out onto River Street.
Carmel and candy-coated apples are semi-healthy, right? That's what I keep telling myself.
This old-fashioned candy store is AUTHENTIC! They have a taffy-making machine that's more than 100 years old and their candy is displayed in beautiful wooden display cases.
The store employees are very friendly, and some have been with River Street Sweets for more than 20 years! You can watch them make candies on huge marble slabs, ask questions about the process, and try samples. Kids LOVE visiting River Street Sweets!
These are just a few of the sweet treats you can buy:
Ice Cream
Old-Fashioned Candies (anyone remember candy cigarettes?)
Southern "Bear Claws" (pecans topped with caramel and chocolate)
Flavored Popcorn
Fresh Fudge
Candy-Coated Pecans
Salt Water Taffy
Pralines (a MUST!)
Related: River Street Sweets: Savannah's Can't-Miss Candy Shop
2. Explore The Nooks & Crannies Along Factor's Walk
It may sound odd to some, but one of my favorite things to do on River Street is to explore the many mysterious nooks and crannies that showcase the hidden layers of the city. Savannah seems to be a city where nothing was ever torn down, and nowhere is that more apparent than along the river.
Buildings appear stacked atop older buildings, narrow alleyways lead to dead ends, and shadowy doorways beckon curious visitors to see what lies beyond…even though common sense (and warning signs) typically caution otherwise!
I can't help it; I'm drawn to the unknown, and Savannah offers that in spades.
The Factor's Walk area is one of my favorite places to explore! It's along the back side of all the buildings facing the river on River Street, and it looks particularly beautiful at sunset.
I love the angle of this shot because it shows all 3 levels of Factor's Walk. Iron and concrete walkways connect the brick buildings to the nearby bluff, with very steep stairs leading to the two levels below.
The cobblestone street along the lower level of Factor's Walk on the West side. [photo source]
Architectural details abound along Factor's Walk. Note the arched windows along the front and the beautiful corbels at the roofline.
Be careful where you walk! The lower level of Factor's Walk is 30 – 40 feet below.
The historic Cotton Exchange building, where cotton brokers used to set the prices for cotton worldwide.
A different perspective: I took this shot from the lowest level, looking up.
Planning a trip to Savannah? My first time visitor's guide is chock full of insider tips and is scheduled for release any day now! Here's a sneak peek at one of the cover options. Sign up here and I'll email you as soon as it's ready. 
TIP: Obviously you should use common sense when exploring the back alleys of the river. I typically take my brother with me and make sure I have a fully charged cell phone. Although the river area is crowded with tourists and locals, it also has its fair share of inebriated individuals—particularly at night.
How would you like to step out on one of those balconies? They aren't fit for anything except pigeons. 🙂
These photos perfectly symbolize the River Street area to me; everything is old and faded, but there are signs of life everywhere you turn!
I constantly spot vegetation growing out of the sides of buildings along River Street, and it's one of the little quirks about Savannah that always makes me smile.
Click on any photo to view it larger and read more details.
So many of the stairs to River Street are steep, old, and are marked with yellow caution signs. Still…I hope the city never revamps them, because they add to the charm and character of Savannah.
3. Grab a Quick Bite or a Hearty Meal
I tend to work up a hearty appetite when I'm strolling along the river, but there's no fear of going hungry on River Street! It's packed with great restaurants that are perfect for taking a leisurely break to unwind and recharge.
Many have balconies on the second level, offering a pretty view of the river and the street below (as well as a breeze, if you're lucky).
Huey's on the River definitely tops my list for a filling brunch. They serve New Orleans style food, and their beignets are addicting! Huey's faces the river.
Daisy and her friend, Rebecca, anxiously await the arrival of brunch at Huey's. Rebecca is a New Orleans girl, so she knows good beignets!
Many restaurants along the river offer an air-conditioned lower level or a balcony on the second level so you can sit outdoors and enjoy the breeze while watching boats along the river.
Cafe M is my top spot for a light lunch. The Parisian style cafe is beautifully decorated and you can't go wrong with any of their sandwich offerings! It's on the street level of Factors' Walk.
Tubby's Seafood is on the second level (above Huey's) and it catches a great breeze off the river. It's a good spot for casual dining or if you have kids in tow. A lot of the food is fried, but there are salad options for the health conscious. The seared ahi tuna salad appetizer is filling enough to serve as a full meal and is my usual choice.
TIP: For traditional "Southern" home-cooking, try anything fried (seafood, chicken, okra, tomatoes, etc.), or sample shrimp & grits, she-crab soup, pecan pie, or mashed potatoes with gravy. Top everything off with a glass of sweet tea to quench your thirst! FYI: If you aren't accustomed to real Southern sweet tea, it's loaded with sugar.
4.  Drinks Overlooking The River
Top Deck is a rooftop bar on the top level of the Cotton Sail Hotel. It's a fantastic spot to catch a sunset and some of the best views of the Talmadge Bridge.
Rocks on the Roof is on the top level of the Bohemian Hotel and is a hotspot for locals who like the atmosphere on River Street. Head there for drinks and a great view of the river. Food is tapas style, but you can visit Rocks on the River in the same building for a heartier meal.
Treylor Park is a great choice if fancy isn't your thing. (This is my favorite option and the food there is incredible, too!) Their vibe is very chill and the bartender is great. If you end up getting hungry, stick around and try any of their delicious — and eclectic! — Southern comfort food.
5. Shop For Souvenirs
If you're into shopping, the river area is a great place to find t-shirt shops, hats, bookstores, handmade jewelry, local art, photographs…and even a seashell shop! Save the higher-end boutique shopping for Broughton Street, which is located uptown.
Related: Savannah Shopping: The Essential Guide to Broughton Street
While River Street is primarily good for souvenirs, there are a few shops along Factors' Walk with clothing and cute accessories.
A selection of goodies from RMC Boutique on the upper level of Factors Walk, plus our favorite seashell shop.
6. See Savannah's River Street From The Water
If you prefer to view Savannah from the water, opt for an approximate 45-minute ride on either the Georgia Queen or the Savannah River Queen steamboat.
Perks: The views of Savannah from the water are spectacular. You'll learn about the history of river commerce from a narrated tour by the boat's captain. This is particularly fun for kids and the young-at-heart who want to learn more about the tugboats, barges, and container vessels that constantly cruise down the Savannah River.
Drawbacks: Skip the buffet options as the cost for those is rather high and you'll find better meals elsewhere in town. Exception: The Holiday Gospel Dinner Cruise during December is worth the money!
Tickets: Read additional reviews and purchase tickets here on Trip Advisor.
TIP: On a budget? Take the Savannah Belles Ferry for free to get some amazing shots of Savannah from the water. It departs every 20 to 30 minutes from 3 boarding docks on River Street. View the locations and times here.
You can capture beautiful views of Savannah's riverfront by taking a moonlit cruise on the 4-level Georgia Queen steamboat.
The Waving Girl Statue was erected to honor Florence Martus. She waved at every single ship that passed by and never missed a single one in 44 years!
Local legend Florence Martus was fascinated with passing ships. It's estimated she welcomed more than 50,000 ships into Savannah by waving a handkerchief or a lantern (at night). Sailors often returned her greeting with a quick blast of the ship's horn. The majority of the ships entering Savannah's port still honk to this day!
7. Visit The Cotton Exchange Building
Finally, a day on River Street wouldn't be complete without a visit to the historic Cotton Exchange building. The façade of the building is stunning! I stand in awe each time I stare up at the details above the grand entryway.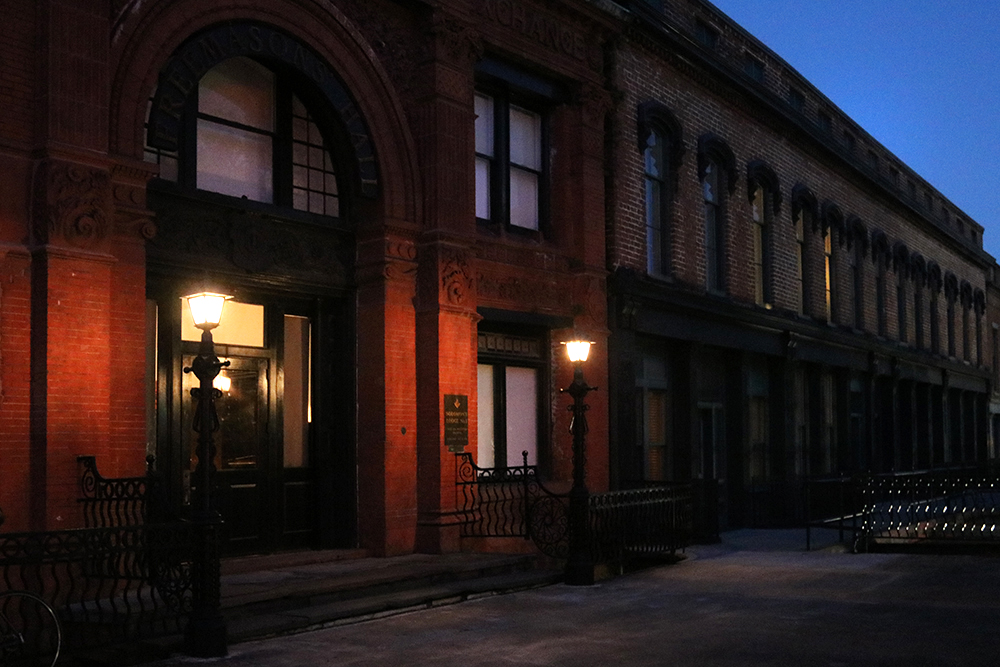 The building looks like something straight from a movie set (as is the case with many buildings in Savannah).
The griffon standing guard in the fountain just outside the entry is a favorite spot for kids. This statue is actually a painstakingly accurate reconstruction of the original c.1889 one that was destroyed when a car crashed into it in 2008.
Click on any photo to view it larger and to read additional details.
Downloadable Map 
Here's a downloadable map I created to help you find your way around River Street. I hope it's helpful! (Download the Alpaca Travel app to be able to save and view it even when you're offline.)
River Street Savannah GA: Where to Stay
I've written a complete guide to the top-recommended hotels, historic inns, and home rentals on or near River Street. You can find it here:
The Best Places to Stay in Savannah Near River Street.
Click here to receive $40 off your first Airbnb rental in Savannah as a gift from me.
Search hotels on booking.com
Want to get away from the touristy core of River Street? I scouted out some inexpensive rentals in some of my favorite areas of the city:
Affordable Airbnb Rentals in Savannah ($100 or Less!)
River Street Savannah GA: When to Visit
My favorite months in Savannah are October and March*/April. In October, the River Street storefronts are decorated beautifully with fall decor and the weather is very comfortable. In March*/April, the azaleas are typically in bloom and it's warm but not uncomfortably so. Christmas is also a beautiful time of year.
Ready to book a flight to Savannah? Find the cheapest flights with Skyscanner.
When traveling to Savannah, fly into the Savannah/Hilton Head International Airport (SAV). The budget conscious can "Catch at CAT" (Chatham Area Transit bus line) for less than $5 from the airport to Oglethorpe Street, which is 2 blocks from the Savannah Visitor's Center.
River Street Savannah GA: When NOT to Visit
Unless you're visiting Savannah specifically for the St. Patrick's Day festivities, it's my least favorite time to be on River Street. It's overly crowded, next-to-impossible to find a seat in a restaurant, and parking is non-existent. It's also the most expensive time of year to visit. I also do not recommend Savannah during the summertime. (Spend 10 minutes on the cobblestones streets at high noon in July and you'll quickly realize global warming exists.)
Seasonal Events on River Street
Spring: Savannah's St. Patrick's day celebration is one of the biggest St. Patrick's day parties on the entire East Coast! The Savannah Music Festival also draws a crowd.
Summer: Enjoy the Fourth of July boat parade and fireworks festivities
Fall: Oktoberfest, Bacon Fest, Trick or Treat on River Street
Winter: Christmas on the River (it's beautiful to see the storefronts and boats lit up for the holidays)
Learn More About What to do on River Street in Savannah GA
Here are a few additional resources for information about Savannah:
 Savannah Waterfront Association | Visit Savannah | SavannahNow | The Scout Guide | Savannah Magazine | South Magazine
If you found this post helpful, please share it on Pinterest! Thank you!
Things to do on River Street in Savannah, GA. | #visitsavannah #savannah #vacationguide Click To Tweet
I've posted more guides about the rest of Savannah, but River Street is the most well-known spot. I also have a Pinterest board for Savannah, which can be found here. You can find all of my posts about Savannah listed here. Happy travels!
Pin It for Later: The Ultimate Guide to River Street in Savannah, GA

BLOGLOVIN' | PINTEREST | INSTAGRAM | FACEBOOK | TWITTER | YOUTUBE
*If you're visiting in March and not going specifically for the St. Patrick's Day festivities, definitely avoid the 3 days before+ after it, and the closest weekend to St. Patrick's Day.