Some of the best shopping in the Southern states can be found on Broughton Street in historic downtown Savannah, Georgia. Though the street is just a few blocks long, it's packed with an eclectic mix of antique shops, thrift stores, upscale boutiques, and national retail chains. Here are the stores that top our list as the best in Savannah shopping.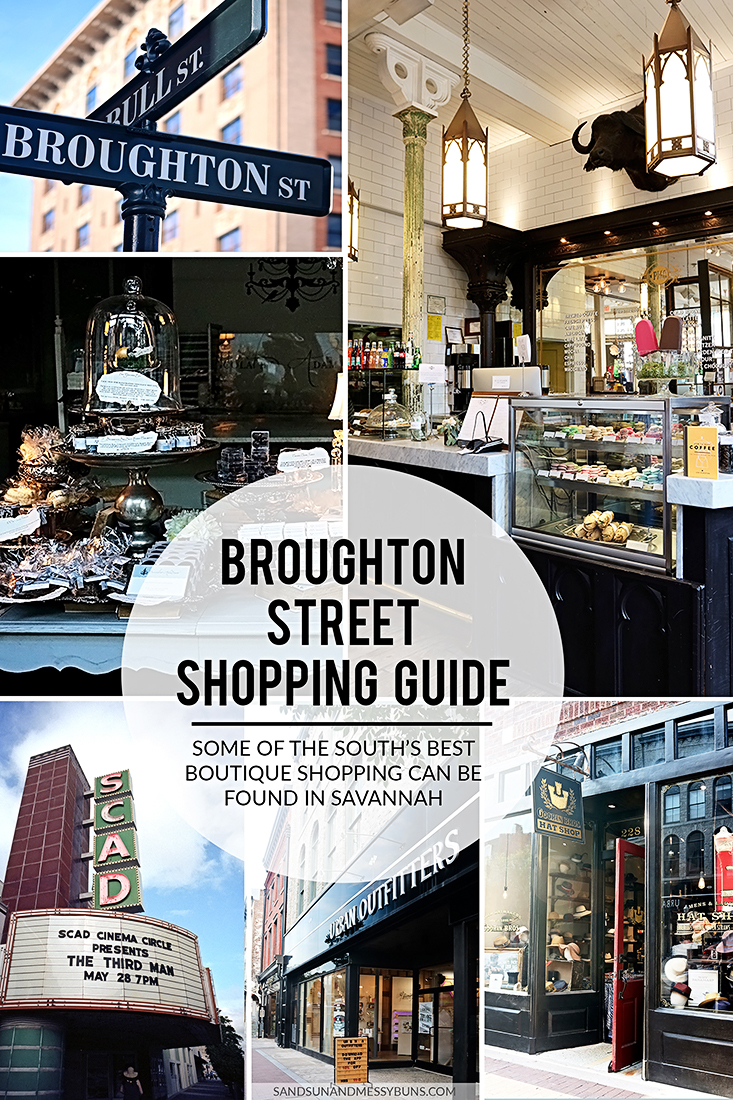 Savannah Shopping: Broughton Street
Stroll Savannah's Broughton Street to discover treasures from Parisian markets and local designers. Click To Tweet
FTC Disclosure: This post contains affiliate links, which means we'll receive a small referral fee from purchases at no cost to you. You can read our affiliate policy here. We donate 25% of our "click money" proceeds to these charitable organizations.
If you're new to Savannah, I highly suggest purchasing this map of the Historic District before your trip. It's extremely detailed and is loaded with interesting facts about Savannah!
 The Paris Market houses two floors of vintage treasures and curiosities sourced from all over the world. "Brocante" means flea market, and — true to the name — you'll discover many salvaged and one-of-a-kind items throughout the store, in addition to signature items created exclusively for the shop.
If you only have a limited amount of time to spend on Broughton, The Paris Market is a must. You'll also want to visit The Paris Cafe (within the store) to sample a macaron or two. My favorite find on a recent visit? An antique printer cabinet filled with Parisian art sketches.
Location: 36 W. Broughton Street. Instagram: (@theparismarket) Follow their account to stay up-to-date on the latest products arrivals and to view beautiful + creative (and award-winning) window installations. Here's one from July of 2016:
The Paris Market has unique finds crammed into every corner of the store. Click on any photo to view it larger.
 If your wardrobe is in need of an update but you place the utmost value on originality, Civvies should be your first stop in Savannah. It's one of Daisy's favorite stores on Broughton and where she consistently finds a plethora of funky recycled clothing from some of her favorite eras.
On our most recent visit, she scored a high-neck retro orange and white swimsuit that looked like it was straight out of a 50s Palm Springs fashion editorial, a B&W checked windbreaker that was clearly a castoff from an 80s music video, and a classic Everlast tank.
Location: 14 E. Broughton Street. Instagram: @civviesonbroughton
Oh Civvies, how we love your quirky little shop! Click on any photo to view it larger.
24e is a family-owned store run by Ruel Joyner, a 3rd generation Savannah native (#shoplocal). The store bills itself as "The Coolest Store in Savannah" and earned those bragging rights by combining high-end furniture with a dash of funky art and unique accessories.
If you need assistance refining your style aesthetic or want to redesign your home, they also offer design services. View some of their completed interior design projects here.
Location: 24 E. Broughton Street. Instagram: @24estyle
24e. DESIGN CO. is "The Coolest Store in Savannah". Click on any photo to view it larger.
Established in 1919, Leopold's is truly a southern fixture and a great spot to beat the heat. Tourists and locals alike flock here to cool off with what's been classified by Buzzfeed as the most popular ice cream in Georgia. It also made the cut as Travel + Leisure's top spot for ice cream. It's conveniently located next to SCAD's iconic movie theater.
Location: 212 E. Broughton Street. Instagram: @leopoldsicecream
Leopold's Ice Cream is probably one of the most Instagrammable spots in Savannah, but good luck capturing a shot of your ice cream in front of the famous Leopold's & SCAD signs before it melts! [Photo sources: 1, 2, 3, 4)
I don't want to include too many photo galleries, so I'll combine the rest into a single large one below. I may add more photos at a later date if I get requests! 🙂
The chocolates in this shop are displayed in glass cabinets and on antique silver trays, artfully stacked atop books on a dining room table. The Broughton Street store is their flagship store and is fashioned after a dining room setting. Their Bull Street location is modeled after a library setting.
Each piece of chocolate is a tiny work of art in itself! If you don't believe me, just take a peek at their Signature Chocolat Dark Chocolate Bar, the Savannah Honey Chocolate Bar, or the Almond Bark Angel Face Intaglios. The store was founded in 2010 by Adam Turoni when he was only 20 years old, and he was recently named one of the Top Ten Chocolatiers in North America.
Location: 321 W. Broughton Street. Instagram: @chocolatbyadamturoni
If you're a fan of Lilly Pulitzer, Kate Spade, or Draper James, you'll more than likely enjoy the handbags, jewelry, and accessories found at Spartina 449. Think of Spartina as Kate and Lilly's southern counterpart! Each collection in the store is reminiscent of a particular area of the Lowcountry and draws upon the colors and traditions of that area. Their flagship store is in Historic Old Town Bluffton.
Location: 317 W. Broughton Street. Instagram: @spartina449
Here are a few more stores to check out while you're on Broughton: Fabrik (stylish outfits with reasonable prices — but grab them while you can because they only order limited amounts in each size), Go Fish (cute and casual clothing for women and children, as well as reasonably priced jewelry), Nourish — one of our favorites (the scent of natural bath products wafting out of this store is enough to draw you in), Savannah Bee Company — another of our favorites (try their award-winning Tupelo Honey), and Goorin Bros. (your friendly neighborhood hat shop).
In addition to the boutique stores, here are a few national retailers you can find on Broughton Street in Savannah:
Kate Spade New York, Lilly Pulitzer, Urban Outfitters, Kendra Scott Jewelry, Lululemon, J.Crew, H&M, Marc by Marc Jacobs, Free People, and Starbucks.
If you haven't checked out my post, The Ultimate Guide to Visiting River Street in Savannah, GA, it lists my favorite things to do on River Street and includes tips for anyone headed towards that area of the city. If you're in need of a place to stay, I cover the details here: The Best Places to Stay in Savannah near River Street.
(You can always reach out to me via email if you need help with accommodations to fit your specific needs while visiting Savannah: erin[at]sandsunandmessybuns[dot]com.)
Ready to book a flight to Savannah? Find the cheapest flights with Skyscanner.
If you have any questions at all about Savannah, please ask below and I'll do my best to answer. You'll find more Lowcountry travel posts at this link and you can head over to Pinterest to follow my Savannah travel board. Happy travels!

BLOGLOVIN' | PINTEREST | INSTAGRAM | FACEBOOK | TWITTER | YOUTUBE
This list is current as of September 2017.