If you enjoy visiting Southern towns that are full of charm and personality, Bluffton is an idyllic spot! It's situated halfway between Hilton Head Island, SC, and Savannah, GA, and is about a 30-minute drive from either location. Should you decide to make a day trip, here are a few of my favorite things to do in Bluffton SC.
If you find this post helpful, please share these Bluffton travel tips on Pinterest to help other travelers!
FTC Disclosure: This post contains affiliate links, which means we may receive a small referral fee from purchases at no additional cost to you. You can read our affiliate policy here.

5 Things to do in Bluffton SC
Old Town Bluffton consists of a single square mile that has undergone significant renovation in recent years. The area includes some of Bluffton's oldest homes, the Historic District, and numerous shops and restaurants. I suggest beginning your trip at Heyward House, which was built in the mid-1800's and serves as the visitor's center.
NOTE: This post focuses on the Old Town Bluffton area only. More about The Promenade, Palmetto Bluff, and the rest of Bluffton coming soon!
See The Church of the Cross | May River
If you're seeking a picture perfect location, look no further than The Church of the Cross! It's located on a bluff overlooking the May River and boasts some of the most incredible views in Old Town Bluffton.
The church is well-preserved, with grounds manicured to near perfection. It's easily one of the most-photographed spots in Bluffton.
The Church of the Cross is one of the few structures Union soldiers didn't burn during General Sherman's "March to the Sea".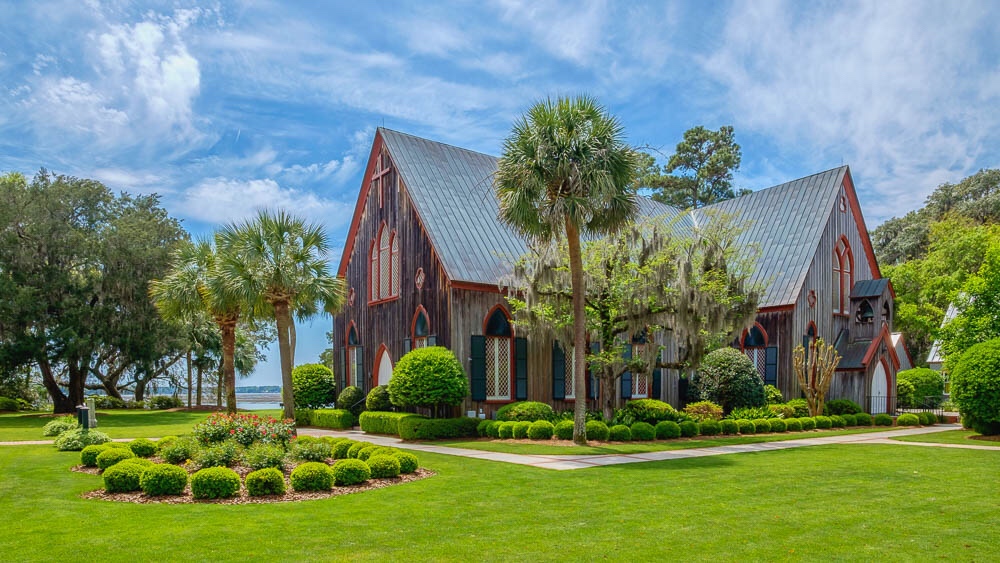 Click on any photo to view it larger. The church celebrated its 150th anniversary in 2004. Main image source.
Be sure to walk to the edge of the property to catch beautiful sweeping views of the river. Calhoun Street (in front of the church) dead-ends at the public boat ramp.
⭐ Insider Tip: For a unique souvenir, pick up a jar of "Holy Honey" made from honey bees discovered in the rafters of the church.
Do a Walking Tour of Lowcountry Architecture
The architecture in Bluffton is so pretty! This town beckons you to slow down and relax the minute you set foot under the gorgeous old oaks dripping in Spanish moss. Nearly every home or storefront has a wide front porch with ceiling fans and multiple rocking chairs — ideal spots for sipping sweet tea.
Download a free walking tour map here.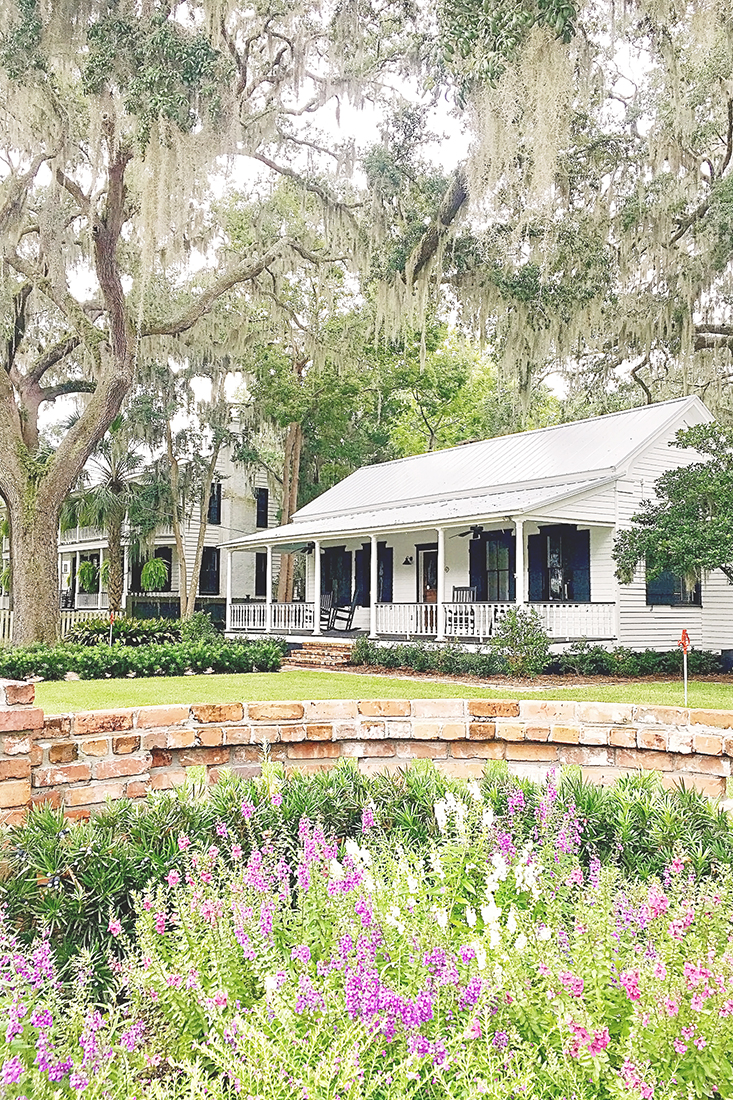 You'll notice many front porch ceilings in Bluffton are painted light blue to mimic the sky. This is a very common throughout the South. The color is known as "Haint Blue", and it's traditionally used in historic Lowcountry homes to ward off evil spirits, or "haints".
In addition to scaring off ghosts and goblins, the blue color also tricks birds and wasps into thinking the ceiling is the sky so they'll construct their nests elsewhere.
⭐ Insider Tip: Did you know HGTV's 2018 Smart Home was located in Palmetto Bluff in Bluffton? It's designed with a lot of the typical features you'd expect to see in a Lowcountry home.
Enjoy a Picnic in the Park & Catch a Sunset
The Bluffton Oyster Co. sits adjacent to a beautiful park that makes a great spot for an afternoon picnic or to catch the sunset. There are numerous tables (some covered), and the entire area is shaded by moss-draped oaks. The park also has a fire pit for roasting oysters.
Park in their free parking lot and walk down to the docks to see pretty views like these…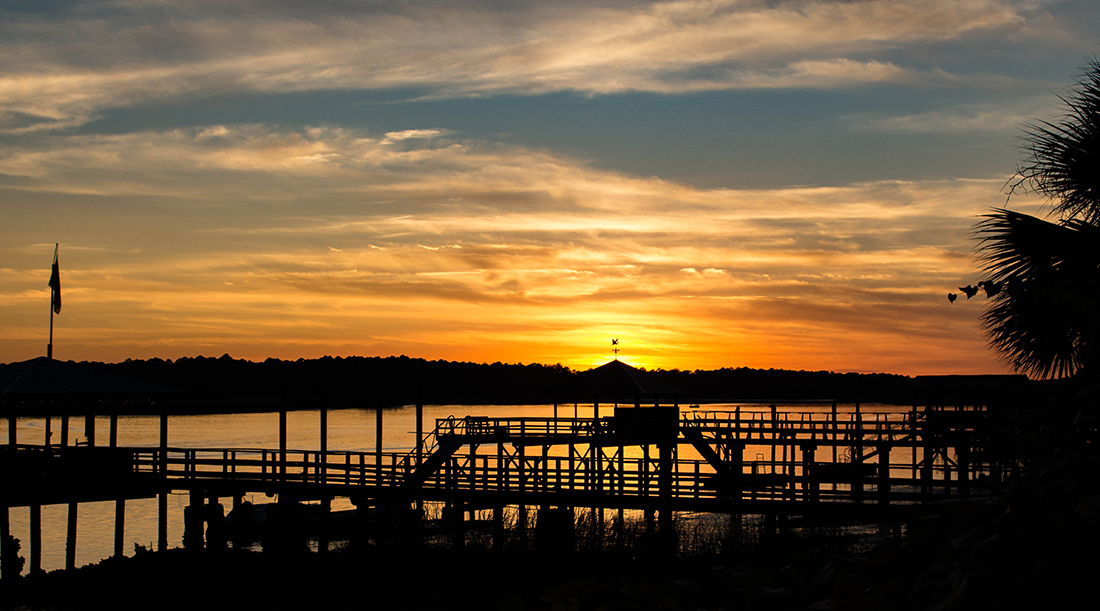 Click on any thumbnail photo to view it larger. Photo sources 1 | 2
The Garvey House is also located on the property and is a great example work accomplished by Bluffton's Historical Preservation Society.
Planning a day trip to Old Town Bluffton, SC, and wondering what to do? Here are a few must see spots! #bluffton #traveltips
Click To Tweet
Shop the Boutiques
Shopping in Old Town Bluffton is just as unique as the town itself; it's full of vintage stores and charming boutiques. In true small town fashion, many of the shops close at 5-ish, so keep that in mind as you're out and about.
The Promenade is an easy walk from Historic Old Town and features newly built shops and restaurants. The Roost Host & Home, located in The Promenade, is my personal favorite store in Bluffton. They offer beautiful home decor, soaps, linens, and candles.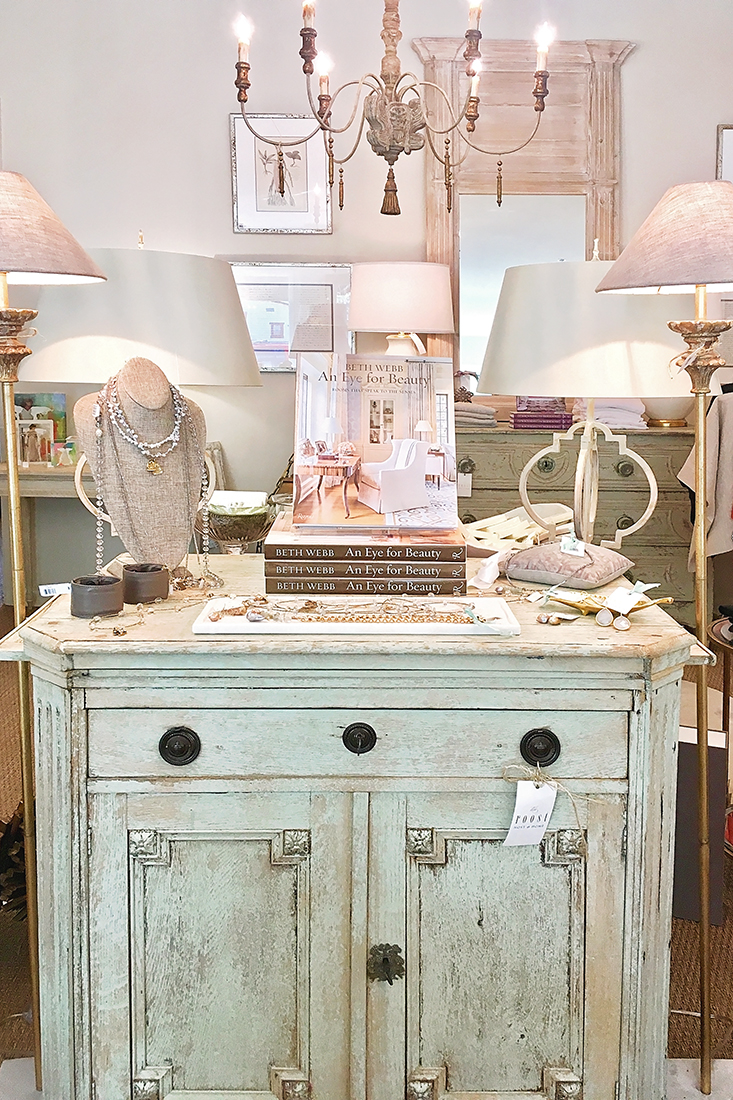 The Roost Host & Home tops the list as my favorite home decor store in Bluffton. (Think hostess gifts, candles, soaps, home decor, and linens.) The owner is incredibly sweet and helpful.
Al-Harry Furniture & Design is another shop I'm always content to spend some time in whenever I'm in Bluffton. The owner up-cycles many furniture pieces by refinishing them in her workshop and selling them in the store, along with new items.
For those who prefer more conventional shopping, there's always the sprawling Tanger Outlet Center just outside of town (towards Hilton Head).
Watch out for gators in the water bordering the parking lot! You'll frequently catch them sunning on the banks within a few feet of parked cars.
Fill up at the Bluffton Farmers Market [Thursdays Only]
Each Thursday afternoon during the summer months, the town of Bluffton hosts a Farmers' Market from 1:00 – 6:00 p.m. The sense of community is strong on market days! Old Town Bluffton fills with laughter, live music, and the smell of Southern-style BBQ.
Be sure to ask if Farmer Joe is around! He always has a smile on his face and is a local favorite (in both Savannah and Bluffton).
Click on any photo to view it larger.
Bluffton is very hot in the summertime (temps in the 90's to low 100's are common), so dress accordingly. Luckily, there are sno-cones available for purchase at the market, and they're quite the necessity when you're hot and "glowing". (Southern women don't sweat, they glow.)
The Best Time of Year to Visit Bluffton
Bluffton is at its prettiest and has the best weather from March to early May. October is nice, too. If you're traveling by plane, the closest major airport is Savannah (SAV).
One of my favorite local events is Taste of Bluffton, which is a celebration of Southern cooking. The event definitely draws a crowd, but it's a great opportunity to sample some of the best dishes from local restaurants. Taste of Bluffton is typically held in April.
Where to Stay in Bluffton
There's no shortage of beautiful homes in Bluffton! My favorite (and the most popular) options are in Palmetto Bluff, but there are numerous vacation homes and a few large hotels throughout the area.
Here are a few of my favorite places to stay in area:
Related Reading: Here are a few great pointers for renting your next vacation home in Bluffton.
I highly recommend visiting if you're looking for a fun outing near Savannah or Hilton Head.
Continue reading more of my posts about the Lowcountry:
Pin It for Later: Things To Do in Bluffton, SC

PINTEREST | INSTAGRAM | FACEBOOK | YOUTUBE