In my many years of photographing trees, I've never seen anything quite as spectacular as the Angel Oak of Johns Island, South Carolina. Its branches grow in all directions, often dipping down into the ground before curving back up again — like some sort of earth-bound version of the Loch Ness monster.
Many of its branches are so heavy they require supports in multiple places to prevent breakage. Still, the tree has survived some of the South's worst hurricanes, starred in at least one major TV commercial, and has remained a fixture in the Lowcountry for centuries. Here's what you need to know if you're planning a visit.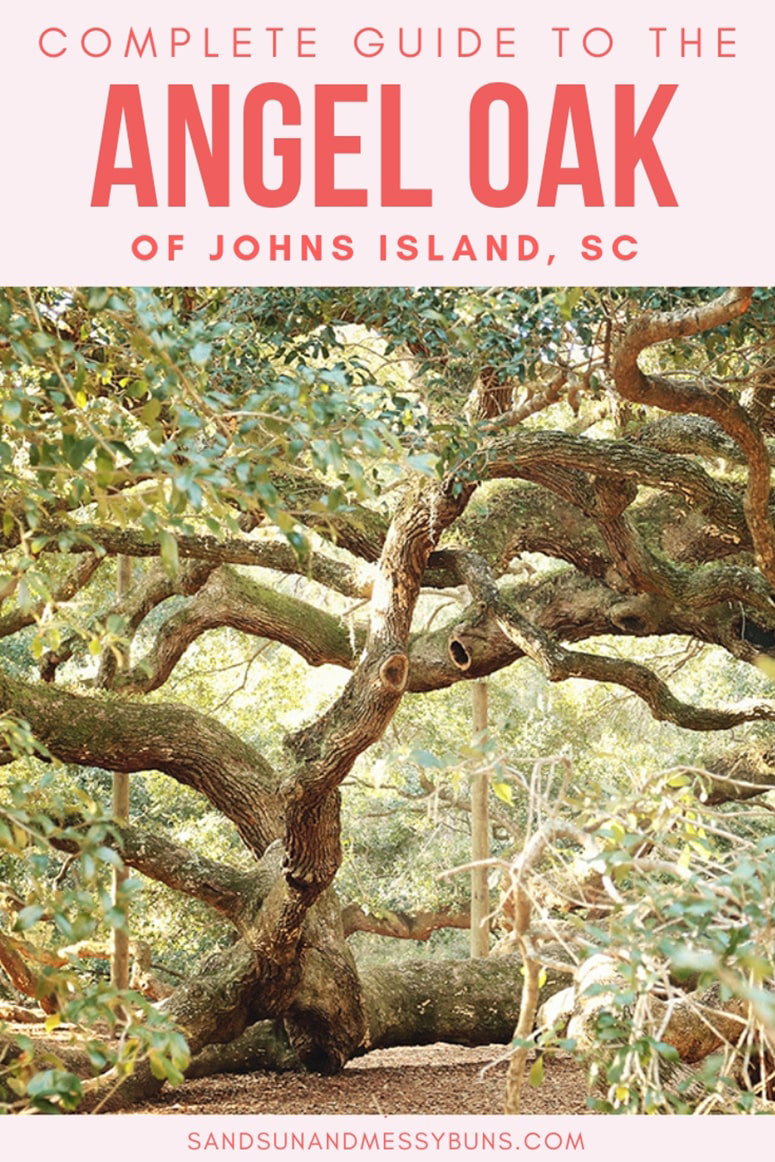 Here's everything you need to know about visiting the magestic Angel Oak in S.C. #theangeloak #roadtrip
Click To Tweet
FTC Disclosure: This post contains affiliate links, which means we may receive a small referral fee from purchases at no additional cost to you. You can read our affiliate policy here.
Angel Oak Tree
The single most important thing to know about the Angel Oak is that you absolutely should not sit or climb on it for any reason! It's not a prop for children's photos or a jungle gym to keep kids entertained. Think of it more like a very fragile piece of art.
We're talking about a tree that's been around an estimated 450 to 500 years.
Think about that.
Those roots potentially burrowed into the soil on Johns Island before the Mayflower landed at Plymouth Rock.
The tree pre-dates European settlement and goes back to a time when Native American tribes freely lived off the land.
A LOT of effort has gone into keeping the Angel Oak alive and protected all these years! Make sure you follow the rules, which are clearly posted at the entry and around the tree itself.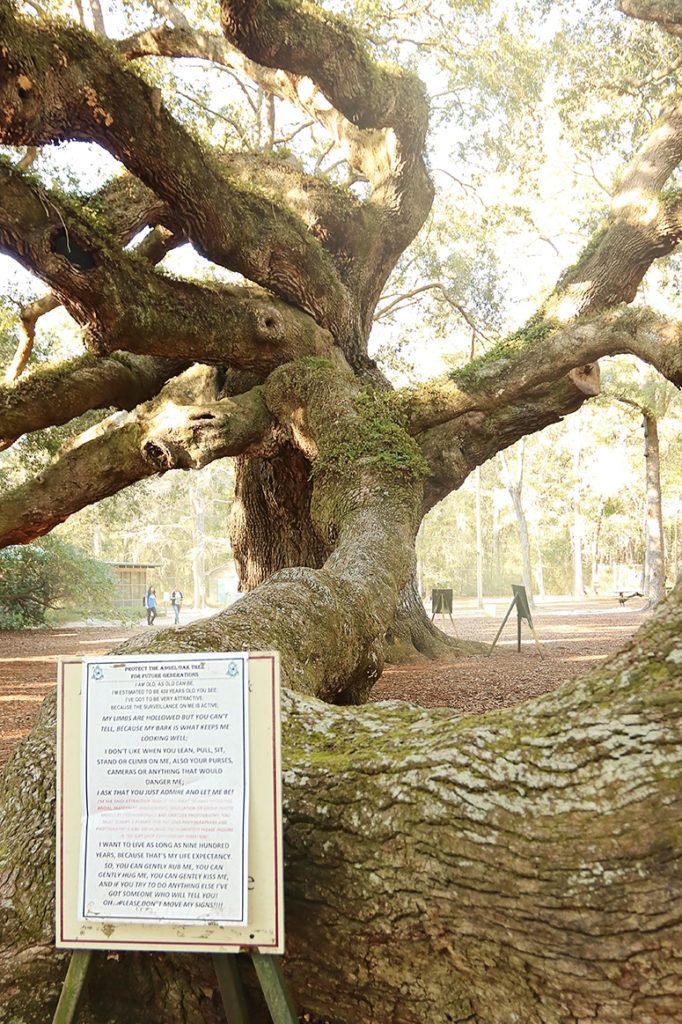 Rules When Visiting the Angel Oak Tree
No smoking

For obvious reasons!

No sitting, climbing, or standing on the tree

The branches of the angel oak are actually hollow and very fragile.

No tripods allowed

They can damage the root system.

No pets allowed

Again, for obvious reasons.

No spiked heels allowed

They can damage the fragile root system.

No picnics allowed under the tree

There are picnic tables nearby (approximately 100 feet away).

No blankets

With all the tourists, it's not a great spot for relaxing anyway.

No alcohol

Be respectful.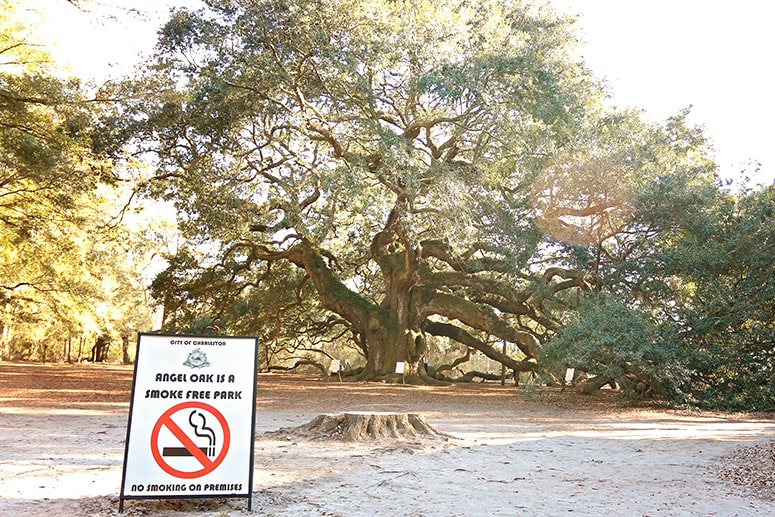 It's ok to gently hug or kiss the tree, so if you're traveling with young kids be sure to let them know that's an option. (It's actually super cute to see kids hugging it! They're so gentle with it, and sometimes they pet it like it's a little animal.)
Angel Oak Tree Pictures
Just look at it! It's truly a thing of beauty. I love how the boughs intertwine and twist sideways for 100 feet or more in some places. The longest branch measures in at 187 feet (and still growing).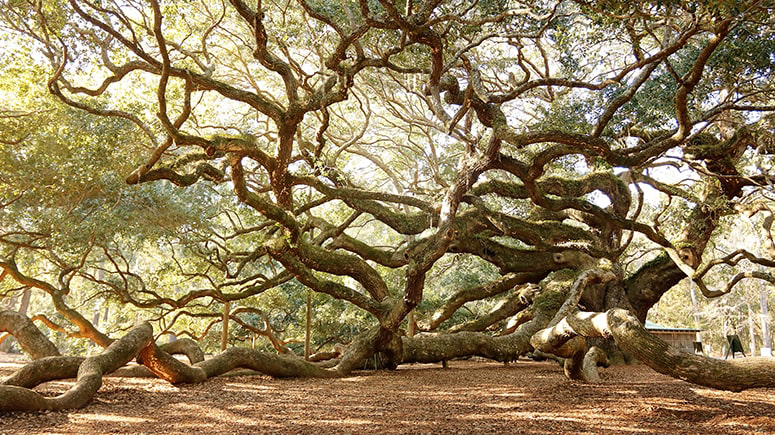 The canopy is more than 65 feet high, and it provides 17,000+ square feet of shade. That's pretty impressive for a single tree!
If you're not familiar with Southern Live Oaks in the Lowcountry, they dip and curve in a magical way that almost looks like they were dancing in the wind and suddenly became frozen in time.

Erin Clarkson, Savannah First-Timer's Guide
The green plant you often see growing on the limbs of many southern trees is called Resurrection Fern. It earned the name because it shrivels up and appears to die until a fresh rainfall comes along to "resurrect" it.
You can see an excellent sample of Resurrection Fern on this photo I took in one of the squares in Savannah.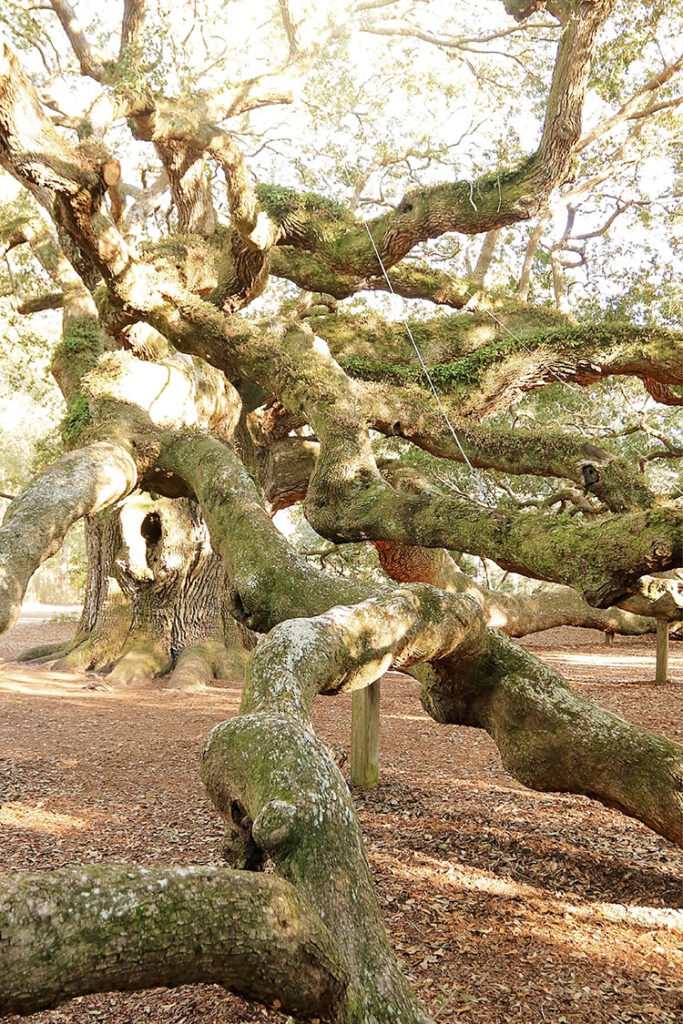 As stated on the many signs placed around the tree, the interior is actually hollow. I can't imagine how many squirrels and birds are hiding out in there! If I were a forest creature (First of all: I'd be an owl, for sure), I'd definitely want that tree as my home.
According to the National Wildlife Federation, the Southern Live Oak (Quercus virginiana) can live to be more than a thousand years old. The Angel Oak itself has an anticipated life span of at least 900 years. (Totally possible with concentrated preservation efforts!)
I can totally see that happening since the wood from a Southern Live Oak is so durable it can withstand cannon fire.
That's right…cannon fire! During the War of 1812, the U.S.S. Constitution battleship earned the nickname "Old Ironsides" when it was fired upon from less than 50 yards away by the British warship Guerriere — and the cannonballs actually bounced off its hull.
You guessed it — that hull was constructed from live oak, which is denser than traditional English oak.
Angel Oak Tree History
Like nearly everything in the Deep South, the Angel Oak has a complex and sordid history. The land where the Angel Oak currently stands once served as a plantation where men, women, and children were enslaved.
For that reason alone, I (and many others) consider it a spiritual and sacred place.
Whenever I want to learn more about South Carolina's plantations, I turn to South Carolina's Information Highway and the South Carolina Plantations website, which SCIWAY maintains.
The 1700s
The South Carolina Plantations website is where I learned that the first recorded owner of the property was Jacob Waight in 1717 and that Isaac Waight inherited the land from him. From there, Charles Snowden acquired part of the property and gave 500 acres to Martha Waight.
Side Note: In 1739, the nearby Stono River was the origin point for the Stono Rebellion – a slave rebellion where multiple plantations were burned and approximately 80 people lost their lives. It was the largest slave rebellion that ever occurred in the 13 colonies.
The 1800s – How the Angel Oak got its Name
In the year 1810, Martha Waight married Justus Angel, and together they grew their plantation to more than 2700 acres. During their ownership, the land became known as the Angel Oak Plantation. By the year 1849, there were at least 29 enslaved individuals registered to Justus Angel.
In addition to the individuals listed on that register, I also found Bill of Sale records to Justus Angel for enslaved individuals by the name of Fanny (purchased 06.13.1818), Clytus (purchased 04.15.1818), Sandy (purchased 03.22.1831) and the following individuals (purchased in a group sale dated 03.13.1822): Hagar, Hannah, Harry, Jim, Juday, Mariah, Abraham Markley, Benjamin A. Markley, Moses, Sandy, Tom, and Toney.
*The above information was found by searching www.archivesindex.sc.gov
Angel Oak Tree Lynching Research
One of my least favorite parts about writing about the Deep South is researching some of the darker questions that arise about its historical sites. One such speculation centers around whether or not this tree was the site of any lynchings.
Some say the name "Angel Oak" came about because people saw the spirits of formerly enslaved Africans encircling its branches. I tried to find records offering evidence one way or the other, but I couldn't locate anything concrete. The closest I could find was a transcript of a conversation with Michael Freeman located on the Lowcountry Digital Library website.
He mentioned his daughter was born with a caul — which was often taken as a sign of one having spiritual gifts — and that she sometimes saw the ghost of a sheriff who was reportedly shot near the tree. But as Mr. Freeman notes, "That tree bin there since slavery time, so anybody who can give you any statement 'bout that tree is in the cemetery." – source
…anybody who can give you any statement 'bout that tree is in the cemetery. – Michael Freeman
Click To Tweet
In this particular instance, I have to agree with Mr. Freeman; anyone who could provide a solid answer to the question is long gone. Research leans towards the tree being a peaceful place where blacks and whites gathered together, but there simply aren't enough written accounts about the plantation during the 1700s and early 1800s for me to provide a thorough answer.
Side note: If you've read my posts about Savannah, you know I'm not one to skirt around the issue and pretend like slavery didn't exist. You only need to listen to the haunting lyrics of Billie Holiday's "Strange Fruit" once to know it was a dark time in our country's history that should never be repeated.
A people without the knowledge of their past history, origin and culture is like a tree without roots.

Marcus Garvey, first President-General of the UNIA-ACL
The 1900s
If you have 30 or 40 minutes to spare, you can listen to Johns Island historian and Civil Rights activist Septima P. Clark recall her memories of the Angel Oak. She describes how the area around the tree was one of the few areas on the island that wasn't segregated, so everyone in the community was able to picnic beneath it.
She also talks about how the tree was considered sacred by the people of Johns Island, how nearly everyone on the island — even the judge — used to travel via ox carts, how women weren't considered Christian if they didn't wear their stockings outdoors (even in the Lowcountry's oppressive heat and humidity!) and how the Angel Oak first became a tourist attraction in the 50s and 60s. Sadly, litter problems around the tree and people carving their initials into its bark also became a problem at that time.
Leave no trace, friends. Leave No Trace.
It was sacred, and it is sacred to them. So they respected it. When I took my children over to have picnics and things, they never thought they could drop a piece of paper around the tree. The very word angel means that it is sacred to them, you know, and so they felt that anything that was like an angel had to be cleaned and had to be loved and had to be respected. This is the kind of thing that I think the people on the island still feel about the Angel Oak. They don't feel, in any way, that they should desecrate it…

Septima Clark, Nationally-known Civil Rights activist
Related Reading: Freedom's Teacher: The Life of Septima Clark
The 2000s
Perhaps it's for the many reasons listed above that the Angel Oak is often seen as a symbol of strength and resilience. After Hurricane Florence, Allstate featured the tree in their popular commercial, Still Standing.
They mention one incorrect but often-repeated phrase in the commercial when they say, "…some say the oldest living thing east of the Mississippi". That's most likely untrue (unless the Angel Oak is much older than estimated), since there are bald cypress trees in both North Carolina and South Carolina that are more than 1500 years old.
In recent years, the Angel Oak has survived a few devastating hurricanes, including Hurricane Matthew in 2016 — a Category 5 hurricane that did quite a bit of damage to the entire Lowcountry area. The only modern hurricane to cause damage to the Angel Oak was Hurricane Hugo in 1987.
Directions to the Angel Oak
Address: 3388 Angel Oak Road, Johns Island, S.C. 29455
Hours: 9 am – 4:50 pm daily
Cost: FREE
If you're driving from Savannah, I-95 to 17 is the fastest route. It's not a terrible way to go, because that route takes you through Yemassee where you can easily visit the Old Sheldon Ruins. (Highly recommended!) Here's a map where I've included a few other points of interest you might want to check out nearby and along the way.
Click on each icon on the map to learn more about the attraction and to get the specific address to enter into your GPS.
If you head on to Charleston after visiting the Angel Oak, make sure you read through my suggested list of things to do in the area: 2019 Charleston SC Printable Bucket List
If you're looking for a place to stay in Charleston, I suggest The Dewberry (always a classic) or Zero George Street (incredibly relaxing and beautiful).
Parking and Bathroom Details
When visiting the Angel Oak, you'll have to exit off of a paved road and drive behind a church on a dirt road for a short amount of time before arriving at the property.
The tree sits on fenced property and is under constant surveillance, so if you go after hours, please don't try climbing the fence. It's not lit at night anyway, so you wouldn't be able to see anything. Plus, you'll risk getting arrested for trespassing or criminal mischief.
During visiting hours, the gates are open and you can park in the on-site dirt surface parking lot. There's also a small log cabin that contains a gift shop.
The "last entry" time for the parking lot is 4:50, but sometimes they close the gate 10 or 15 minutes before last call. (You can still get out, you just can't enter.) They also temporarily close it during thunderstorms.
Porta-potties are available next to the parking lot, but a better option would be to go to a nearby restaurant or gas station. There are plenty of options within a 5 mile radius!
Protecting the Angel Oak for Future Generations
The land is currently owned by the City of Charleston. Because the tree's root system is so intertwined with the adjacent forest, the Lowcountry Land Trust purchased the surrounding acreage in 2014 to protect the area from further development.
The reason it's so important to have a strong forrest surrounding the tree is because it protects the Angel Oak from hurricanes and filters out pollutants that could damage the tree. You can donate to the Lowcountry Land Trust here…
Or, if you'd prefer to purchase a print of one my photos of the tree, just let me know. I'll donate $10 from each purchase to Savannah Working Against Human Trafficking (SWAHT) to help fight against modern forms of slave labor and human trafficking.
Other Nearby Southern Live Oaks
The Candler Oak in Savannah, GA – Estimated at approximately 300 years old, The Candler Oak sits along the northeastern edge of Forsyth Park and is listed on the National Historic Register of Trees.
Lover's Oak in Brunswick, GA – It has an official plaque from the National Arborist Association stating it was in existence in 1787 when the U.S. Constitution was signed, but the tree is considered much older than that. Although living trees are difficult to date, it's estimated to be 900 years old.
Liberty Oak on Hilton Head Island, SC – The Liberty Oak is located in Harbour Town and is approximately 300 years old. Sea Pine's founder, Charles Fraser, who was one of the early developers on Hilton Head Island, is buried beneath it.
Talbird Oak on Hilton Head Island, SC – Located in beautifully landscaped Hilton Head Plantation, it's estimated to be approximately 300 years old.
Cherry Hill Plantation Oak in Beaufort, SC – This one grows on relatively undeveloped land in Beaufort that formerly operated as the Cherry Hill Plantation. It's approximately 400 years old.
Grandfather Oak in Charleston, SC – The Grandfather Oak is possibly the oldest known oak tree in SC. It's located in Charleston's Magnolia Cemetery, and arborists estimate its age at somewhere between 800 – 925 years. The trunk is 25 feet around and the branches spread to 117 feet.
Wow, I'm pretty sure that's the most I've ever written about a tree! This post turned out a lot longer than expected, but if I left any questions unanswered, feel free to let me know.
Head over to Instagram to join me and see more photos in and around the Lowcountry, sign up for my emails to get the inside scoop about where to explore, and be sure to purchase a copy of my Savannah First-Timer's Guide if you're planning a trip to Savannah!
Pin It for Later: The Angel Oak: Everything You Need to Know

PINTEREST | INSTAGRAM | FACEBOOK | YOUTUBE
Sources: National Archives, Old Ironsides: Warrior and Survivor | National Archives, Old Ironsides: Warrior and Survivor | Wikimedia Commons, USS Constitution | South Carolina Plantations, Angel Oak – Johns Island – Charleston County