In my many years of photographing trees, I've never seen anything quite as spectacular as the Angel Oak of Johns Island, South Carolina. Its branches grow in all directions, often dipping down into the ground before curving back up again — like some sort of earth-bound version of the Loch Ness monster.
Many of its branches are so heavy they require supports in multiple places to prevent breakage. Still, the tree has survived some of the South's worst hurricanes, starred in at least one major TV commercial, and has remained a fixture in the Lowcountry for centuries.
Here's what you need to know if you're planning a visit.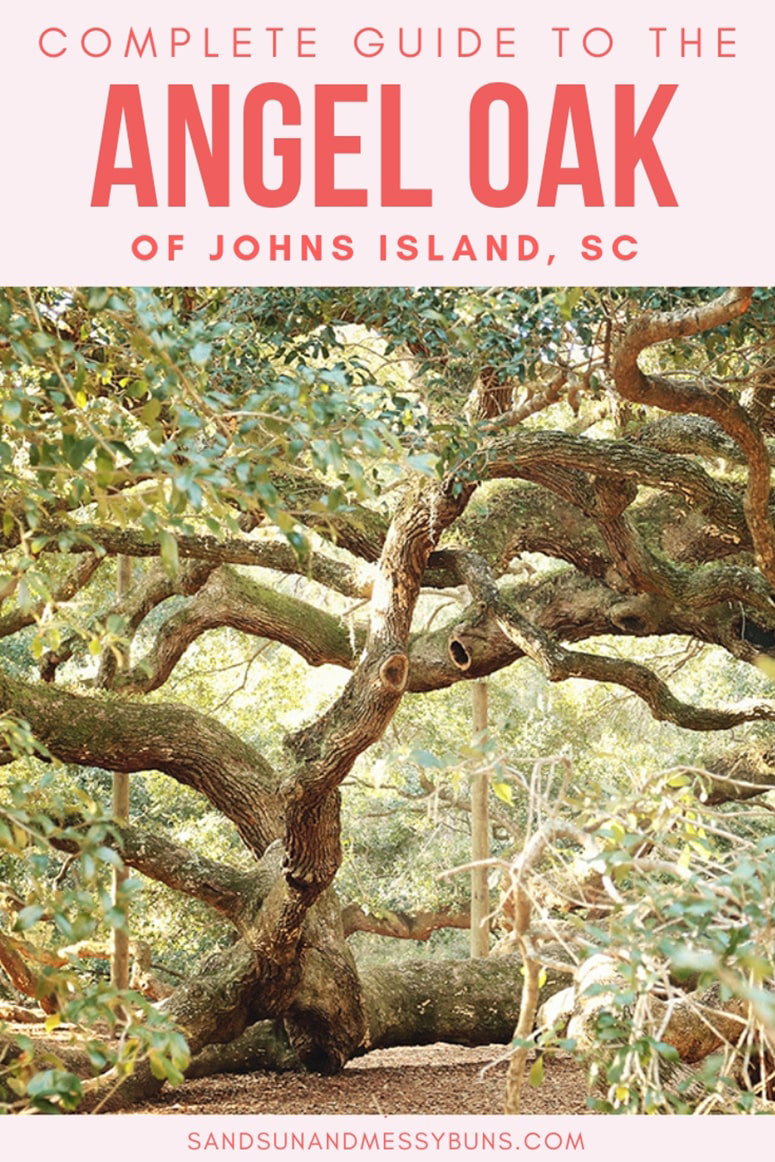 FTC Disclosure: This post contains affiliate links, which means we may receive a small referral fee from purchases at no additional cost to you. You can read our affiliate policy here.
Angel Oak Tree
The single most important thing to know about the Angel Oak is that you absolutely should not sit or climb on it for any reason! It's not a prop for children's photos or a jungle gym to keep kids entertained. Think of it more like a very fragile piece of art.
We're talking about a tree that's been around an estimated 450 to 500 years.
Think about that.
Those roots potentially burrowed into the soil on Johns Island before the Mayflower landed at Plymouth Rock.
The tree pre-dates European settlement and goes back to a time when Native American tribes freely lived off the land.
A LOT of effort has gone into keeping the Angel Oak alive and protected all these years! Please make sure you follow the rules, which are clearly posted at the entry and around the tree itself.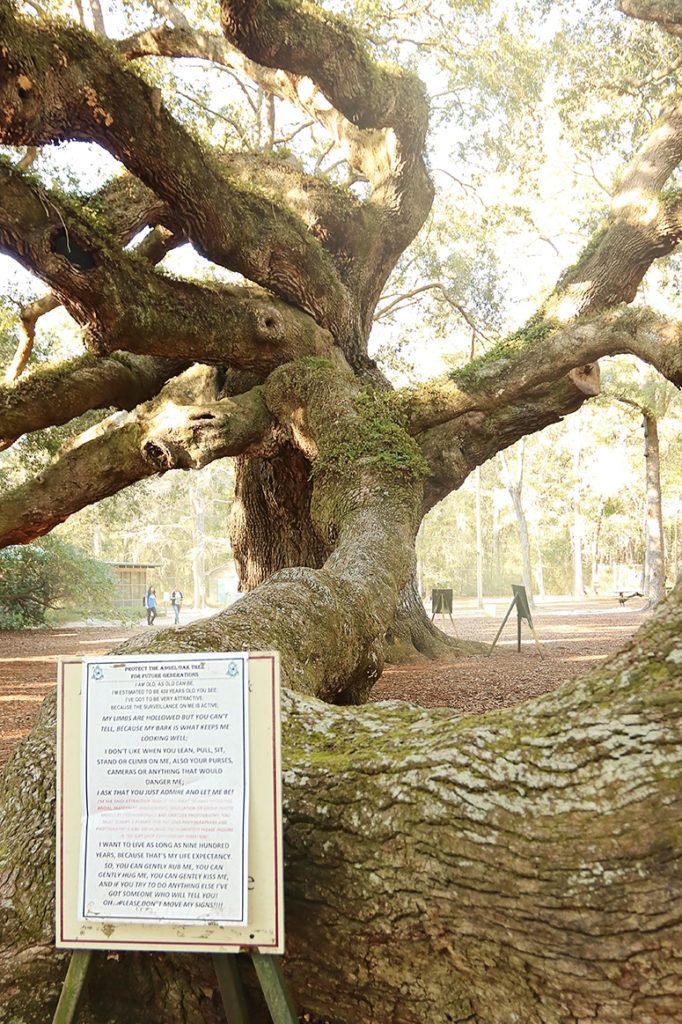 "I've got to be attractive, because the surveillance on me is active; My limbs are hollowed but you can't tell, because my bark is what keeps me looking well; I don't like when you lean, pull, sit, stand or climb on me; Also your purses, cameras, or anything that would danger me; I just ask that you admire and let me be!"
Rules When Visiting the Angel Oak Tree
No Smoking! For obvious reasons.
No sitting, climbing, or standing on the tree. Many of the branches of the Angel Oak are actually hollow and very fragile.
No tripods allowed. They can damage the root system.
No pets allowed in the vicinity of the tree. Again, for obvious reasons.
No spiked heels allowed. They can damage the fragile root system.
No picnics allowed under the tree. There are picnic tables approximately 100 feet away if you want to pack a lunch.
No blankets. With all the tourists, it's not a great spot for relaxing anyway.
No alcohol. Be respectful.
Here's everything you need to know about visiting the magestic Angel Oak in S.C. #theangeloak #roadtrip
Click To Tweet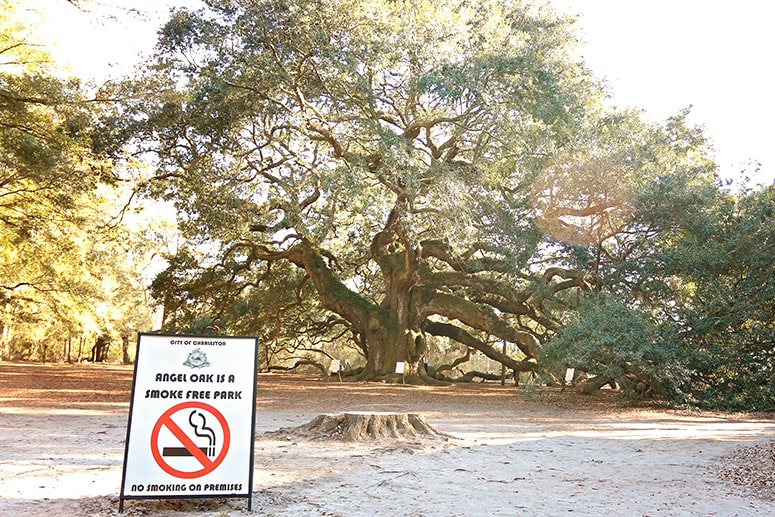 It's ok to gently hug or kiss the tree, so if you're traveling with young kids be sure to let them know that's an option. (It's actually super cute to see kids hugging it! They're so gentle with it, and sometimes they pet it like it's a little animal.)
Angel Oak Tree Pictures
Just look at it! It's truly a thing of beauty. I love how the boughs intertwine and twist sideways for 100 feet or more in some places. The longest branch measures in at 187 feet (and still growing).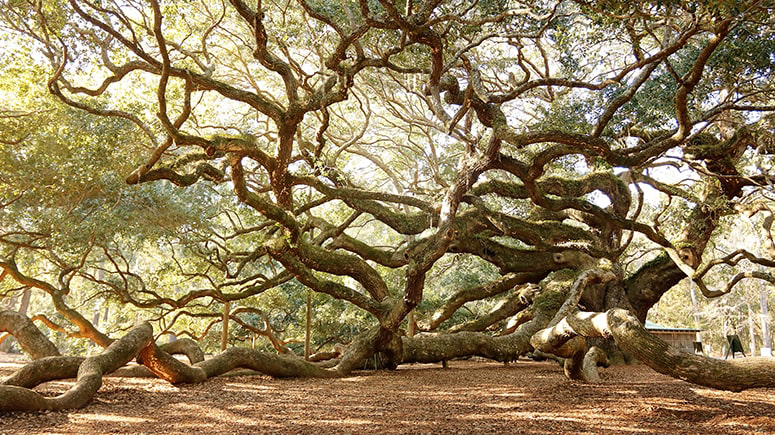 The Angel Oak is a Southern Live Oak, which means it grows outward as much as upward.
The canopy is more than 65 feet high, and it provides 17,000+ square feet of shade. That's pretty impressive for a single tree!
If you're not familiar with Southern Live Oaks in the Lowcountry, they dip and curve in a magical way that almost looks like they were dancing in the wind and suddenly became frozen in time.

Erin Clarkson, Savannah First-Timer's Guide
The green plant you often see growing on the limbs of many southern trees is called Resurrection Fern. It earned the name because it shrivels up and appears to die until a fresh rainfall comes along to "resurrect" it.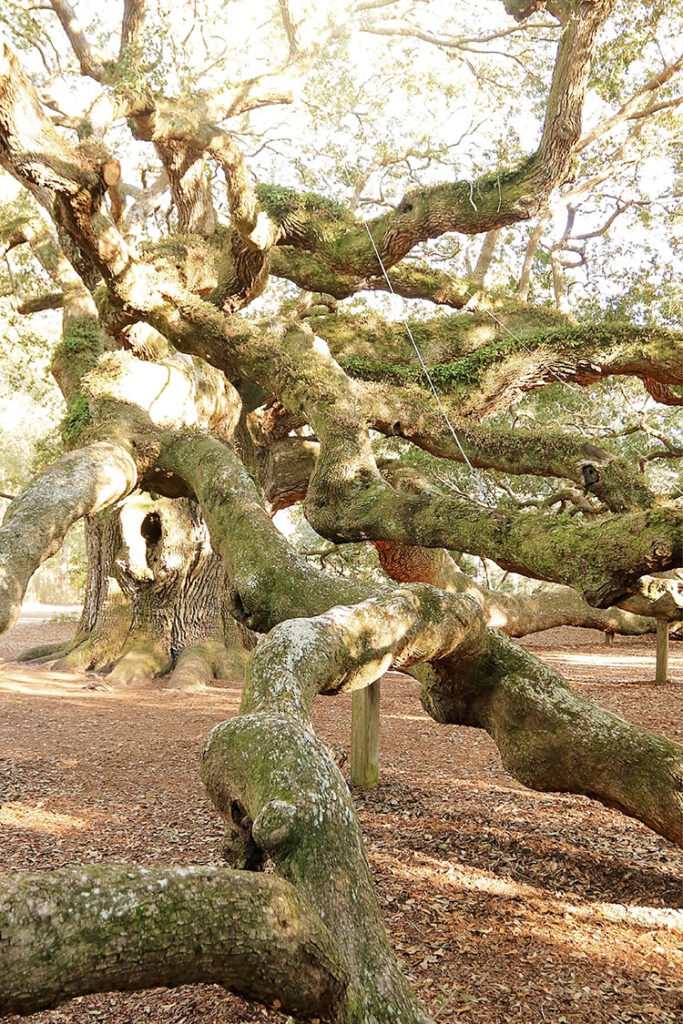 Notice the steel wires supports stretching down from above, as well as wooden supports below some of the branches to help sturdy the massive limbs of the Angel Oak.
As stated on the many signs placed around the tree, the interior is actually hollow. I can't imagine how many squirrels and birds are hiding out in there!
If I were a forest creature, I'd definitely want that tree as my home.
According to the National Wildlife Federation, the Southern Live Oak (Quercus virginiana) can live to be more than a thousand years old.
The Angel Oak itself has an anticipated life span of at least 900 years. That's absolutely possible with concentrated preservation efforts!
Directions to the Angel Oak
It's not located in the middle of nowhere like you might think! It's only a few minutes north of Charleston and in a rather populated area. It's a very easy stop to make if you're taking an East Coast road trip!
Address: 3388 Angel Oak Road, Johns Island, S.C. 29455
Hours: 9 am – 4:50 pm daily
Cost: FREE
If you're driving from Savannah, I-95 to 17 is the fastest route. It's not a terrible way to go, because that route takes you through Yemassee where you can easily visit the Old Sheldon Ruins. (Highly recommended!)
Here's a map where I've included a few other points of interest you might want to check out nearby and along the way.
Click on each icon on the map to learn more about the attraction and to get the specific address to enter into your GPS.
If you head on to Charleston after visiting the Angel Oak, make sure you read through my suggested list of things to do in the area: Charleston SC Printable Bucket List
If you're looking for a place to stay in Charleston, I suggest The Dewberry (always a classic) or Zero George Street (incredibly relaxing and beautiful).
Parking and Bathroom Details
When visiting the Angel Oak, you'll have to exit off of a paved road and drive behind a church on a dirt road for a short amount of time before arriving at the property.
The tree sits on fenced property and is under constant surveillance, so if you go after hours, please don't try climbing the fence. You might get arrested for trespassing or criminal mischief.
During visiting hours, the gates are open and you can park in the on-site dirt surface parking lot. There's also a small log cabin that contains a gift shop.
The "last entry" time for the parking lot is 4:50, but sometimes they close the gate 10 or 15 minutes before last call. (You can still get out, you just can't enter.) They also temporarily close it during thunderstorms.
Porta-potties are available next to the parking lot, but a better option would be to go to a nearby restaurant or gas station. There are plenty of options within a 5 mile radius!
Protecting the Angel Oak for Future Generations
The City of Charleston currently owns the land. Because the tree's root system is so intertwined with the adjacent forest, the Lowcountry Land Trust purchased the surrounding acreage in 2014 to protect the area from further development.
To help preserve the tree, I suggest donating to the Lowcountry Land Trust.
The reason it's so important to have a strong forrest surrounding the tree is because it protects the Angel Oak from hurricanes and filters out pollutants that could potentially damage the tree.
Other Nearby Southern Live Oaks
The Candler Oak in Savannah, GA – Estimated at approximately 300 years old, The Candler Oak sits along the northeastern edge of Forsyth Park and is listed on the National Historic Register of Trees.
Lover's Oak in Brunswick, GA – It has an official plaque from the National Arborist Association stating it was in existence in 1787 when the U.S. Constitution was signed, but the tree is considered much older than that. Although living trees are difficult to date, it's estimated to be 900 years old.
Liberty Oak on Hilton Head Island, SC – The Liberty Oak is located in Harbour Town and is approximately 300 years old. Sea Pine's founder, Charles Fraser, who was one of the early developers on Hilton Head Island, is buried beneath it.
Talbird Oak on Hilton Head Island, SC – Located in beautifully landscaped Hilton Head Plantation, it's estimated to be approximately 300 years old.
Cherry Hill Plantation Oak in Beaufort, SC – This one grows on relatively undeveloped land in Beaufort that formerly operated as the Cherry Hill Plantation. It's approximately 400 years old.
Grandfather Oak in Charleston, SC – The Grandfather Oak is the oldest known oak tree in SC. It's located in Charleston's Magnolia Cemetery, and arborists estimate its age at somewhere between 800 – 925 years. The trunk is 25 feet around and the branches spread to 117 feet.
Wow, I'm pretty sure that's the most I've ever written about a tree! This post turned out a lot longer than expected, but the tree and surrounding area have such an interesting history.
You might also enjoy these posts about the Lowcountry:
Pin It for Later: The Angel Oak: Everything You Need to Know