When I tell people I live in Savannah, the next words I typically hear are: "You're so lucky!" — usually followed by a smattering of questions about the best places to eat and a discussion regarding whether or not the city is haunted. Finally, good friends ask when they can visit and strangers inquire about where to stay in the Historic District. I thought it was about time I compiled a list of the best places to stay in Savannah near River Street, since it's the city's most well-known area.
If you find this post helpful, please share it on Pinterest!
Want to know where to stay near River Street in Savannah? Here are the top recommendations. #savannah #roadtrippers
Click To Tweet
FTC Disclosure: This post contains affiliate links, which means we may receive a small referral fee from purchases at no additional cost to you. You can read our affiliate policy here.
If you're visiting Savannah for the first time, I suggest purchasing my Savannah First-Timer's Guide ebook before your trip. It's extremely detailed and loaded with helpful insider tips about the city!

The Best Places to Stay in Savannah Near River Street
I realize accommodation preferences vary based on personal tastes and budget. To help your search, I've broken this post into categories of hotels, historic inns, and home rentals.
Prefer to cut to the chase and want to know exactly where I'd stay? I don't think you can go wrong with the Marshall House.
⭐ Insider Tip: No access to a car? No problem! You don't need one to enjoy River Street. Narrow your search to options north of State Street — preferably between Barnard and Price Streets. It's a safe area that's within walking distance to everything River Street has to offer.
Free Printable: 50 Things To Do on Foot in the Historic District
River Street/Bay Street Area Hotels
There are approximately 20 hotel options to choose from both on River Street and within a short walking distance to River Street. I've only listed options that fall between Broughton and River Street so you won't need a car at all.
The Alida Hotel
⭐ Ideal for: Couples, Instagrammers, and Sports Fans
The Alida is newest hotel on River Street, and it's an incredibly beautiful option! It's located on the busy west end of River Street, which is perfect for anyone who enjoys being in the heart of all the action.
I'd best describe the decor as modern but with a classic Old World charm. Everything in the hotel is brand new, yet it somehow still manages to feel warm and welcoming.
The bar area and common spaces are particularly appealing, with bright pops of emerald green upholstery offset against a warm backdrop of aged bricks.
Each room has a 60-inch 4k flat screen TV, which makes the hotel a great place for sports fans! The striking decor also makes it an Instagrammer's dream. It's a great option! Check rates:
---
Hilton Homewood Suites Riverfront
⭐ Ideal for: Families traveling with children
This option is located at the far east end of River Street, so it's far enough from the bars that you won't be disturbed by the late night drinking crowd if you're traveling with kids.
The rooftop pool is the best thing about this hotel. It's reserved for hotel guests only, and it has incredible views of Savannah's waterfront area!
Be sure to join the Hilton Honors Program to receive complimentary in-room wi-fi, discounts, and rewards credits! Check rates:
---
Historic Inns
Hotels are great if that's your thing, but I'm all about staying in a historic property — especially in a beautiful historic city like Savannah.
The Marshall House
⭐ Ideal for: Ghost hunters, shopping fanatics, and anyone who appreciates historic properties
The Marshall House is one of the most well-known options near River Street — thanks to its inclusion on numerous top 10 lists of "most haunted places to stay" in the U.S.
The inn is located on my favorite shopping street in Savannah, but it's also within easy walking distance to River Street. This is an iconic location in Savannah, and you'll often find ghost hunting tours gathered out front.
Marshall House offers a wine & cheese hour, and they bring in a historian a few times each week to answer questions about Savannah. This hotel is my #1 recommendation in Savannah! Check rates:
---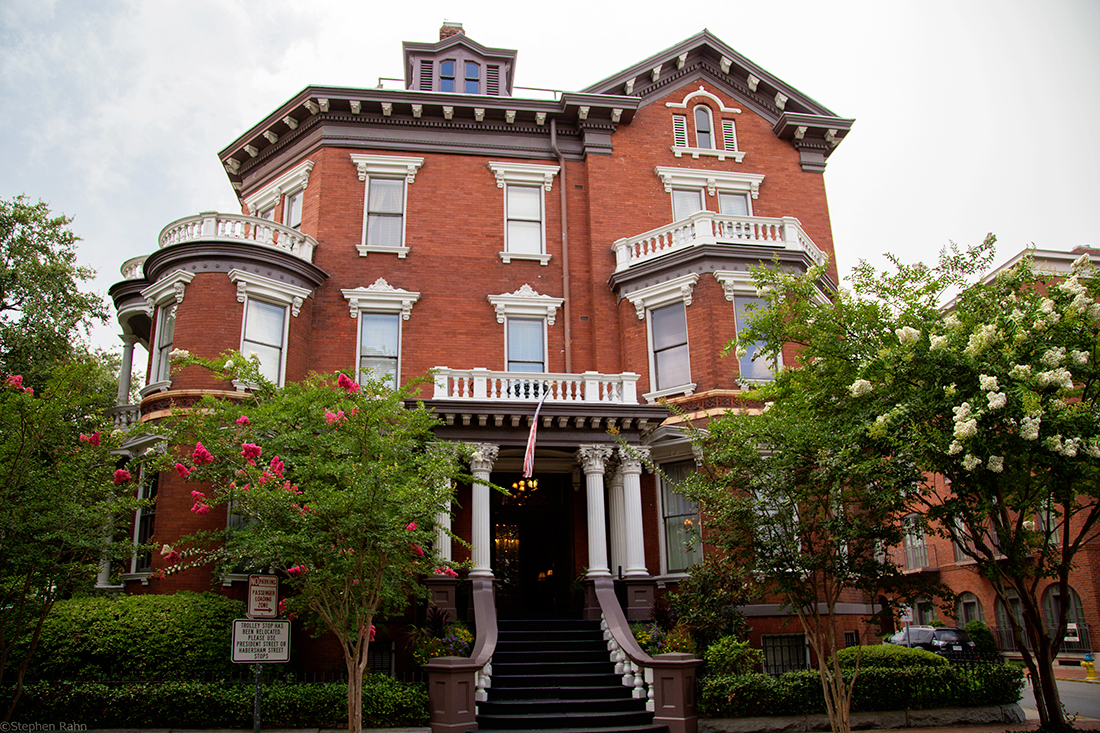 Kehoe House
⭐ Ideal for: Couples seeking a quiet romantic getaway
Completed in 1892, the Kehoe House faces Columbia Square — one of the more peaceful spots you'll find within walking distance to River Street.
The staff at this B&B is known for their southern hospitality and accommodating manner. The chef prepares a cooked-to-order breakfast for guests each morning and serves it up on a silver platter. #fancy
The decor feels very authentic to the time period in which the home was built, and this is the place to go to if you want to feel spoiled. I suggest this option for anyone seeking a quiet stay and personalized attention. Check rates:
---
Olde Harbour Inn
⭐ Ideal for: Families traveling with pets! This option is pet-friendly.
The inn is adjacent to the river and has beautiful views of passing cargo ships. They offer a nightly wine & cheese gathering so guests can get to know one another. The delicious ice cream treat that comes with their nightly turn-down service is a sweet touch.
Although the inn is historic, renovations include modern amenities and decor. However, the renovations didn't include an elevator, so make note of that if you struggle with stairs. Check rates:
---
East Bay Inn
⭐ Ideal for: Cost-conscious travelers and animal lovers
East Bay Inn is a really charming historic option on Bay Street. It was built in 1762! The staff gets high praise for their Southern hospitality, and I'm a huge fan of the exposed brick walls in many of the rooms.
The hotel is pet-friendly, and the location on Bay is convenient to the many restaurants and businesses along the north end of the Historic District. This is another pet-friendly hotel!
---

Home Rentals in Savannah
My post, How to Rent a Vacation Home You'll Absolutely Love, details my top tips for selecting the perfect home rental. It's definitely worth the read — and not just because it includes a coupon for up to $55 off your first Airbnb rental!
If you prefer the convenience of renting a home vs. a hotel, these are my suggestions:
River Street Loft w/Balcony
⭐ Ideal for: Guests who want to be in the heart of the action on River Street
It's rare to find a home or condo rental that offers a balcony overlooking River Street, but this condo does — and in a prime location. It's above a clothing store, so it's relatively quiet during the hours you'll want to sleep. (Beware of condo rentals situated above bars or restaurants that operate into the wee hours of the night.)
This second story rental is so close to the street you can sit on the balcony and chat with passers-by. With 100+ 5-star reviews on Homeaway, it's a clear winner.
Ellis Square Rental
⭐ Ideal for: Couples
This elegant rental is located off Ellis Square, which is near City Market and Congress Street. FYI: There's lots of fun nightlife on Congress!
It sleeps 4, has a full kitchen, and is very nicely decorated. I probably sound like a broken record here, but I love the exposed brick walls!
⭐ Insider Tip: If you've never visited Savannah before and want to learn all about River Street before your trip, I've written a massive post about the area that's loaded with pictures and tips about what to see and do on River Street.
I hope this post has been helpful — or that it at least provides a good starting point in your search.
Related Reading:
Pin It For Later: The Best Places to Stay in Savannah Near River Street