If you're looking for some inspiration for your next picture-perfect Lowcountry vacation, I've got you covered with my favorite places to catch a beautiful sunset on Hilton Head Island. I included a map so you can easily find each spot or call ahead for dinner reservations!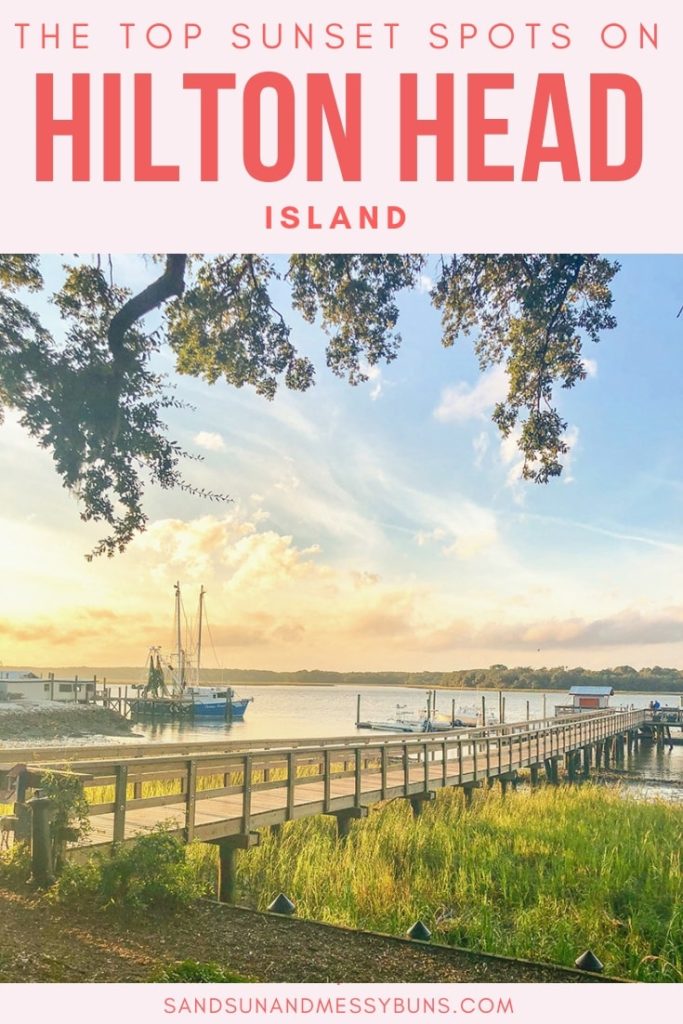 If you find this post helpful, please share these Hilton Head sunset locations on Pinterest to help other travelers!
FTC Disclosure: This post contains affiliate links, which means we may receive a small referral fee from purchases at no additional cost to you. You can read our affiliate policy here.
Hilton Head's Best Sunsets
Due to the way the island is situated, the sun rises on the beach side and sets on the creek side. You can still see some incredible sunsets from the beach, though! I've seen plenty, and you'll find the evidence below.
NOTE: To make things easy for tourists, I've only selected drivable locations. If you're planning a boat or dolphin tour, I suggest looking for one that departs near Calibogue Sound and swings by the Haig Point lighthouse on Daufuskie Island.
You might also be interested in:
🌴 7 Incredible Beaches on the Georgia Coast
⛲ Savannah Georgia Vacation Guide
---
Skull Creek Dockside Restaurant
Y'all… I promise you the sunsets don't get much better than the ones at Dockside Restaurant. There's something magical about the lighting at their location that makes the sky look almost like a painting.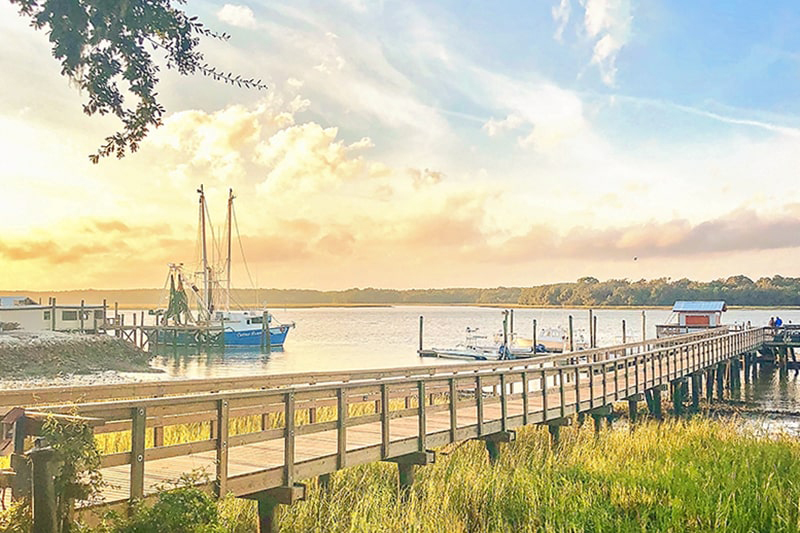 I use Opentable to make my reservations in advance and almost always opt for outdoor seating. I'm such a geek that I have the sunset times memorized based on the season, and I always try to make sure I'm seated perfectly in time for golden hour.
Wondering which dish to try? You can't go wrong with Dockside's lobster tails or their totally off the charts BBQ. I try salmon dishes at every restaurant I visit, and I also really like their seared salmon with the mustard glaze option.
Location: Skull Creek Dockside | 2 Hudson Road, HHI, SC 29926
Folly Field Beach
Folly Field is a public beach area close to the north end of the island. The parking/restroom area includes outdoor showers, so it's an ideal location to set up camp for the day if you're not staying at a beachfront property. Trust me when I say you're going to want to stick around for the sunsets!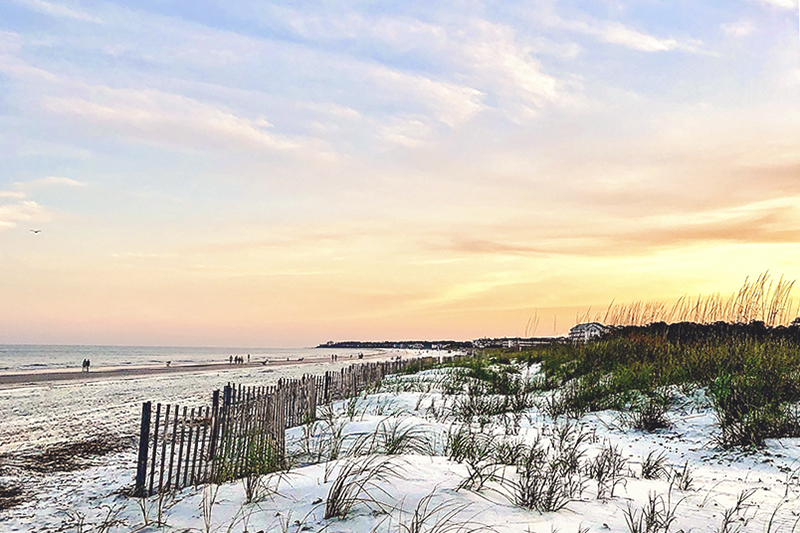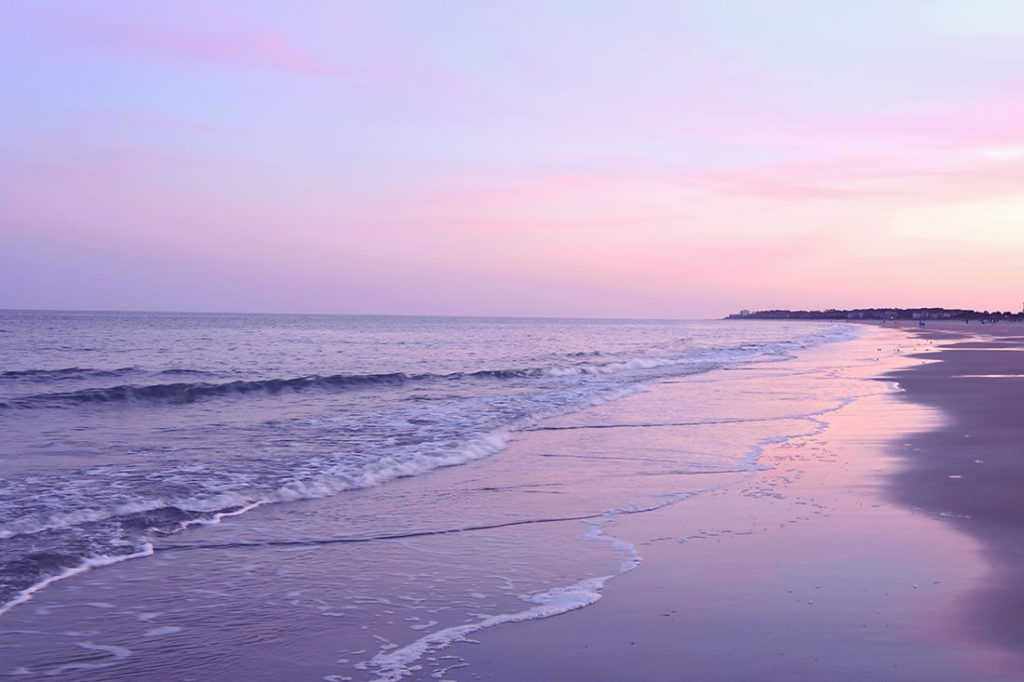 The shallow tide pools reflect the sunset at low tide and make for really eye-catching photos.
There are lifeguards posted on duty during the summer season, but the waves in this area are usually small and ideally sized for families with young kids.
Location: Folly Field Public Access Beach | 55 Starfish Drive, HHI, SC 29928
⭐ Insider Tip: Save the sea turtles! If you dig any holes on the beach during the day, always remember to cover them up before leaving. This probably goes without saying, but please make sure you throw away your trash, too.
Squire Pope Community Park
This is my spot! Don't be surprised if you run into me here at some point. I love shooting sunsets from both levels of the dock, plus the area beneath it — which is usually crawling with hundreds of tiny fiddler crabs.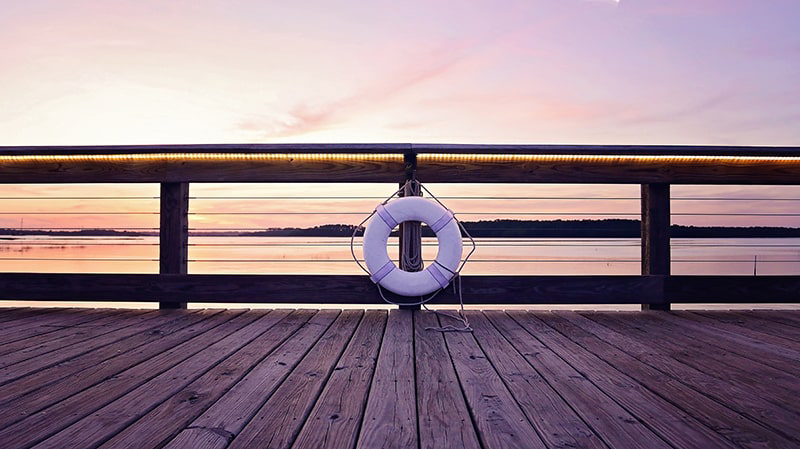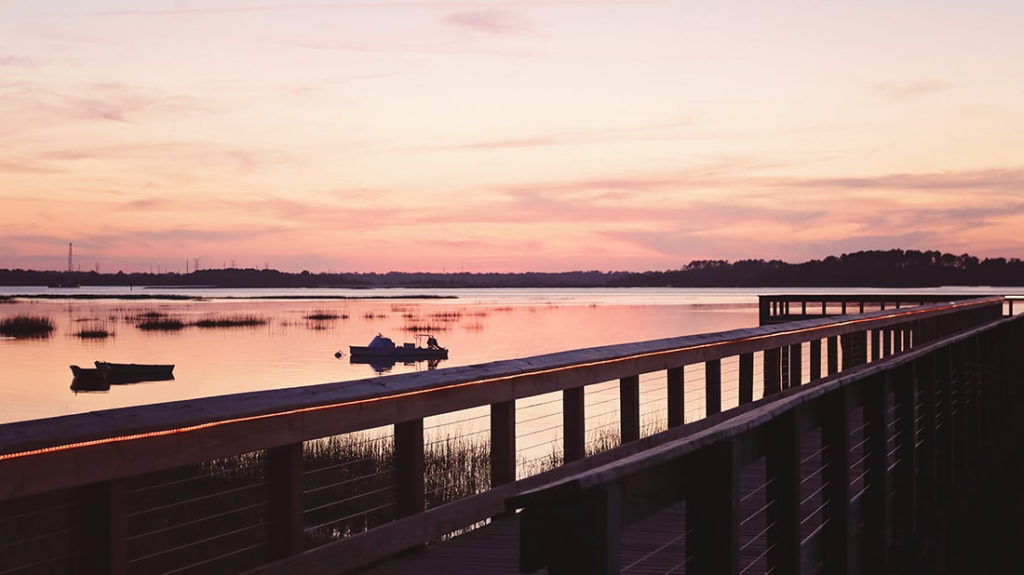 I have so many sunset photos taken from that pier! It's relaxing to sit there and watch them from beginning to end. Click to see any photo larger.
The park has public restrooms, covered picnic tables, and even a couple well-placed benches overlooking the water.
Location: Squire Pope Community Park | 137 Squire Pope Road, HHI, SC 29926
⭐ Insider Tip: Take lemongrass spray! It's environmentally friendly, and it'll help keep the sand gnats away. Unfortunately, the dock is usually swarming with them.
Skull Creek Boathouse
Ahhh, good ol' Skull Creek Boathouse. It's an island favorite, as evidenced by the insanely long lines most any night of the week during the summer months. (My entire family once waited on their porch for 2 hours during a massive downpour — but at least we made some new friends in the process!)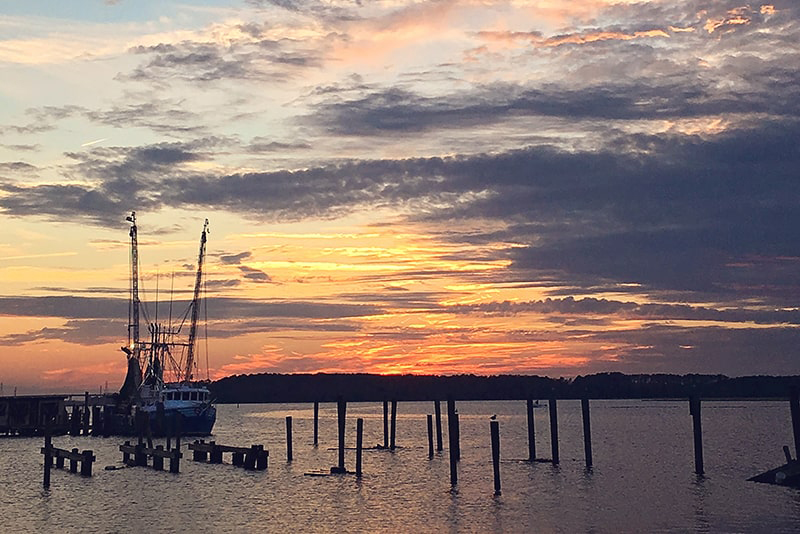 Skull Creek is totally worth the wait. The sushi bar is incredible, and I love their Ahi Tuna Salad. (It's not always on the menu, but ask for it anyway.) I can also throw back some of their delicious hushpuppies if you put a basket in front of me. They're addicting!
The outdoor patio area is always fun and often features live music. You can walk out on the dock at this location, just like you can next door at Dockside.
Location: Skull Creek Boathouse | 397 Squire Pope Road, HHI, SC 29926
⭐ Insider Tip: Since this spot is so crowded, my family almost always opts for the early bird dining. Also, don't miss the Skull Creek General Store in the parking lot!
Shelter Cove Marina
If you like having boats in the foreground of your sunset shots, you'll be a fan of Shelter Cove Marina.
The sun sets behind Broad Creek, which feeds into the marina, so you can capture boats silhouetted against the water as the sun fades into the background. It's such a beautiful area!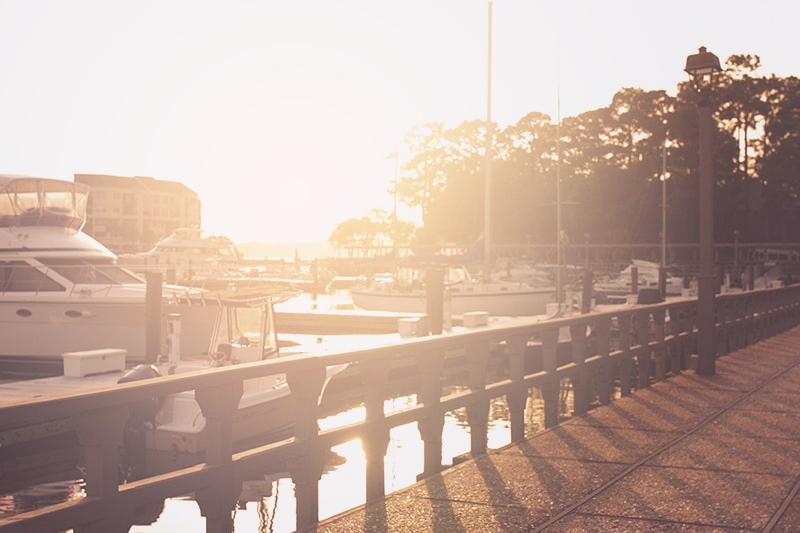 The Disney Resort is located on the far side of the marina. I always enjoy sitting under an old Southern live oak at the far northwest edge of the property. It's a great place to watch the fishing boats and kayakers come in as the sun sets.
You can sit on the tree's sturdy low-hanging branches, in the two Adirondack chairs always conveniently located beside it, or at one of the picnic tables to the left of the tree.
Location: Shelter Cove Marina | 1 Shelter Cove Lane, HHI, SC 29928
⭐ Insider Tip: If you stay at the Disney Resort, be sure to request a room overlooking the creek instead of the marina. The marina view is obstructed by trees and the parking lot.
Old Oyster Factory
The Old Oyster Factory is another restaurant that offers incredible sunset views. What can I say: Dinner + Sunset = Magic! It's the best time to venture out for a bite to eat.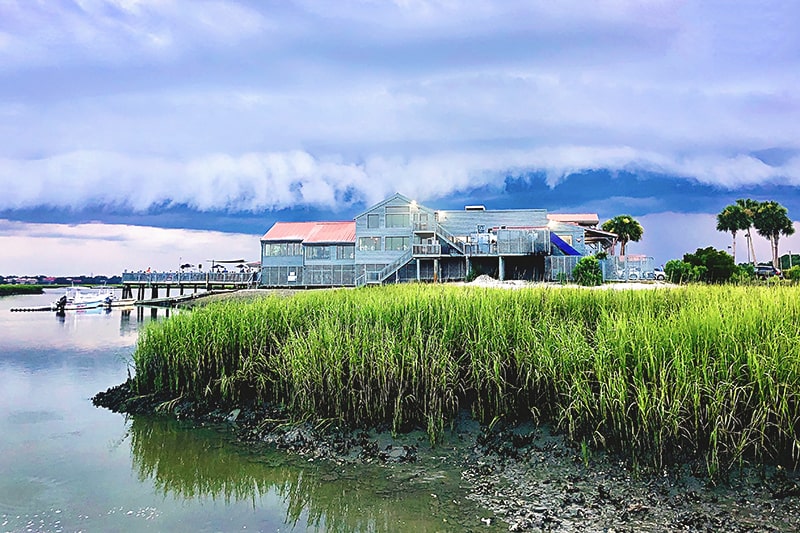 I kid you not when I say the steak and shrimp option at Old Oyster Factory is about as close as a restaurant can get to food perfection. I ordered it last time I went, and the steak was so tender I couldn't believe it! Their hush puppies might be my current favorite on the island. (Can you tell I love taste-testing hush puppies?)
Location: Old Oyster Factory | 101 Marshland Road, HHI, SC 29926
⭐ Insider Tip: If you go during low tide you can walk around the side of the restaurant to access the back deck, where you can enjoy live music and watch kayakers floating by in the creek. (It's accessible from indoors, too.)
Harbour Town Marina
That red and white lighthouse is easily the most recognizable landmark on the island. You'll find it at the Harbour Town Marina, and it makes for yet another incredible sunset destination.
My entire family loves stopping in nearby Cinnamon Bear for tasty ice cream cones. We'll sit in the rocking chairs lining the marina to enjoy them while looking out over the water. Talk about some good family memories!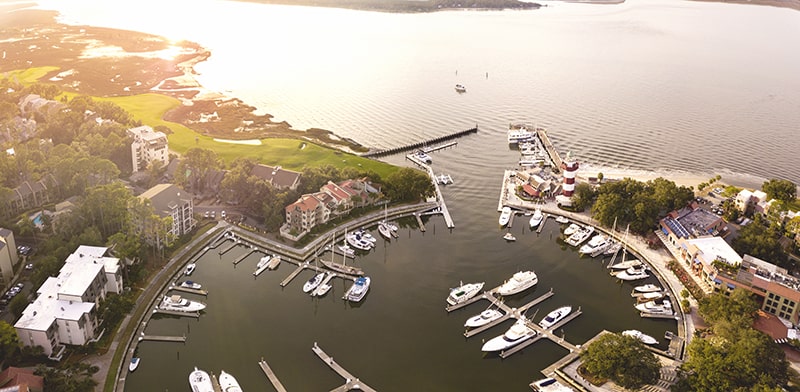 The lighthouse looks pretty when it's decked out in plaid for the annual RBC Heritage Golf Tournament. Click on any image to view it larger.
⭐ Insider Tip: There's a fee to enter Sea Pines Resort, which is where Harbour Town is located. It's approximately $5 per vehicle (no matter the number of passengers).
While you have your Sea Pines parking pass, you might want to drive around that end of the island to check out all of the beautiful homes and landscaping. Don't miss the beautiful 300-year-old Liberty Oak! You can learn more about it at the bottom of this post I wrote about Charleston's famous Angel Oak.
Location: Harbour Town at Sea Pines Resort | 149 Lighthouse Road, HHI, SC 29928
Here's where to find some of the prettiest sunsets on Hilton Head Island! #hiltonhead #southcarolina #vacation
Click To Tweet
Where to Stay in Hilton Head
If you're visiting the Lowcountry for the first time and aren't sure where to stay, I suggest Sonesta Resort, Sea Pines Resort, Disney's Hilton Head Island Resort, or the Omni. Search here for the best rates on Hilton Head Island.
If you prefer a home rental, you can check current Hilton Head vacation rentals on VRBO.
Continue reading more of my posts about the Lowcountry:
Pin It for Later: The Best Hilton Head Sunset Spots (Map Included!)

PINTEREST | INSTAGRAM | FACEBOOK | YOUTUBE
Photo Sources: Harbour Town Aerial ©WoolworthImagery | Adobe Stock | Purchased