Gruene (pronounced "green" — and often mistakenly referred to as Greene Texas!) is a great weekend getaway destination and home to Texas' oldest dance hall. If you've never visited, you're missing out on one of the most adorable little towns in the Texas Hill Country. Here's a list of my favorite things to do in Gruene TX, plus lots of photos to inspire your next trip!
If you find this post helpful, please share these tips about Gruene TX on Pinterest so other travelers can benefit from it!
FTC Disclosure: This post contains affiliate links, which means we may receive a small referral fee from purchases at no additional cost to you. You can read our affiliate policy here.
Here's a list of fun family-friendly things to do in the charming small town of Gruene, Texas.
Click To Tweet
The Top 10 Things to do in Gruene TX
Gruene is the perfect day trip from Austin or San Antonio — at approximately 40 minutes from either city (varies with traffic).
The actual historic downtown area in Gruene is only a couple blocks wide, so you can easily navigate the entire town in one day. Almost every restaurant or shop is located on one of two streets, so it's a very walkable town.
⭐ Insider Tip: Here's a handy map of Gruene. Parking is free and plentiful all over town! You'll want to turn off Hunter Street onto the little dead-end road next to the #2, because it's a huge parking lot that's rarely ever completely full.
Go Two-Steppin' at Gruene Hall
I absolutely adore Gruene Hall! Maybe it's because I'm drawn to almost anything with history and character, but it's long been a favorite spot of mine.
Gruene Hall is Texas' oldest continually operating dance hall, and the building's age is apparent from the moment you enter the screen doors and step onto the slanted and rickety old wooden floors.
The walls are covered with photos of some of the most famous country artists imaginable — many of whom got their start at Gruene Hall. (Think George Straight, Merle Haggard, Willie Nelson, and Lyle Lovett, amongst others.)
On any given week you'll find live entertainment that ranges from hugely popular current stars to up-and-coming local Texas acts. Gruene Hall's website has a calendar of upcoming performers and info for purchasing tickets to shows or dance lessons.
⭐ Insider Tip: Gruene Hall is standing room only, but it's an open-air dance hall and you can listen to the music from the garden area outside if you aren't able to elbow your way indoors.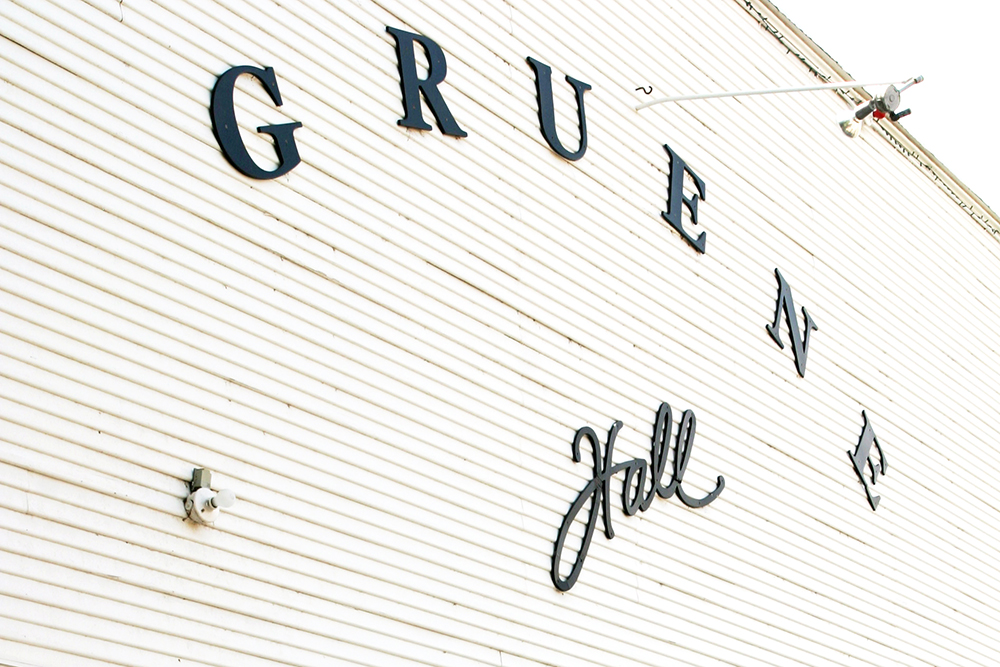 Reality TV show fans: Gruene Hall was featured in an episode of Kaitlyn Bristowe's season of The Bachelorette. See if you can find where she added her initials and a heart to one of the posts!
Grab a Bite to Eat at the Gristmill
Gristmill River Restaurant & Bar is probably the most well-known restaurant in Gruene and for good reason; the food is scrumptious. It's located in a prime spot along the banks of the Guadalupe River and has a beautiful view, particularly in late fall or winter when the trees have dropped their leaves.
Everything I've ever sampled off the menu at Gristmill has been delicious; it's one of those restaurants that gets my order right every single time. Without fail.
I typically order their delicious old-fashioned burger with round cut Gristmill fries. (Obviously, all diets are off when visiting the 'mill!) Sometimes I'll simply opt for a drink with a side dish, since their sides are very filling.
I have a bad habit of snacking at the other shops in the area while I'm shopping, so it's nice to save room so I can sample goodies elsewhere.
Click on each image to see it larger and view additional information.
The Great Texas Pecan Candy Co. is my second favorite place to stop for food. It isn't a dine-in shop, but the sweet gentleman behind the counter is very generous when handing out samples.
You have to try the Pecan Roca Toffee!! It's my top choice and one of my favorite items to give as a Christmas gift. Friends and family go nuts (ha!) for the stuff.
The store also sells various flavored nuts, seasoned popcorn, pralines, brittle, and more. I'd suggest sampling to determine your favorites, then purchase the container that holds 3 varieties of your choice.
Check out the Famous Water Tower
The landmark water tower in Gruene can be seen from miles away and has quite a history to it, including a depressed town manager who hung himself from the famous beacon and a dent in the cap of the tower that occurred during a land dispute.
Although the tower once supplied water to the town of Gruene, it no longer serves that purpose and is now a decorative symbol of the city. It is most commonly spotted in the background of Instagram shots featuring #gruenehall.
Click on each image to see it larger and view the source.
Relax While Sippin' Local Wine
The Grapevine is probably one of the first establishments you'll spot if you park in the main parking lot in Gruene. They frequently have live musical acts performing in the garden, and it's hard not to be drawn in to see what's happening.
Simply put — it's all about the alcohol! There is a wine tasting room where you can sample a large selection of Texas wines that can be purchased by the glass, bottle, or case, and they also have beer on tap. It's a lovely place to just rest and chill for a bit.
The covered breezeway next to Gruene General Store makes a great spot to enjoy a glass of wine or some ice cream. It overlooks The Grapevine.
Gruene Music & Wine Festival occurs during the beautiful fall season and is one of Gruene's most popular annual events.
The festival features the very best in live Texas music paired with wine and beer tasting events. It also offers numerous booths where you can sample delicious German foods.
Support Local Artists
Old Gruene Market Days happens the first full 3rd weekend of each month (except January) and the event showcases local artisans who offer a wide variety of handcrafted items. Think hand-crafted leather, Texas photographs and artwork, jewelry, canned goods, children's clothing, spices/dips, etc.
They operate under tents that are set up on the main street (Hunter St.) in front of Adobe Verde. Even though it's shaded, be aware that it gets very hot in the summertime!
Try Gruene Texas Tubing!
The Guadalupe River is stunningly beautiful and is a great place for taking pictures, playing in the water, or going tubing. The water is cold, but on a hot summer day in Texas it's just the ticket!
Rockin' R River Rides offers water activities, such as tubing (a Texas tradition), rafting, and canoe trips.
Daisy and I like to park in Historic Gruene and walk down Hunter Street until we hit the bridge, then kick off our shoes and go exploring.
Even when visiting during the winter months, Daisy can't help but roll up her jeans and dip her toes in the crystal clear water of the Guadalupe!
Whether you like shopping, adventuring, or eating, here are 10 fun things to do in Gruene, Texas.
Click To Tweet
Shop Local & Support Small Businesses
Aside from all the great shops I've already mentioned, here are a few more you might want to check out while you're in the area:
Tejas Traders is my favorite shop for home decor! They have a great selection of Hill Country-style decor items for the home. There's even more decor out back, so make sure you check out the entire store.
Simply Detailed is an adorable store set in an historic older home, and it's where we spend the majority of our clothing budget in Gruene. The store is decorated beautifully and carries current trends in addition to basics, such as tanks and leggings. It's a boutique with a good selection of unique jewelry, in addition to the really cute clothes. This store reminds me a lot of the boutiques in Boerne and Fredericksburg.
Pookie Janes is a fun shop for the ladies! Daisy and I both love their jewelry selection. We also purchase a lot of gifts in their shop. (They have great candles and signage.) If you're looking for cute and casual outfits, Pookie Janes is the spot. They also have a mancave!
Gruene With Envy carries unique accessories, gifts, women's outfits, and shoes. Their jewelry is really colorful and the outfits are always fun and never boring.
Gruene Lake Village is a short drive from the main street area. It's a new(ish) shopping village and is very picturesque. Although they still need to fill the majority of the shops, it's a great place for photo opps!
Sleep in Texas History
You'll find historic B&Bs throughout the town, including one that was the town founder's original residence!
Where To Stay in Gruene
Gruene is a very small town, so you'll need to search far in advance if you're planning to visit during a weekend when a major event is scheduled. Otherwise, you should be able to find accommodations easily! Check here to find all the best deals…
Gruene Mansion Inn
The inn is currently a 31-room bed & breakfast, but it once served as the town founder's home. In 1872, H.D. Gruene constructed this Victorian home as his place of residence along the Guadelupe.
The historic Gruene Mansion Inn is centrally located and just steps away from Gruene Hall and The Gristmill Restaurant.
It's been featured in Texas Monthly and Southern Living magazines, and many of the rooms offer riverfront access. It's rated #1 on TripAdvisor!
Gruene River Inn
If you're interested in water sports and in checking out nearby Schlitterban Park, the Gruene River Inn is a good option. It's situated high on the banks of the Guadalupe River, so it has incredible views and direct access to the water.
Select it if you love nature and want to relax on a rocking chair while enjoying beautiful Texas scenery. They have free wifi, a complimentary continental breakfast, and free parking.
Vacation Rentals in Gruene TX
In addition to cute B&Bs, I also love to stay in vacation rentals when I travel — and there are plenty of cute ones in Gruene and New Braunfels: VRBO in Gruene Texas
Related Reading: How to Rent a Vacation Home You'll Absolutely Love
Pick up a Souvenir
Gruene General Store is perfect for kids and the young-at-heart. It's ranked as one of the top 40 places to visit in Texas and is packed to the brim with food, toys, books, and unique Texas souvenirs.
Daisy could spend hours in this store — most of it perched at the old-fashioned ice cream counter. She loves ordering scoops of Blue Bell Ice Cream in a cone, while I prefer sampling the fudge varieties.
There's also a large section of flavored butter, salsas, and preserves available to taste. They have a Christmas tree on display year-round, so be sure to pick out an ornament to commemorate your visit!
How cute is the ice cream and soda fountain area at Gruene General Store?! You can taste test each of the butter and salsa samples. My favorite is their Amaretto Pecan Honey Butter!
DID YOU KNOW? Gruene was founded in the 1840's by German farmers and was once a booming commerce center. However, boll weevils and the Great Depression took their toll, and Gruene was essentially a ghost town by the 1950's. Local student Chip Kaufman was credited for saving the historic buildings from being razed.
While Gruene is beautiful throughout the year, my favorite time to visit is during the Christmas season. That's when the entire town is aglow with lights, and everything looks so magical! So, last but definitely not least…
Experience Christmas with a Texas Twist
Holidays in Gruene is an annual event bursting with small town Texas charm. It's an ideal stop for families because there's something delightful for all ages. In Gruene, Santa is better known as "Cowboy Kringle" and he sports a cowboy hat, chaps and boots.
During the annual town lighting ceremony, he rides down Hunter Street (on his horse, of course) and stops just shy of Gruene Hall. That's where he visits with the crowd and hands out candy canes.
The most magical part of the evening is when he flips a special switch and the entire town alights with the twinkly glow of Christmas lights. Even the famous water tower receives a colorful treatment that can be seen from neighboring small towns!
Cowboy Kris Kringle is an authentic Texas Santa! He wears chaps and a cowboy hat, and he has a bag full of candy canes that he passes out to the kids.
Related Reading: Enjoy the Holidays in Gruene TX
If you're seeking a unique travel destination, Gruene is one of my favorite small towns in Texas! It's a great vacation spot for the family, with a variety of activities for young and old alike. Please let me know in the comments if you have any questions.
Related Small Town Travel Guides:
Pin It for Later: 10 Things To Do in Gruene Texas