During a recent trip to Cancún, I was able to scratch one really fun item off my bucket list — I was able to swim in a cenote (underground cave) for the first time. And yes, it was just as cool as it sounds! I visited Cenote Hubiku, which lies deep in the jungle of the Yucatán Peninsula.
If you find this post helpful, please share this image on Pinterest!
Learn what it's like to swim in a cenote (underground cave) deep in the Yucatán Peninsula. #cenote #cancun
Click To Tweet
FTC Disclosure: This post contains affiliate links, which means we may receive a small referral fee from purchases at no additional cost to you. You can read our affiliate policy here.
What is a Cenote?
Cenotes are underground limestone caves filled with fresh water, plus all sorts of other interesting things. Some contain fish, some contain treasure, and some even contain human remains — which you'll read more about below!
Cenotes are very similar to what we refer to as sinkholes or "swimming holes" here in the U.S. The two swimming holes in Texas that most closely resemble the cenotes you'd find in Cancún are Krause Springs and Hamilton Pool — although the Texas ones are both above ground.
Where to Stay in Cancún
I went on this particular trip with my best friend, Christopher, so you'll see him in many of my photos. Christopher and I stayed at The Westin Cancun Resort & Spa in Cancún. Our favorite part of the hotel was a toss-up between the never-ending supply of delicious food and the beautiful white-sand beach directly in front of the hotel.
The hotel takes up prime real estate at the southern tip of Cancun (Club Med was the only hotel further south), which means it's located at the quieter end of the "hotel zone".
That was perfect for us, because we were able to spend our days relaxing on the beach, and it was quiet and peaceful at night when we were ready to sleep. We didn't have to venture far to get to the "party zone", but we also didn't have to deal with the noise of drunks 24/7.
Top perks of the Westin: Free WiFi throughout, absolutely incredible views of the turquoise blue waters of the Caribbean from the pool area at the front of the hotel, bonus views of the lagoon on the back side (there were multiple hammocks where you could relax while ocean breezes drifted through the palms), the complimentary breakfast buffet where we stuffed our faces each morning, happy hour at the bar, and some of the best wood-fired pizza we've ever had from the hotel's own restaurant on the beach.
Getting to Hubiku Cenote
Our tour was an all-day trip that included Cenote Hubiku, a jungle tour to meet local artisans, a buffet-style lunch, a visit to UNESCO World Heritage site Chichén Itzá, and a brief stop in the beautiful town of Valladolid, Mexico.
Cenote Hubiku was about a two hour and fifteen minute bus ride from our hotel in Cancún. A driver in a van came to our hotel, then drove us to the bus and dropped us off. (I'm just letting you know in advance so you won't think it's sketchy if an unmarked van and driver arrive to pick you up!)
FYI: The vans pick up at any hotel on the Cancún strip for this particular tour.
It was so nice taking an air-conditioned bus and sleeping while someone else did the driving! The guides were very knowledgable, and I'm told they pointed out lots of interesting details about the region during the drive — which I missed because I was busy snoozing. Go figure!
⭐Insider Tip: If you plan to rent a car and drive yourself, note that there are few places to stop for food or fuel. Take snacks, bug spray, and lots of water. Make sure to fill up with gas prior to your departure, and definitely wear comfortable shoes! You also need pesos to pay for the few areas where there are toll roads. (We didn't have to worry about that, since we opted for the all-inclusive tour.)
There are private places to change once you arrive, so there's no need to wear a swimsuit under your clothes and feel uncomfortable during the drive. Toss one into a bag and change when you arrive, then change back into dry clothes when you leave!
Swimming isn't mandatory, so you can wander around and explore the area if you prefer.
Arriving at Cenote Hubiku
Upon arriving at the cenote, we had to walk through a touristy shop filled with vendors hawking their souvenirs. It's a bit annoying, to say the least! Unfortunately that's pretty standard practice for tourist attractions in Mexico.
If you decide to purchase anything, it helps if you speak Spanish and can haggle in the vendor's native language. Even if you don't speak Spanish, you should still attempt to get a lower rate. The majority of the items are overpriced and mass produced, and the vendors anticipate bargaining.
Once we made it past the souvenir shop, a photographer asked us to pose together for a picture. We obliged, and later you'll learn why he needed the photo!
After our snapshot, we had the option of swimming in the cenote or visiting the Don Tedeo Tequila Museum and sampling tequila. Since I have a habit of making very bad decisions when I drink tequila, we wisely opted for the cenote!
How to be Respectful in a Cenote
Cenotes were considered sacred areas to the ancient Mayans; their openings were believed to be a gateway to an underworld inhabited by Chaac — the God of Rain.
Although the cenotes are spectacularly beautiful, the surface below many of them is littered with bones from both humans and animals.
It is commonly believed that the remains were from sacrificial offerings during Mayan eras of extreme drought. Both people and animals were tossed into the deep waters and left to drown in an effort appease Chaac and bring much needed rain. Divers have also discovered gold and jewels.
NOTE: When entering a cenote, please keep in mind that you are a guest in a sacred place and act accordingly.
Before we could enter Hubiku Cenote, we were required to visit a shower area to rinse off, change into bathing suits, and stow our clothes in a locker.
With hoards of tourists visiting Mexican cenotes each year, this process is necessary to remove sunscreen, oil, and perfume residue from the body so the cenotes will remain clean and pure for many years to come.
Life jackets are available near the lockers, and towels are provided with the entry fee. Since our tour was all-inclusive, we didn't pay anything. If you're visiting on your own, expect to pay a nominal fee (less than $3).
⭐Insider Tip: Keep your flip flops or water shoes with you and wear them down to the cenote area since the walkways are very scratchy on the feet.
A cenote is actually a sinkhole that extends to the groundwater table. It's formed when limestone collapses to expose a window into beautiful underground river systems.
Getting Sidetracked by Monkeys
Prior to walking down the steps into the cenote, we were able to interact with a few adorable little monkeys. That ended up being my favorite part of the cenote trip! (I seem to have a habit of running into monkeys during my travels.)
As you begin the trek down the stairs into the cenote, there's a platform halfway down where you can pose with men dressed as ancient Mayan warriors. Christopher took full advantage of this to show off his fiercest warrior pose. FYI: Tips aren't mandatory, but they are appreciated.
Inside Cenote de Hubiku
Cenote Hubiku is semi-open, so when you're inside looking up, you'll see a large hole with sunlight streaming through to illuminate the water below. There are also long vines hanging down from the ground above and the water is very clear.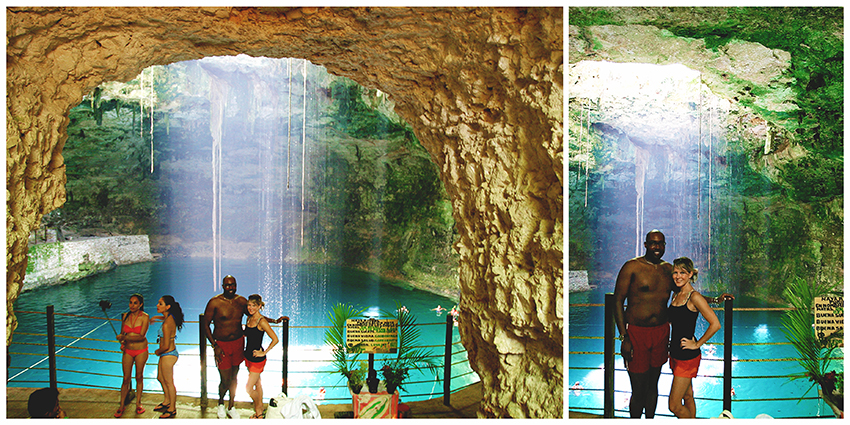 It's difficult to tell just how cavernous it is inside the cenote from a single photo. I tried capturing a panoramic shot on my cell to give you an idea. (I kept my expensive DSLR camera stowed away in the locker so I wouldn't have to worry about it while swimming.)
Once in the cenote, Christopher jumped in the water first. He said it was refreshing, so I boldly stuck an exploratory toe in and thought it felt pretty good!
As soon as I climbed in, I discovered he stretched the truth slightly to get me in the water. Trust me when I tell you the cenote water is very cold once it hits your tummy!!
I wimped out long before he did and climbed out after less than 10 minutes. FYI: Most of the guests agreed with Christopher and found it refreshing.
Christopher's favorite part of the day's excursion was swimming in the cenote. He stayed in until the guides made him get out. He said it's very surreal if you find a spot away from the crowds and float on your back while looking up towards the ceiling, so that's what he suggests you do.
In case you're curious, this particular cenote is about 150 feet deep and it's full of tiny black catfish. We saw hundreds of them! They didn't bother us, we didn't bother them, and it was pretty peaceful to watch them swimming all around us.
Tequila don Tedeo Souvenirs
Once we finished our swim and headed back to our bus, we discovered we'd picked up additional passengers. They came bearing tequila from the museum and received a hearty welcome from our entire tour group! They proceeded to pour samples of flavored tequila and passed them out to everyone — even the teenagers, much to our surprise.
Next they produced bottles of tequila personalized with the photos they'd taken of us when we arrived on site. Those bottles were available for purchase, of course, and they said we wouldn't have any problems getting them through customs. Well played, tequila marketing team; well played.
Of course we purchased one. We're suckers.
Christopher planned to take our personalized bottle home as a souvenir, but a crafty TSA agent foiled that attempt when he confiscated it in the security line. (Next time, we'll crack it open and have a party at the airport!)
Somewhere in Mexico there's a a very drunk and happy TSA agent, and I'd like to imagine him toasting to us as he drank.
Advance Planning for Your Trip
You can save money by booking your reservations prior to your trip, which I definitely recommend. As I mentioned previously, our tour was an all-day event that included the transportation, lunch, pre-paid entry to all of the attractions, and two very knowledgeable guides who each spoke (fluently) in both English and Spanish.
⭐Purchase Tickets in Advance: Chichén Itza All-Inclusive Tour with Cenote Hubiku & Valladolid
We really appreciated our guides!! They kept a close eye on everyone, and it's almost like the hustlers knew not to mess with us because our tour guides wouldn't put up with it.
If you're a solo female traveler, I highly recommend this tour or a similar one. You're able to wander around and explore Chichen Itza, the cenotes, and Vallodolid on your own, which is nice. However, the guides made certain to double-count each person before moving to any new location.
It's a great way to explore freely and know you'll be safe at the end of the day!
What to Pack When Visiting a Cenote
Since many of the stops along the tour weren't shaded, it's a good idea to bring sunscreen. However, it's important to research carefully and make sure you bring a biodegradable option.
Cenote Valladolid
If you love the whole cenote experience as much as we did, there are numerous other Yucatán Cenotes nearby. Here are additional options near the city of Valladolid:
Cenote Zaci – large, open-roof cenote
Cenote Samulá – cavernous cenote with a very small opening
Il Kil Cenote – one of the most popular and most crowded cenotes in the area
Cenote Xkeken – very tiny opening, but lots of stalactites hanging from the roof
Cenote Suyton – this one has a platform in the center, so plan on seeing lots of Instagrammers there trying to get selfies for the 'gram (Must they ruin everything?!!)
You can read more about our trip to Cancún here, including the fun times we had setting baby sea turtles free. Have you visited a cenote before? If so, what did you like most about it? I'm so curious to know if your experience was similar to ours!
Still have questions? I answer fastest on Instagram!
Pin It for Later: Tips for Visiting Cenote Hubiku in Cancun

PINTEREST | INSTAGRAM | FACEBOOK | YOUTUBE
Photo sources: Cenote underwater diving shots via Flickr CC 2.0 ©TS Lane. Photo 1 & 2. Twitter & Facebook images ©LRafael via Adobe Stock | Purchased
Post updated May 2019.