Even though we all try to avoid sun damage, it still happens to the best of us occasionally. If you find yourself sporting a fiery pink glow after a long day at the beach, here's how to cover up sunburn with makeup. I've also included my favorite tip to help quickly heal a burn and turn it tan overnight!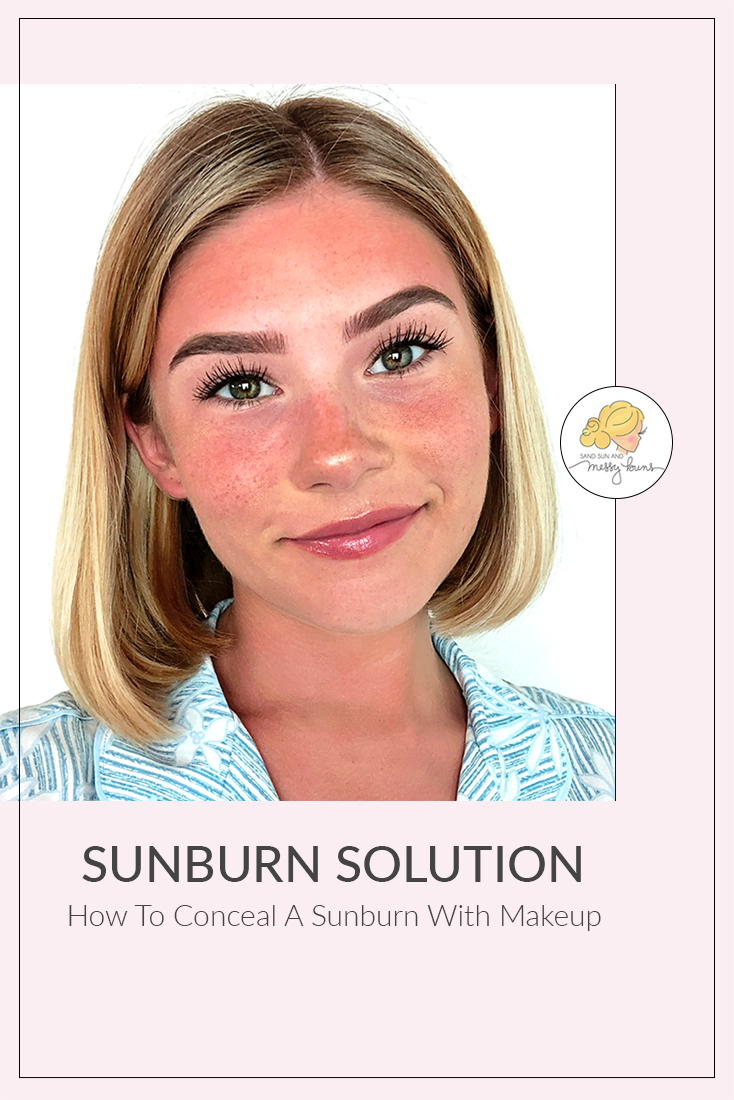 If you find this post helpful, please share these sunburn makeup tips on Pinterest to help others!
Here's how to cover sunburn with makeup, plus a simple way to speed up the healing process with natural ingredients!
Click To Tweet
FTC Disclosure: This post contains affiliate links, which means we may receive a small referral fee from purchases at no additional cost to you. You can read our affiliate policy here.
How to Cover Up Sunburn with Makeup
Before I go any further, I want to repeat something I always mention here on the blog: Always wear a broad spectrum sunscreen with an SPF of 30+. It's the best thing you can do for your skin! I wore sunscreen the day I got burned in my video below, but then I fell asleep and didn't reapply like I should have.
Face Mask: DERMAL | Vinegar: Bragg | Cream: Drunk Elephant | Primer: Benefit or NYX | Foundation: Too Faced | Concealer: NARS | Blush: Milani | Powder: bareMinerals | Highlight: Swamp Queen | Mascara: Maybelline
NOTE: Tarte's Swamp Queen palette was limited edition and is no longer available. If they ever re-release it, I recommend putting it in your cart immediately. It's my favorite palette I've ever owned.
After Sunburn Skin Care Steps
Apply a green tea face mask to skin to soothe and encourage faster healing. Green tea contains powerful anti-oxidants that help heal and protect skin from environmental damage.
Thoroughly apply apple cider vinegar using a cotton ball. TIP: Buy apple cider vinegar *with the mother*. It'll be listed on the packaging (or just get the one I use to be sure). It's always worked best for me!
Apply a broad spectrum sunscreen with an SPF 30+ if you plan to spend any time at all outdoors. Be sure to cover your neck and ears!
Moisturize thoroughly with a cream (preferred since it's more moisturizing) or lotion.
Makeup Tips to Cover Up a Sunburn
Use a color-correcting green primer or regular primer. (NOTE: I haven't been using green primers lately, but I have used them before to cover redness. You can see a great example in this video at the 2:12 minute-mark.)
Apply a medium to heavy coverage foundation. I like my Too Faced foundation because it covers well without looking like a mask. (Carry the foundation down your neck if your sunburn extends to that area.)
Spot conceal where necessary to further reduce redness or conceal blemishes
Set with translucent powder. (Always use translucent powder over concealer before adding any bronzer, otherwise the concealer will soak up the bronzer and make blemishes more apparent!)
Apply powder blush (optional/if needed)
Apply bronzer to help cancel out some of the red undertones.
That's it! I hope these tips for covering a sunburn are helpful. Remember not to skimp on the sunscreen! Find a cute hat and wear it anytime you're venturing out with skin that's already showing signs of sun damage.
Related: The Best Concealers for Acne (& More!)
Pin It for Later: How to Cover Sunburn with Makeup (Video Tutorial!)

INSTAGRAM | PINTEREST | FACEBOOK | TWITTER | YOUTUBE