I'm really into neutrals and have been wearing them nonstop lately. It's so easy to throw an outfit together by starting off with a grey, tan, or black base. I also love hats and decided to buy this one because I've gotten so much use out of the black one I already own. Today I'm going to share a basic floppy hat outfit, and in the coming weeks I'll show you a few different ways to style it.
I'm a bit of a minimalist with my clothes, if you haven't noticed! I like picking good, solid basics that I can change up easily by adding color or fun accessories. College style definitely shouldn't cost a lot!
Grey floppy hat outfit idea idea for fall just posted #ontheblog Check it out! #ootd Click To Tweet
FTC Disclosure: This post contains affiliate links, which means we'll receive a small referral fee from purchases at no cost to you. You can read our affiliate policy here.
Grey Floppy Hat Outfit 
Links to Purchase:
Hat: Nordstrom | Sweater: Nordstrom | Skinny Jeans: Wet Seal  | Booties: H&M
This Topshop sweater is lightweight enough to be perfect for our mild fall weather in the south. Add a lightweight shirt underneath if you need to, but it's soft enough to wear without.
I love that it's really cozy and isn't itchy at all.
This is an oversized sweater, so the fit is baggy. I'm wearing a size 2 here, and that's as small as it goes. You'll want to size down if you don't want the look to be overly loose.
I love that it's slightly longer in the back. If you wear leggings and need extra coverage in the back it works perfectly! I'm wearing skinny jeans with mine, but I've also paired it with leggings.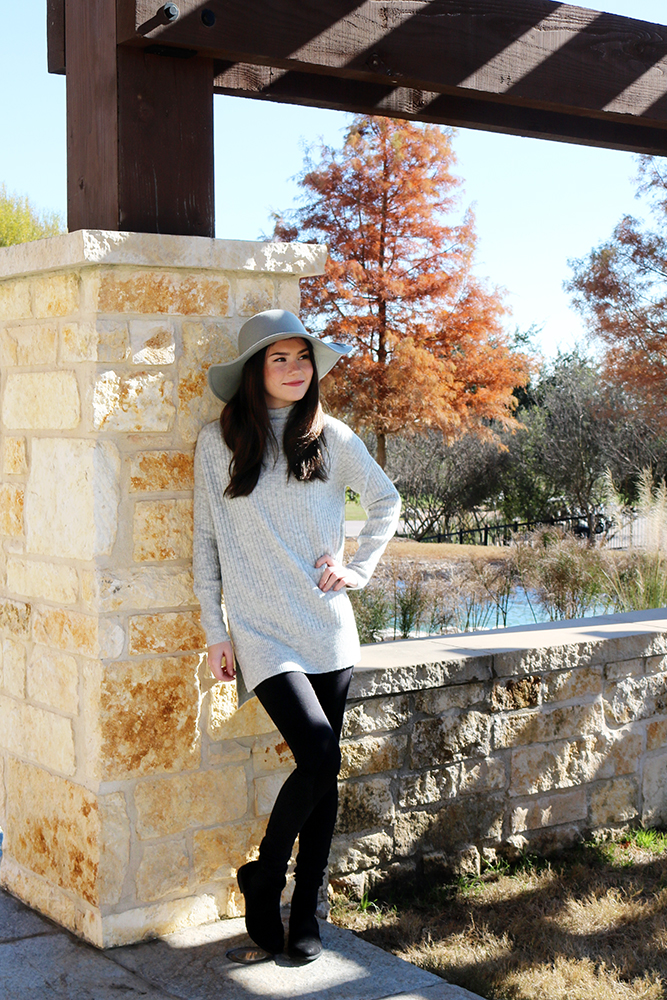 It's December and we finally have some fall color in Texas! The leaves are so pretty.
A woman is not really dressed unless she is wearing a hat. -Virginia Graham Click To Tweet

Makeup Details
Links to Purchase:
Brows: ABH Brow Wiz | Mascara: Maybelline Lash Sensational | Freckles: Freck [Use code DAISY10 for 10% off] | Lipstick: Revlon Ultra HD Matte "Seduction"
My freckles are fake! I get them naturally when I'm out in the sun, but they're definitely hidden away right now during the fall and winter months so…I draw them on! Here's my fake freckles tutorial if you want to learn how to do them.
My hair is still dark — this might be a record for me! I'm keeping it dark since I'm growing it out. I like how healthy it is now that I'm not constantly adding highlights.
I still use the SheaMoisture Manuka Honey Masque a couple times each week to deep condition it. It smells amazing! You can pick it up at Target or order online at Amazon. I also use good old organic coconut oil, because it's pretty hard to beat for deep conditioning.
Need More Inspiration?
Here are some similar outfit options.
I hope you're having a great week! I'll be back soon with more outfit ideas, because I'm on break from school so I've had a chance to take lots of pics. If you're in school and have finals soon, good luck!

 PINTEREST | INSTAGRAM | FACEBOOK | TWITTER | YOUTUBE