One of the (many) things I love about my school is that our instructors encourage us to watch awards shows like the Met Gala. [I'm majoring in Fashion Design, btw, so that's why.] While I'm definitely inspired by the outfits, I also really like the makeup! Taylor Hill had a very unique look during this year's ceremony that really caught my eye. Her eye makeup was almost a maroon or rusty reddish-brown color that really made her eyes pop. I loved it so much that I recreated it for myself! Here's my Taylor Hill 2017 Met Gala makeup tutorial.
If you didn't catch her look, here are a few pics so you can see how beautiful she looked:
Want Taylor Hill's 2017 Met Gala look? Here's the full video tutorial! #taylorhill #makeuptutorial Click To Tweet
FTC Disclosure: This post contains affiliate links, which means we'll receive a small referral fee from purchases at no cost to you. You can read our affiliate policy here.
Taylor Hill 2017 Met Gala Makeup Tutorial
Direct link to video on YouTube here.
Links to Purchase:
Concealer: Maybelline Age Rewind Erase Dark Circle Treatment | Facial Spray: Mario Badescu Rosewater | Makeup Sponge: Real Techniques | Contour: Revlon Photo Ready Insta-Fix | Powder: Milani | Bronzer: Essence Sun Club Matte Bronzing Powder | Blush: Smashbox | Eyeshadow Palette: Tarte [ limited edition – sold out ] | Liquid Liner: NYX Matte Liquid Liner | Mascara: Tarte Amazonian Clay | Lip Liner: MAC | Lip: Tarte Tarteist Quick Dry Matte | Lip Gloss: Revlon Super Lustrous Lip Gloss | Brushes: Sigma Essential Kit
Here are some additional pics of the look. I added a maroon gel liner in my waterline and thought it might look weird, but it really makes my green eyes stand out!
I didn't include my brow routine in the video, but I do have all of my brow tips in a separate video: Makeup Basics: My Full Brow Routine
Click on any photo to view it larger.
To keep my look similar to Taylor's, I opted for a fairly neutral lip. I also outlined a little outside of my natural lip line to mimic her full, pouty lips. I kept my hair straight, too. Any type of updo would probably be too much when the eyes are already this bold!
TIP: Here's how to select the perfect straightening iron and here are my best hair straightening tips.

Taylor Hill 2017 Met Gala Makeup Tutorial: Makeup Products
Here are the exact products Taylor's makeup artist used:
 Eyes: Lancôme Color Design 5 Pan Eyeshadow Palette in Rose Tempete
 Lips: Lancôme Matte Shaker in 272 Energy Peach
 Lips: Lancôme Matte Shaker in 270 Beige Vintage
 Cheeks: Lancôme La Rôse Blush Poudrer (Limited Edition | Sold Out)
Her makeup artist is named Patrick Ta and you can follow him on Instagram here. He also does Gigi Hadid's makeup and a lot of other celebrities, so he posts lots of eye candy.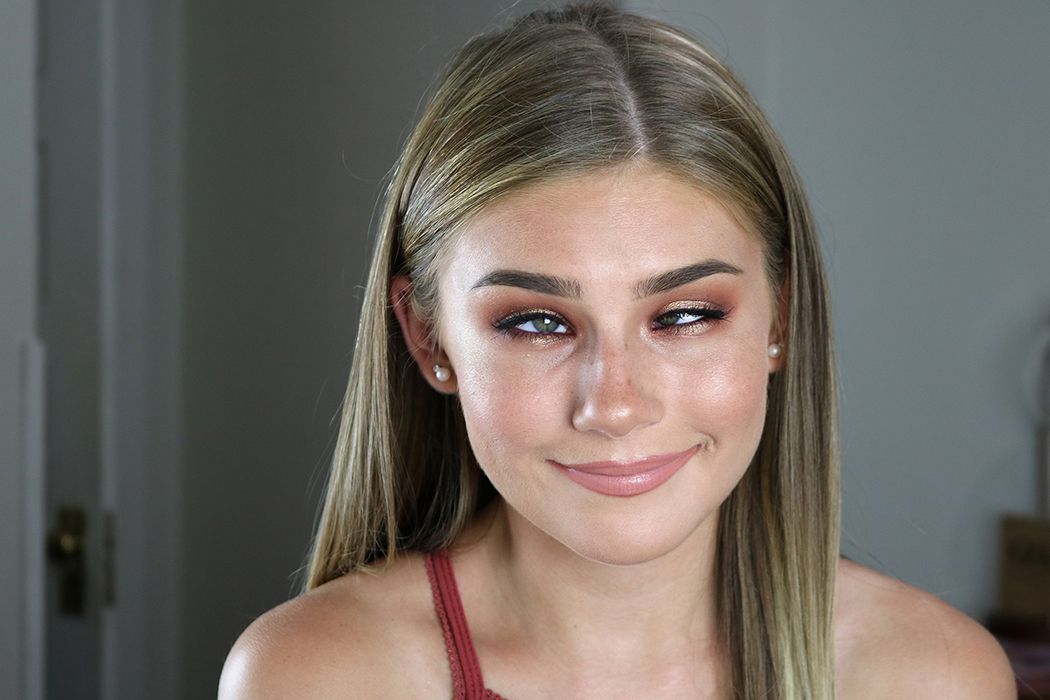 There's always that one silly photo of me at the end when I'm tired of taking pics, isn't there? 🙂
What do you think of the look? Is it something you'd try for yourself? I think it's perfect for a summer night out — dramatic, but not too over-the-top.