I love seeing celebrities with freckles — especially since I have quite a few freckles of my own! It's always nice to see them showing off their beautiful skin and not hiding behind heavy airbrushing. Here are a few beautiful freckled stars to inspire you to embrace your own sunkissed spots.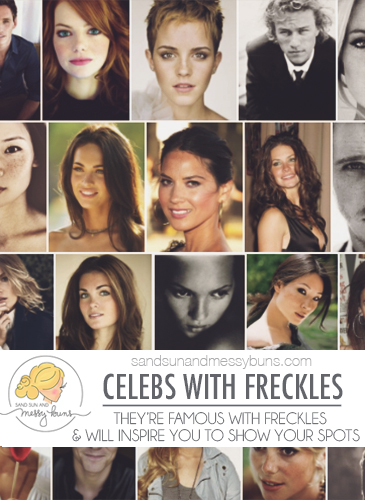 FTC Disclosure: This post contains affiliate links. That means we may receive a small referral fee from purchases at no cost to you. You can read our affiliate policy here.
A girl without freckles is like a night without stars. #freckles Click To Tweet
Celebrities with Freckles
Click on any photo to view it larger.
Photo sources: Eddie Redmayne 1 & 2 | Emma Stone | Emma Watson | Heath Ledger | Lindsay Lohan 1 & 2 | Lucy Lui 1 & 2 | Megan Fox | Olivia Munn | Evangeline Lilly | Garrett Hedlund | Gisele Bundchen | Kate French | Kate Moss | Rachel Bilson | Rashida Jones | Tom Hiddleston | Catherine Deneuve
How to Mimic the Look
If you weren't blessed with natural freckles, that's ok – you can still mimic the look!  Check out my guide, How to do Fake Freckles Makeup (Updated, w/Video!), where I teach you how to add them in minutes.
Everyone thinks my freckles are real and I get so many compliments on them!
People are clearly into the trend and it's gained a lot of traction in recent years. Topshop created a Freckle pencil to help you mimic the look, but it's consistently sold out. I used a NYX marker for years, but it was also always sold out.
GetFrecked is what I currently use to add my freckles. (FreckXL, to be exact.) Use my code: DAISY10 when placing your order to get 10% off.

Products that Allow Your Freckles to Take Center Stage
TIP: The key to showing off your freckles is to make sure your skin looks its best so you can wear as little makeup as possible. Check out my Top 10 Do's & Don'ts for Teen Skin to help develop a good skincare routine so you'll be proud to go makeup-free!
Here are a few tinted moisturizers that will allow your freckles to take the spotlight:
 Which is your favorite famous freckled face? Let me know in the comments! It's 100% Heath Ledger for me! He has the cutest smile of anyone I've ever seen. Lucy Lui is my favorite of the girls with freckles…or maybe Emma Stone. Want more freckles to admire? Joyjah is one of my favorite freckle-faced Instagram accounts to follow.