There will always be debates about how often you should wash your hair, but I prefer to wash mine every other day. However, I always want my hair to look its best on the second day, so I've come up with a method that works great for adding volume and smoothing the frizzies. Learn how to fix flat hair and take your look from flat to fabulous in just a few simple steps!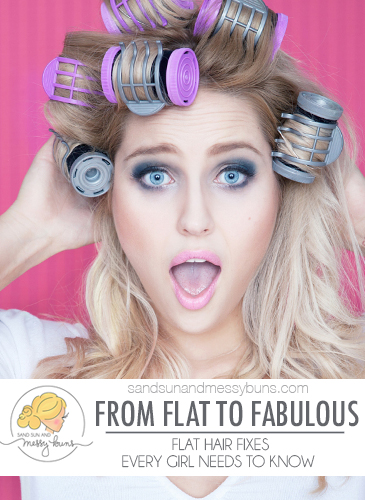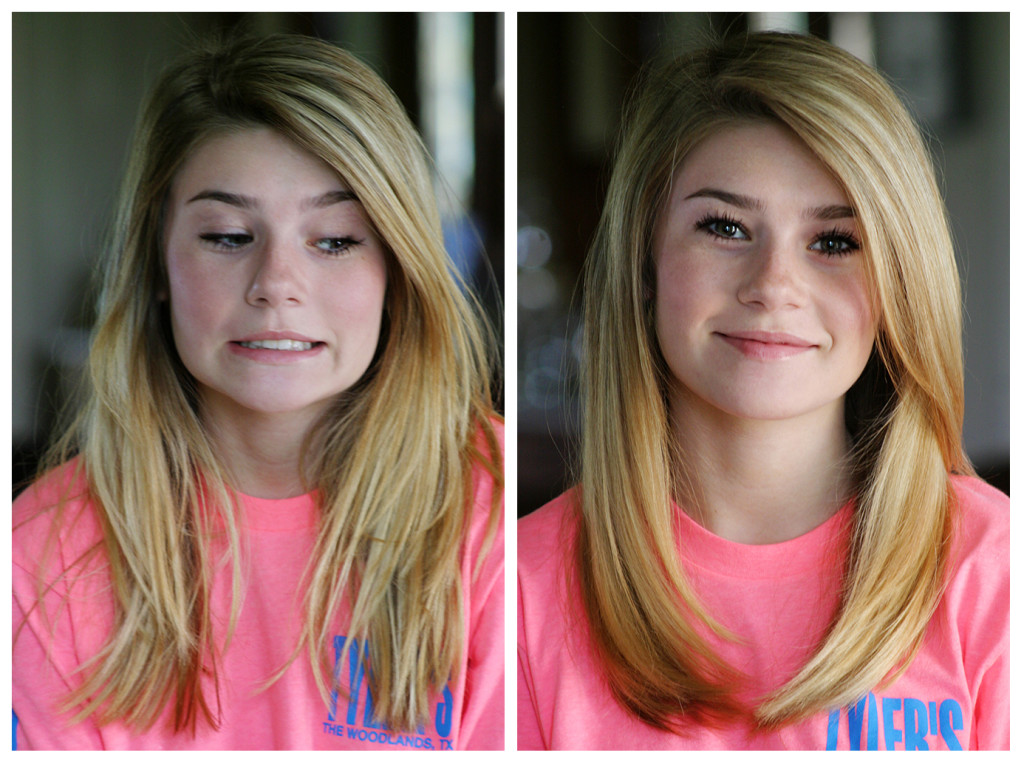 Before & After: Follow along to learn how to fix flat hair and get a smoother texture.
How to Fix Flat Hair
Sorry. I can't hear you over the volume of my hair. #hairtutorial Click To Tweet
FTC Disclosure: This post contains affiliate links, which means we'll receive a small referral fee from purchases at no cost to you. You can read our affiliate policy here.
Products to Fix Flat Hair
If you're going to follow along, these are the items you'll need: Dry shampoo, a comb, heat protectant, velcro rollers, a flat iron, and bobby pins.

Prep Scalp with Dry Shampoo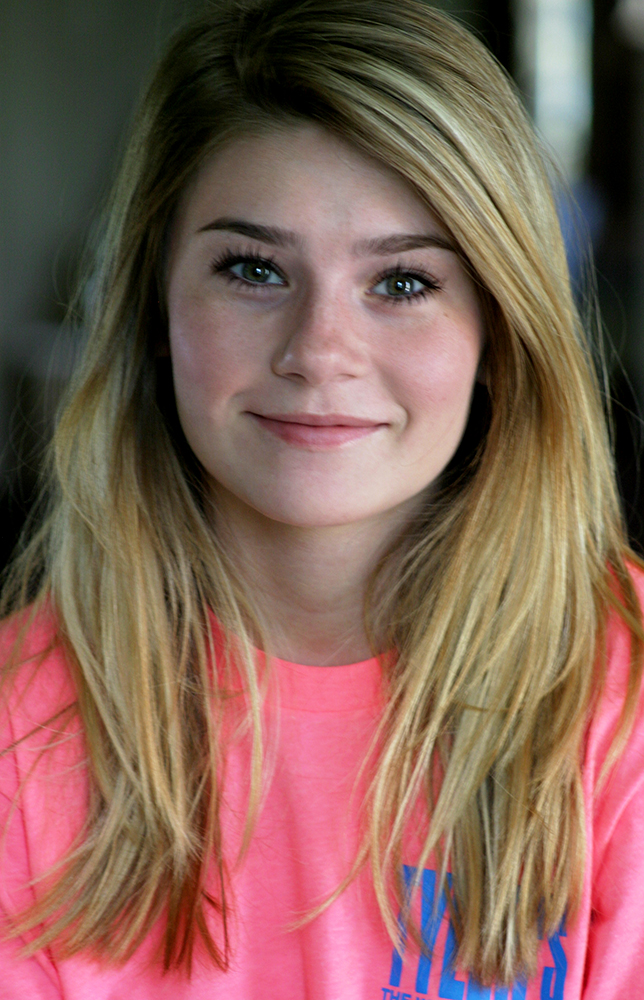 This is what I look like before I manage to track down a comb, obviously. 😉
The picture above is what I look like when I wake up with second day hair. Since my hair is somewhat thick, I still have a little volume even on the second day of no washing — but it does get slightly greasy towards the scalp. It also loses the majority of its bounce and shine, which is my least favorite thing about second day hair.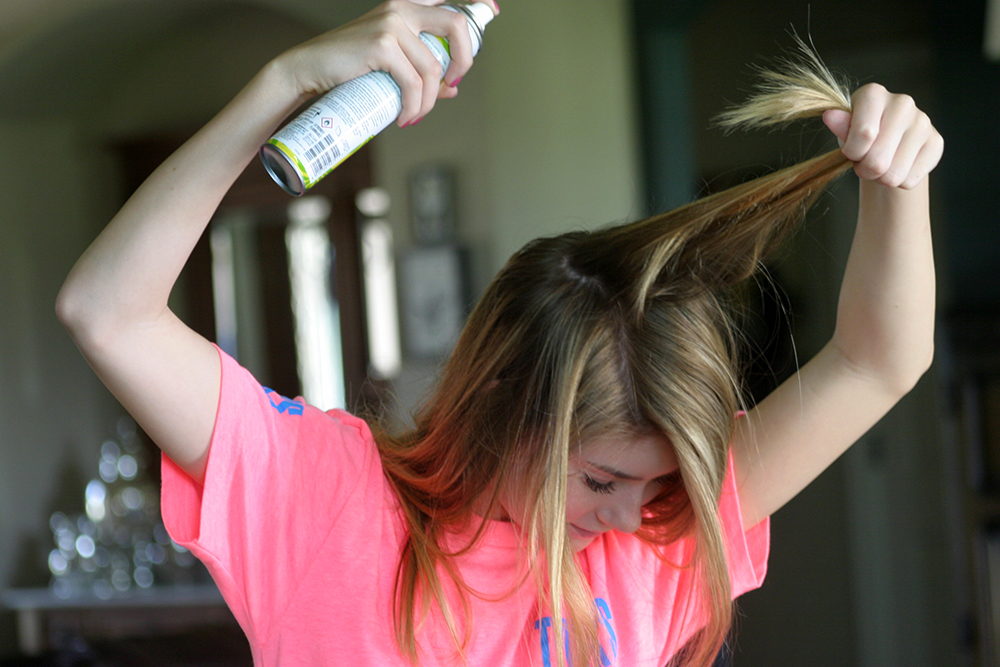 Step 1: Spray your roots with dry shampoo. Batiste in the tropical scent
 has always been one of my favorite dry shampoo products. I like using the Batiste brand because it's extremely inexpensive, which is good for my budget, but also because their products do exactly what they're supposed to do.

Dry shampoo is one of those staple hair products to keep in your bathroom cabinet or gym bag at all times, in my opinion. It helps you to look more polished, even when you're in a hurry.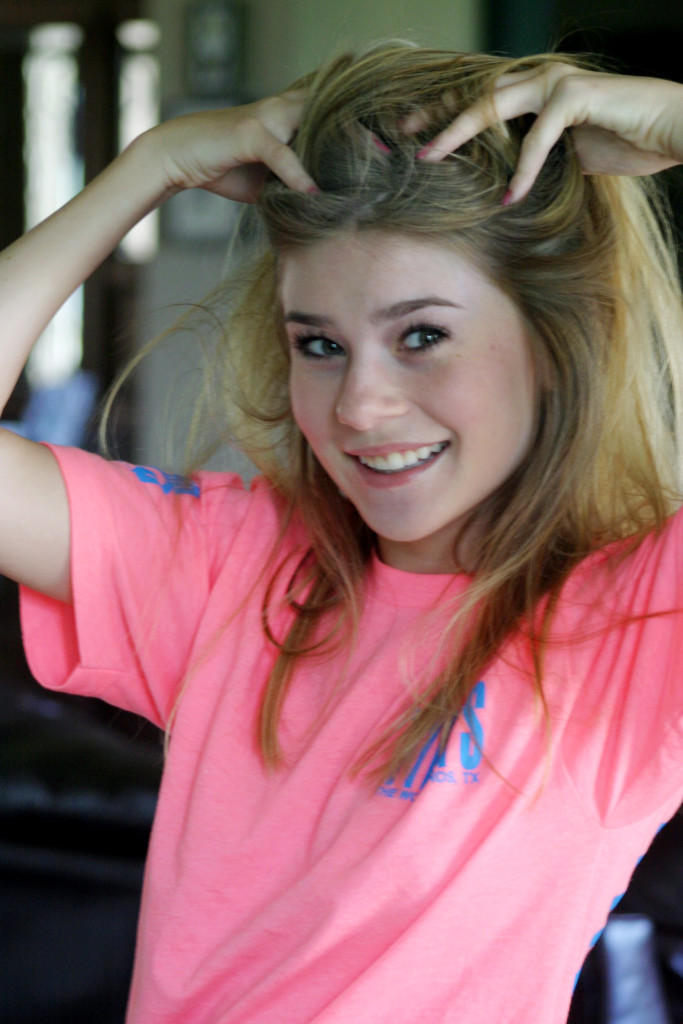 Doing my best to mimic the "happy girls in hair commercials" look. Ha! 
Step 2: Massage the dry shampoo into your roots. This step is important because it allows the shampoo to soak up all the oils commonly lurking in second-day hair.
Add Shine with a Heat Protectant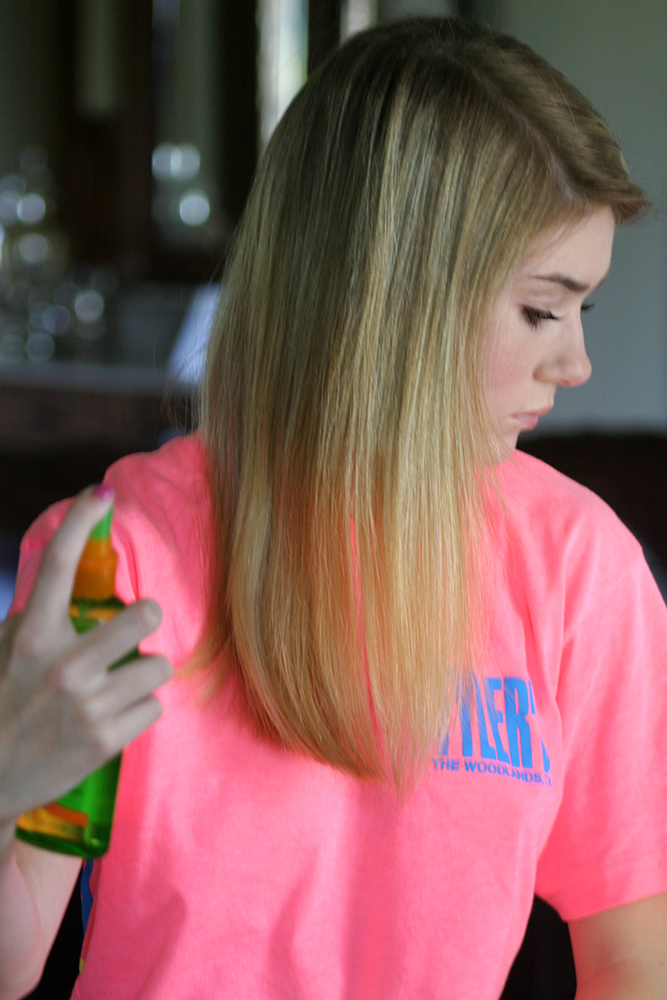 Step 3: Comb through your hair, and then spray it with something to add shine or add a heat protectant product. I'm using Garnier Fructis Sleek & Shine Spray here, but I also love TRESemme Keratin Smooth Flat Iron Smoothing Spray
. You can't go wrong with either!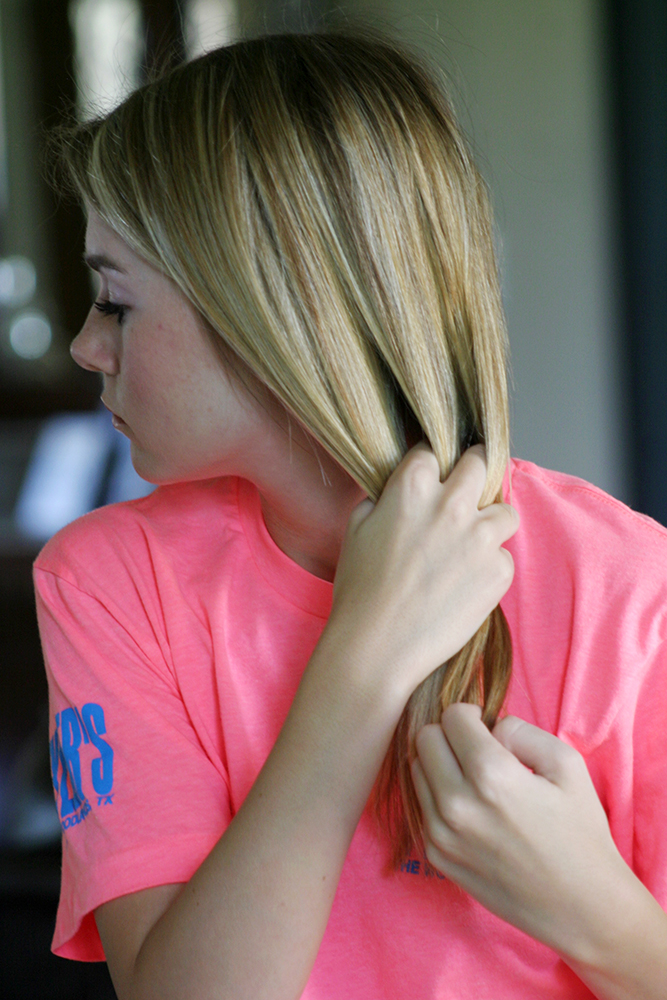 Step 4: Now run the product through the ends of your hair with your fingers to evenly disperse it. Be sure to wash your hands afterwards, because you don't want to transfer oils or silicone products to your face (they'll clog pores).
Add Heat for a Smoother Texture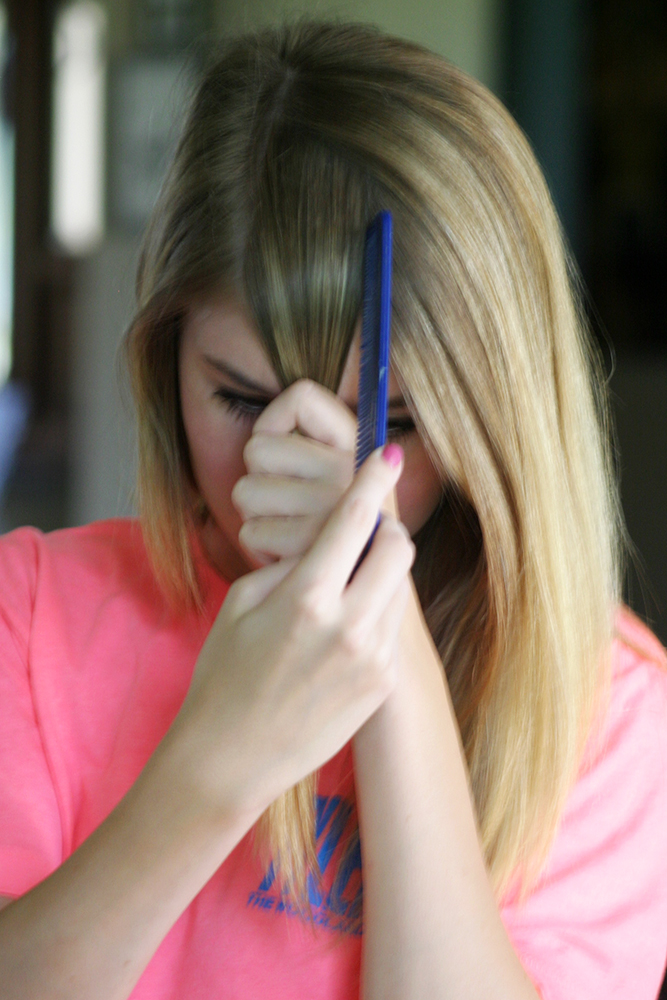 Step 5: Section off the front portion of your part by the approximate width of your velcro curlers. I'm using large velcro rollers, so I'm sectioning my hair into 2-inch sections.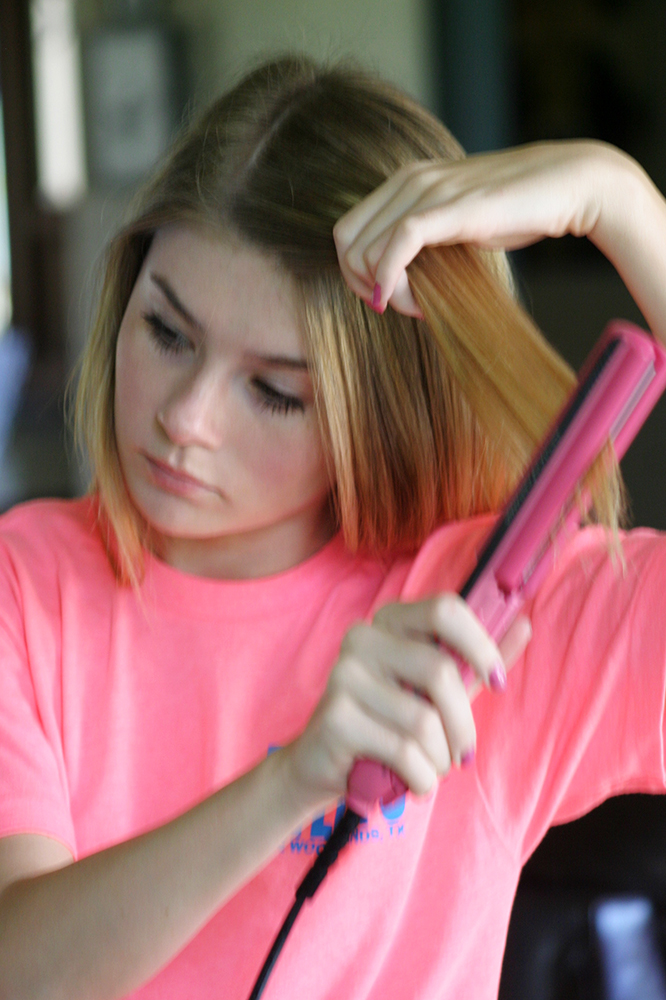 Step 6: Briefly run a flat iron over hair to warm it up. The heat helps smooth the cuticle, which is what makes hair appear sleek and shiny again.
Add Volume with Velcro Rollers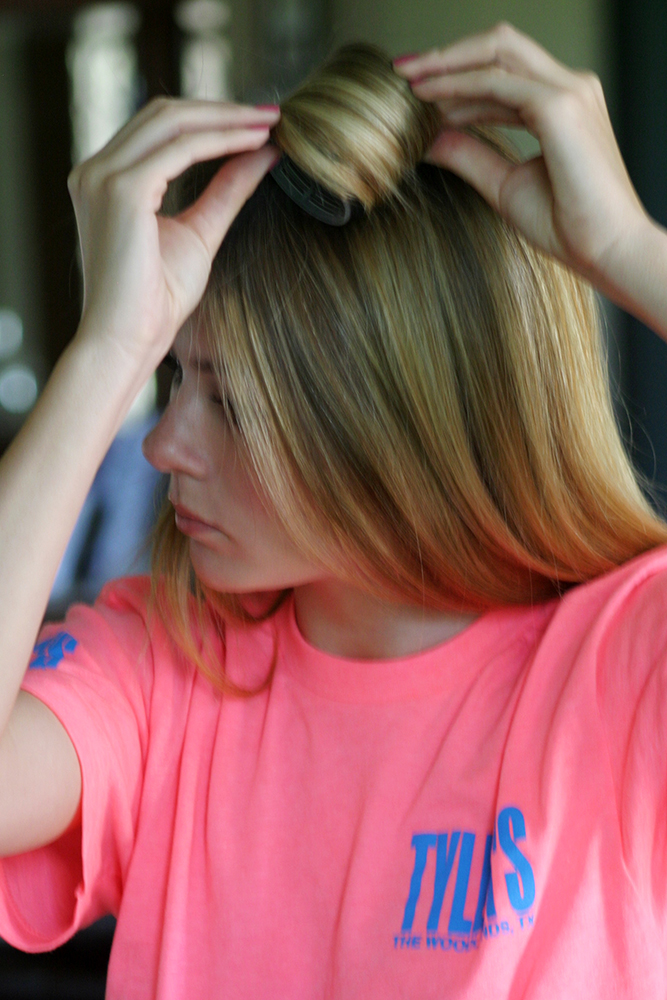 Step 7: While hair is still warm, quickly roll it into a velcro roller, and then pin sections securely with a bobby pin. The larger sized rollers will add volume but not a lot of curl. (I have lots of tutorials showing how to get curly hair if you prefer that look!)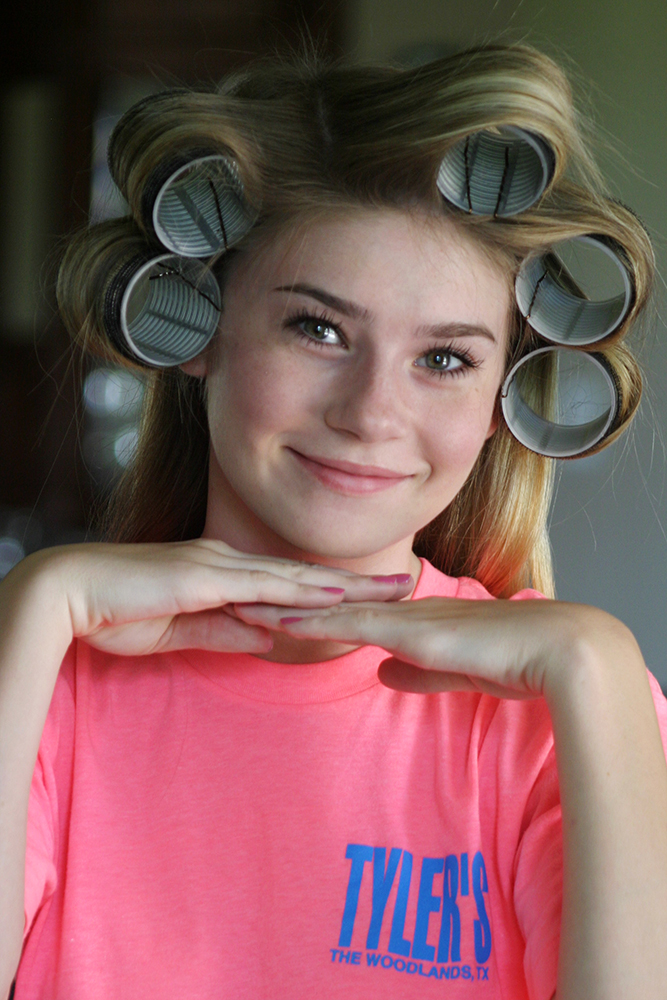 Being cheesy again, because I feel silly taking tutorial shots in curlers.
Step 8: Continue this process all the way down the face-framing sections of hair, and pay attention to the direction you're rolling. You'll want to place the roller under each section in order to lift the roots as your hair cools.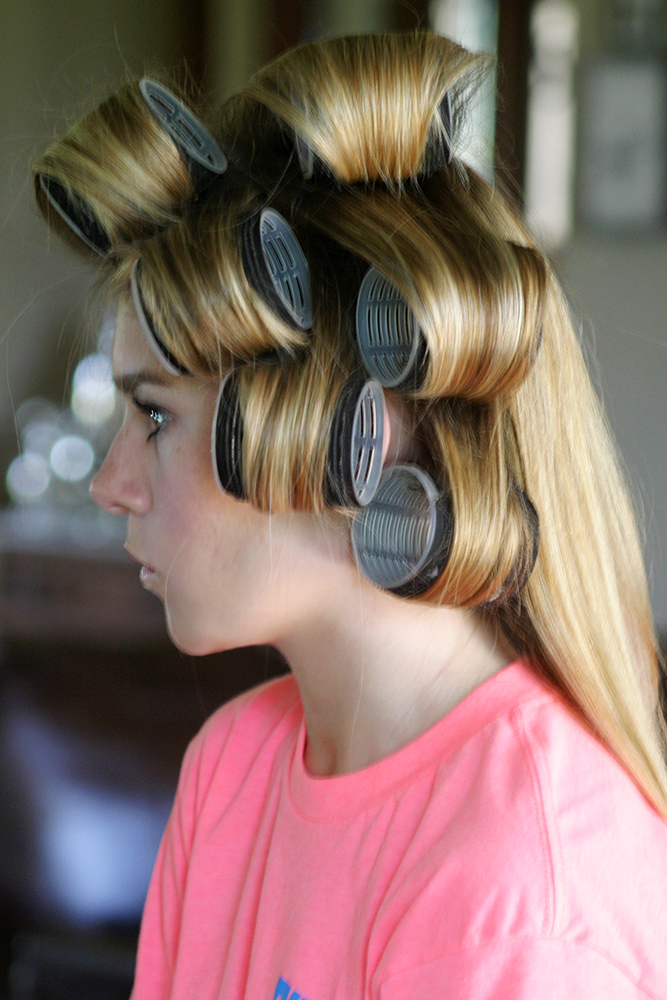 Step 9: Repeat the heating + rolling steps until you've wrapped every section of hair into a velcro roller. At this point, you may look pretty goofy. 🙂
Enjoy Fuller Volume!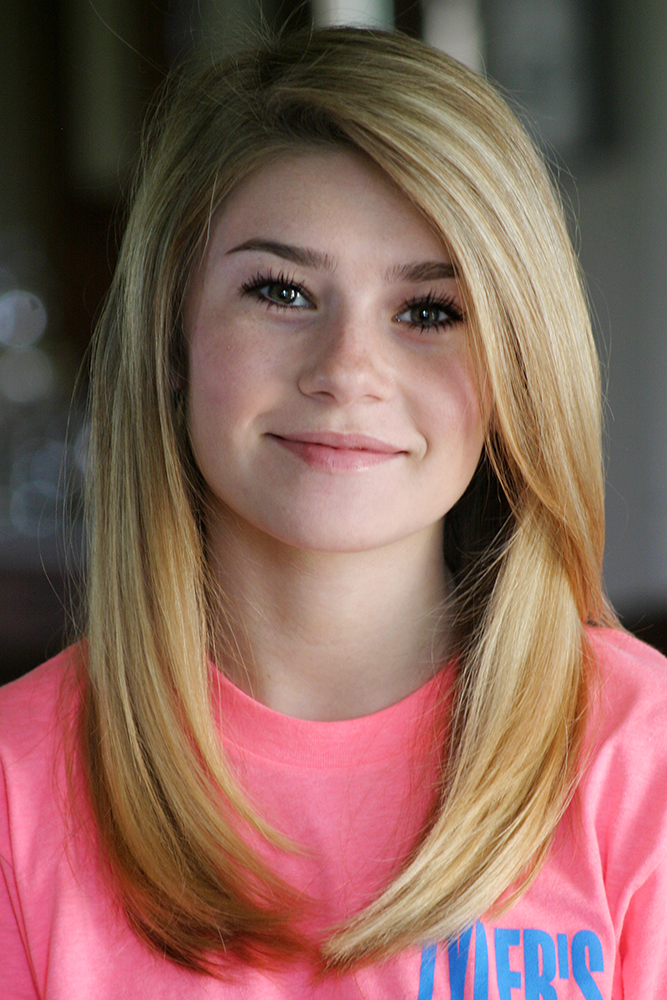 Step 10: Wait approximately 15 minutes for your hair to cool and set, and then remove the rollers. Viola!! Smooth and voluminous hair. My hair looks great all day when I style it like this!
I hope my tutorial helped you learn how to fix flat hair and get more volume. Please let me know in the comments if you have any questions. You can see all of my hair tutorials under the "beauty" tab on the main menu button.