When I predicted the popular hair trends for this year, one of my top choices was the bubble braid. I've had a few people ask me how to do it since then, so I created a quick little video tutorial. It's such a fun look and it's so easy to do. If you participate in dance competitions, this style is a great option. It's also fun anytime you just want to stand out and look different. Read on to learn how to bubble braid!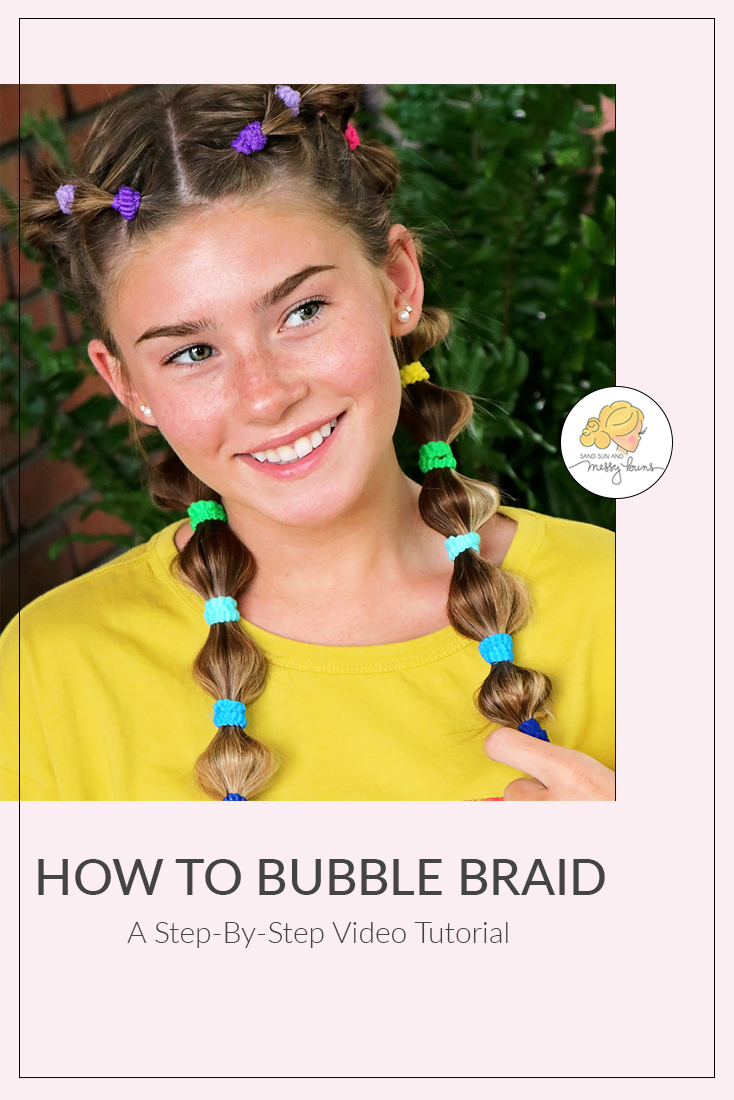 If you find my bubble braid hair tutorial helpful, please share this image on Pinterest!
Want to learn how to bubble braid? Here's a quick and easy video tutorial! #braids #bubblebraids Click To Tweet
FTC Disclosure: This post contains affiliate links, which means we'll receive a small referral fee from purchases at no cost to you. You can read our affiliate policy here.

How to Bubble Braid: A Step by Step Tutorial
I'll list the steps in detail below, but most of you will probably find it easier to follow along via video, so I created this one to help you visualize the steps.
Here's the link to watch the video directly on YouTube.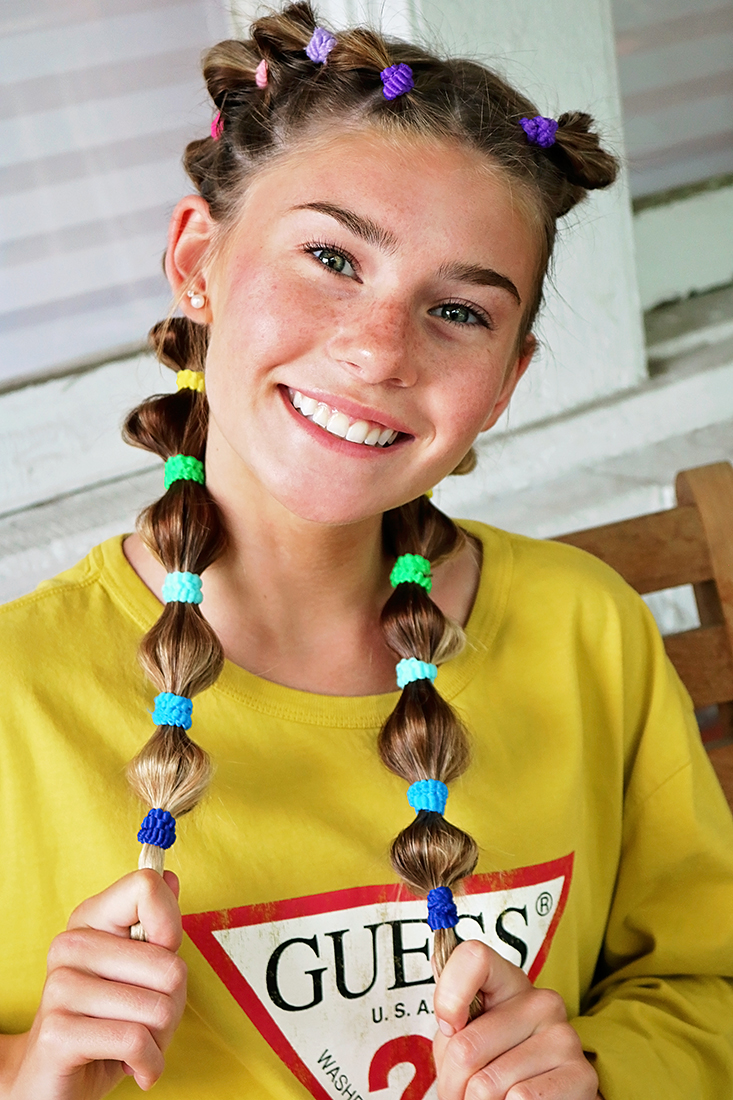 Click on any of the photos to see them larger.
Links to Purchase:
Colorful Hair Ties: Goody | Clear Hair Elastics: Goody | Sunscreen: Hawaiian Tropic | Concealer: bareMinerals | Blender: Real Techniques | Cheek Tint: Benefit | Bronzer: Benefit | Lash Primer: Benefit | Lip Balm: Rosebud Perfume Co.
To get a similar makeup look, try my "No Makeup" makeup tutorial video. In it, I skip the foundation and just spot conceal, then use tint to add color to my cheeks and lashes. It's so easy! An updated option for summertime is my sunkissed skin minimal makeup tutorial.
Steps to Create Bubble Braids
Brush hair to get out all of the tangles
Add mousse, if desired
Part hair down the middle
Beginning at the front part, section off a 1 to 1 1/2 inch triangle section and add an elastic band to it
Take another 1-inch section, include hair from the previous section, and add an elastic band to it
Move down and collect another 1-inch section, include the previous two sections, then rubber band it
Before moving any further down, slightly tug at each bubble to loosen it and form a "poufier" bubble
Continue downwards and keep adding sections then fluffing them out to create bigger bubbles
Complete the other side
I seriously love this hairstyle so much! I get so many compliments when I wear it. If you try it and post on Instagram, let me know how you like it. 🙂 (I try to answer my DMs there pretty quickly!)
Pin It for Later: How to Bubble Braid (w/Video Tutorial)

PINTEREST | INSTAGRAM | FACEBOOK | TWITTER | YOUTUBE