Let me preface this by saying these are just my personal opinions about the 2017 hair trends — nothing official here. This is just what I've seen from surfing Pinterest and Instagram! However, I do surf a LOT, so I feel pretty comfortable making predictions about what's hot and what's not. I'd love to hear your favorite predictions, too!
What's hot in hair this year? Click here to see my list of 2017 hair trends! #trending #hairtrends Click To Tweet
FTC Disclosure: This post contains affiliate links, which means we'll receive a small referral fee from purchases at no cost to you. You can read our affiliate policy here.
2017 Hair Trends
These are the hair trends I'm ready to see this year! Let me know in the comments which ones you agree with.
Extension-Free Hair
I'm determined to MAKE this a trend, if the fashion and beauty world isn't headed in that direction already. The long, ratty extensions I see all over Instagram need to go.
Fellow bloggers, if you're promoting extensions that don't blend in with your real hair, are fried on the ends, or just don't look like healthy REAL hair — please toss them now!! It doesn't matter how much you paid for them; they need to go!! Stop trying to make people think that look is OMG GOALS, because it's not.
Consider this a PSA: Hair extensions that are dry and ratty looking need to go! #trendalert Click To Tweet
I would 1000x rather see healthy shiny hair that is all natural, bouncy, and maybe a little bit shorter vs. super long extensions that are dry and lifeless. Aren't these styles much prettier to look at than long, fried, and lifeless hair?
Photo sources: 1 | 2 | 3 | 4 | 5 | 6 | 7
The best way to keep your hair healthy so it will grow long and strong is to eat properly, have hair trimmed regularly, and make sure you're deep conditioning the ends with something like Organic Coconut Oil at least once each week.
Wavy Blunt Cuts
Speaking of healthy, I'm declaring the blunt cut back! Chop those dead ends straight across at the bottom so the ends are thick and bouncy. I love the look of a blunt cut with loose, beachy waves, so that gets my vote as the big hair cut trend for this year.
Photo sources: 1 | 2 | 3 | 4 | 5 | 6 – Cristen_Smith (Account Deleted)
My next haircut will definitely be a blunt cut with Alicia Silverstone (a.k.a. Cher from Clueless) as my ultimate inspo. Btw, are you on Pinterest? Follow our hair board to see all the latest hair trends we're pinning over there.

Side Swept Retro Hair
Retro hairstyles are back in a big way! This may be my favorite trend, because I love all things vintage and retro. Here are a few pics as inspiration:
Links to Purchase:
Dress: Urban Outfitters | Hair: Macadamia Natural Oil & Garnier Fructis | Nails: Sally Hansen
[Photo sources] Click on any photo to see it larger.
Lana Del Rey has mastered the retro look, if you can't tell by all the shots I posted of her! This style works well with shoulder length or longer hair, and it helps if you have a few face framing layers at the front (think really long, grown out bangs). The main characteristics of this look are the deep side part and very smooth and glossy curls. Use a product like Macadamia Natural Oil (which smells incredible) or Kerastase to get the gloss.
For more retro inspiration, check out these posts:
 ♡ Brigitte Bardot Hair Tutorial
 ♡ Audrey Hepburn Inspired Makeup
Bubble Braids
I had to throw a fun one into the mix, and what's more fun than bubble braids? It's hard to find many inspiration pictures, because not many people have been posting this one yet. Maybe I'll start a trend?! 🙂 Let me know if you want a tutorial for this one on my YouTube channel, because I'm going to try to shoot a video this weekend if I can catch a break between studying.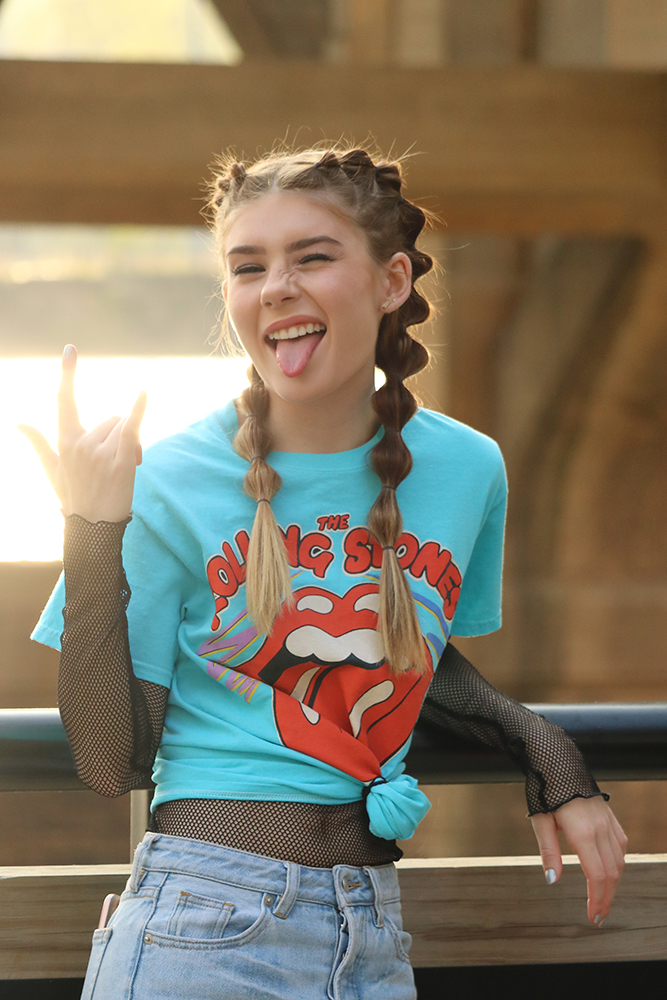 Links to Purchase:
Shirt: Urban Outfitters | Fishnet: Urban Outfitters | Nail Polish: Forever 21 [similar]
Photo sources: 1 | 2 | 3 | 4 | 5
You need to have fairly long hair if you want the bubbles to mimic braids. If you want to create a mohawk style along the top of your head, you can do that with shorter hair. Obviously this isn't something you can wear to work (unless you're in a really creative industry), but it's a fun weekend look. I got soooooo many compliments when I wore my hair this way!
***Edited to Add — I found time to shoot a video tutorial!***
Hair Scarves
Festival fans will love this option! I think scarves are a fun way to draw attention to your face — and keep cooler during the summer months. They also add some interest to an otherwise basic outfit, like when you're wearing a solid color tank or white tee.
Photo sources: 1 | 2 | 3 | 4 | 5 | 6 | 7 | 8 | 9 | 10
Free People and Shopbop are my favorite places to shop for hair scarves (also called hair wraps, head wraps, and sometimes headbands). Urban Outfitters usually has really cute options, too, now that I think about it!
Messy Buns
Messy buns will always be in style. They're the ultimate lazy day hairstyle, and it's easy to make them look as pretty or as unkempt as you like!
Of course we've got you covered with plenty of messy buns hair inspo:
 ♡ The Best Low Messy Buns on Pinterest
 ♡ Inspiration for the Perfect Messy Bun
 ♡ A New Dose of Messy Buns Hair Inspiration
 ♡ Dance Hair: Messy Bun & Braid Tutorial
 ♡ Video Tutorial: How to Create a Messy Bun
What are your picks for the hottest 2017 hair trends? Do you even like trends or do you prefer to stick with the classics? Let me know your predictions in the comments and I may add them to the post! PS: If you want to try a fun makeup trend, you might want to learn how to make fake freckles look real.
Pin It for Later: Discover What's Hot in 2017 Hair Trends