You already know how much I love classic makeup, so today I thought I'd share a look inspired by Audrey Hepburn. I'm a big fan of hers, so I felt like I was channelling her with the black cat-eye glasses, makeup with the focus on my eyes, and my solid black top. 🙂 Follow along, because my Audrey Hepburn makeup tutorial will help you get the same look in just a few key steps.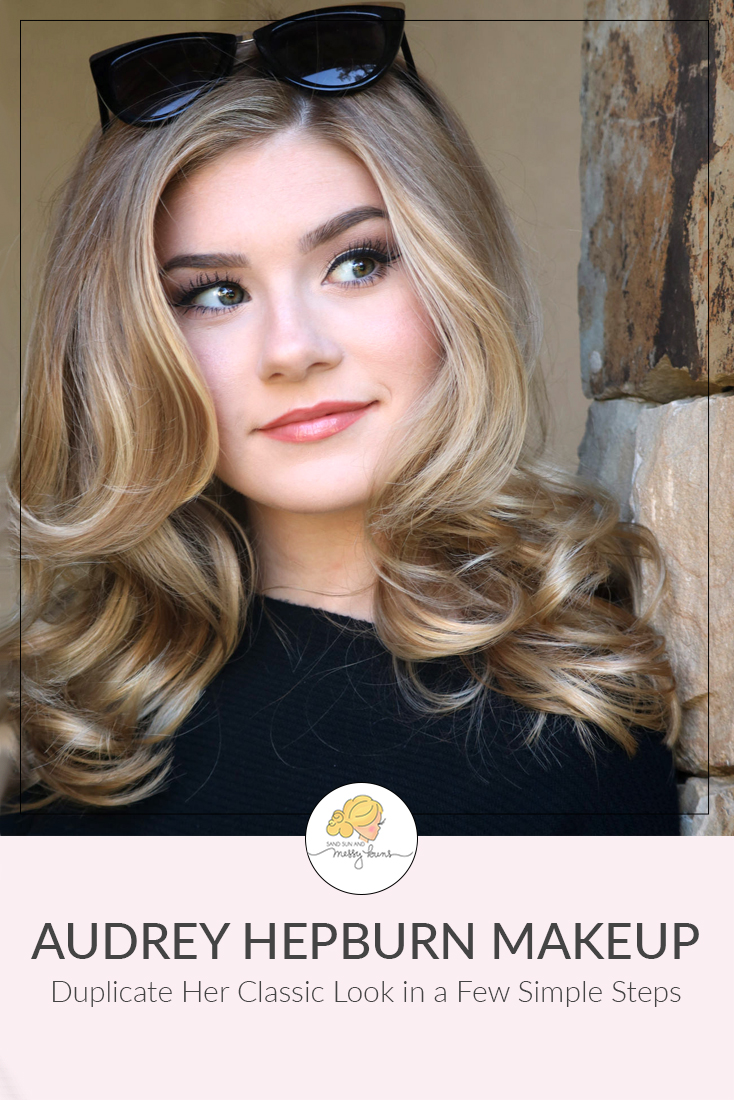 Elegance is the only beauty that never fades. | Audrey Hepburn makeup tips #ontheblog Click To Tweet
FTC Disclosure: This post contains affiliate links, which means we'll receive a small referral fee from purchases at no cost to you. You can read our affiliate policy here.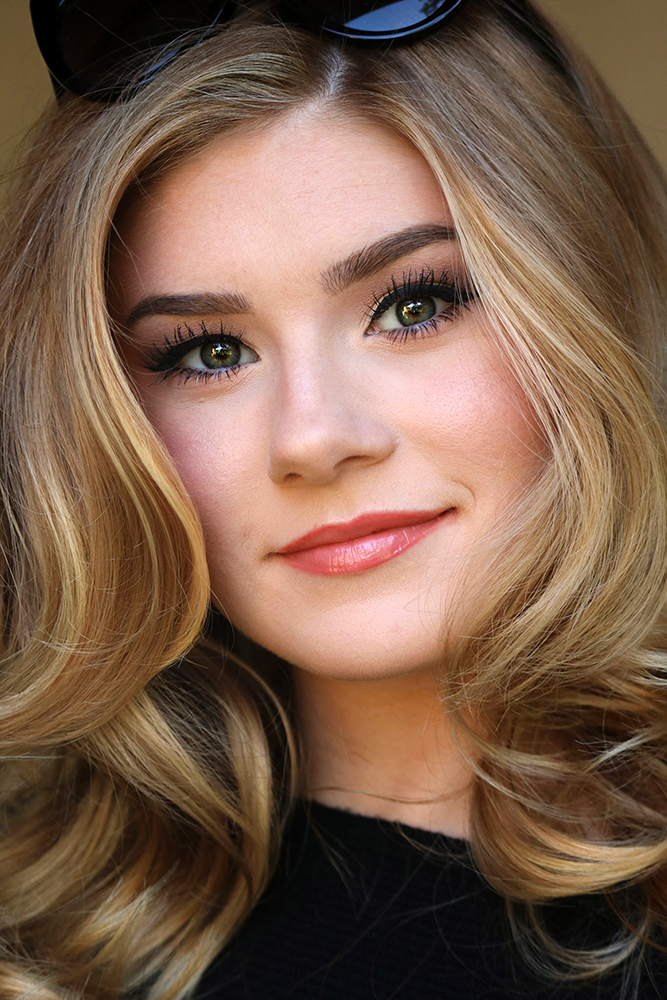 Links to Purchase:
Primer: Benefit POREfessional | Foundation: Urban Decay One and Done | Blush: Milani Luminoso | Lipstick: VS [discontinued] | Eyeshadow: Carli Bybel [discontinued] | Liner: Stila | Mascara: bareMinerals LashDomination | Brow Pencil: Anastasia Beverly Hills Brow Wiz in Taupe | Brow Gel: Anastasia Beverly Hills
Audrey Hepburn Makeup Tutorial
Step #1: Begin with Good Skin
The first key to recreating Audrey Hepburn's makeup is to start with beautiful skin. Her skin always looked fresh, dewy, and blemish-free. In case you haven't noticed by now, we always point out that good skin is the best foundation you can have for any makeup look! You need to eat healthy and nourish skin from within if you want it to look its best.
Related: 10 of the Best Foods for Healthy & Beautiful Skin.
Step #2: Apply Sunscreen & Light Foundation
Audrey's skin tone was usually pale and she didn't load her face down with heavy makeup.  Try a tinted sunscreen or a sheer coverage foundation. BB creams and tinted moisturizers are also great options for light coverage.
Related: For detailed instructions on how to get a fresh face using minimal makeup, check out my post How to Master the No Makeup Look.
Step #3: Pay Special Attention to Brows
Brows are a key point in any Audrey Hepburn makeup look! Audrey was lucky to have brows that were naturally full and dark, but she kept them groomed and shaped them to accentuate her eyes.
I have a brow routine that I love, so I'll link to the video below. To keep my brows in tip top condition, I begin by shaping and plucking them. Next, I'll fill blank spots by drawing in any missing hairs with an Anastasia Brow Definer pencil or their Brow Wiz pencil (in the video below I tried out Benefit's Precisely My Brow and was really happy with it). Finally, I set everything in place using Anastasia Clear Brow Gel.
You can't go wrong with Anastasia or Benefit. They're my two favorite brow brands currently on the market. I love that the taupe shades don't have any ruddy tones (an issue I've discovered with many other brands).
Here's a video I shot of my typical brow routine:
Links to Purchase:
Trimmer: Conair Brow Trimmer | Pencil: Benefit | Tweezers: Tweezerman Mini Slant Duo | Scissors + Spoolie Combo: Revlon | Concealer: bareMinerals bareSkin | Liner: Clinique Liquid Liner in Black 01
Step #4: Eyes Should Stand Out
Audrey Hepburn's "doe eyes" were probably her greatest feature, and she knew exactly how to play them up with makeup. To get a similar look, focus on making eyes appear larger by using the trick where you lightly line the lower waterline using a flesh-toned or white pencil. (See my diagram of eye terms if you aren't sure where to find the waterline.) Be sure to use mascara so lashes will really pop.
My mascara is an old standby from Bare Minerals that I always keep in rotation, and I used my Carli Bybel eyeshadow palette.
Step #5: Add a Light Touch of Color
As the final step, add a light touch of color via blush and lipstick. Since Audrey's skin always looked dewy, a creme blush or cheek tint can help achieve that look. You could also opt for a blush with a light shimmer to it, like my all-time favorite blush "Luminoso".
Audrey didn't wear extremely bold lipsticks, so stick to a color close to the natural shade of your lips. I've discovered Revlon's Ultra Matte Lip in Seduction is very similar to my natural lip color, so it's often my go-to. I add Smith's Lip Balm for a touch of extra gloss at the end.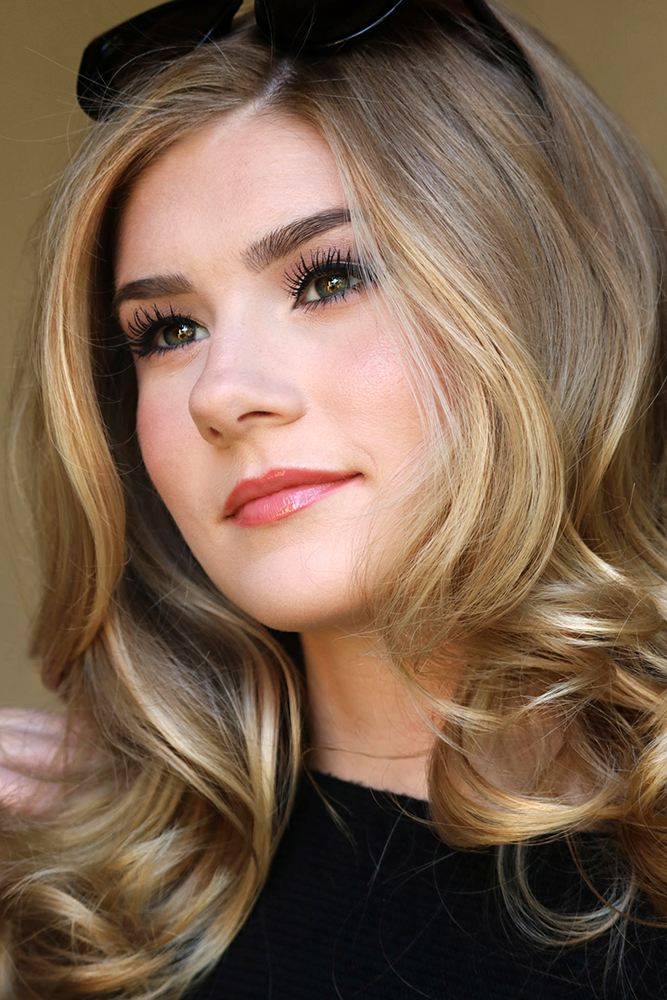 The blush I use has a bit of a sheen/highlight to it that I like.
Happy girls are the prettiest. | Audrey Hepburn makeup tips #ontheblog Click To Tweet
Hair Tips for a Classic Look
My hair is currently long and blonde, and looks nothing like Audrey Hepburn's, so I opted for a classic look in her honor. I've already written a detailed post about how I get my long, loose curls. I used hot rollers for this look and brushed through them with my fingers once I took the rollers out.
I recently had my hair colored and requested highlights similar to Nina Agdal's current color. They turned out great! The stylist did a really good job of highlighting the strands near my face. I had it trimmed, too, so the ends would be nice and bouncy.
I try to always take good care of my hair since I use so many heat products on it. I'm still using the Shea Moisture with Manuka Honey from Target to condition it. I love the way it smells and that it keeps my hair nice and healthy. Plus, it's inexpensive! I also use Coconut Oil as a deep conditioning treatment once weekly.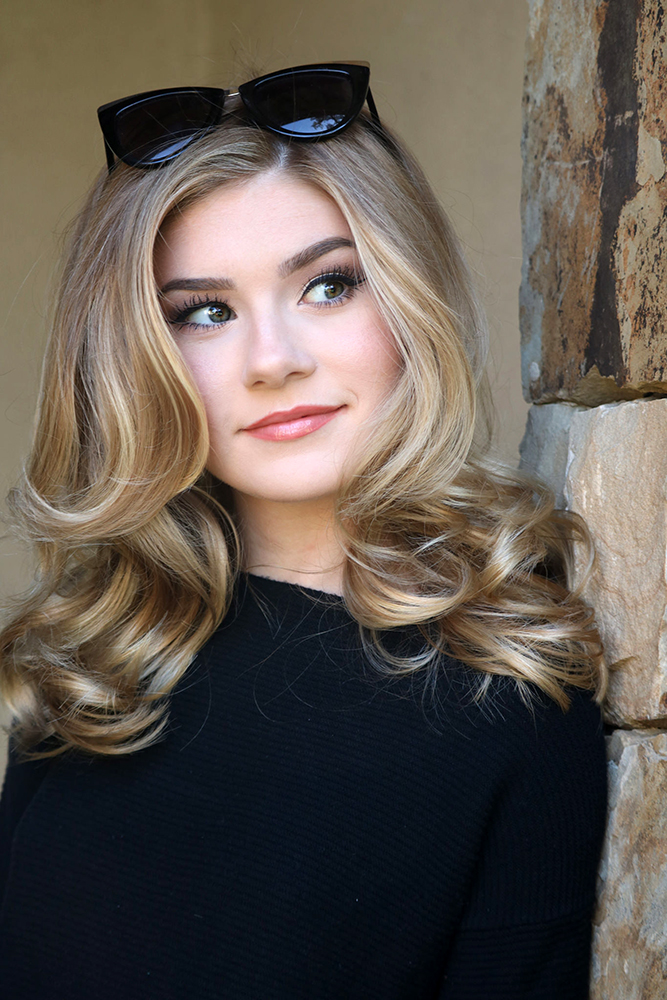 I've shared all of my healthy hair tips throughout the hair section here on the blog, and you can also head to more.com to read in-depth about my top 10 tips to avoid split ends. If you're working with second-day hair, this post has tips about achieving more volume.
If you think this post is helpful and would like to see more, please be sure to check out my YouTube channel. I hope you liked my Audrey Hepburn makeup tutorial! Have a great week!