With all the makeup tutorials on the internet, sometimes learning how to apply makeup can seem overwhelming! Highlighting, contouring, strobing…it's enough to make a girl want to go back to basics. I usually prefer a more natural makeup look anyway, so today I'm sharing my best tips to help you master that look with the right kind of makeup.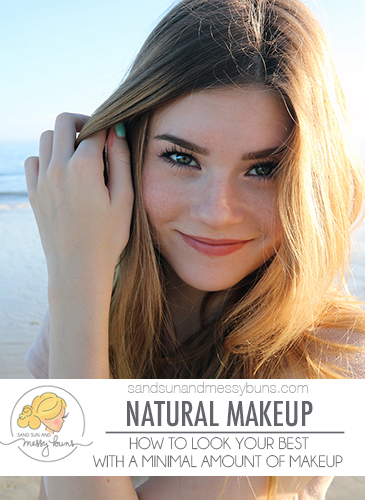 FTC Disclosure: This post contains affiliate links, which means we'll receive a small referral fee from purchases at no cost to you. You can read our affiliate policy here.
1. Care for your skin
If you plan to wear a minimal amount of makeup, the most important step is to begin with clean, glowing skin…and that means you need to have a good skincare routine in place. Read my Top 10 Skincare "Do's & Don'ts" where I list my very best tips to help you maintain healthy skin at all times.
TIP: A good skincare routine is probably the single most important step in the minimal makeup look, because if you start off with naturally beautiful skin you won't feel the need to hide it under tons of makeup.
2. (Optional) Apply tinted moisturizer or foundation
If you don't have naturally perfect skin, that's OK…that's what this post is all about! I'm going to show you the best hacks so you can fake that "I woke up like this" glow. 🙂
Since I take care of my skin I don't have too many breakouts, but my skin naturally has some blotchiness that I prefer to cover. When I'm going for a natural look, I use tinted moisturizer as my foundation. The Too Faced Tinted Beauty Balm
 is one I use and really like, because they have a shade that isn't too dark for my pale winter skin. (Most inexpensive tinted moisturizers only come in light, medium, and dark tones, and even the light one is usually too dark for me. I'm so pale that the only color that works for me is "Snow Glow"
.)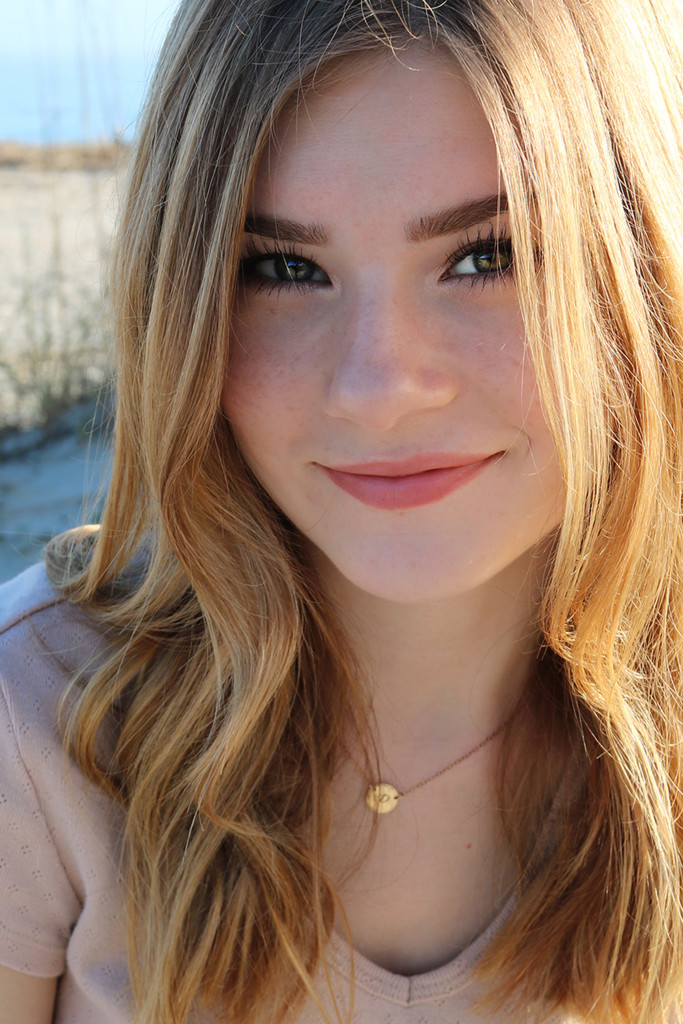 3. Cover imperfections
Squeeze a bit of concealer onto your fingertip, then lightly dot it onto red areas or imperfections to conceal them. I apply it with my fingertip because that slightly warms the product, which allows it to blend into skin better than if I used a brush applicator. I use The Retoucher by Charlotte Tilbury.

TIP: Always apply a light dusting of translucent powder over concealer to set it. Otherwise, if you apply blush or bronzer on top it will "stick" to the concealer, and you'll end up with a concentrated amount in that area which will only draw attention back to your blemishes.
4. Add color 
Part of the natural look is to have a healthy glow about your face–like your cheeks are slightly flushed from an afternoon in the sun or from a good workout. To mimic that glow, use a large brush (Sigma makes a good one) to add powder blush or use your fingertips to apply cream blush to the apples of your cheeks only.
TIP: Lightly "flick" the end of your blush brush with your finger to tap off excess pigment before adding it to your face. This will help prevent "clown cheeks" and keep the look natural.
5. Concentrate on your eyes
I typically choose one feature to focus on, and when I'm creating a natural makeup look I prefer to draw attention to my eyes. Good brows are always important! Fill any empty areas and set them with a brow gel so they'll stay tidy. My favorite brow gel is by Anastasia Beverly Hills.
Add a slight dusting of sparkly eyeshadow to the inner corners of the eyes for a dewy appearance. Fringe by ColourPop is an amazing one that only costs $5. If you feel the need to add shadow, only use a small amount to lightly line near the lash area so it'll look like your lashes are casting a shadow.
My favorite mascara to use when I'm applying minimal makeup is Benefit Cosmetics They're Real, because the wand does a great job of separating the lashes so you get that clean, minimalistic look.
6. Keep your lips soft and natural
For the final touch, you want your lips to appear naturally rosy. The best way to do that is to pick a tinted lip balm close to your natural color. Any lip gloss that goes on with just a hint of tint should work. Another option is to lightly color your lips with liner and then add clear lip gloss.
TIP: For a dewy effect, try spritzing your face with a setting spray that has some sparkle to it. I really like using Pixi Glow Mist. It's perfect if you've accidentally applied too much powder and your face looks too matte.
Hehe. Makes me laugh every single time. 🙂
Please let me know in the comments if you have any questions and I'll do my best to answer! If you like this natural makeup tutorial, you may also want to check out my flat hair fix tips or read my mom's skincare advice: 10 Skincare Tips to Add to Your Beauty Routine ASAP.