I love experimenting with eyeshadow! I plan to do lots of eye makeup tutorials on this blog, so I wanted to create a diagram to show the proper placement areas and terms. I'll link to this whenever I post a tutorial, and hopefully that will make it easier to follow along. Here's a diagram to help you out next time you're applying eyeshadow: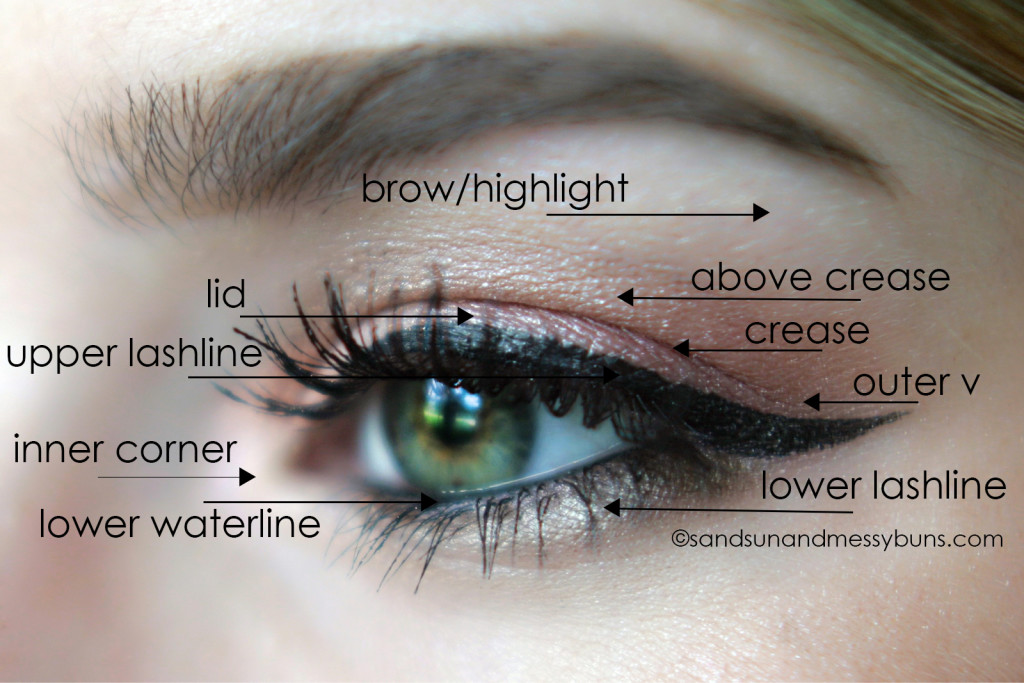 Eyeshadow Basics & Definitions:
Inner Corner: I typically add highlights in this area. It brightens and refreshes the eyes, or makes them "pop".
Lower Waterline: This is the inside flat part of your lower eye–between your actual eyeball and the base of where your lower lashes grow out. In the photo above, I lined the waterline with a dark color, but I'll often line it with white to make my eyes look wider.
Upper Waterline (not pictured here): The same area as the lower waterline, but on the upper lid.
Lower Lashline: Area just below where the lower lashes grow out. This is a fun place to add a bit of color.
Outer V: This is the outer corner of the eye. Add darker colors here to get more of a cat eye or almond shaped look to the eye.
Crease: This is where the eyelid naturally folds when the eye is open. Whatever color of shadow I have on my upper lid I'll usually add here, too, but in a bit darker tone to add definition.
Above Crease: The area slightly above the crease is where I blend the crease color into the highlight. Blending is always key when applying eyeshadow!
Brow Bone/Highlight: Add lighter colors here to highlight the brow structure.
Lid: The lid is for the main color you're trying to show off. You can get kind of funky with colors here! 🙂
Upper Lashline: This is where eyeliner goes.
I hope that helps out the next time you're applying eyeshadow! If you have any questions, just let me know in the comments! If you're a beginner to the world of makeup, I suggest starting here to read my suggestions on the best (inexpensive!) eyeshadow palettes to purchase. You can see more of my makeup tutorials and looks here. Don't forget to subscribe on Bloglovin' so you'll automatically be notified of any new posts (or subscribe to our newsletter if you prefer a weekly summary).

BLOGLOVIN' || PINTEREST || INSTAGRAM || FACEBOOK || TWITTER || GOOGLE+
(**this post may contain affiliate links)