I've been watching lots of Korean-style makeup tutorials on YouTube recently, and I'm beyond inspired! Their skincare is fascinating to me because Koreans in general have absolutely beautiful skin. As far as makeup applications go, their techniques are some of the best in the world. Can you tell I'm a huge fan?
The K-Pop style is a unique subculture of its own, so I thought it would be fun to venture into the world of Korean-style makeup by shooting my own K-Pop tutorial.
K-Pop Korean-Style Makeup Tutorial
Here's a really fun K-Pop makeup tutorial if you're in the mood to try something new! Click To Tweet
FTC Disclosure: This post contains affiliate links, which means we'll receive a small referral fee from purchases at no cost to you. You can read our affiliate policy here. We donate 25% of our "click money" proceeds to these charitable organizations.
Press the arrow to play or click here to watch on my YouTube channel. 
Links to Purchase
Concealer: Benefit & Tarte | Eyeshadow: Tarte [similar] | Eyeshadow: Urban Decay | Liner: Clinique | Brows: Benefit | Primer: e.l.f. | Foundation: Too Faced | Blender: Real Techniques | Creme Blush: L'Oreal | Powder Blush: Benefit | Lip Stain: Chateau Labiotte | Lip Cream: NYX | Leave-In Conditioner: Redken | Oil Treatment: Macadamia

Korean-Style Makeup Tips
There are a few points to remember when trying to recreate a K-Pop look. Here are the key elements:
Skin: Korean women are religious about their skincare routines! The results are evident in their dewy, blemish-free skin that provides the perfect base for their flawless makeup application. Here's my top skincare post detailing how I've developed a routine to clear my skin from acne.
Eyes: To make eyes appear wider, add a sparkly highlight to the crescent moon shaped sliver just below the lashes. Include a bit of shading just beneath it to accent the roundness even more. Only use liner on the top of the eyelid (no liner on the lower lid) and angle the outer edge at a slight downturn.
Brows: Skip the heavy arch and instead opt for a straighter brow with a very clean appearance.
Lips: Add foundation or concealer to the lips as a base and to minimize the outer edge. Try a berry tint on the inside and blend slightly outwards. The effect will look somewhat like you've just eaten a berry flavored popsicle!
Cheeks: Use pinkish or rose blush tones and add the color above the apples of your cheeks instead of centering them on the apples. Carry blush up and over the bridge of the nose.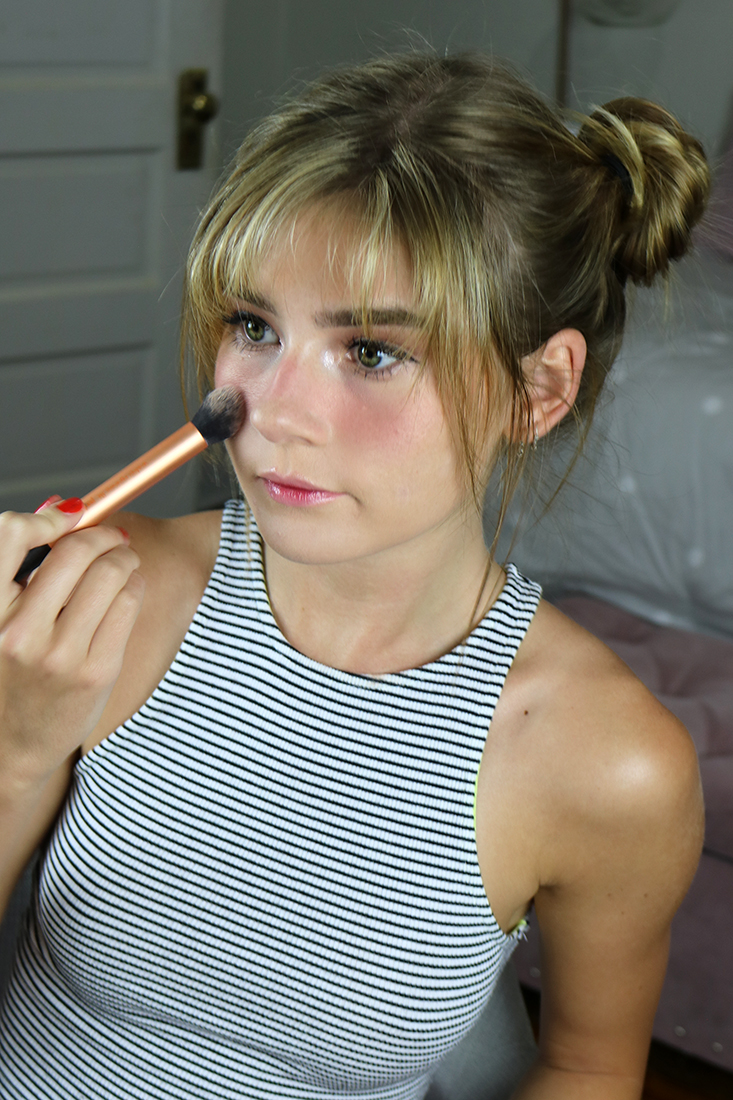 Add blush high on the cheekbones and carry it over the bridge of the nose.
K-Pop Hair
If you're going to wear your hair in space buns, make sure to use some type of protectant to prevent breakage. Macadamia Healing Oil Treatment is my favorite! It keeps my hair really shiny and healthy. You can find it and all of my other ride-or-die products here: Daisy's Beauty Essentials.
Any Tutorial Requests?
 I hope my video was helpful! If you have any questions, let me know in the comments below or on YouTube. What type of tutorial would you guys like to see next?

BLOGLOVIN' | PINTEREST | INSTAGRAM | FACEBOOK | TWITTER | YOUTUBE