Today I'm sharing my list of all the best gifts for teen girls (2017 edition). It includes 50+ perfect gift ideas for both college and teenage girls. I'm 19 and in college, so this list includes all of my favorites, plus ones that my friends love. I tried to keep most of the items under $25, too!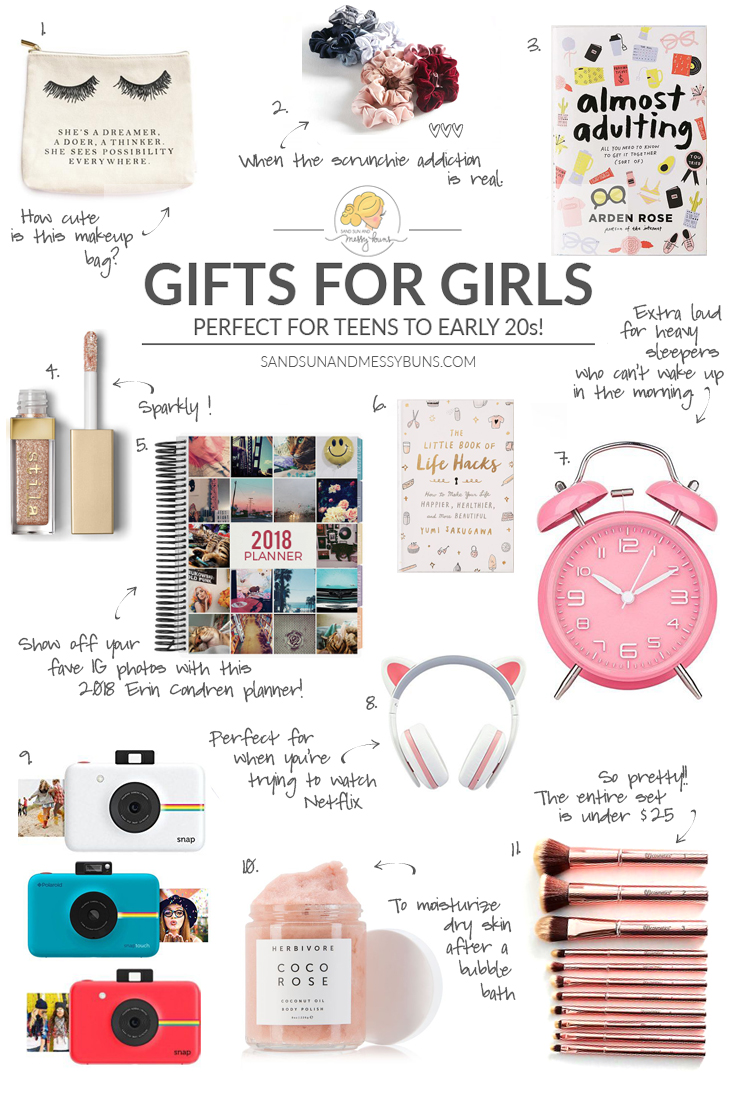 Need gifts for the teenagers or college girls in your life? Here's what I recommend! #giftsforher #giftguide Click To Tweet
FTC Disclosure: This post contains affiliate links, which means we'll receive a small referral fee from purchases at no cost to you. You can read our affiliate policy here. We donate 25% of our "click money" proceeds to these charitable organizations.
The Best Gifts for Teen Girls 2017
Eyelash Dreamer Makeup Bag: I'm always traveling, so I'm constantly in need of a good makeup bag. This one is cute as can be, it's roomy, and the quote is perfect! (Here's a pretty gold trimmed option, too.) | Under $25! Buy it here.
Perfect 10 Scrunchie Set: The 80s are back and in a big way! Make sure you always have the perfect scrunchie with this set of 10. They come in satin, velvet, and metallic, and are offered in a variety of colors. | Under $25! Buy it here.
Almost Adulting: This book is a necessity for anyone in their late teens to early 20s, plus it's hilarious! I just got it for my birthday and it's full of helpful tips I would've never thought of on my own. It's the #1 best seller on Amazon right now for teen books! | Under $25! Buy it here.
Stila Shimmer & Glow Liquid Eyeshadow: The shine is real on this one! It's the perfect look for holiday parties and NYE. | Under $25! Buy it here.
Erin Condren "Life In Little Squares" 2018 Planner: This is the perfect place to show off your favorite Instagram pics, with the added bonus of keeping your life (and homework) in order. | Buy it here.
The Little Book of Life Hacks: Soooo many helpful tips! The illustrations are super cute and the tips are really helpful. It includes everything from healthy living tips to makeup hacks to "life in general" tips. | Under $25! Buy it here.
Retro Twin Bell Alarm Clock: This one has an extra loud ring to wake up heavy sleepers (like me). The retro vibe is so cute! | Under $25! Buy it here.
Cat Ear Noise Cancelling Headphones: Sometimes you just need to drown out your annoying little brother (or roommates), right? These cat ear headphones are perfect for watching Stranger Things and getting really spooked! | Buy it here.
Polaroid Snap Instant Digital Camera: I totally put this on my wish list this year, but I can't decide what color I want most! (I'm leaning towards blue.) It uses the cool ZINK Zero Ink Printing Technology, so you don't need ink cartridges. | Buy it here.
Herbivore Coco Rose: I've been a fan of Herbivore Botanicals products for a long time. (They're vegan!) The coconut oil in this makes skin feel so soft. | Buy it here.
BH Cosmetics Brush Set: This pretty rose gold brush kit has everything a makeup addict needs and all for under $25! It even comes with a carrying case! | Under $25! Buy it here.

I hope that helps! If you're in need of more ideas, here are a few more fun options…
Bath:
Da Bomb Fortune Teller Bath Bomb: What's better than a regular bath bomb? How about one that tells your fortune?! Each Da Bomb bath bomb has a fun surprise inside. Oh, and two teenage sisters run the company! (Their Earth Bomb supports ocean cleanup efforts.) | Under $25! Buy it here.
Diptyque Baies Rose Scented Candle: If you're going to relax in the bath, you need a good candle. It's practically a necessity. This is one of the best! | Buy it here.
Turbie Twist Microfiber Hair Towel: It's perfect for keeping your hair out of the water when you're soaking in a nice bubble bath. It also does double-duty by quickly drying hair and preventing water droplets on the floor after you've showered. | Under 25! Buy it here.
Eyeshadow Palettes:
Carli Bybel Palette: If you're a regular here, you know this is one of my all-time favorite palettes. I talk about it all the time and even made a few videos using it. It's so versatile and I like that the colors are very neutral so they work well for beginners. | Under 25! Buy it here.
Urban Decay Naked Palettes: | These 3 palettes always make the "best seller" lists during the holidays and it's because they're universally flattering and the colors are very versatile. You can't go wrong with any (or all) of the 3 options. |  Buy the Naked palette here. Buy Naked2 here. Buy Naked3 here.
ColourPop Golden State of Mind: This is the one I put on MY Christmas list. (I already own all of the ones listed above.) I can't wait to try it out! The colors are beautiful and shimmery. | Buy it here.
Nails:
Tweexy Wearable Nail Polish Holder: This is such a genius idea! Slip this comfy ring holder on your finger and it'll hold your nail polish in place while you paint your nails. | Under $25! Buy it here.
Gel Nail Manicure Kit: Tired of paying expensive salon fees? This is the kit I use to give myself gel manicures at home and my manicures last a couple weeks! Totally worth it! | Buy it here.
Sally Hansen DIY Chrome Nail Kit: I've tried chrome nails about 10 different ways and this kit is THE ONE. (Sally Hansen is always reliable.) I like Gunmetal, but it also comes in Peacock and Mermaid. | Under $25! Buy it here.
Skincare:
Mario Badescu Drying Lotion: It's impossible for me to make a skincare list and not include this. It gets rid of pimples like magic. MAGIC, I tell you!! It's the perfect stocking stuffer for teens bc teens have pimples, teens hate pimples, and therefore teens NEED drying lotion. | Under $25! Buy it here.
Let's Get Sheet Faced: Face masks are the ultimate stocking stuffer. They're inexpensive, colorful, and fun! I like the cute sayings on this kit. (I so need to write a post about face masks!! TonyMoly ones are great, too!) | Buy it here.
Clarisonic Mia: Another tried and true favorite and an essential for teen girls. Read about my love for it and the drying lotion in my post The Top 10 Do's & Don'ts for Teen Skin. | Buy it here.
Clothes:
The "IT" Hat: Newsboy (or "Baker Boy") caps, fisherman hats, berets…they're all hot right now. My current fave is the Brixton from UO, but any hat in a similar style would work! | Buy it here.
Adidas Cropped Hoodie: This will forever be one of my favorite tops. Wear it with jeans, leggings, track pants — whatever. It's so comfy, and it's perfect for lazy days! It's been a full year since this post and I still wear mine almost weekly! | Buy it here.
Sincerely Jules Lips & Lashes Tee: This is another great option you can wear repeatedly. It's the perfect tee for makeup addicts. 🙂 | Buy it here.
Books:
Wanderful: "The Modern Bohemian's Guide to Traveling in Style" is by fashion blogger Andi Eaton. It's for nomads who want to learn about festival life, where to find the best vintage shops, and where to dance under the stars. (aka: my dream life!) | Under 25! Buy it here.
Face Paint: If you're into makeup (and I guess you are, since you're here reading my blog), this is my favorite makeup book I own. Makeup Artist Lisa Eldridge goes deep into the history of makeup in this one. I learned so much from her!! This option might be better for college girls. | Under $25! Buy it here.
Lauren Conrad Beauty: This is an oldie, but goodie. Lauren is the perfect girl boss icon and I read every inch of this book at least 3 times when it first came out. I learned a lot about skincare and hair basics from her and highly recommend it as a starter book! | Under $25! Buy it here.
Gift Cards:
You absolutely can't go wrong by giving gift cards — especially to broke college students!! I wrote a whole post about my favorite gift cards, but here are a few that always work:
Clothes:
Urban Outfitters | H&M | Madewell | Shopbop | Forever21
Beauty:
ULTA Beauty | LUSH | Sephora | Benefit Cosmetics | BH Cosmetics | Mario Badescu
Food: 
Chipotle | Buffalo Wild Wings | BJ's Brewhouse | Whataburger | Sonic
General: 
Target | Amazon | Netflix | Apple | Starbucks
I'll be sharing all of my gift guides and gift ideas through my email list (you can subscribe below) and on our Facebook page this year, so that's just a heads up in case you want to see more as I add them. Let me know the #1 thing on your wishlist this year in the comments below, and if you like these ideas please share the pin!

BLOGLOVIN' | PINTEREST | INSTAGRAM | FACEBOOK | TWITTER | YOUTUBE