Reading and travel go hand-in-hand (in my mind), so I always try to select a local book or two to read before visiting a new location. If you're headed to the Lowcountry soon and want to get in the spirit before your trip, here's the scoop on which books about Savannah are worth purchasing and which ones aren't.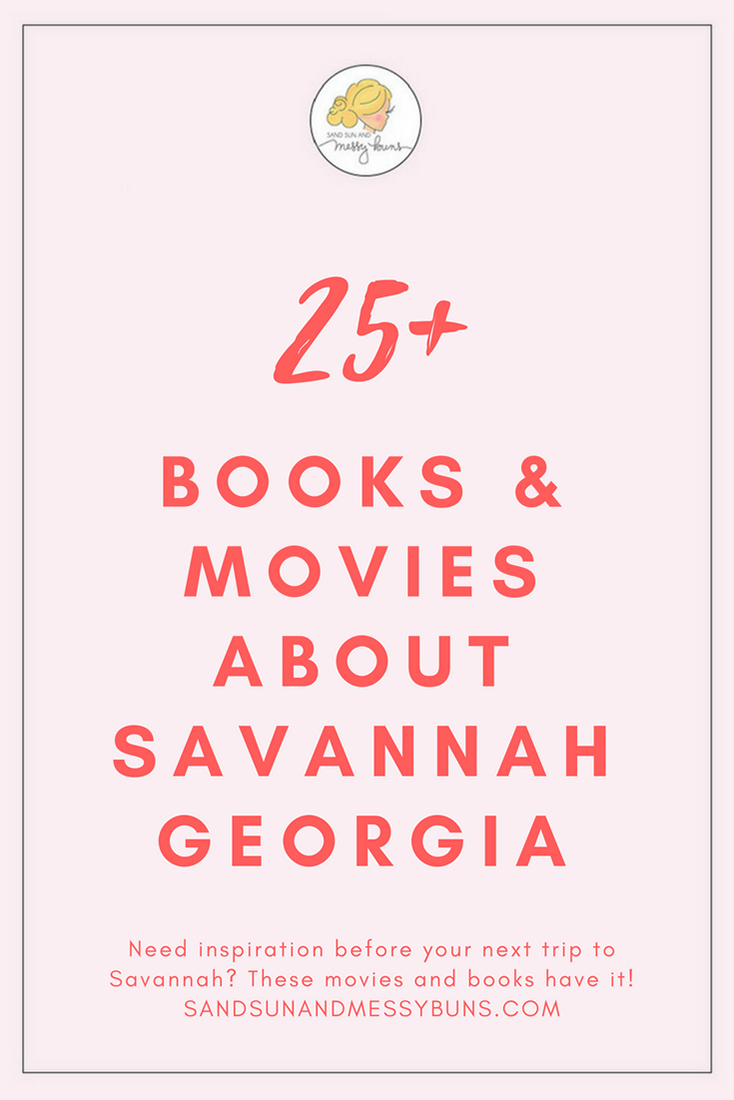 Looking for books and movies to inspire your next trip to Savannah? Here are 25 of them! #savannah #bookworm
Click To Tweet
FTC Disclosure: This post contains affiliate links, which means we may receive a small referral fee from purchases at no additional cost to you. You can read our affiliate policy here.
Books About Savannah
Stick with me, friends, because this is going to be a long list! You know a city as unique and pretty as Savannah is bound to be the backdrop for a LOT of interesting stories.
Non-Fiction Books
While researching my own book about Savannah, I read a LOT of non-fiction books about the area. In fact, I'm beginning to have the makings of a fairly decent library about the city! Here's a selection of some of the non-fiction books you can find on Amazon.
Grab a free month of Kindle Unlimited Reading here.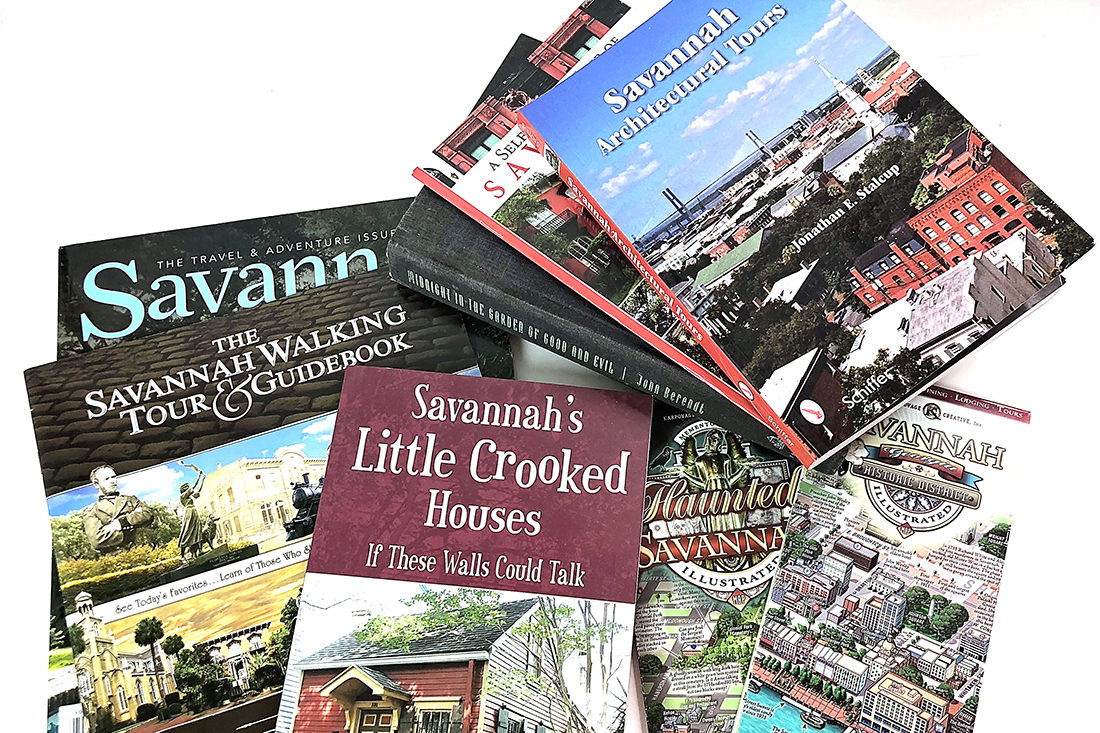 My Favorites (& Least Favorites)
Here are my thoughts on a few of the books to help you decide if they're worth purchasing or not.
Midnight in the Garden of Good and Evil
My favorite non-fiction book about Savannah is Midnight in the Garden of Good and Evil. It was number one on the New York Times Best Seller List for 200+ weeks for good reason! It embodies everything quirky, lovable, and downright weird about Savannah. Amazon includes a free preview, so I highly suggest reading a chapter to see if you get sucked in. (Click where it says "look inside" above the cover image of the book.) Order it here.
Savannah Architectural Tours
This one is very informative! Sometimes I carry it around with me when I walk, because I inevitably have questions about all the intricate buildings I see during my strolls. It's 144 pages and includes 3 self-guided tours. Jonathan really knows his stuff! Order it here.
A Self-Guided Tour of Savannah
This option is VERY thin, just so you know. It doesn't contain a lot of information, and some of it isn't even accurate. For example, the author basically describes Jones Street as a 'beautiful street with beautiful mansions and townhomes' (which it is) and notes that it's paved with cobblestones (which it isn't — it's paved with vitrified brick). I recommend passing on this one since it's so thin. Order it here (or don't).
The Savannah Walking Tour & Guidebook
The Savannah Walking Tour & Guidebook is also very thin. However, I was pleasantly surprised to discover how much information was packed inside its 34 pages! It includes 4 walking tours, labeled maps, and contains both historical and modern photos. Order it here.
Savannah's Little Crooked Houses
I thought I'd be a little more excited about this one than I was in reality. It's very well-researched and very informative, but it's not as conversational as I personally would've liked. Order it here.
Black Sheep White Cop
The writing is a little rough around the edges and this book could use some editing, but if you're planning to move to Savannah — or if you ever lived here — it's a must-read. It's written by an ex-cop with a tell-it-like-it-is personality, and it covers local politics and policing. If you want a real peek into what goes on behind the scenes around the city, Grogan's book is the real deal. Order it here.
In case you're new around here, I guess I should mention that I've written my very own ebook about Savannah! My friends and family were constantly asking me for advice about planning the perfect trip, so that's how my Savannah First-Timer's Guide came about. It's chock full of helpful tips about parking, sightseeing, restaurants, and more. I basically spill tons of insider secrets in it! Order it here.

Fiction Books Set in Savannah
I haven't read many fiction books yet (I've been too busy writing!), but I've included a couple recommendations below. If you know if any authors who write books set in Savannah, I'd love for you to let me know in the comments.
There are a few other Southern authors who write about the Lowcountry, if not Savannah specifically. A few additional ones to consider: Pat Conroy, Mary Kay Andrews, Kathryn R. Wall, Pat Branning, and Mary Alice Monroe.
Cookbooks
The first one is written by Dora Charles, who was the head chef at The Lady & Sons for 22 years. She made only $10 per hour and dealt with racism issues during her time at Paula Deen's famous restaurant, so she deserves to sell millions of copies for moving on with class and grace.
The Back In The Day cookbook is also awesome. The bakery is right down the street from my house, and I go there frequently for biscuits and their veggie quiche.
Movies Filmed in Savannah
If you visit Savannah for the first time and it seems all too familiar, it might be because you've seen it in a movie or two! Here are just a few of the major films with Savannah scenery:
I'm currently only aware of two additional movies being filmed in the area. The live-action remake of Disney's Lady & The Tramp is being filmed a few streets over from my house! The production title is "Goodbye Stranger".
They brought in lots of cute old-timey cars to shoot their scenes and shut down 31st street for a few days. I've been posting sneak peeks in Stories on our Instagram account and you can see a sneak peek of Lady's house on this recent post about one of my favorite neighborhoods in Savannah.
Matt Damon and Christian Bale are also filming an (as-of-yet) unnamed movie here.
The Last Song, Baywatch and Magic Mike XXL aren't included in the list since those were primarily filmed on Tybee Island and not in downtown Savannah.
Movie Locations
Here's a quick rundown on where you'll find local scenery in each movie. (Let me know in the comments below if you'd like a more detailed post that includes photos of the locations!)
I rent all of my movies on Amazon Prime so I can watch via TV, laptop, or even on my phone. You can get a free 30-day trial of Amazon Video here.
Forrest Gump
Who doesn't love Forrest and his box of chocolates?! You'll spot lots of familiar scenery from the movie throughout Savannah.
His famous bench was a prop and only set up in front of Chippewa Square for the movie, but you can see a reproduction in the Savannah History Museum at the Visitor's Center. Jenny's Cafe now goes by the name Debi's Restaurant and is located on State Street.
If you try a Hop-On/Hop-Off tour with Old Savannah Tours, you'll get to see a VERY realistic looking (and sounding) Forrest Gump! Order it here.
Midnight in the Garden of Good and Evil
Sometimes truth really is better than fiction, and that's the case with this movie. It's a rather poor adaptation of John Berendt's best-selling novel, but it's worth watching to see the Lady Chablis in action! She passed away in September of 2016, so you can no longer catch her live show. Club One is still the place to go to see drag queens and try karaoke.
There's also plenty of beautiful Savannah scenery scattered throughout the movie. Many scenes were filmed inside the actual Mercer-Williams house, at Forsyth Park, and out at Bonaventure cemetery. Order it here.
Forces of Nature
This one stars the lovable Sandra Bullock as Sarah Lewis. She blows into Ben Affleck's life like a Category 5 hurricane and causes some major destruction. It's a cute little story that doesn't require much concentration to follow along.
The scene with Sarah's ex was filmed at Wright Square in front of the Federal Courthouse. The El Rocko Bar scene (where Affleck's character danced atop the tables) was shot at 514 Martin Luther King, Jr. Blvd. The train station scene was filmed at Savannah's Amtrack station. Order it here.
The Conspirator
I absolutely love the scenery in this one. It seems to have the most authentic "old Savannah" feel to it, thanks to Robert Redford's skillful direction. The movie covers the story of Abraham Lincoln's assassination, and the city of Savannah plays the part of an 1865-era Washington D.C.
You'll spot the Harper-Fowlkes House, Fort Pulaski, the U.S. Customs House on Bay Street, Chatham Square, and the Roundhous Railroad Museum. It's very fun to see so many local spots in one film! Order it here.
The Legend of Bagger Vance
Matt Damon starred in this one as master golfer Rannulph Junah from Savannah, GA. Most of the scenes were filmed in the South Carolina Lowcountry, but Savannah's own City Market managed to make the cut!
Robert Redford directed this one, too. Apparently he's a fan of the area, or he at least enjoyed the incentives for filming here. Order it here.
Related Reading: 100+ Filming Locations You Should See in the USA
Want more? You can see a list of every movie, TV show, and commercial ever filmed in Savannah here.

Maps of Savannah
These maps are extremely detailed and include lots of quirky details about Savannah. I often give them to friends who are visiting, and they end up keeping them as souvenirs!
I hope this list of books about Savannah was helpful! If there are any others you recommend, please let me know below.
Want More Savannah Info? Try This: Get the Inside Scoop on 50+ Incredible Things to Do in Savannah
Got Questions? I answer fastest on Instagram.
Pin It for Later: 25+ Books & Movies About Savannah Georgia