Most girls dream of becoming a Disney princess at some point in their lives, and I'm certainly no different!  Rapunzel from Tangled is my favorite, because she owns a chameleon like I do! Naturally, everyone at my school said I HAD to wear a Rapunzel costume for Halloween and have my chameleon star as Pascal. So I did! This is a semi DIY Tangled Rapunzel costume tutorial, because I bought most of it pre-made and customized it. Here's how you can get the look…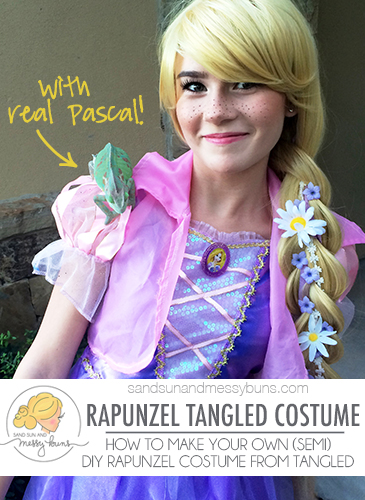 How to Make a Semi-DIY Tangled Rapunzel Costume
Click on each photo to view it larger.
The 5 key items you'll need to recreate my DIY Tangled Rapunzel costume are: a pink+ purple dress, a blonde wig with a long braid, a stuffed chameleon, flowers, and exaggerated freckles. A frying pan is also an option!
Rapunzel: So I've made the decision to trust you. Flynn Rider: A horrible decision, really. Click To Tweet
FTC Disclosure: This post contains affiliate links, which means we'll receive a small referral fee from purchases at no cost to you. You can read our affiliate policy here.
Pick a Purple Dress
For my costume, I picked a store-bought costume from Kohls. Even though I was 17 when I took these pictures, I was so small that I could still fit into children's costumes — which are really inexpensive. (I hate spending money on costumes that I only wear once, don't you?!)
I realize that's not an option for everyone, but for my high school friends reading this — you may want to try shopping the adult and children sections in the Halloween stores. Sometimes the children's fit is surprisingly large, so don't rule out at least trying them on!
Another option if you don't want to spend much is to purchase a long purple dress from a thrift shop. Glue or stitch pink ribbon to the front to mimic Rapunzel's look.
Poshmark is also a great app for finding inexpensive dresses. (Use code ETINTEXAS to get a $5 Poshmark credit!) Mercari is another excellent app for finding inexpensive costumes and clothes.
Add a Long, Blond Wig
Rapunzel wouldn't be Rapunzel without her long, blonde locks. If you have long blonde hair or own extensions, you could do a side braid similar to the one I did here. If not, you'll need to buy a wig or create one out of yarn. Here's an easy yarn hair tutorial from The Everyday Mom Life that would work great!
If you'd rather buy, here is a really long option
from Amazon, and here's a great shorter option
.

Decorate with Flowers
Since my name is Daisy, I added lots of daisies to enhance my braid. I picked them up from the craft store, and I snagged the smaller purple flowers from my mom's scrapbook collection. Use a hot glue gun to attach the flowers to bobby pins so they'll stay in the wig all night.
Draw Faux Freckles
I added exaggerated freckles because I wanted a cutesy, costume-y look for Halloween. If you've never added freckles before, check out my faux freckles tutorial. (There's a video to go with it.) They're very easy to do!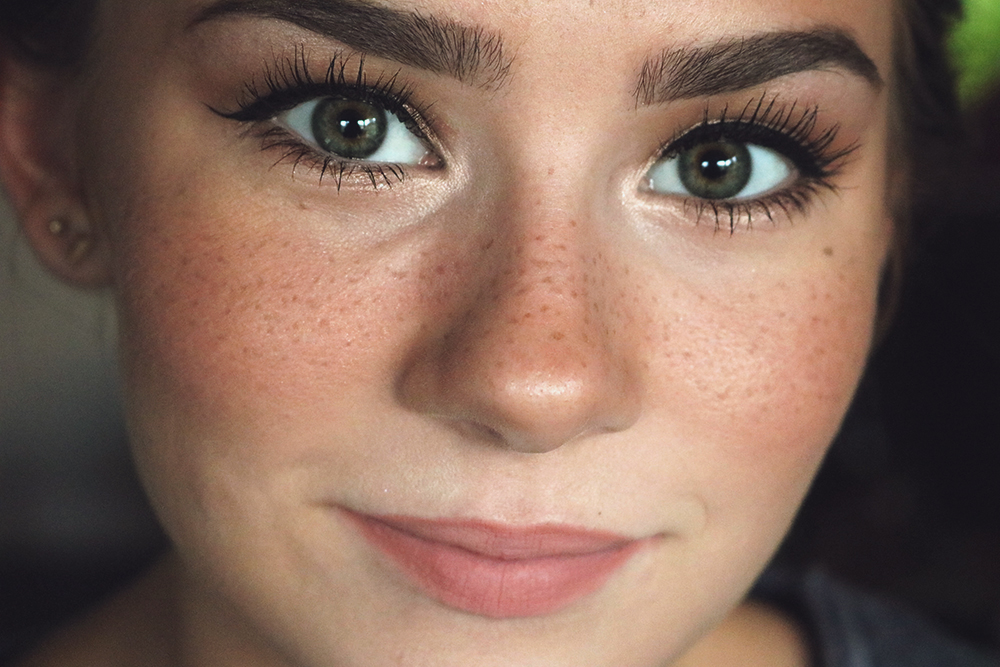 It's easy to add freckles using eyeliner, or a product made specifically to mimic the look of freckles!
Add a Cute Chameleon!
Let's face it, Pascal is the real star of the movie…and the costume! You can pick up adorable stuffed Pascal
options from Amazon and either pin one to your shoulder or attach it using velcro or a hot glue gun.

I posed for pictures with my pet chameleon, but I didn't take her trick-or-treating with me. Chameleons are really sensitive (and fragile) little critters, so it wouldn't be safe to take her out at night and have tons of kids attempting to hold her.
Need More Rapunzel Tangled Inspiration? 
(Photo sources at end of post) If I ever get married and have a baby, I'm going to beg my family to go as a Flynn Rider/Rapunzel/Pascal combo. Seriously…it's the cutest costume idea ever!
For the finishing touch, you can add the frying pan that Rapunzel used on Flynn. You may only want to use it for pictures, because it might be a pain to carry around a heavy frying pan plus candy all night.
I hope you like the costume idea! Here are a few other looks I've created:
Let me know in the comments what you plan to be for Halloween this year and if you need any makeup tutorials!

PINTEREST | INSTAGRAM | FACEBOOK | TWITTER | YOUTUBE